Pulitzer Center Update October 21, 2020
On-Demand Webinar: Global News Resources for Educators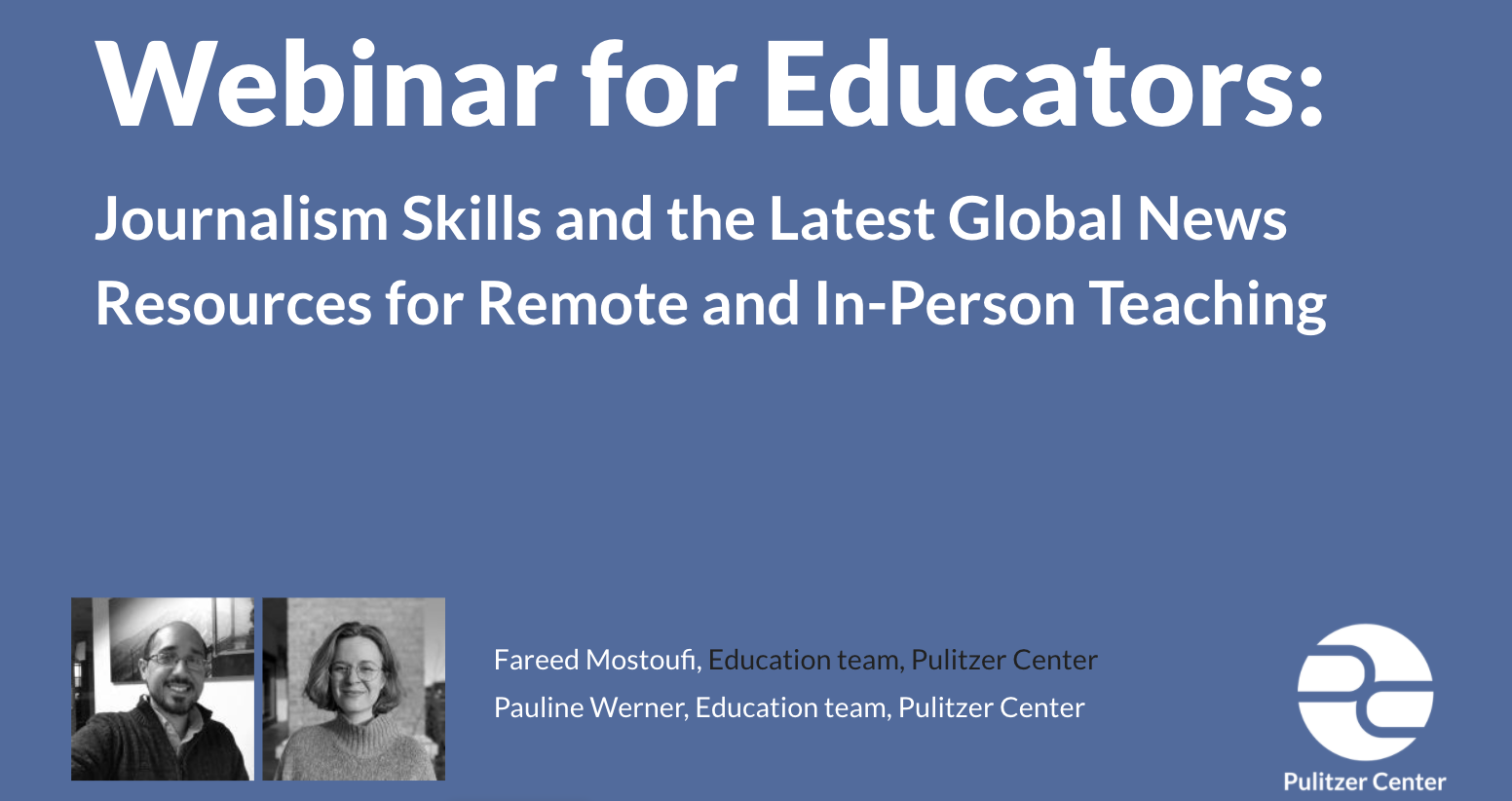 On September 2, 2020, educators joined the Pulitzer Center Education Team for an interactive Zoom webinar and discussion to explore methods for using global news and reporting exercises to increase student engagement, confidence, critical thinking skills, media literacy skills, and empathy. Fareed Mostoufi, Associate Director of Education, shared the Pulitzer Center's education mission statement and provided a brief moment for educators to share what they were hoping to learn from the workshop, especially considering the changing nature of their school schedules due to the pandemic. Pauline Werner, K-12 Education Intern, then highlighted resources and ongoing opportunities for educators this fall, which included the following…
Werner demonstrated how to navigate the Pulitzer Center website to most effectively seek out resources that support classroom learning. She and Mostoufi then spotlighted several stories that use video, photography, text and other unique communication methods to describe under-reported issues. One example they shared was a story from a project titled "How Do We Survive?" that focuses on the lives of undocumented Americans and Latinx immigrants living below the poverty line. They explained that the story, "Kimberly: A Young Woman's Story of Isolation in SF's Mission District," is unique due to the fact that the reporting is designed in the format of a graphic novel. Werner and Mostoufi did a read-through of the story, and then explored how the story could excite students who are interested in visual arts and innovative storytelling. Next, they encouraged participants to reflect on how different methods of storytelling can connect students to under-reported issues that support their own interests and learning styles. Click below for Pulitzer Center lesson plans that showcase some of the innovative reporting mentioned in the webinar.
The webinar emphasized how various methods of reporting can be effective in driving discussions about under-reported issues. Mostoufi highlighted the following lesson plans that focus on reporting through photography, and outlined how analyzing images can be used to guide students in critically analyzing under-reported issues.
Mostoufi and Werner then described how participants can connect journalists to their classrooms using different virtual platforms. They also introduced the Pulitzer Center's "Journalist's Toolbox," a video series with supporting lessons that teaches students how to use journalism skills such as descriptive writing, interviews, and photography to begin documenting under-reported stories in their own communities.
Throughout the session, participants utilized the live-chat feature and completed interactive polls to brainstorm ways to integrate global news and journalism skills into their classrooms. In the final poll, participants disclosed that they were most interested in using Pulitzer Center educational videos and lesson plans with their students. By the end of the session, participants transitioned to breakout rooms and connected in small groups to network and brainstorm challenges they expect throughout the school year. Through guided exercises and open discussion, participants worked to identify opportunities for incorporating resources shared during the webinar into their own classrooms.
In a post-webinar evaluation, one participant mentioned they would apply what they learned in the webinar to "introduce media literacy by using videos, downloadables, and modules for easy understanding." Another participant shared that they would "have students do a photojournalism project or write a poem" in order for students to creatively connect with under-reported issues.
Speaking about the format of the webinar and workshop, specifically, one participant shared that they appreciated the "effective webinar management and engagement from the moderators." Another mentioned that they enjoyed "learning more about the Pulitzer Center's educational resources and the opportunities they afford, especially in building a curriculum over time that addresses the intersectionality of issues and subject areas."
The Pulitzer Center invites educators to view the webinar at their convenience to discover tools for connecting their students with reporting on today's crucial issues. Please contact [email protected] if you have any questions or need assistance locating resources.