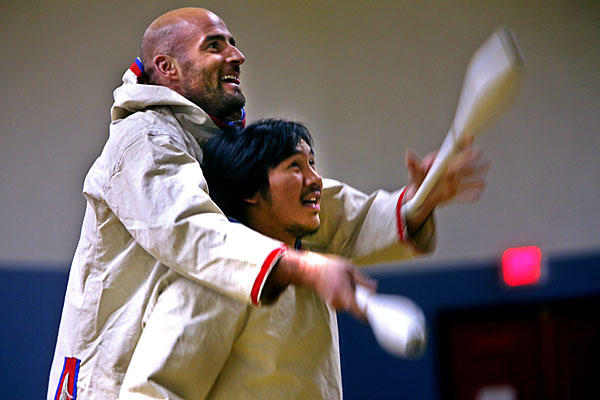 On Thursday August 13th, over 60 people gathered to experience a screening and talk back featuring the filmmakers and subjects of "Circus Without Borders." The webinar, viewable above and presented jointly by the Pulitzer Center and the National Museum of African Art, explores the seven years-long process of creating a film that teslls the story of two circuses in two corners of the world: Artcirq in Canada and Kalabante in Guinea (West Africa).
The documentary is about Guillaume Saladin and Yamoussa Bangoura, best friends and world-class acrobats who share a dream of bringing hope and change to their struggling communities through circus, and presented an opportunity for participants interested in the power of art to engage with a story of resilience and joy.
"It's about art as survival, a way out, a future, a way to find self confidence, and pride, said Linda Matchan, the film's producer. "[It's about] pride in yourself and in your culture."
Unfolding in the Canadian Arctic and in Guinea (West Africa), the documentary follows Saladin and Bangoura as they help Inuit and Guinean youth achieve success while confronting suicide, poverty, and despair in their communities. After a short introduction to the project, director Susan Grey and Producer Linda Matchan introduced a 30-minute screening of clips from the documentary. Then, Saladin and Bangoura, who tuned in WhatsApp, shared their reflections before an audience Q&A.
During the Q&A with webinar participants, Matchan, Gray, Saladin, and Bangoura discuss the evolution of the project, desires for communities to have a voice in how their stories are told, how colonialism affects how stories are interpreted, and advice to young people about following their dreams.
"I appreciated hearing the panelists' thoughts and perspectives about storytelling and identity (e.g. who has the right to tell another person's or community's story, how do we - as individuals and members of communities - name and claim our own identities, how do we forge relationships of trust and collaboration with people whose identities and lived experiences differ from ours," wrote educator Gail Wolfe in a post-webinar evaluation.
"I learned that it is important to observe and be in a trustful relationship with someone in order to tell their story in a truthful and meaningful manner," another participant said.
Throughout the event, participants voiced reflections in the webinar's live-chat function. One thought in particular, shared by a participant during the audience Q&A, captures many participants' feelings after viewing the film and hearing from its subjects: "There is so much power in telling our stories and sharing who we are."
More information about how to screen "Circus Without Borders' in its entirety on six platforms is available here. Contact [email protected] for support connecting this film to schools.
RELATED ISSUES

Issue
Indigenous Communities
Indigenous Communities

Children and Youth