Pulitzer Center Update January 11, 2021
Call for Submissions: The 2021 Breakthrough Journalism Award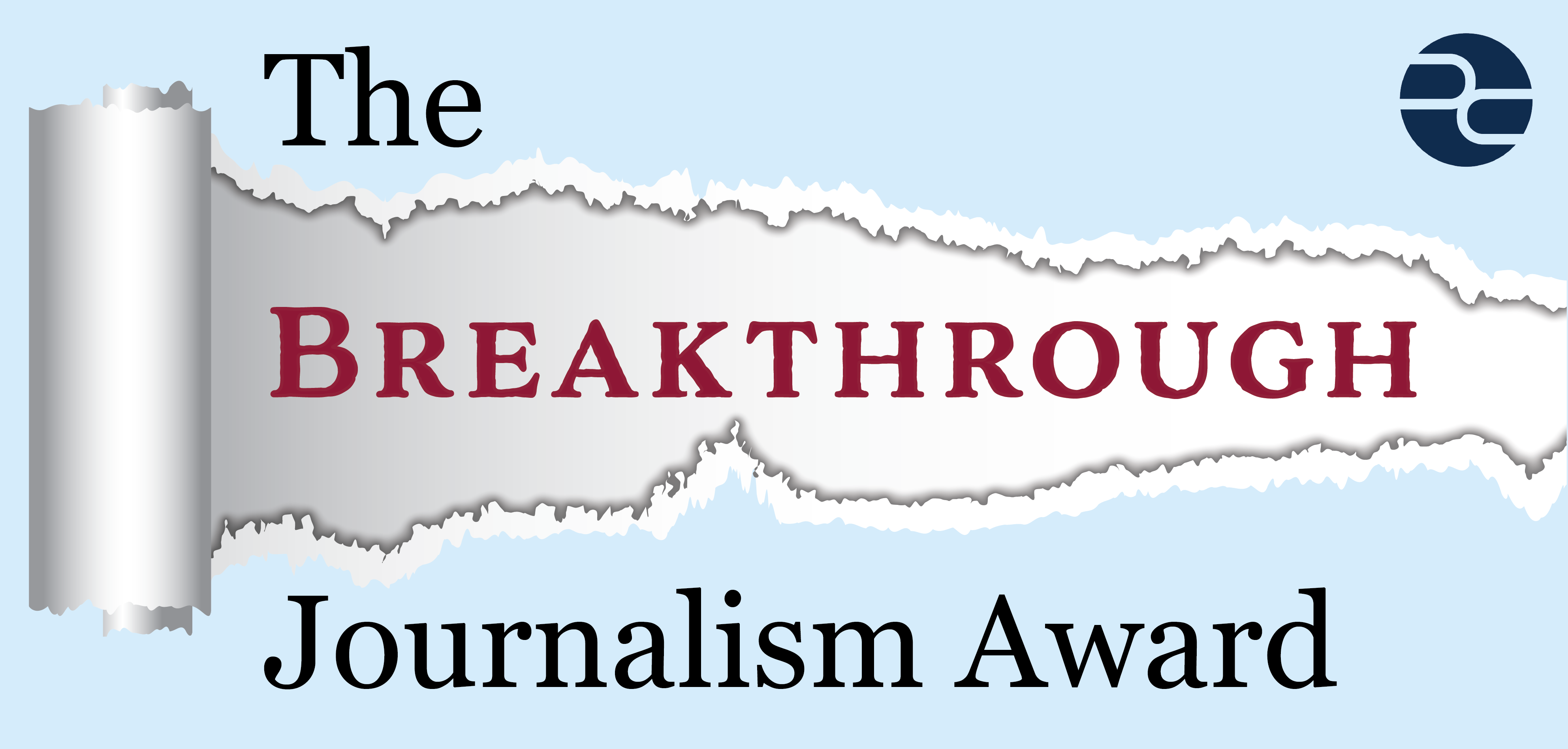 Extended Deadline: Monday, March 15, 2021
The Pulitzer Center is now accepting submissions for the second annual Breakthrough Journalism Award. This $10,000 award, made possible through the generous support of Eva Lohrer, seeks to recognize and celebrate the achievements of Pulitzer Center-affiliated freelance journalists who report on under-reported issues that affect us all. The runner up will be awarded $5,000.
Please submit one story or series from your reporting during the past year that was transformational in terms of your career.
Who can enter and when is the deadline?
We will consider entries related to stories from all current and former Pulitzer Center grantees and Campus Consortium reporting fellows who are early career (less than 10 years experience) and wish to be recognized for freelance work published/broadcast during the 380 days prior to the submission deadline of March 15, 2021 (11:59 pm eastern). The exact dates of eligibilty are works published from March 2, 2020 to March 15, 2021.
PLEASE NOTE: The work itself need not have been supported by the Pulitzer Center, just produced by current or former Pulitzer Center grantees or fellows.
Please submit only one article/broadcast/multimedia story or series per person. The person applying or nominated for the Breakthrough Award must be the lead reporter on the project. Stories can be in any language, but should be accompanied by a summary of the story in English (250 words maximum), explaining the theme of the article(s), together with an assessment of its impact and reception.
Journalists with full-time staff positions are not eligible to apply.
Who are the judges?
Nick Schifrin is the foreign affairs and defense correspondent for PBS NewsHour, where he leads foreign reporting and has created series from China, Russia, Ukraine, Nigeria, Egypt, Kenya, Cuba, Mexico, and the Baltics. The PBS NewsHour series "Inside Putin's Russia" won a 2018 Peabody Award and the National Press Club's Edwin M. Hood Award for Diplomatic Correspondence.
Rhitu Chatterjee is a health correspondent with NPR, where she covers mental health. Earlier in her career, she covered science, the environment, global health and development. As a freelancer, she produced two projects as a Pulitzer Center grantee, on school lunch programs in India and Brazil.
Steve Sapienza is senior strategist and editorial team member at the Pulitzer Center. He is a news and documentary producer with over 20 years experience and has covered a wide range of crisis stories, from illegal gold mining in Peru to child soldiers in Sierra Leone, climate refugees in Bangladesh, and landmine survivors in Cambodia.
When will the award be presented?
If your project is considered for the shortlist we will contact you to provide any additional information.
The winner, announced on April 12, 2021, is invited to share their work via Pulitzer Center-organized events.
Good luck!
About the Pulitzer Center:
Over its 15-year history, the Pulitzer Center has consistently demonstrated its commitment to shining light on critical global issues that are too often ignored. Through the sponsorship of quality international journalism across all media platforms and an innovative program of outreach and education, we have helped inform debates, nurture dialogues, and advance understanding of the defining challenges of our time.