Pulitzer Center Update January 14, 2022
1619 Partnership Opportunities for Afterschool Programs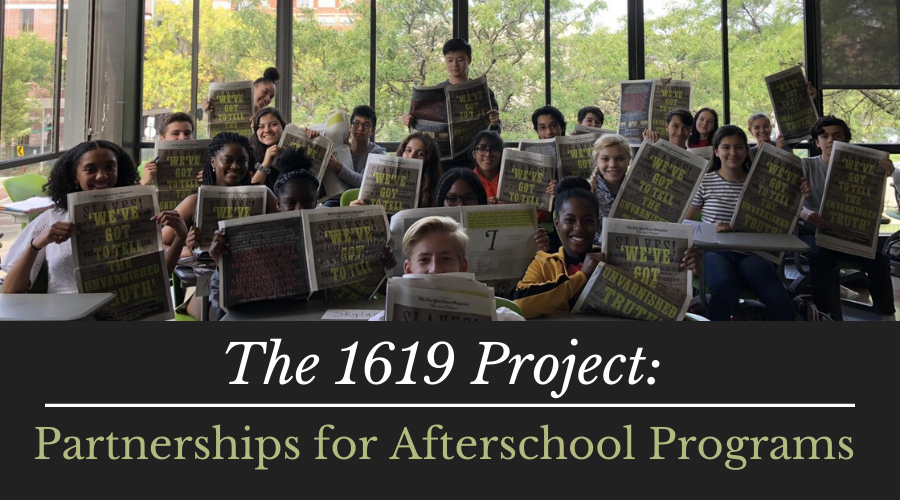 The Pulitzer Center's K-12 education team is excited to announce a new opportunity for afterschool program educators and administrators to access, adapt, and share 1619 Project resources with their classrooms, and to share their students' creative responses with a national audience!
The 1619 Project is a multimedia journalism initiative that illuminates the legacy of slavery in the contemporary United States, and highlights the contributions of Black Americans to every aspect of American society. The Pulitzer Center's 1619 resources for afterschool educators give various entry points into exploring the project in order to spark students' creativity, teamwork, critical thinking, and media literacy skills.
Please fill out this interest form to be considered for the 1619 afterschool partnership program. We will be reviewing interest forms on a rolling basis until March 1, 2022, or until the program reaches capacity.
What special opportunities will partners have?
Consultation from the Pulitzer Center education team to discuss available resources and how to adapt them for your context
Activity ideas with step-by-step, adaptable guidelines for implementing 1619 resources in the afterschool space
Free opportunities to connect with guest speakers who can illuminate contemporary racial justice issues and their historical roots, and support career exploration
Option to connect with other afterschool educators who are implementing 1619 resources with their students
The opportunity for your students to share their creative responses to The 1619 Project with a national audience in a virtual symposium at the end of the school year
Possible paid opportunities to share your experiences introducing students to 1619 resources as part of the Pulitzer Center's virtual professional development events
What are the expectations of afterschool partners?
Connect with the Pulitzer Center education team virtually at least once during your first month in the program
Register for a free account with Mizzen, where you can access a library of 1619 resources for afterschool educators
Implement and/or adapt at least one activity using 1619 Project resources with your students in spring 2022
Complete a feedback survey on your own and your students' experiences exploring The 1619 Project in your afterschool program
Who is eligible to participate in the 1619 afterschool partnership?
All instructors, coordinators, and managers for afterschool programs who feel they can meet the expectations above are welcome to express interest. The partnership is open to programs anywhere in the world, and to educators who serve K-12 students at any grade level. Those working with students below fifth grade should be advised that available resources may need greater adaptation for their context.
---
Please fill out this interest form today! If you have questions, reach out to the Pulitzer Center education team at [email protected].
RELATED ISSUES