It's a sweltering summer day in eastern Zimbabwe, and Nkosana Moyo drips sweat as he cautiously rides his black, trim bicycle through a vast expanse of dirt scattered with dry, thorny bushes. To strangers, the frizzy gray-haired 70-year-old might appear like an ordinary elder if not for a rusty badge pinned to his brown argyle vest that reads, "village head."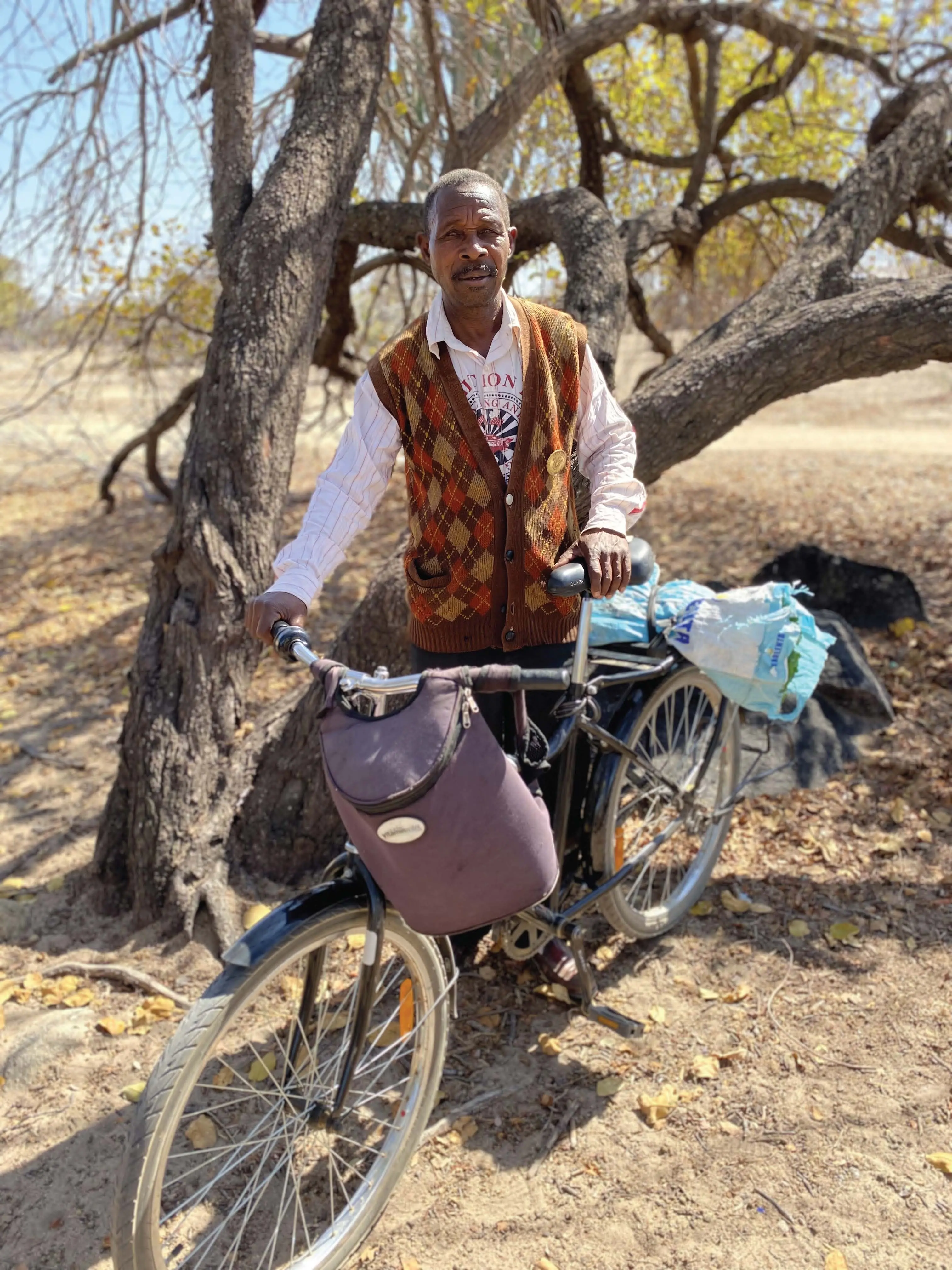 Moyo is the chief of Bidi Village. In rural parts of the country, leaders like Moyo play a vital role in everything from resolving disputes to enforcing environmental policies.
But perhaps most critically, Moyo can testify on behalf of the people in his village to help them get what many Zimbabweans may take for granted: an ID card. Without one, people living in Zimbabwe are barred from obtaining a SIM card for their mobile phones, accessing health care, and working legally.
"The problem of lack of identification is huge here," Moyo said as he tilted his bike in the shade of a tree. "Children can't register for exams, and adults cannot even vote. People come to me to help them as most are not educated and don't know the requirements for the processing. A lot of them get turned away, and I intervene to help where I can."
As the village leader, Moyo rode his bike to the local high school that summer day to support a citizen registration drive, the most recent government effort to help the estimated 300,000 people in Zimbabwe who are stateless because they have not been granted citizenship by the government and lack basic identification.
Some of the stateless population are undocumented migrant workers from Malawi, Zambia, and Mozambique. Others, like the residents of Bidi Village, are ethnic Ndebele people living in the provinces of Matabeleland and the Midlands who survived the 1982 Gukurahundi massacre that was marked by rape and torture. But some two decades later, the massacre continues to impact survivors and their families, who still can't get IDs because the government failed to issue death certificates to those who were murdered—documents their families now need in order to apply for citizenship.
The Zimbabwean government attempted to address the statelessness problem in 2013, when it adopted a new constitution creating a pathway to citizenship for children of migrant workers from any Southern African Development Community (SADC) country. It had overturned a 1984 law that had explicitly denied citizenship to the descendants of foreign nationals who came to the country as laborers. But the Registrar General's office has never entirely resolved the issue of statelessness.
According to a 2021 report by Amnesty International, the Zimbabwean government has over the years failed to remove administrative obstacles that frustrate and discourage stateless people to exercise their rights.
The report further reveals that for decades, stateless people in Zimbabwe have lived on the fringes of society, and their tenuous existence is a known problem that has plagued generations, forcing them into a vicious cycle of poverty as most can afford to work in places like farms and gold mines.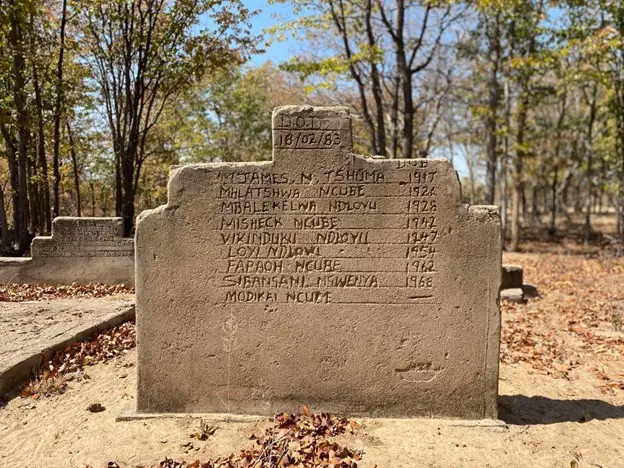 In 2022, the Zimbabwean government launched a national civil registration blitz to issue birth certificates and IDs in preparation for the national election slated for 2023.
But local human rights activists have called into question the success of the registration blitz. "There is no sincere intention to deal with statelessness especially here in Matebeleland and this has always been the case," said Mbusu Fuzwayo, an activist in Matabeleland who has been advocating for the recognition of stateless people.
He added: "There are people who still don't have identification cards, and their children cannot get birth certificates. Most people have to lie that they are related to other families that have documentation to get it. One should not go to those lengths. It's absurd."
In March 2022, the registrar Henry Machiri announced that they had dispatched 266 teams across the country's 10 provinces and 62 districts to register people in a six-month nationwide drive that would begin from April to September. To register, people are required to give biometric data, such as facial ID's and fingerprints, but they also need to provide documents such as birth and death certificates. Those who can't produce those documents need to bring a witness to back their claims. Within the first six months, Machiri acknowledged that they would need to relax the documentation requirements originally promulgated by President Emmerson Mnagagwa.
In October 2022, the Ministry of Home Affairs and Cultural Heritage released a statement saying it had surpassed its initial target by issuing 3 million people with identification cards, birth certificates, or death certificates. Zenzele Ndembele, a human rights activist who has been vocal about the issue of statelessness, is skeptical about that number.
"We cannot rely on these figures because the government can issue any number to make it seem like they are solving the problem of statelessness," said Ndebele, who is also the founder of Cite, an online news website covering Zimbabwe. "There's no independent verification, and we can't tell the true number of people that were registered."
Ndebele says that some people did not benefit from the registration drive due to their complicated situations, especially Gukurahundi victims who cannot provide their parents' death certificates. He says the government has refused to issue the certificates because in noting the cause of death, they would be forced to acknowledge their involvement in the massacre.
The lines that form at the office of local officials every day are also evidence that the government's efforts to assist stateless residents have not been effective.
On a hot humid day in August, Simelinkosi Phiri was among the first to arrive at the office of her local councilor, or elected official, in Bulawayo, about 35 kms from Bidi Village. She was trying her luck—yet again—at getting an identification card for herself and birth certificates for her children. A 25-year-old mother of three, Phiri says that her life has been filled with struggles and that she has been forced to the margins of life.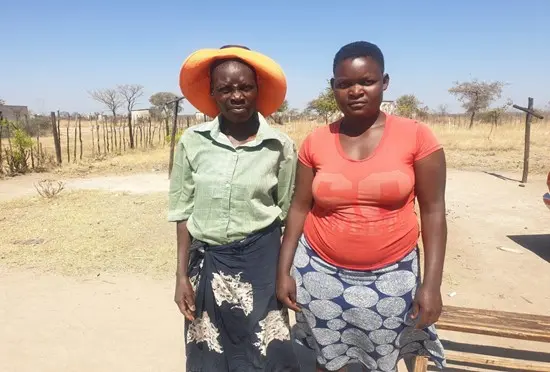 Phiri has been stuck in a cycle of dead ends given that the government only issues birth certificates to parents with documentation. She never received a birth certificate herself because her father died without an ID and a death certificate was never issued for him, even after multiple attempts by the family to acquire it. And since she doesn't have a birth certificate, neither do her children.
Without an ID, she can't be formally employed and has few options but farm work. Her husband, who is also stateless, is in the same dilemma. And because their children don't have birth certificates, they don't have IDs either, and have missed out on registering for exams to graduate to the next school level.
Phiri fears she's watching a familiar recurrence. She once dreamed of finishing school, but her chances were also cut short in grade seven because her parents were unable to get her the proper documents.
"Not having documentation means we are not human beings," she said. "It is like we do not exist. I cannot vote, let alone find a job to take care of my family."
Even esteemed village chiefs like Moyo of Bidi Village can find themselves tangled in the complicated web of trying to pull a family member from the limbo of statelessness.
Under Zimbabwe's law, anyone born to a Zimbabwean parent is automatically a citizen, but documenting it can be complicated. In Moyo's case, his youngest grandson, who is 3 years old, was born in South Africa and doesn't have a Zimbabwean birth certificate.
Moyo's son had originally traveled to South Africa to seek better job opportunities, but when he couldn't get a job that could sustain a growing family, he decided to send his children to Zimbabwe where Moyo could raise them.
This leaves the village chief fighting to create a paper trail for his grandson. He spent hours speaking to the registration officials about his grandson's case at the local school where the Zimbabwean government was holding its summer civil registration blitz. But he left that day without making progress. He had already gone to speak to registration officials visiting the villages of Kezi and Cherameya.
"I failed," he said.
Next, Moyo plans to travel for about nine hours to Harare, the country's capital, to visit the registrar's office there. "It has been such a complicated process," the chief said, "and to think that there are a lot—thousands of cases—here is unimaginable."
RELATED ISSUES

Governance

Issue
Migration and Refugees
Migration and Refugees

Racial Justice