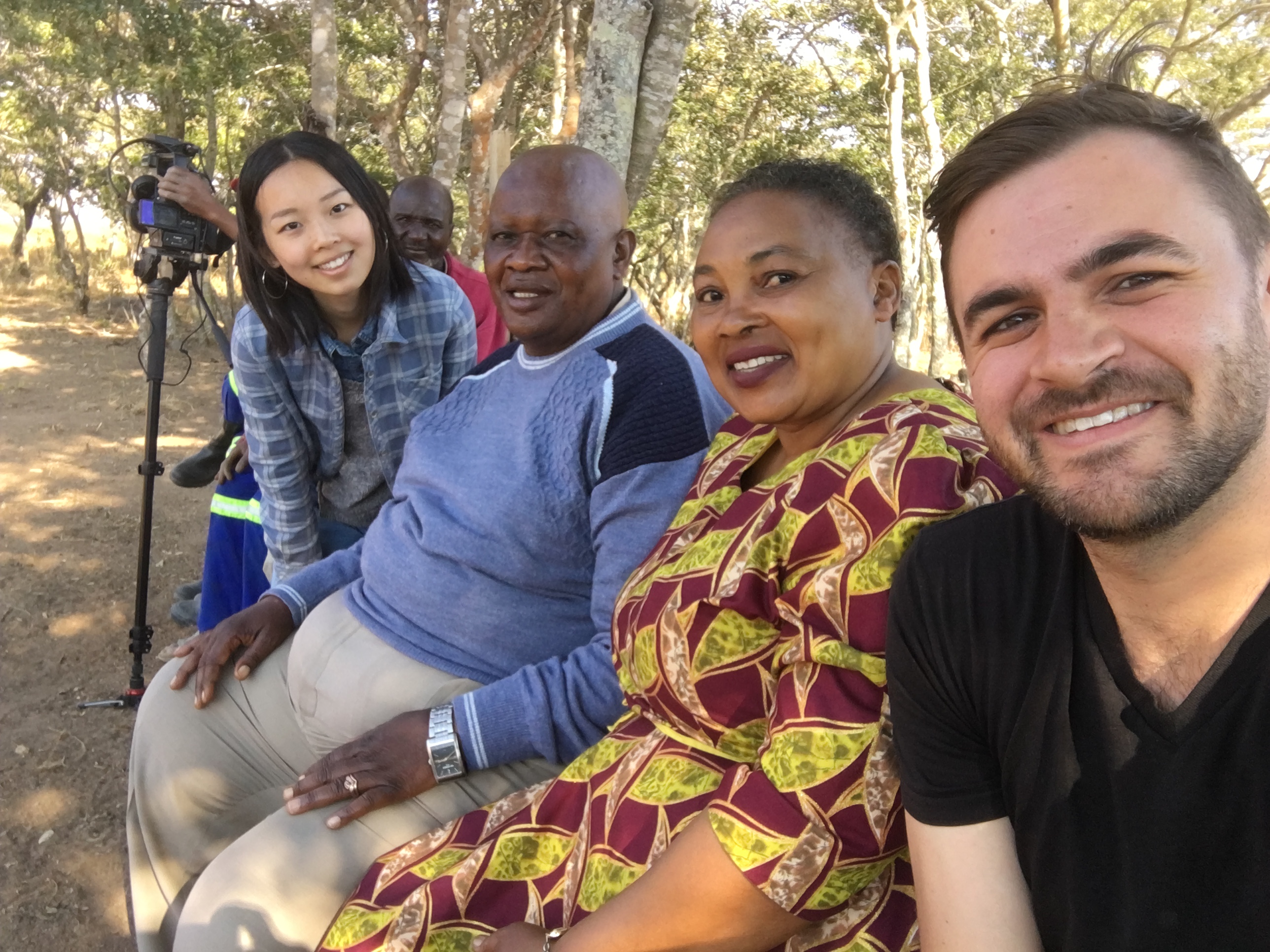 She's Not a Boy was produced, shot and edited by Yuhong Pang and Robert Tokanel in one very hectic summer, which included a week-long production trip to rural Zimbabwe that we planned and executed in only three weeks. In retrospect, a trip that we both worried about turned out to be a crucial part in the film and brought us tears, laughter, and invaluable memories that we will never forget.
Robert Tokanel:
I first met Tatenda Ngwaru when I worked on a story about LGBTQIA asylum seekers at Columbia Journalism School. At the time, Tatenda had just been given work authorization, but she was still couch surfing and had not found a job. I remember being moved by her story, but even more so engaged by her sense of humor and her willingness to open up to me, a total stranger.
When the summer came, I asked Tatenda if she wanted to have coffee again. It struck me at that point that of all the sources I had spoken to over the course of the year at Columbia, Tatenda was the only one I kept checking in on, for no other reason than I was rooting for her.
Within a few days, I brought Yuhong to meet her for dinner, and we agreed to drop everything we had already shot and move forward with her story. Less than a month later, we were staying with Tatenda's family in rural Zimbabwe.
Yuhong Pang:
Going to Zimbabwe was a decision we made early on in the production. I've never been anywhere even close to Africa, a continent that intrigued my curiosity since I was young. When the opportunity finally came, I realized it was harder than I thought to put together an international production trip in three weeks while keeping up with our shooting schedule in New York.
We went to Zimbabwe at the end of June 2018, a month before the country's general election. At first, almost everyone we talked to advised us not to go because Zimbabwe was in a transitional period and already had a history of being hostile to journalists. After the former president, Robert Mugabe stepped down under military pressure in 2017, his predecessor, Emmerson Mnangagwa, insisted on continuing homophobic persecution. Sex orientation and gender identity issues have been a taboo in Zimbabwe for decades, so for two foreign journalists to report a story on intersexuality with cameras before the election would be risky.
RT:
We spoke with as many journalists who had reported in Zimbabwe as we could, and we made plans for backing up our footage to a cloud service, traveling with as small a camera kit as possible, and being prepared to tell authorities that we were simply on a vacation during our summer off if we needed to.
Despite our preparations, though, much of the trip was left to chance. All we really knew was that we were meeting Tatenda's family friend, Kudzai, at the airport in Harare, and that she would drive us three hours south to Gutu, the small town where Tatenda grew up. I had only spoken to Tatenda's mother on the phone for about a minute before the trip, so we had no idea what we would be able to shoot during the four days we would spend in Gutu, or how forthcoming Tatenda's parents would be in opening up about their experiences raising her. Still, even if they never wanted us to leave the house with cameras and only gave us a short interview, we felt like the trip would be worth making in order to hear their perspective.
After two flights and a long car ride, we arrived in Gutu in the middle of the night to a house full of people. Tatenda's parents, Betina and Isaiah, had invited family from out of town to stay with them during our trip. We were exhausted and went to sleep soon after we arrived, but I mentioned to Betina that the next morning would be my birthday. When I woke up, Betina and Tatenda's aunt were singing "Happy Birthday" to me in the doorway of the bedroom, which really set the tone for how welcoming and open they would be while we stayed in Gutu.
YP:
Many people told us to be careful with a camera and stay low-key to avoid unnecessary attention from strangers. However, things felt a little different when we got there. Instead of the invisible political tensions, we came across an unexpected sense of freedom. "There are fewer police checkpoints, and people now walk on the streets with open bottles. This is something you wouldn't see during Mugabe's era," said Kudzai. At that time, we couldn't foresee what would happen after the election, which would be disputed.
Both Tatenda and her parents are Christians and they go to church every Sunday for service. We knew that church was a big part of their life, where the family comes to pray and socialize. The church had borne the gossip of Tatenda's transition from presenting as a male to presenting as a female as she was growing up. We were concerned that filming in the church might bring some trouble to Betine and Isaiah, and we were hesitant to push too hard, even though we knew that faith played such an important role in Tatenda's family life and upbringing.
Surprisingly, Betina warmly invited us to film their Sunday service and said that it would be an honor for the family. She went on explaining that, if people see Tatenda's "American friends" come all the way to document her story, the reserved community would know that people in America care about their daughter and value her as a good person like others. At the end of the service, an all-women singing group that once rejected Tatenda sang a song that her mother said had been her favorite growing up.
RT:
For me, the hardest part of the trip came just after we left that church service, when I was filming a video call between Tatenda and her parents before we left Gutu. Betina and Isaiah had just arrived home, and Tatenda was about to head to church in Brooklyn. As Tatenda explained what she had been up to in New York, Betina's eyes filled with tears, and she retreated into her bedroom, closing the door behind her. I stood outside the door, struggling with whether I should try to continue shooting, when Isaiah calmly said, "You can go in, you are free here." I knocked gently and slowly opened the door to see Betina crying. She nodded, and I moved the camera in, just to pick up a few brief shots. That scene became the emotional climax of the film, and really drove home the difficulty the family faced in being separated because of the political and social circumstance of Tatenda being intersex in Zimbabwe.
The experience we had on that last day in Gutu was reflective of the whole trip. We never imagined going in that we would be able to film so much of Tatenda's parents lives, or that they would open up to us the way they did. We took a risk investing so much time and energy into a trip in which the results weren't guaranteed, but ultimately, it proved invaluable in telling Tatenda's story.
RELATED ISSUES

Issue
Migration and Refugees
Migration and Refugees

LGBTQIA Rights