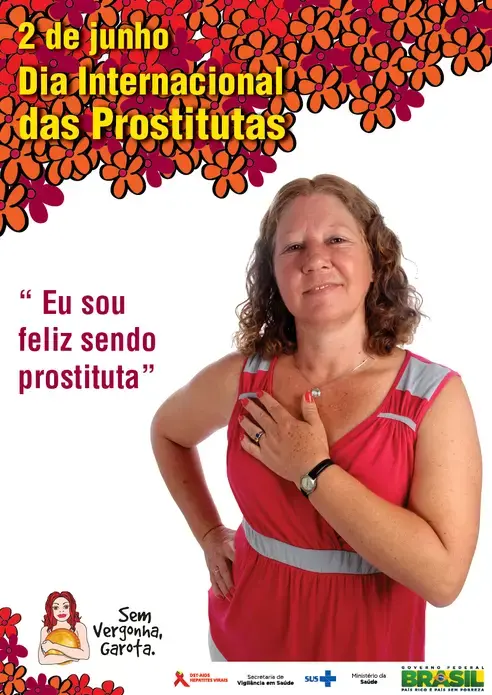 A poster from the Ministry of Health's 2013 online advertising campaign aimed at reducing social prejudice towards prostitutes. The poster reads 'I'm happy being a prostitute.' Image borrowed with permission from http://www.akissforgabriela.com/?p=3155. Brazil, 2013.


As preparations for the World Cup accelerate, Brazilian authorities are attempting to sanitise the country's image by clamping down on sex-related businesses.

More than 2,000 websites have been targeted, and prostitutes are being threatened with prison sentences for displaying advertisements in phone boxes.

Fuelling this campaign are concerns that the influx of football fans this summer will trigger a boom in child prostitution and sex trafficking . But, according to Thaddeus Blanchette, an anthropologist who has documented prostitution in Rio since 2004, this view is too simplistic.

Media hype, Blanchette argues, rests on the false assumption that fans will visit prostitutes and that some of them will seek out sex with children. "Underage sex goes on," he says, "but the idea that gringos go out looking for it is a huge myth." In Brazil, gringo generally refers to anyone from the northern hemisphere.

Tatiana Mauro, executive director of Promundo Brazil, an NGO campaigning to end violence against women, likewise believes the World Cup "will only increase the visibility of certain forms of exploitation". She points to a report published by the Global Alliance Against Traffic in Women, which finds no evidence that large sporting events cause an increase in trafficking or prostitution.

Sensationalist reporting on trafficking and mega-events is not only unfounded, it is also paving the way for a more repressive prostitution policy. During the Rio+20 Conference in June 2012, armed police officers stormed brothels in a crackdown on criminal activity. But, according to Ana, a prostitute who experienced the raids first-hand, shuttering brothels forced prostitutes to work elsewhere.

In more subtle ways, sex workers are being marginalised. Rio's oldest prostitutes' rights group, Davida, was recently evicted from the city's downtown cultural district to make way for a boutique hotel.

Funding for sexual health outreach programmes has also been cut. Ana used to volunteer as a representative for the ministry of health but funding for the programme dried up last year. It was important work, she explains, because "girls just think there's Aids and nothing else".

In a similar episode of backtracking from the ministry, an online advertising campaign aimed at reducing social prejudice towards prostitutes was dropped after criticism from evangelical groups. The campaign, which featured photos of prostitutes with taglines such as "I'm happy being a prostitute", was removed from the government website just two days after it went live on International Prostitutes' Day last year.

The decision, as one sex worker rights blog highlights, "negates the rights of prostitutes to be proud of their work, to speak for themselves and to have access to the kind of health information based on citizenship principles that the Brazilian government itself has championed in the past".

It is also expected that a proposal to separate prostitution from sexual exploitation in Brazil's penal code will not pass – Brazilian law regards prostitution as a form of sexual exploitation. The proposal, put forward by Federal Deputy Jean Wyllys in July 2012, argues that the legitimisation of prostitution is crucial to combating the sexual exploitation of women and minors.

Sex workers' marginality not only renders them susceptible to police corruption and violence, but also prevents them from reporting crimes. UNAids also believes prostitution laws contribute to the stigma around such work, which places sex workers at increased risk of HIV infection.

Nevertheless, fierce counterarguments and international pressure to restrict sex workers – evidenced by proposals to criminalise the purchase of sex in several European countries – make it likely that Wyllys's proposal will be defeated.

One of the most significant obstacles in combating sexual exploitation is the fact that most anti-trafficking campaigners see prostitution and sexual exploitation as one and the same.

Sex worker rights activists, by contrast, argue that prostitution is an occupation like any other; trafficking must involve an element of coercion and/or exploitation. The label "trafficked" neither fits nor helps those who travel of their own accord to work in the sex industry: it disempowers them.

Blanchette believes the number of genuine trafficking cases in Brazil is relatively low. Even in Vila Mimosa, Rio's infamous red-light district, he says there are few pimps "in the classical sense", although many people benefit financially from other people's sex work.

While the idea of someone choosing to sell sex may seem a depressing and even repulsive proposition, many do this over other options, including more exploitative forms of employment. Ana would rather work as a prostitute than as a maid in somebody's house where "anything could happen". For her, the decision to sell sex was neither freely chosen nor forced, but instead shaped by the realistic options she had before her.

Labelling sex workers as victims and undermining their human and constitutional rights will not bring about the change that is needed to tackle sexual exploitation, nor will it help to find the real victims of trafficking.

As Brazil steps up its image-cleansing campaign, it is important to question policies that are justified in the name of human rights and yet come at their expense.

Ana's name has been changed to protect her identity.
RELATED ISSUES