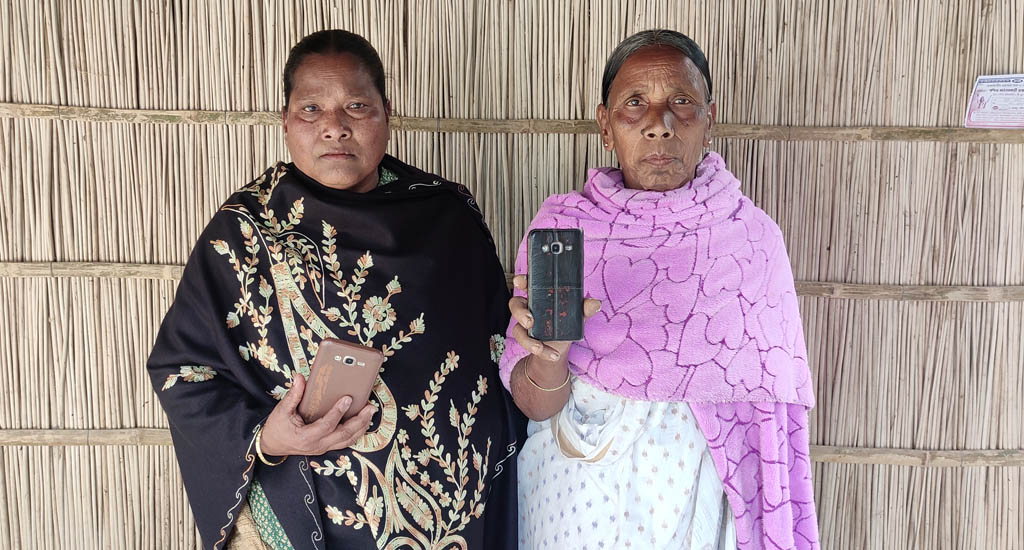 Alipurduar, West Bengal—Swarnobala Roy was busy scrolling down a page on her mobile phone at a meeting about land rights at Paschim Khatalbari village in Alipurduar District of West Bengal. The 60-year-old widow operated the smartphone smoothly and with obvious pride, as she reached the page displaying the details of her property – with her name as the owner.
Tech-savvy women
"I managed to buy the land from my savings around five years ago. The land registry was done then, but there was no khatiyan (mutation) document," said Roy, as the village women listened to her in rapt attention.
"Mutation was done only a year ago, after the training on land rights that made me realize that mutation is necessary to not only get government benefits, but also to sell the property in future," she added with a sense of satisfaction. Roy said that with her phone she could complete the mutation of the five bighas (over an acre) she owns.
Having used mobile technology to learn about land rights and to make sure her ownership was officially recognized, she is now passing on her knowledge to the other village women. They had come to the meeting to find out about their rights and to learn how they can use smart phones to exercise these.
"Though I am not much educated, I know how to operate a smart phone," said Roy, as she navigated around the screen. "It proved to be handy because I could see the details about my land on the cell phone and then approach the local administration for the necessary changes."
Land literacy
Roy is not alone. The Block Level Trainers (BLTs) deployed by the state government to create awareness regarding land rights under the Women Land Literacy (WLL) program said they have trained more than 4,000 women in 17 villages in Alipurduar district since the launch of the program.
The Women Land Literacy concept was originally implemented in 2016 in West Bengal, by Landesa, a non-profit organization working to ensure land rights of the world's poorest – especially women.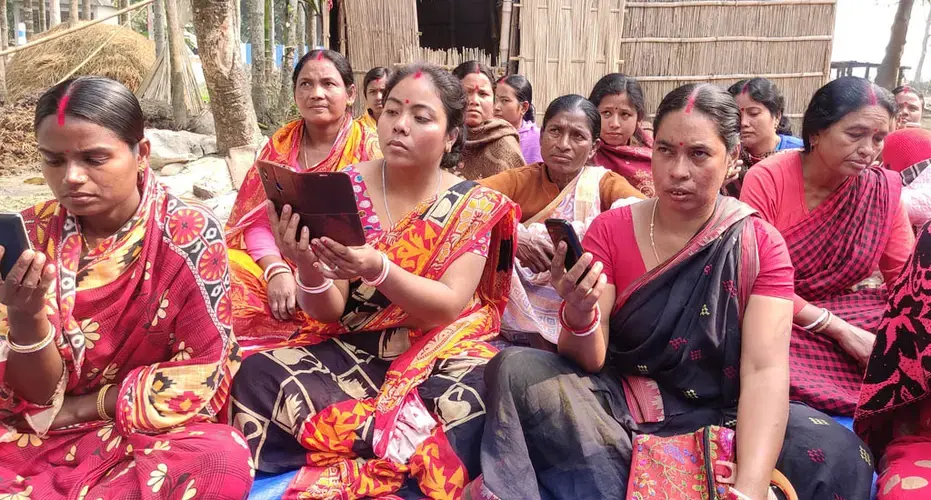 It was started in 2016 as a pilot project in two administrative blocks of Birbhum and Malda districts of West Bengal, in collaboration with West Bengal State Rural Livelihoods Mission, commonly known as Anandadhara.
Now Landesa provides technical support to the scaled-up program, to facilitate the training of District Level Trainers (DLTs), who in turn train BLTs.
"We found that there was grave ignorance about the land and especially women were vulnerable, as they were in most cases denied their land rights and were exploited because of lack of knowledge on land issues and inheritance laws," said Pinaki Halder, Landesa's national director of programs in India.
"We decided to train them on land-related issues, the government system of land governance and service availability," said Halder. "It is essential to have land documents, to access various facilities offered by the state government like crop insurance, minimum support price for their produce, and compensation in case of land acquisition during the widening of roads and other government projects."
App helps women
Dinomoni Burman, who lives in Paschim Khatalbari, said that she carried out the mutation of her land only about a year ago after her tech-savvy daughter-in-law attended the training sessions and explained the process to her.
The 60-year-old said that she purchased about 2 bighas (nearly half an acre) of land two decades ago – but was not aware that she needed to do the mutation to complete the transfer of ownership to her name.
During the monthly WLL meetings in villages in the Alipurduar district, the village women put into practice what they learn, immediately translating the lessons into action on their phones.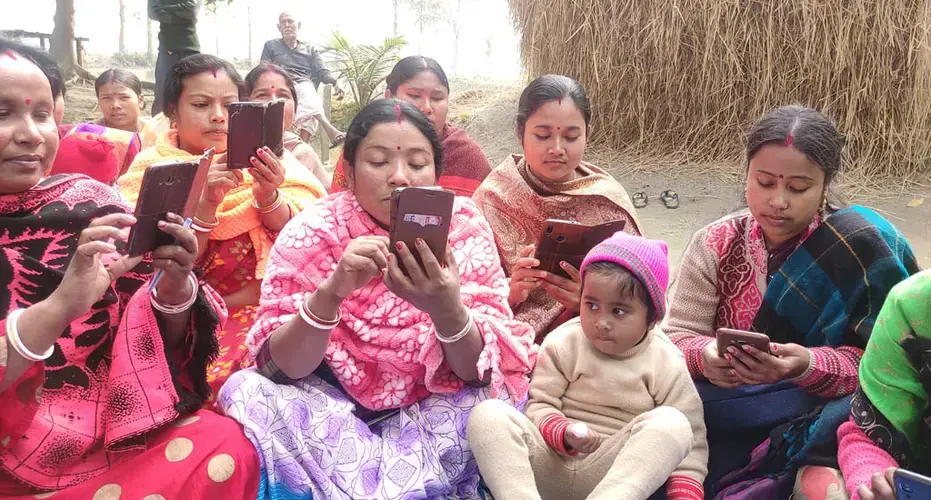 The trainers said that most of the participants have downloaded Jomir Tothya, an app run by the West Bengal government, through which they can check the status of the land and its ownership. If they find errors or problems, they can approach the authorities to make corrections.
Land encroachment
"Land has always been a contentious issue in West Bengal and land grabbing is a serious problem," said 35-year-old Tapasi Burman, one of the BLTs. "There have been cases where land has been encroached due to lack of proper documentation."
"We explain to the women that they should have the authentic and updated documents to prove their ownership. That mainly involves the way through which the land was acquired, updated records of rights and the physical possession of land," said Burman.
The beneficiaries of the training said that understanding how to use the smart phones effectively has made it much easier to find out about land ownership, and how to fix the problems they discover.
"We used to think that land registry guarantees ownership of the land, but the details on the app continue to show the original seller as the owner until mutation is done," said Pampa Burman Roy (27). "If we find land records incomplete, we approach the government offices immediately."
Pampa Burman Roy finalized the mutation of her own property six months ago, after undergoing training and finding she had to complete the changes to ensure ownership of land purchased by her husband over a decade ago.
Women beneficiaries
Halder said that about half a million women from the network of self-help groups across the state have so far been trained on land rights and that understanding these rights is becoming even more important because of social change.
"The women were chosen for training because their involvement in agriculture has increased as the men folk migrate to other cities for livelihood, leaving the women to run the family," said Halder.
While smart phones are used to check records, the more experienced women are also getting trained to use desktop computers to file online applications at BanglarBhumi, a government website for land records, including mutation and conversion, among other services.
"The women are being trained to file applications online regarding land issues instead of running to the government offices from remote villages. Though they still find it tough to operate the computers, as most of them are first-time users, their efforts are praiseworthy," said Purnima Burman (38), a trainer.
Online applications
Government officials confirm receiving more applications online relating to land conversion, inheritance and mutation, among other requests, since the expansion in training.
"Certainly there has been a surge in the number of people filing land details online. It is really helpful for us to work effectively with skeletal staff," said Aparna Mandal, land and land reforms officer of Alipurduar block 1, which covers 57 villages.
"We received 882 applications for land mutation, of which 70% were filed online; 97 applications were for land conversion of which 85 were filed online, between December 2019 and 28 January 2020. It is not only hassle free, but also stops people from standing in long queues," said Mandal.
Lagging in land ownership
Researchers cite statistics by Indian Human Development Surveys to corroborate that only 57% of rural and 9% of urban households own agricultural lands, and women inherit only 2% of the lands.
"The poor rate of land inheritance has been attributed to many factors, that mainly include a perception that good women do not inherit land, coupled with the hostility they face from family members and society," said Govinda Choudhury, assistant professor of economics at the University of North Bengal, who has done research on land and environmental issues.
"Lack of knowledge of legal procedures to claim land rights and difficulty of access to land registry offices, and land and land reforms offices, are other reasons for women holding a small percentage of lands," said Choudhury. That is where he sees further scope for smart phones to help women assert their rights.
"This government program is not only addressing ease of access through land portals, but also training women to make it more inclusive," said Choudhury. "The use of electronic gadgets would not only bring information to women, but would also encourage them to get connected and collectively challenge the patriarchal hegemony."
"There should be a proper awareness campaign to make the program more effective and increase its reach to every household," said Choudhury. There is also scope for the scheme to be replicated more widely, with Halder adding that the project is running in two administrative blocks in Kalahandi district of Odisha involving more than 16,000 women.
RELATED ISSUES