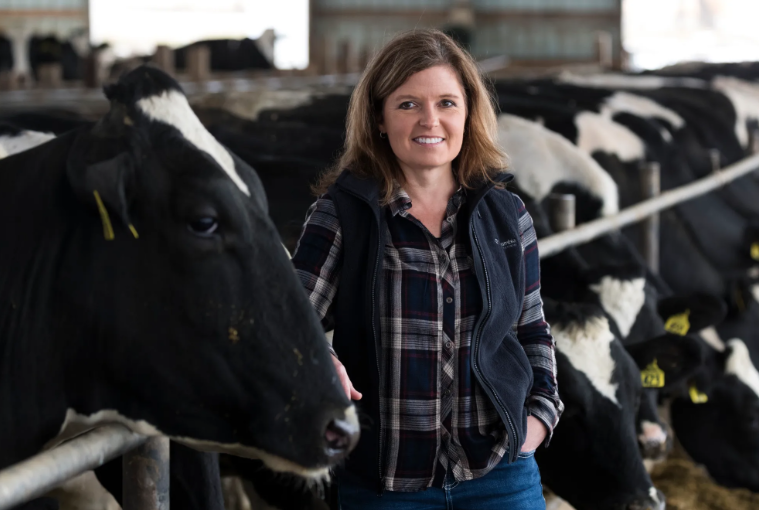 FORT ATKINSON - It's the kind of conversation that weighs heavily on agricultural banker Rene Johnson.
Jon and Theresa Hartwig, longtime customers, first-generation dairy farmers with more than three decades invested in the business, were thinking of selling their herd.
Milk prices were low and the Hartwigs, in their early 50s, were tired.
"We were going to lose a dairy farmer," Johnson said.
She understands what that means more than most bankers. Dairy farming in Johnson's own family goes back to her great grandfather, an immigrant from Scotland who settled in Wisconsin and in 1919 established Templeton Farms in Evansville, about halfway between Janesville and Madison just off U.S. Highway 14.
When she grew up, the family milked around 55 cows. Over the years, the farm has grown to 900 acres and 150 dairy cows and is now run by her parents, two brothers and nephew. Johnson, who has an ownership stake, helps with the milking on Sundays.
The Hartwigs were good operators, Johnson thought; they yearned to pass the farm to their children. There just had to be a way to resolve the problem.
Together, over the following months, the banker and the family would make sure that one more Wisconsin dairy farm would be transferred from one generation to the next.
This is what it's like to be an agricultural banker in the middle of a crisis, dealing with the cold facts of a spreadsheet and the real lives of customers who over the years have become like extended family.
Tough decisions have to be made with tender grace and calm professionalism.
Johnson is vice president of agricultural lending at State Bank of Cross Plains, a community bank with more than $1 billion in assets and 15 locations in south central Wisconsin.
She's 46, married and a mother of three, a steady presence in her local community, serving on the Evansville school board. The rhythms of farm life are close to her heart.
"I really like the animals," she said. "I really like spending time with my family. It's the same thing that my farm customers like. I like the fresh air. I like getting up early in the morning and feeling productive. I like seeing that you started something and finished it."
Johnson has been in the banking business for more than two decades. She knows agriculture from the ground up.
The last few years have been especially tough.
"I feel people have just been holding it together," she said. "I've had some customers decide to exit dairy farming. And those have been hard decisions, but they've been their decisions."
'Very Different Than Being a Banker'
Johnson originally set her sights a little further than the farm. She graduated from the University of Wisconsin-Madison with a degree in agricultural journalism and took a sales job with two radio stations in Janesville.
One day, a mentor of hers who worked at M&I Bank invited her over to the Janesville branch. She thought he wanted to buy some radio advertising. Instead, he pitched her on coming to work at the bank.
After the birth of her first child, she joined the bank in 1998 and learned the lending business. In 2010, she joined Evansville-based Union Bank & Trust Company, which earlier this year merged with State Bank of Cross Plains.
"Being an ag banker is very different than being a banker," she said. "I go out and meet with my customers. I meet with the CFO at their office, which is usually their kitchen table."
Farming is about more than hard work. It's about making plans over one, three and five years.
That's where Johnson comes in, helping families cope with the finances. Farmers often have three loans — a real estate loan that covers a home, a barn and maybe hundreds of acres of land; an intermediate term loan used to pay for machinery and cattle; and an operating line of credit to take care of annual items such as seed and feed.
When business is good, the loans work seamlessly.
But when hard times hit, debts can pile up quickly.
Troubled farm loans on the books of Wisconsin-based banks have more than doubled the past two years, records from the Federal Deposit Insurance Corp. show.
In recent years, Wisconsin has led the nation in farm bankruptcies.
"I know how hard it has been for our customers and how stressful it has been," Johnson said. "And I've been really thankful that our bank leadership has understood that too, has understood that real estate is holding its value."
A recent uptick in milk prices should lead to better results for farmers, she said. This fall, prices have reached over $19 per hundred pounds of milk, roughly 12 gallons, and looking to 2020 she said the prices are projected on average to be over $17 through the year.
The price was in the mid teens as recently as last year.
Every penny counts because the overhead costs don't change. The cows still need to be fed and cared for, whatever the price of milk.
"Farmers are optimistic people," Johnson said. "And it's been a long time since they've been able to be optimistic."
A Relationship Built on Trust
Over the last few years, Johnson has helped four farm families sell their dairy herds. Those are difficult conversations, she said.
Her hardest day: She got a call from a customer who sold his herd and was calling to report trailers lined up at his home, waiting to take the cows away.
"I thought about how would I feel if I heard the trailer doors slamming and the trucks rolling," she said. "I know how that would hurt me."
Her aim is to help farmers find their own way.
"I want them to stay in business, if that's what they want to do," she said. "If they're ready to exit, then I want to help them determine the best way to exit. If they're ready to grow, then I want to plan for that with them."
Johnson has been working with the Hartwigs for 15 years.
"I have to have a banker in our business," Jon Hartwig said. "You need a way to get capital."
It's a relationship built on trust.
"You need to be open and honest and upfront, here's where we're at," Teresa Hartwig said.
The Hartwigs built their dairy farm from scratch. Thirty-three years ago, they took out a $20,000 loan to buy their first 20 cows, a tractor and manure spreader.
Over the next few years, they rented land, worked hard and saved, got into a partnership and finally bought a spread of their own off a rustic rural road, a place called Sleepy Hollow Dairy Farm.
It was the life they wanted for themselves and their three children.
Things were good. But in 2009, there was a crash in milk prices.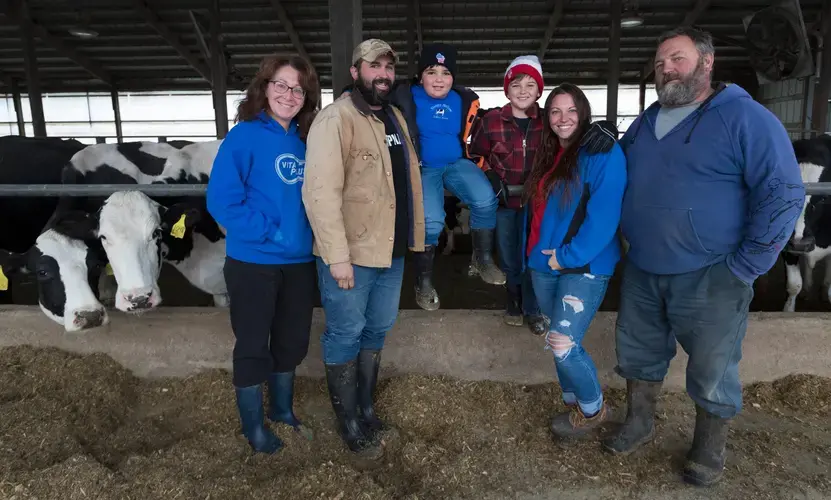 "So it took a bit for everybody to kind of recover," Teresa said. "We ended up having to go in and borrow money to pay our bills because there just wasn't the money there. Of course, then borrowing that money you have to pay that back. So once we kind of started to get caught up on things, then things crash again.
"I personally like to call it the dairy roller coaster because that's basically what it is, a lot of ups and downs with prices."
In recent years they had to put off equipment purchases. And they started to have to make some big decisions about whether to double down and expand or do something else.
"Do you stop?" Jon said. "Or do we keep going?"
Putting Together a Succession Plan
Last autumn, after a hard year, they thought about something that was once unthinkable: selling the herd.
They spoke with Johnson. And they spoke with their kids, to see if one of them wanted to take on the farm.
"This is what we grew up with," said Kim Gailloreto, Jon and Theresa's oldest daughter. "This is what I wanted my kids to come out to."
She said her mother is one of the most positive people she knows, so to hear her talk about giving up the herd was an eye-opener.
Kim is a pharmacy technician and her husband, Tyler Gailloreto, works as a hoof trimmer, grooming cattle hooves. With two children, they were ready to take over the farm. And their two off-farm incomes should help with cash flow to support the dairy operation.
"Everything came down to timing," Tyler said.
The family trusted Johnson to help put together the succession plan.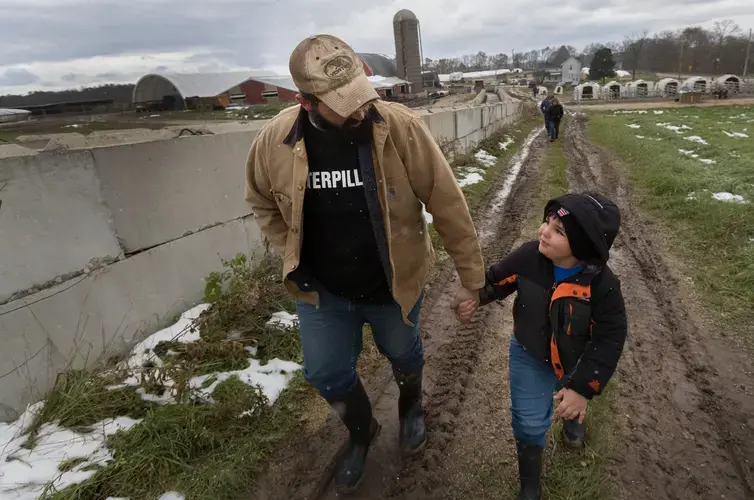 The kids purchased the 120-cow dairy herd, the equipment and 37 acres of land. The parents kept around 200 acres and leased it back to the kids. Jon will still help with the operation. So will Kim's sister Amy, who remains as the farm's herdswoman.
They also swapped houses so the kids could be right on the farm while the parents live nearby.
"I will always love the farm," Teresa said. "The farm is a huge part of what we were and what we still are. There is no better life in my opinion."
When they closed the deal, the family members hugged one another.
And they hugged their banker.
RELATED ISSUES

Issue
Bringing Stories Home
Bringing Stories Home

Trade
RELATED INITIATIVES