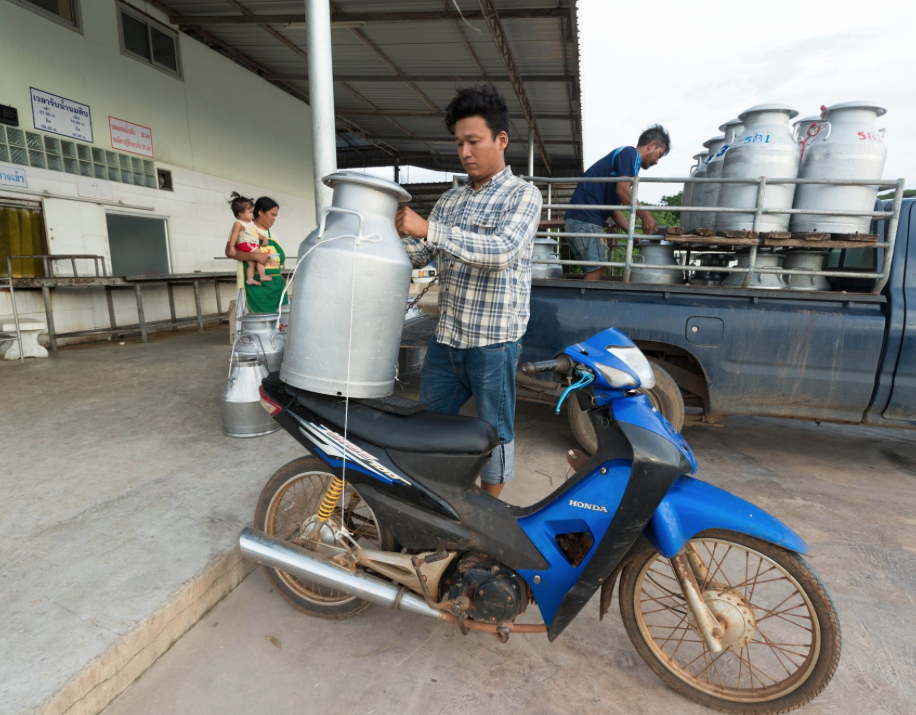 PHNOM PENH, Cambodia - On a teeming street corner, surrounded by a dizzying maze of shops, restaurants and bars, a tiny grocery store has a cooler in the back with two boxes of string cheese.  
They are from Sargento Foods in Plymouth, 50 miles north of Milwaukee. 
The 9,700-mile journey to a store shelf in Southeast Asia began on dairy farms in Wisconsin, where roughly 90% of milk goes to make cheese. The milk was trucked to Plymouth, made into 1-ounce sticks of mozzarella, put on pallets for a road trip to the West Coast, loaded onto a ship for a three-week voyage across the Pacific Ocean and delivered to the Smile Mini Mart in Phnom Penh, less than a mile from the Mekong River. 
The Sargento cheese sits next to a couple of other expats from Wisconsin: Crystal Farms Pepper Jack from Lake Mills and Hoffman's Super-Sharp Cheddar from Weyauwega.  
The modest display in the booming city of 2 million shows Wisconsin's reach into Southeast Asia1, where U.S. dairy exports climbed to $771 million in 2018, making it the second-largest export market behind Mexico.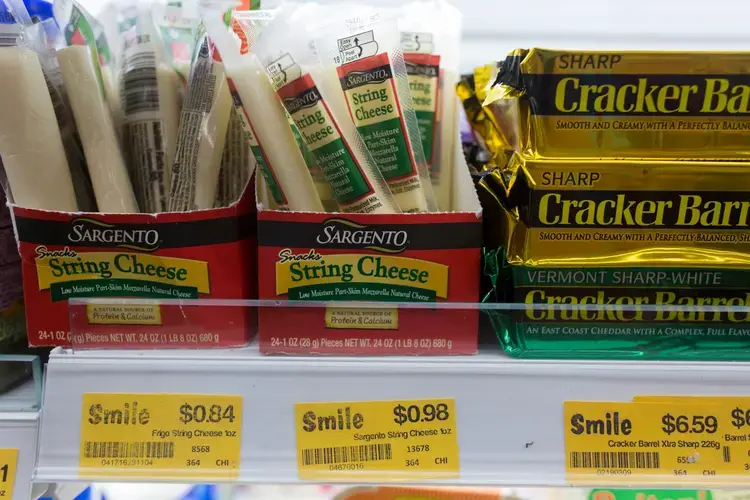 "When you start seeing Wisconsin products in countries like Cambodia, that's a big deal because it's such a new market," said Michael Stone, president of The Stone Group, a food exporter in Green Bay. 
It also should be validation for Wisconsin's relentless push to make dairy farms more productive and take advantage of what former Gov. Scott Walker said in 2012 were "the opportunities that are here before us" on the international market. 
But Wisconsin is not alone on store shelves in Cambodia or anywhere else. And although the state is the leading cheese exporter in the U.S., and dairy exports nationally have more than quadrupled in the last 15 years, the security many farmers hoped to see from the global marketplace remains elusive.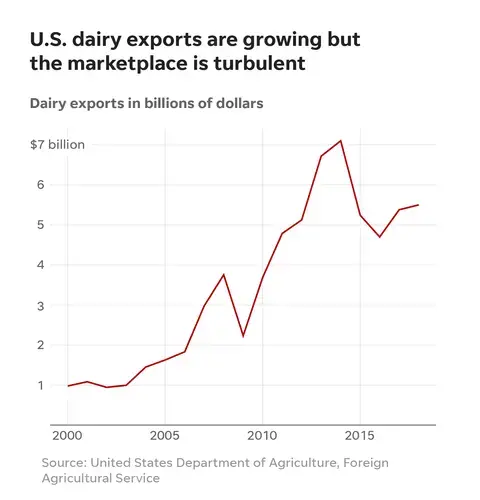 Other big dairy producers, such as New Zealand and the European Union, also have ramped up production and aggressively pursued exports — hoping that foreign markets, especially Asia, would be their lifeline as well. 
"We couldn't all increase production and expect to find a willing buyer for it," said Jim Goodman, a third-generation dairy farmer from Wonewoc. 
Further, dairy has become dominated by multinational corporations such as Nestle, Saputo, Danone and Kraft-Heinz, with the top 20 processors accounting for up to 30% of the milk produced worldwide, according to a study by the European Research Council.  
Politics has added yet another challenge. In the first half of this year alone, U.S. dairy exports to China fell 54%, largely from the trade war that's engulfed scores of American industries. 
Lost sales in China are predicted to cost U.S. dairy farmers $12.2 billion by 2023 if the current tariffs — as high as 45% on some products — remain in place, according to the U.S. Dairy Export Council. 
"Nobody can tell you, with any degree of certainty, when things are going to return to normal with China. It may be that never happens, or at least not in the foreseeable future," said Tom Vilsack, CEO of the U.S. Dairy Export Council and the U.S. secretary of agriculture under President Barack Obama. 
Stone, who ships cheese, cranberries and other Wisconsin foods to more than 60 countries, says he's lost nearly all his China2 cheese business he painstakingly built over 15 years. Even if the trade war ended tomorrow, there's no assurance that Stone — and others like him — could recover those sales.  
"All it's done is hurt U.S. producers," he said. 
As a result, while Wisconsin dairy has a more international presence than ever before, it's also more vulnerable to global economic forces. 
Now, about 16% of U.S. dairy products are sold abroad, and at times that's enough to tip the whole industry. The heritage of America's Dairyland — farm families milking 50 to 100 cows — might not be sustainable in a business climate where the world is awash in milk and trade wars torpedo sales and prices for years at a time.  
Wisconsin has been losing dairy farms at the rate of more than two a day, most of them small, family-run operations. Many of those farmers have been hemorrhaging money — or barely breaking even — for nearly five years. The loss of those farms, and the impact on businesses and communities that rely on a farm economy, isn't likely to be reversed.  
"A lot of people say that's the way capitalism works, which I suppose is true," said Goodman, who recently quit dairy farming after more than 40 years. "But you also have to look at what it's done to rural communities." 
Dairy Operations Connected Globally
At first glance, milk may seem an unlikely example of the globalization of agriculture. But though it's highly perishable if not refrigerated within a few hours, it has a shelf life of years when processed into cheese, and in powder form easily flows across borders.
There is no single world price for milk, but the prices paid to farmers are now influenced by global supply and demand. A drought in one country, a trade fight in another, a food safety scandal — they can all have a domino effect that ultimately hurts or helps a farmer in central Wisconsin.  
"Today, dairying has become a footloose industry with supply chains spanning the globe. ... In an integrated global industry, the fortunes of dairy farmers everywhere are interconnected," the 2016 European Research Council study said.  
With that has come turbulence. 
In 2014, Russia banned dairy imports from the European Union3, the United States, Canada, Norway and Australia in retaliation for trade sanctions imposed after its invasion of Ukraine. Russia has been the top importer of EU cheese and the ban shook the global dairy network. 
Then in early 2015, the European Union lifted milk production quotas, a system that had been in place for 30 years, releasing a flood of dairy products onto the world market. 
Complicating things further, China realized it had been importing too much milk powder used in processed foods, infant formula and other products. China pulled back; sales plummeted. 
Then in 2017, President Donald Trump pulled the U.S. out of the Trans-Pacific Partnership, a move that Purdue University economists estimated would cost dairy $1 billion in export opportunities.  
Also in 2017, Canada4 slashed imports of ultra-filtered milk, a high-protein concentrate used in cheese making. Scores of dairy farms in Wisconsin, Minnesota, New York and Vermont were left without a milk buyer. Trump vowed to intervene.  
In 2018, China slapped steep tariffs on U.S. dairy. And it sharply cut purchases of whey, a milk product used in livestock feed, after its hog farms were decimated by African swine fever.
"The first case of African swine fever broke out just one month after retaliatory tariffs in August 2018," said Corey Geiger, managing editor of Hoard's Dairyman, a Fort Atkinson-based trade publication considered by many to be the bible of the dairy industry. "Since then, the incurable disease that leads to death in hogs has spread to every major Chinese province. The disease has also infected hogs in Cambodia, Laos, Mongolia, South Korea, and Vietnam." 
The moves by China cost Wisconsin farmers millions in lost sales.
It's no coincidence that Asia, where much of the world's dairy exporting has been focused, is a bellwether for globalization with its fast-growing economies and adoption of a more Western lifestyle.   
"I think that Asia offers a unique perspective because you can see the past, the present and the future all at the same time," said Matt Einarson, the Southeast Asia biotechnology group director for Alltech Corp., a livestock nutrition products company based in Lexington, Kentucky. 
Finally, Mexico5 imposed steep tariffs on U.S. dairy products in retaliation for tariffs Trump imposed on Mexican steel and aluminum. Normally, Mexico buys nearly a quarter of all U.S. dairy exports. The tariffs of 15% to 25% delivered a gut punch to an already hurting industry. Products that would have gone south of the border backed up across the country.  
"All of a sudden we have our hands full and the price absolutely stinks," said Ken Heiman, general manager of Nasonville Dairy, a cheese maker in Marshfield.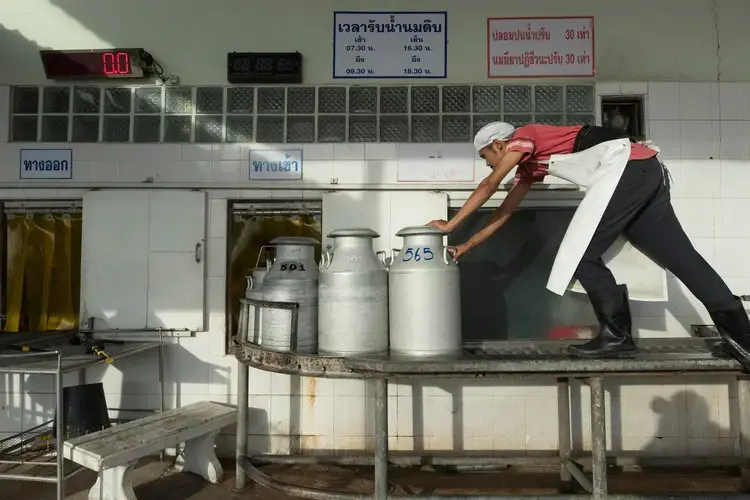 Small Farms Vulnerable Elsewhere, Too
In the Pak Chong District of northeast Thailand, where motorists yield to wild elephants sauntering across the highway, a dairy farmer balances two 13-gallon milk cans on the back of his motor scooter.  
It's a part of Thailand where Holstein dairy cattle graze in lush green pastures and family farms average 30 cows. It's also a part of Thailand where the past and the present coexist — at least for now. 
The farmer rolls into a milk depot not far from Khao Yai National Park, a vast wildlife sanctuary teeming with elephants, tigers, baboons and crocodiles. 
Prateep Kaewnun runs the depot and owns a 400-cow dairy farm built only a year ago. He wants to see the farmers on motorbikes continue in their livelihood. 
"It keeps happiness in families," he said. "They can have a career and drink their own milk as well."   
Inside the facility, workers weigh the farmers' milk and prepare it for shipment to processing centers. The equipment is modern, but the idea of small farms milking a few cows dates to 1960 when the king of Thailand, inspired by a visit to Denmark, decided to start a dairy industry.
"We are very proud to be part of a project started by the king, to make dairy farming a sustainable career," said Narongrit Wongsuwan, director-general of the Dairy Farming Promotion Organization of Thailand, based in Pak Chong. 
"These are family businesses that keep people in the countryside. The dairy farms are really important to the Thai people," Wongsuwan said. 
His organization runs a state-of-the-art dairy processing plant with equipment from the United States6 and Europe. It's an impressive facility that produces bottled milk, yogurt and other products from milk that comes from local farms.  
Nearby, there's a dairy farm with 1,800 cows that has its own processing plant and 25 retail stores in Bangkok. That family-owned operation, Farm Chokchai, has a thriving tourism business with an American cowboy theme. It attracts a million visitors a year. 
The Thai government has urged farmers to modernize their operations before 2025, when tariffs are lifted on dairy products coming from Australia and New Zealand7. 
The small-scale Thai farms may not be able to compete with the big operations in New Zealand, especially.
"We are very concerned about that. We have to improve the efficiency of our dairy farmers," Wongsuwan said. 
Some farmers believe it's too far in the future to worry about now. 
That frustrates Kaewnun.  
"It will be difficult for the small farms to survive if they don't work together," he said.  
Across the Bay of Bengal, similar worries permeate India's dairy industry — along with a similar reason for concern: Foreign exports.
About 75 million Indian households are engaged in dairy farming, according to official estimates, providing essential income for small farms and the rural poor. 
India8 is the world's biggest milk producer ahead of the United States, New Zealand, China, even the entire European Union, although more than half of the milk comes from buffalo, not cows. 
Farmers fear that a major Asia-Pacific trade pact, the Regional Comprehensive Economic Partnership, would encourage imports of cheaper agricultural products including dairy. 
If the deal is passed, farmers say it could trigger a wave of milk products from New Zealand, a nation that has more cows than people and sells 90% of its milk abroad. It would be disastrous for millions of people who milk only a couple of cows or buffalo and rely on that income, said Indian farmer Kannaiyan Subramaniam. 
"We have an impressive network of individual sellers, cooperatives, others who have made our country self-sufficient in milk. It's an excellent model that should be replicated in other developing countries," he said in a Skype interview.  
New Zealand says it would not send more than 5% of its milk supply to India, but that's of little comfort to Subramaniam.  
"If we lose that much to one country alone, imagine the danger if we add up others," he said. 
















Made-to-Order Dairy Industries
While farmers in Thailand and India worry about imports crushing local markets and destroying small farms, in Vietnam and China the focus is on building mega-size operations to satisfy unmet dairy needs. 
About 150 miles south of Hanoi, TH Milk runs a $1.2 billion dairy operation tucked into the tropical landscape near Vietnam's north-central coast. It is a mix of traditional Asian culture and modern technology.  
Even the road leading to the farm reflects the convergence of old and new, with farmers walking their buffalo between pastures as SUV drivers patiently wait to go around them. Clusters of barns — vast open-air metal buildings — house about 40,000 cattle in sweltering tropical heat. A system of sprinklers and fans gives the animals some relief. 
Inside one of the barns, workers glue balls of mugwort, a medicinal herb, to acupressure points on cows' backs. They light the mugwort on fire to release its properties, aimed at increasing fertility. The cows don't even flinch as the smoldering herb penetrates their hide.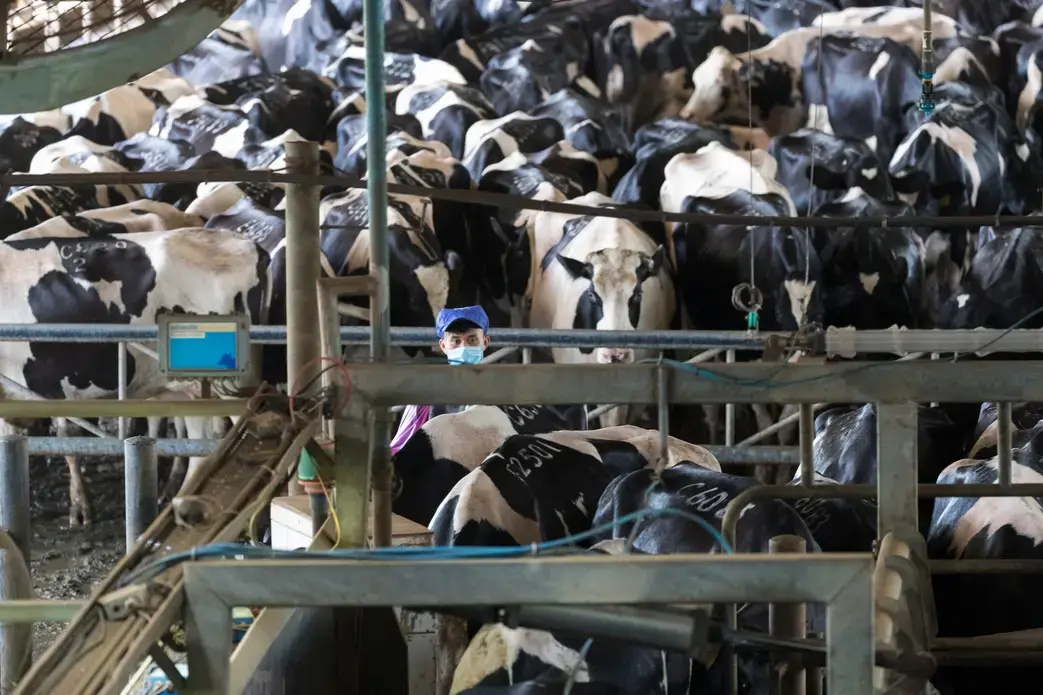 Cows are moved for milking on one side of a giant open barn at TH Milk's operations in Nghia Son, Vietnam. Image by Mark Hoffman. Vietnam, 2019. 



TH Milk is the culmination of a pursuit by Thai Huong, a wealthy Vietnamese banker who believes her country should have its own fresh milk supply. 
Her vision arose from a food safety scandal in which melamine, an organic compound used to make plastics, was intentionally added to watered-down milk in China to fool a test for protein and fetch a higher price. At least six babies died and thousands of children were sickened. Dairy producers were found to be the culprit and 14 people went to prison, one of them for life. 
After learning that children in Vietnam fell ill from imports of the adulterated milk, Huong partnered with Afimilk, an Israeli dairy technology company familiar with the challenges of milking cows in tropical climates, to create a farm in a part of Vietnam where she was born. Huong essentially bought a brand-new dairy operation much like a manufacturer might buy a turn-key factory.
Today, TH Milk accounts for much of the fresh milk produced in Vietnam, a fast-growing nation where the median age is 30 and dairy products have just gotten a foothold in many places. 
The privately held company is also a model of globalism. 
It imported Holstein-Friesian cattle from the U.S. and New Zealand and technology from around the world. The cows took a while to adjust to the tropics and a new farm where workers were learning on the job. 
"This was a very different world for them," said Craig Tannen, an Australian and the farm's chief veterinarian.
The farm milks hundreds of cows at a time. Classical music is piped into the milking parlor and there's a herbal garden next to a barn that houses cows used to produce organic milk. There's also a Buddha statue where fresh dairy product offerings are left daily.  
The feed mill, which produces 500,000 tons of cattle feed a year, is run by Hanan Saggi, an Israeli who came to Vietnam nearly a decade ago for the challenge of starting the farming operation and never left. He's an energetic man in his 50s, who at age 26 was director of the largest dairy farm in Israel9.
"I never thought I would be in Vietnam this long, but it's an amazing country and I have an amazing job," he said. "We are really proud of what we have achieved."  
The farm has more than 1,000 employees, a laboratory where 20,000 samples of milk a month are tested for quality and its own dairy processing plant.  
Vietnam can't yet satisfy its own dairy needs. It spent $258 million on imported dairy products in the first three months of 2019, up 11% from a year earlier.  
But TH Milk is determined to reduce its country's reliance on powdered milk, a product that people associate with developing nations.  
"We believe that once milk is converted to powder, it loses some of the nutritional value," said Vijay Kumar Pandey, the farm's chief financial officer and a native of India.  
TH Milk has its own dairy product brands and retail stores. The farm's long-range plan calls for 137,000 cows and it has opened a $2.7 billion dairy operation in Russia10.
Huong has launched schools, hospitals and pharmacies in Vietnam. Her farm is run as a business, but Pandey insists there's a higher calling to satisfy nutritional needs in the nation where stunted growth in children remains an issue. 
"Profit will never be a big driver for us," he said. "Our goal is to associate the brand with health and not just be a commodity and another milk product on the shelf." 
Looking further ahead, the company is positioning itself to be an exporter. 
"The door to China is open for us," Pandey said. 






















Any discussion of the growing globalism of the dairy industry sooner or later turns to China.  
In China, "The small farms are going away, just like they are pretty much everywhere," said James Cullor, a University of California-Davis veterinary sciences professor who has made roughly 50 trips to Chinese dairy farms over the last 20 years. 
By 2022, China is expected to overtake the United States as the world's largest dairy product market, according to the research firm Euromonitor International.  
The country is also creating some of the most massive dairy farms on the planet. Scores of operations with thousands of cows each have been built in places where farms once housed a couple of cows, some pigs, chickens, goats and maybe a few geese.
Cullor said China's biggest dairy processors aim to control the farms and flow of milk in their country and have set their sights on the global industry as well.  
"One of the reasons I started going over there was to try and figure out what their strategy was," he said. "And I have been telling the California dairy industry that China is going to come here, they're going to buy farms, processing plants and they're going to learn how to beat you at your own game."  
No Reversing Global Economy
Twenty years ago, China's dairy industry barely existed. But it was willing to pay the University of Wisconsin-Madison and many others for education and expertise. Today, dairy exporters to China are increasingly competing with home-produced milk.
"When I first started promoting dairy in China, they mostly had very small stakeholders, people with one or two cows in their backyard," said Karen Nielsen, program outreach manager for the dairy science department at UW-Madison. 
Other countries have also been able to leapfrog their way to dairy success, partly by tapping into the latest technologies and bovine genetics from Wisconsin, New Zealand and Europe. 
In the first week of October, about 70,000 people from more than two dozen countries are expected to descend on Madison for the World Dairy Expo. Held at the Alliant Energy Center, the annual event showcases the latest in dairy technology — and at least indirectly celebrates Wisconsin's historical role in its evolution. 
The expo is part convention, part livestock show, part classroom.  
Virtual tours of the best farm operations take place not far from rows of commercial exhibits. In the coliseum, cows saunter down a runway of colored wood shavings meant to look like a red carpet, all under the watchful eyes of judges wearing tuxedos. Education sessions focus on everything from improving dairy feed to managing manure.
This year, woven into that schedule are seminars that address the crossroads dairy operators find themselves at: 
• Growing Your Business for Generations to Come — Are We Shaping the Right Model? 
• What Drives Financial Success on a Dairy 
• Understanding the Stressors on Today's Dairy Farms 
• Dairy Farm Financial Decision-Making in Turbulent Times  
World Dairy Expo illustrates the fact there's no reversing the global economy. Wisconsin alone exported $451 million in dairy products in 2018, according to a new report from Steven Deller, a UW-Madison agricultural economist.
"One of the primary sources of growth for the agricultural industry has been foreign export markets, particularly new markets that are opening in Asia," Deller said.
But the question is whether Wisconsin's dairy industry can find enough opportunity — in Asia and around the globe — to recalibrate at a time when the percentage of farms shutting down has reached heights not seen since the Great Depression.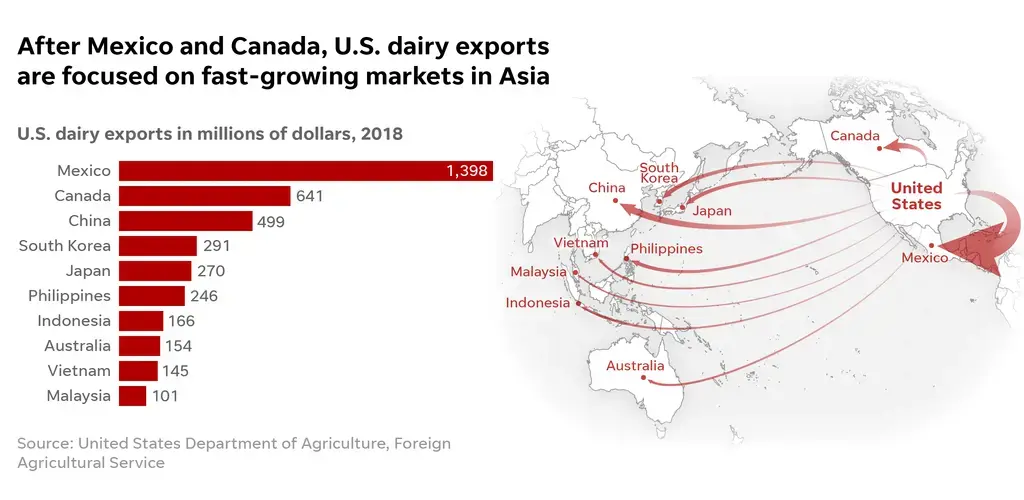 From the U.S. To Cambodia
Back in Cambodia, a 15-minute ferry ride across the Mekong River from the bustling Phnom Penh business district, a young American from Salt Lake City, Utah, operates the country's only commercial dairy farm.
Moo Moo Farms, with 150 Holstein-Friesian cattle, boasts its own milk bottling plant and a drive-up store for customers navigating heavy city traffic on motor scooters. 
Its owner is Kenny Matthews, a 30-year-old former Mormon missionary who finished high school in Bangkok, Thailand, while his father was working at the U.S. embassy there. 
Cambodia's only commercial dairy farm: After serving as Mormon missionary in Cambodia, Kenny Matthews decided to start the nation's first dairy farm with just 13 cows. Video by Mark Hoffman. Cambodia, 2019. To view the interactive photo slideshow click here. 
While doing mission work in Cambodia, Matthews said, it struck him as odd that the country didn't have its own dairy farms. Fresh milk — what little was available — came from Thailand or Vietnam. And the milk made from imported powder mixed with water wasn't very tasty.  
"I stopped drinking milk when I came to Southeast Asia," he said. "It just didn't taste like milk to me." 
Matthews said he had no farming experience when he launched Moo Moo Farms a couple of years ago. The only time he had ever milked a cow was when he was 12 years old back in Utah. 
He started the farm on a very small scale with cows imported from Thailand and milking equipment from New Zealand.  
"I made a lot of mistakes, but when you start with only 11 cows, your mistakes aren't as detrimental," he said.  
With help from his father and outside investors, Matthews has grown Moo Moo Farms to an operation that supplies fresh milk to restaurants, bakeries, coffee shops and other customers in Phnom Penh. He's also working to get city folks familiar with a dairy farm. Moo Moo Farms hosts tourists and student groups and is putting in a petting zoo, ice cream parlor and cafe. 
Matthews hopes to double the size of his herd to 300 cows by the end of the year. He wants to get fresh milk into school lunch programs and, long term, he would love to supply rural areas where refrigeration is spotty. 
For now, Moo Moo Farms is hardly a global player; arguably, it's not even a national player. It has less than 1% of the market share for milk in Cambodia and is hardly a household name. But with Matthews' willingness to take risks, his knowledge of the culture and his missionary zeal, it's not hard to imagine a day when those dairy shelves at the Smile Mini Mart will include his products alongside the Sargento string cheese. 
"It's either ambitious or crazy," Matthews said of his attempt to take a seat at the international table, "and there's probably a fine line between the two of them." 
1 SOUTHEAST ASIA: One of the world's fastest-growing dairy markets; the population now exceeds 660 million, nearly double the U.S.
2 CHINA: Projected to overtake the U.S. as the world's largest dairy consumer by 2025. China is also building mega-size farms, with tens of thousands of cows, to boost its fresh milk supply.
3 EUROPEAN UNION: In early 2015, the EU lifted its quota system, which limited milk production. That released a flood of milk onto the world market.
4 CANADA: Unlike most countries, it boasts a milk quota system — which limits how much milk each farm can produce. That has protected small family dairy farms from price crashes.
5 MEXICO: Faced with a flood of dairy imports from the U.S., as a result of the North American Free Trade Agreement, its small farms are struggling.
6 UNITED STATES: From 2004 to 2014, the value of dairy exports more than quadrupled and the U.S. became the world's third-largest exporter, behind New Zealand and the European Union.
7 NEW ZEALAND: With more cows than people, New Zealand is a dairy superpower that exports heavily to China and even the U.S. Much of it is milk powder used in food ingredients and for infant formula, but the country is also one of the world's largest butter exporters.
8 INDIA: It is the world's largest milk producer, with 75 million people milking cows or buffalo. Most operations have 10 or fewer animals, with many households having only one or two.
9 ISRAEL: Not a big dairy producer, but Israeli dairy technology company Afimilk developed a mega-size farm in Vietnam for a wealthy Vietnamese banker.
10 RUSSIA: In 2014, banned dairy imports from the European Union, the U.S., Canada, Australia, Norway and other countries. It now gets milk from other countries and with help from Vietnam has built a $2.7 billion dairy operation.
RELATED ISSUES

Issue
Bringing Stories Home
Bringing Stories Home

Food

Trade
RELATED INITIATIVES