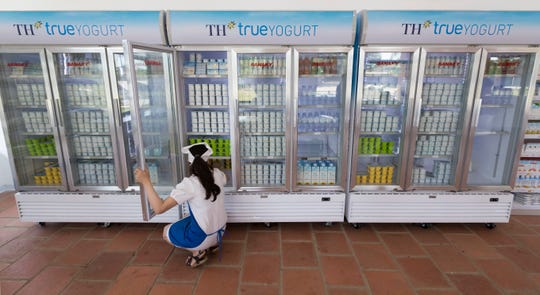 Since 2003, nearly half of the increase in milk production in the United States has gone to exports. In fact, the value of dairy exports climbed from $1 billion in 2000 to $5.6 billion last year. 
At the end of 2018, though, farmers weren't popping champagne corks in celebration. The volume of exports plummeted in the second half of the year and has continued to struggle, largely from tariffs imposed by China.
Still, with 95% of the world's population living outside of the United States, exports are crucial to the dairy industry's growth.
How important are exports to the dairy industry?
Nearly 16% of all U.S. milk produced last year went into the export market. Looking at it another way, about one in six tanker trucks of milk that left American dairy farms ended up in products sold abroad. 
Where is demand for U.S. dairy growing?
Southeast Asia. Fast-rising young populations with higher incomes — and an increasing appetite for Western-style foods — have boosted cheese sales. Since about 90% of Wisconsin's milk goes into cheese, that's been a plus for struggling dairy farmers.
Overall, Mexico remains No. 1, accounting for roughly one-fourth of all U.S. dairy exports, or more than $1.3 billion in 2018. Southeast Asia is next, at $771 million, followed by Canada at $640 million. 
How important is China?
In the next three years, China is expected to become the world's largest dairy product marketplace.  If the high tariffs are lifted, U.S. suppliers may be able to regain market share. Otherwise, they will continue to struggle on an uneven playing field against competitors such as New Zealand and the European Union.
Meanwhile, China is developing its own dairy industry with mega-sized farms aimed at reducing its dependence on other countries. 
What country has the most dairy farms?
Not the United States. In India, an estimated 75 million households produce milk, more than anywhere else in the world — though much of it is from buffalo, not cows, and most of the farms have fewer than 10 animals.
Where are the world's largest dairy farms located?
In the U.S., one of the largest is Fair Oaks Farms, in Fair Oaks, Ind., with about 30,000 cows.
Meanwhile, in the desert of Saudi Arabia, there's a six-farm complex with 46,000 cows. Vietnam and China also have dairy farms in that range.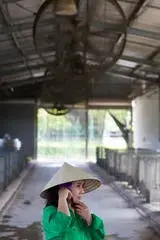 Where are all the cows coming from?
Often the United States. Foreign buyers seek cows from the U.S. and New Zealand for their superior genetics and high level of milk production. 
More than 1,500 cows at a time have made the three-week voyage across the Pacific Ocean to Vietnam. Onboard, they munched on hay strapped to the deck.
Do American dairy cows thrive in places like Vietnam?
They adjust to the tropical climate, though it's not natural for them, and milk production suffers in the heat. On the big farms, cows live in the shade in open-air barns. They're cooled with fans and water sprinklers.
Milk spoils. How can it survive a trip overseas?
Not much milk is sent overseas in liquid form — just a small percentage that has a long shelf life. Most exports, according to the U.S. Dairy Export Council, are products such as whey, cheese, butterfat, lactose and powdered milk.
Are exports the cure for the low prices faced by U.S. dairy farmers?
Not entirely, but without exports the surplus of American milk would be much worse, putting pressure on farmers already struggling with low prices.
Critics say international food processors, such as Nestle, Kraft-Heinz and Saputo, are the biggest beneficiaries because they can buy milk in large quantities, process it into various products, and sell those worldwide with the benefit of trade agreements that minimize or eliminate import duties.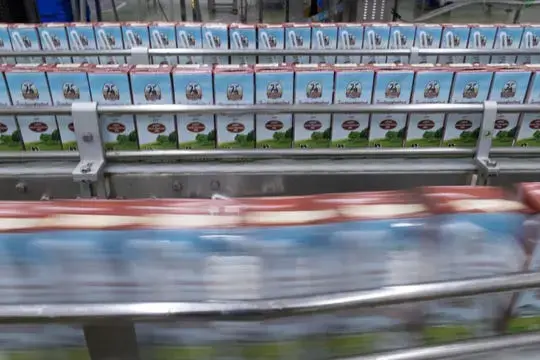 How important is the U.S.-Mexico-Canada Agreement — the proposed replacement for NAFTA — for dairy farmers?
It represents about $220 million in additional sales of dairy products a year for U.S. farmers because there's expanded market access. In addition, it resolves other issues that have been a thorn in the side for the dairy industry here. 
Will there always be a need for dairy exports?
Yes. Many countries don't have the cows necessary to meet the dairy needs of their people.
Exports can be a safety valve when U.S. dairy farmers produce too much milk. Yet some countries are growing the size of their dairy industry, which could mean less opportunity for U.S. sellers. And at some point, those countries could become competitors in the world market. 
RELATED ISSUES

Issue
Bringing Stories Home
Bringing Stories Home

Trade
RELATED INITIATIVES