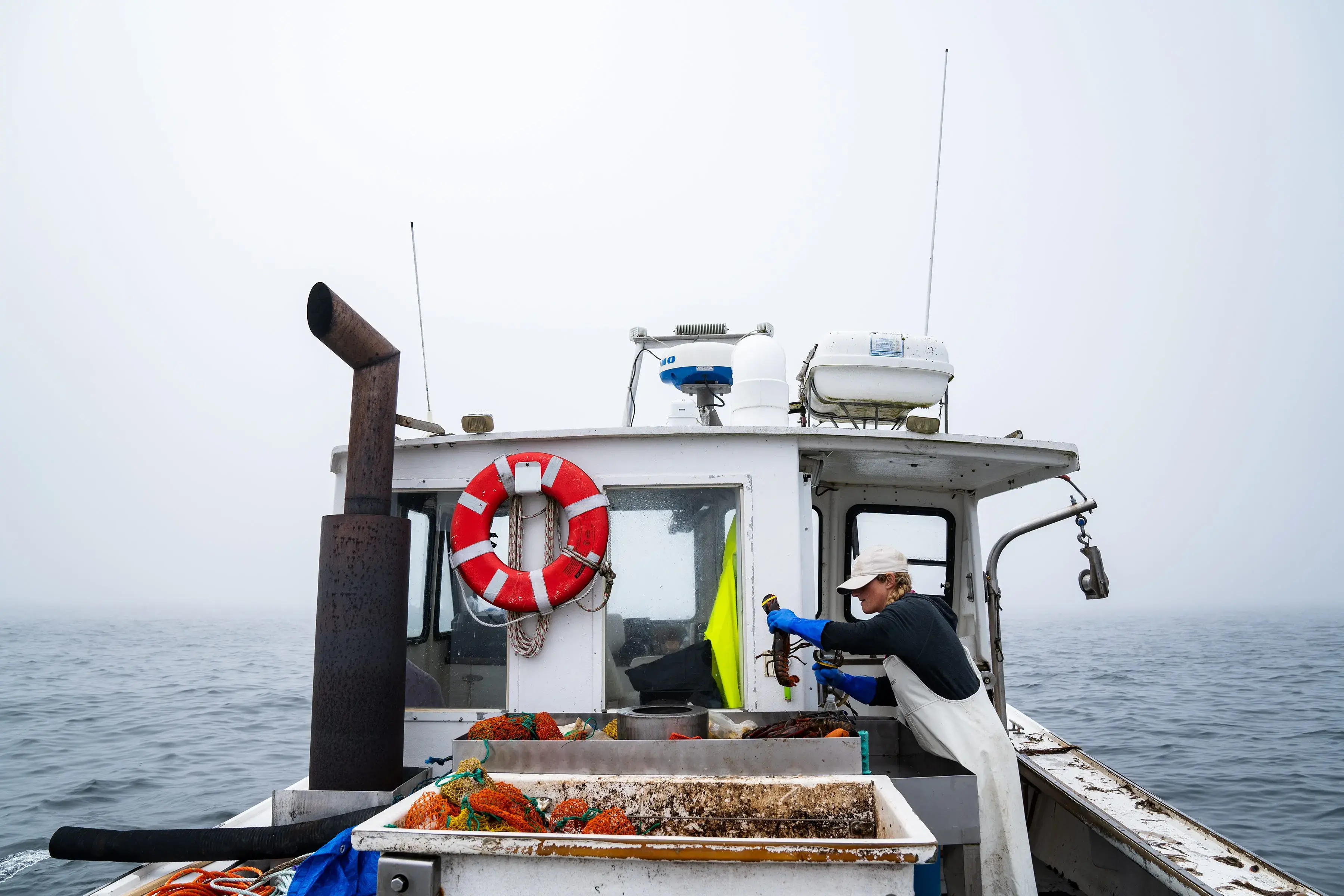 Editor's note: USA TODAY, with support from the Pulitzer Center, traveled to Alaska, Southern California, Florida and Maine to document climate change's effects on oceans and the people who fish in them. This report is from Maine.
---
ABOARD THE FISHING VESSEL SHEARWATER—Lobsterwoman Krista Tripp doesn't need a scientist to tell her the normally cold waters off the coast of Maine are warming. The submersible thermometer she takes on every fishing trip proves that.
But it's not just the warmer water that's changing fishing here on the rocky coast of northern New England. Heavy rains are lowering the ocean's salinity. And warm-water fish that don't belong keep showing up.
"You can tell the water's changing, and we're getting new species," says Tripp, 38. "People are posting fish they catch on Facebook and asking 'What's this?' And they're tropical fish.'"
---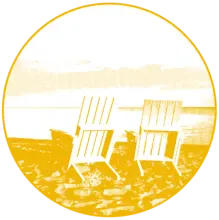 As a nonprofit journalism organization, we depend on your support to fund our nationwide Connected Coastlines climate reporting. Donate any amount today to become a Pulitzer Center Champion and receive exclusive benefits!
---
Climate change and warming ocean temperatures are impacting the lobster industry in Maine: Warming oceans are changing the shedding habits of lobsters off the coast of Maine. Lobsterwoman Krista Tripp explains how that impacts her industry. Video courtesy of USA Today.
Tripp started lobstering at her grandfather's knee, where she learned to bait traps. She still tries to fish some of his old favorite spots near to shore, but increasingly she's plumbing the waters right at the edge of where her permit allows, three miles offshore.
Her grandfather trapped lobster his whole life, and now Tripp, like her father before her, carries on that legacy. For generations, lobstering has helped define this slice of northern New England, where the cold Atlantic waters have been home to the species that helped build a young United States: cod, whales, lobster.
But what Tripp sees from the Shearwater's wheelhouse is just one part of a larger problem facing the United States, as climate change warms the world's oceans and transforms the creatures that live in them. As the oceans get hotter, sea life adapts, and many species that used to be easily fished close to land are fleeing to colder, deeper waters. 
In Maine, the intense focus on a single species of lobster ‒ Homarus americanus ‒ helped build a generations-old culture of coastal fishing done in small boats close to shore.
But that way of life may be changing, as the Atlantic Ocean's Gulf Stream current alters its path north from the Caribbean, bringing unusually warm water and new species to the once-dependable fisheries of the Gulf of Maine.
Experts say that while Earth's climate has always changed ‒ along with the fish and animals that live in any given area ‒ human-caused climate change is bringing alterations far more rapidly than normal, upending and threatening the way we live and what we eat.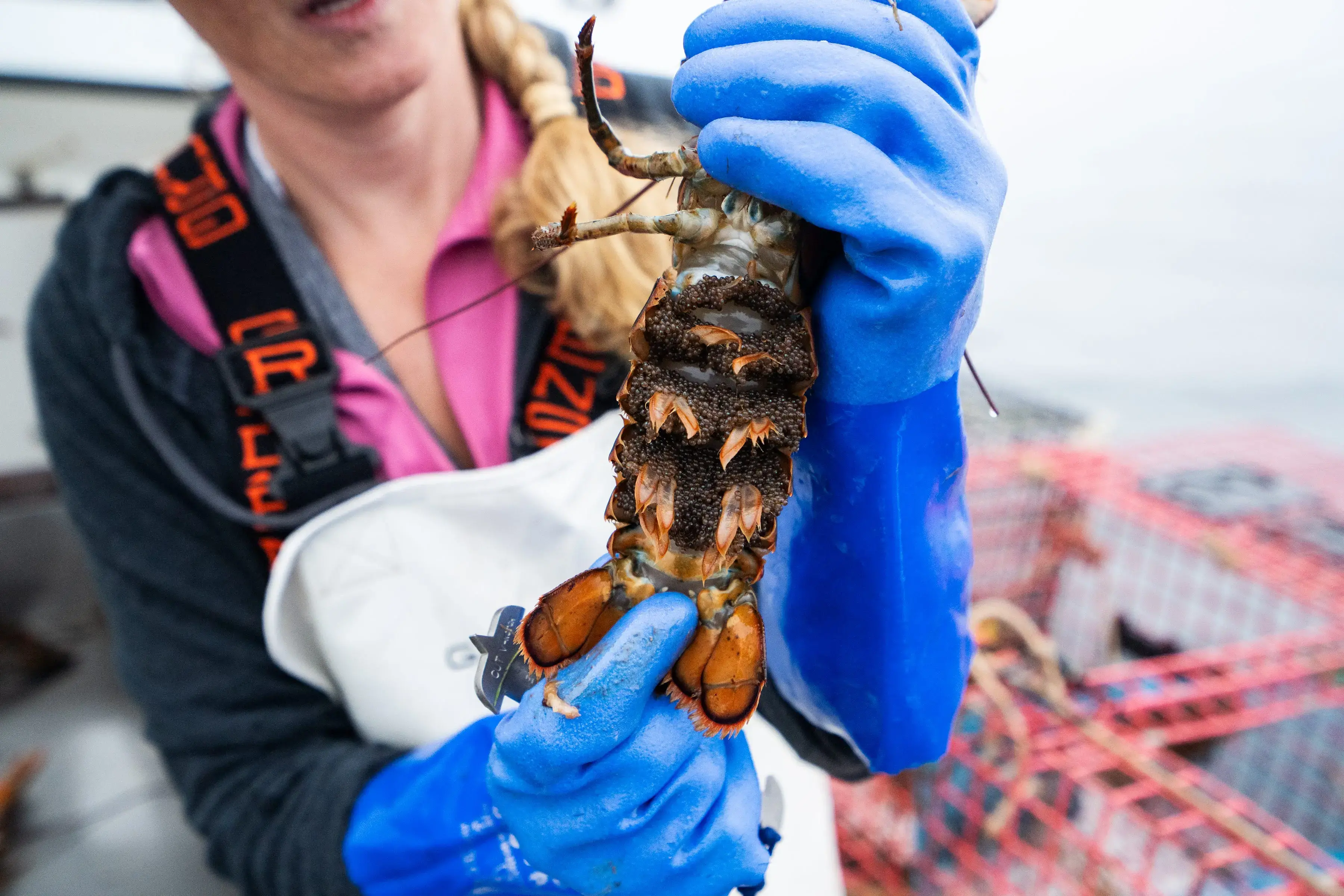 An old tradition continues and evolves
Like farming, much of the fishing done close to shore in the United States remains in the hands of people like Tripp, who can trace their maritime heritage back generations.
Today, Tripp's hands follow patterns learned and honed virtually her entire life. Stab a stinking, dead bait fish with a metal spike. Thread a retaining line through its body. Jerk the spike so the bait slides smoothly into the waiting trap. Latch it shut. Toss it overboard.
On this day, Tripp will bait and toss overboard 40 traps used to catch lobster, the smelly bait luring the crustaceans out from their dark, cold crevices on the ocean's rocky floor. Working alone aboard her 36-foot-long boat, Tripp wishes aloud her crewman had showed up to work in the foggy predawn darkness to help load bait and traps. Without help, everything takes longer, and there's no one close by if she falls overboard, tangled in a trap line. But with the season just starting, she can't afford to wait.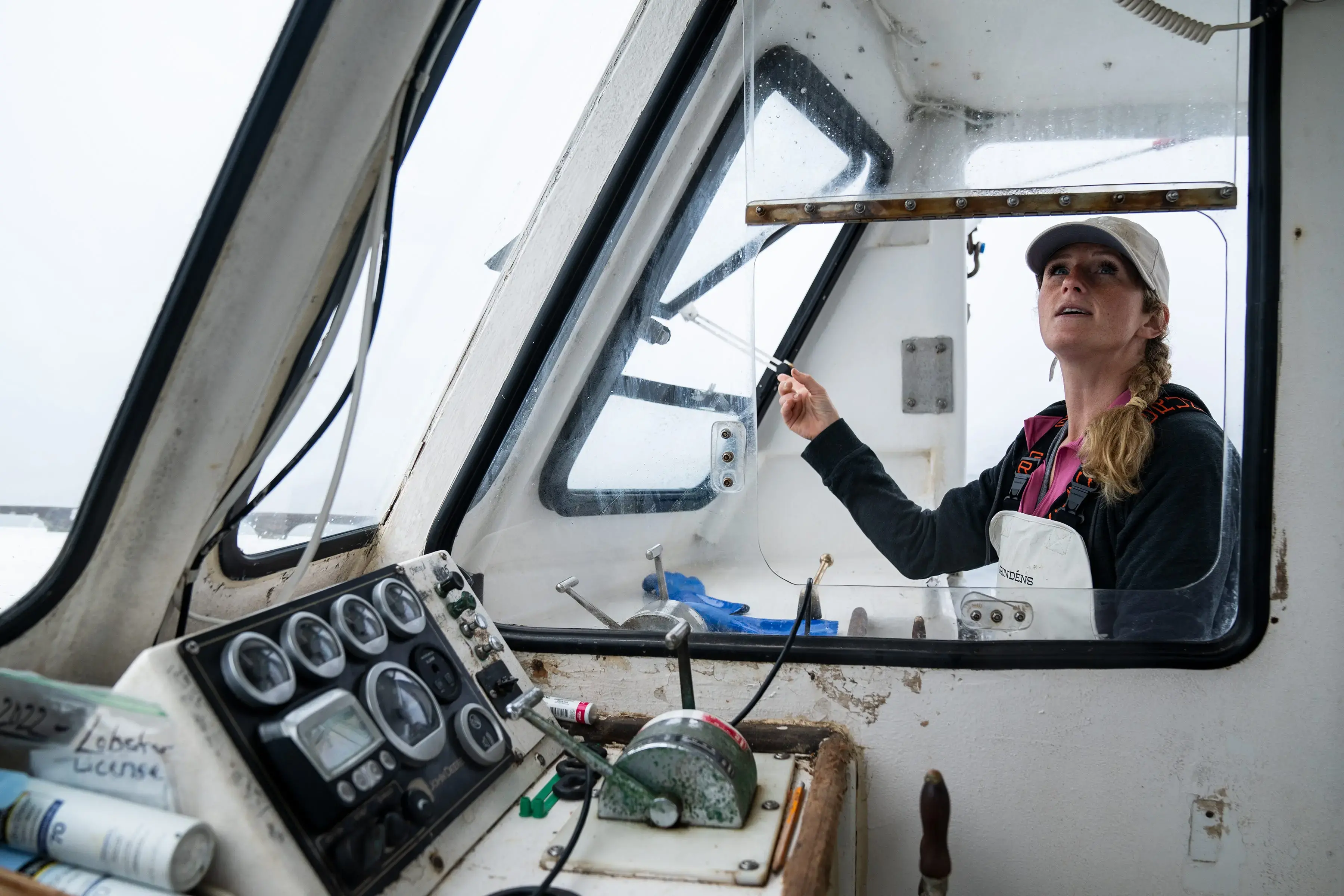 Chasing the lobsters further from shore costs more in time and diesel fuel in a year in which lobsters are currently fetching $4.50 a pound at the dock, compared to the historically high $8 per pound in 2021. 
"I'm not looking forward to setting 40 traps today. But the problem is that I need money, so…" she laughs. "I haven't had a paycheck in six months, so we have to work now."
Unlike more mainstream jobs, where a worker gets paid per hour, Tripp's earnings are based on factors including fuel prices, the number of lobsters she catches, international demand for seafood and even how often Americans go out to eat.
"Every year is a little bit different. You have to figure out where they're at, where they're going to be," she says. "That's what's exciting – you're really hunting."
SOURCE © Mapcreator.io | © OSM.org. Image courtesy of USA Today.
Historic industry sees more changes coming
As she baits and drops traps, Tripp watches via remote camera as her 1-year-old son plays inside their home, watched over by a babysitter. Her husband is off on a two-week-long offshore lobster fishing trip aboard a large commercial boat, and she's been struggling to find reliable and affordable child care in rural Maine.
"Wave to the camera baby! Say 'hi.' I'll be home soon. Bye-bye baby," she tells her son over the video feed on her phone. "Ugh, it breaks my heart that I can't just be with him."
It's early July, the traditional start to the lobster season off Maine's coast. Lobsters usually shed their shells in the spring, which makes their meat more tender for eating. Although lobsters can be caught anytime, summer is typically when fishers like Tripp start setting their traps.
They'll check them multiple times a week for the next several months, hauling and rebaiting the 40-pound cages dozens of times. Tripp fishes 800 traps.
After hanging up with her son, Tripp thinks aloud about what legacy she'll pass on to him. She'd love for him to grow up lobstering like she did but increasingly believes the industry will be dramatically different by the time he's old enough to captain a boat.
"This is more than a job, it's a whole way of life. It's all some people know how to do," she says. "I would love to pass it on, but I'm not sure what it's going to look like in the future."
Tripp worries how Earth's changing oceans and climate will affect her job and a generations-old way of life in New England. Her husband and father both work on larger offshore lobster boats that battle bigger waves and storms to find lobster in deeper waters.
"The lobster population is headed toward Canada. We have to head out further to catch them, which makes it more dangerous," she says. "I don't feel safe doing that."
'The ocean is changing so rapidly'
Temperature records show the past two years have been the warmest on record in the Gulf of Maine. Last year's average annual sea surface temperature of 53.66 degrees was 3.72 degrees higher than the 30-year average. Experts say many species' reproductive or feeding cycles can be altered dramatically by small temperature variations.
Until 2010, the Gulf of Maine's fall sea surface temperature rose above 57 degrees only once in almost 30 years. Since 2010, it's remained above 57 degrees every fall.
Climate experts say the changes are due in part to the warm Gulf Stream no longer shooting straight north through the Atlantic but instead "wiggling" closer to shore. Additionally, heavier rains falling on New England make the ocean less salty because of the influx of fresh water.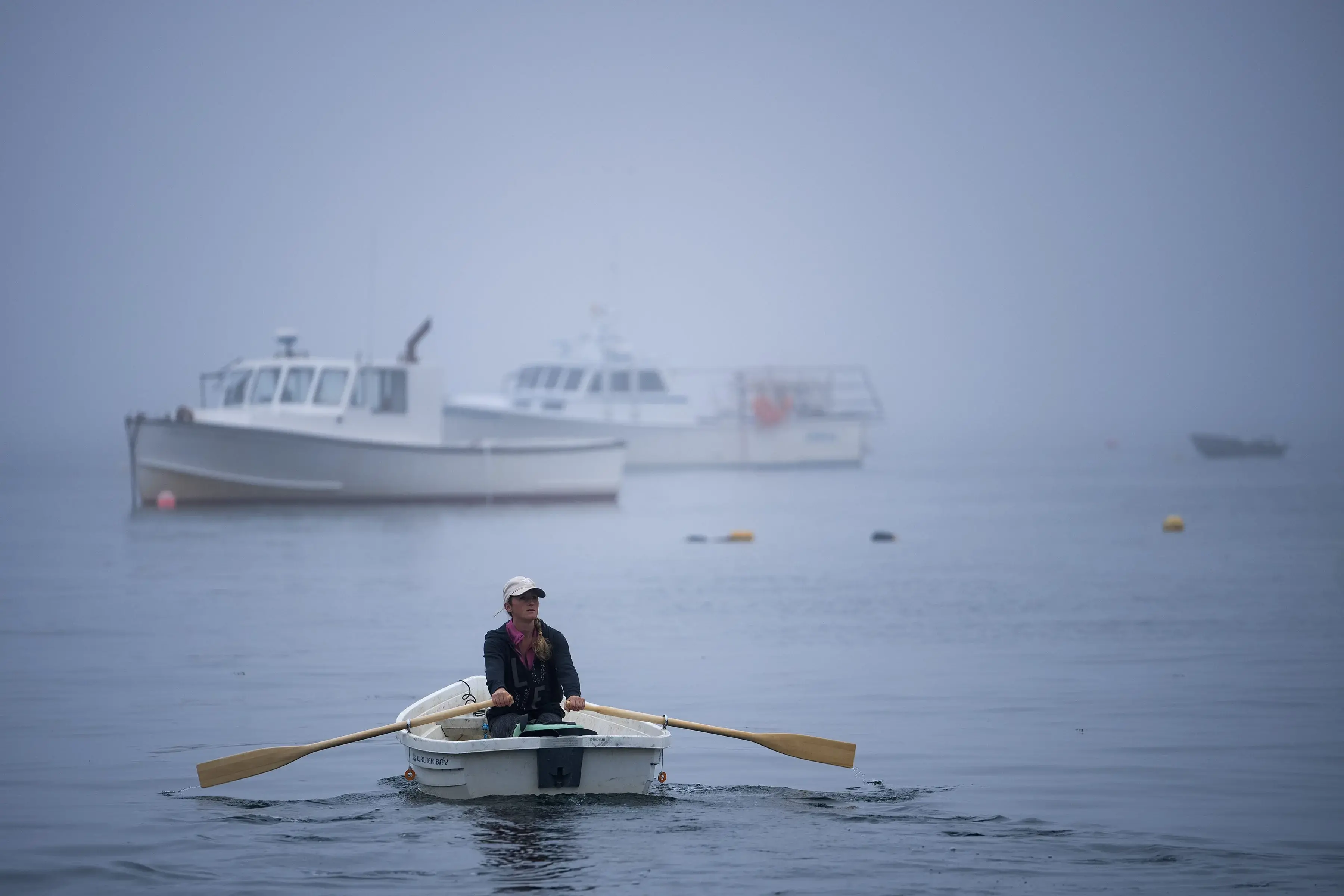 Massachusetts-based oceanographer Glen Gawarkiewicz said he's shocked to see how much the Gulf Stream has changed since he got his doctorate in 1989.
Like Tripp, he's had reports of tropical mahi mahi being caught off Georges Bank, a storied cold-water fishing area between Cape Cod in Massachusetts and Nova Scotia, Canada. Once home to the cod and halibut that helped power the early growth of the United States, the now-warming waters make it possible for fish from the Caribbean to survive further north than they've typically been found.
Statistics kept by Maine officials since 1905 show the water temperature in Boothbay Harbor has risen about four degrees, more than enough to alter what, where and when the lobsters eat and where and when they reproduce and molt.
"The ocean is changing so rapidly, and I've never see things change as rapidly as 2023," says Gawarkiewicz, an associate scientist in physical oceanography at Woods Hole Oceanographic Institution. "I'm in hair-on-fire mode."
Scientists helping fishers adapt
Gawarkiewicz says scientists are starting to understand how higher temperatures and salinity changes can affect species. But they are still grappling with how to translate that information into decisions that could help fishers like Tripp be more effective.
He says fishers who consult closely with scientists tend to have better catches because they're adapting centuries-old fishing techniques to what's happening today – hopefully preserving the lifestyle and industry for generations to come.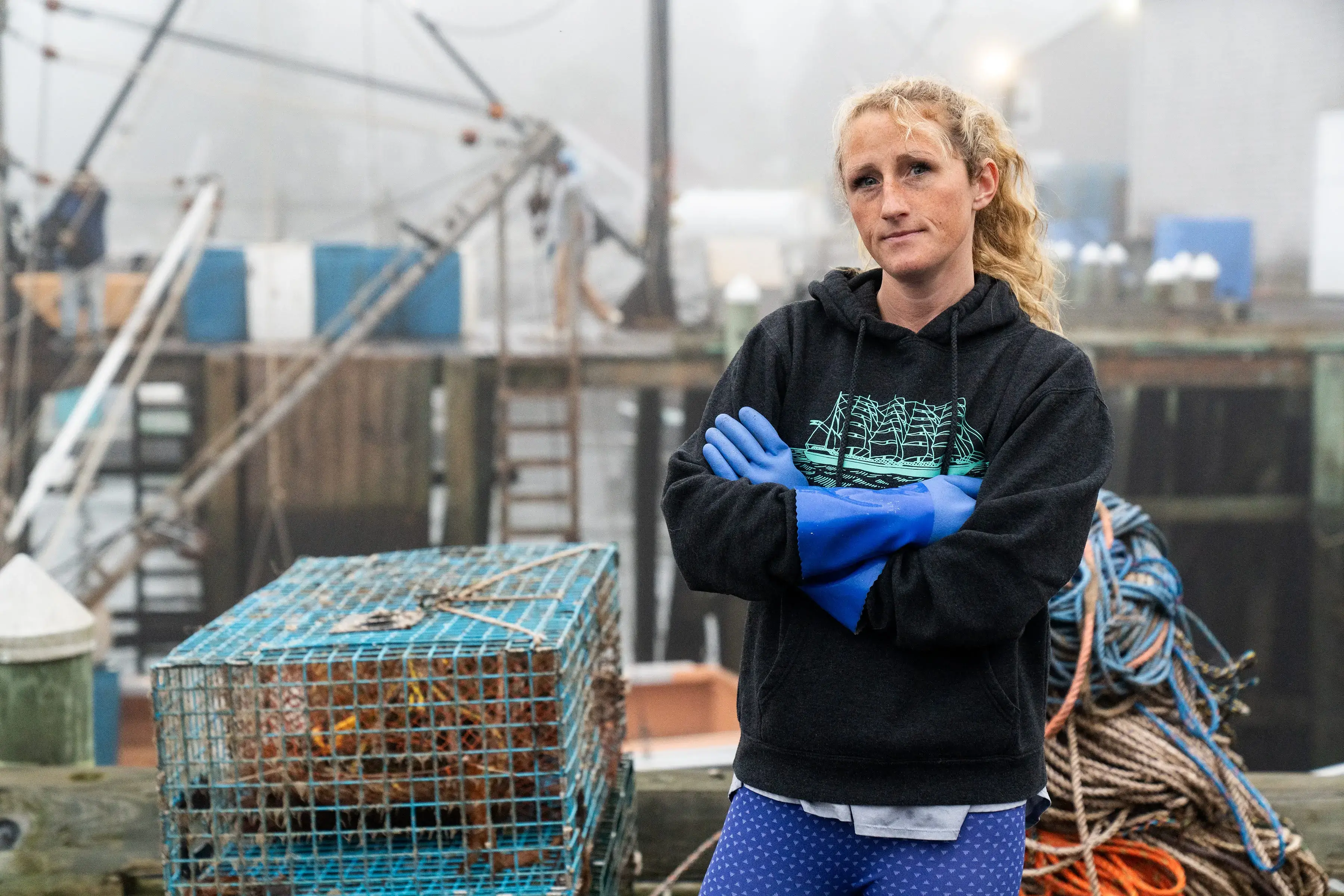 "Many of these families have been here for 400 years. They know these waters like the back of their hands," says Gawarkiewicz. "They've been through hard times, they're resilient, and so central to their communities."
Changes in migration patterns and fishing also are increasing conflicts between species, including humans and whales.
Federal officials are growing increasingly concerned that lobster fishing gear and collisions with boats are killing endangered North Atlantic right whales, which scientists say are moving into new areas due to higher water temperatures. A federal court and Congress recently blocked federal regulators' efforts to limit lobster fishing in the Gulf of Maine and gave lobster fishers until at least 2028 to operate without changes.
A new business offers hope
That court decision and congressional extension give Tripp a five-year reprieve from any new regulations, but she's still looking much further to the future.
About six years ago, Tripp started Aphrodite Oysters. Although she often works alone on her lobster boat, she now has three full-time employees tending, harvesting and delivering the oysters. Scientists she's consulted say that if the ocean waters continue warming, her oysters will start growing faster, improving her harvests.
Fisheries expert Lyall Bellquist says fishers like Tripp are being forced to diversify either the species they chase or where they go fishing. He says scientists are only just beginning to understand the complex interactions among hotter waters, salinity levels and the marine creatures that make up the underwater food web.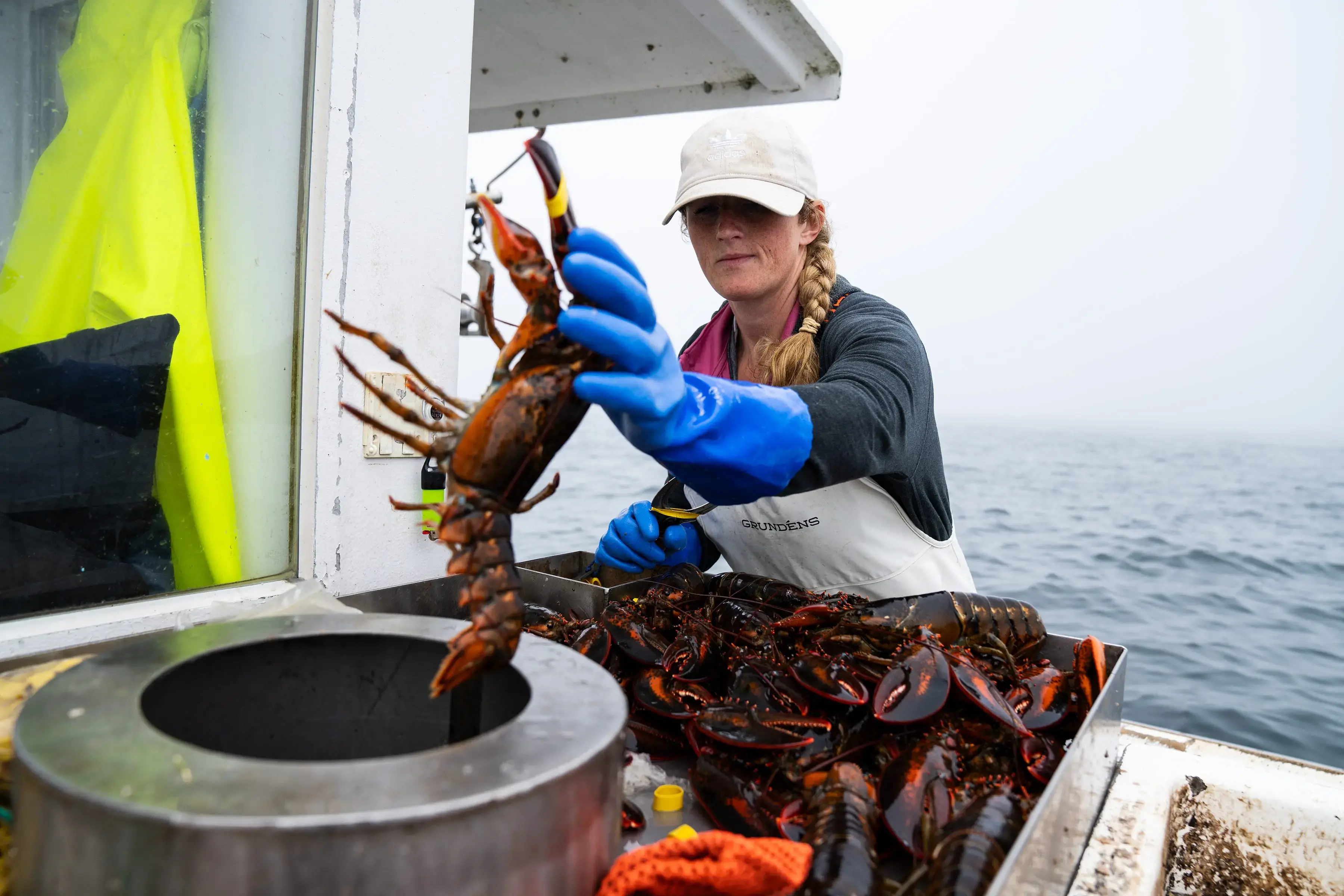 "They throw a wrench into how we conventionally manage our fisheries," says Bellquist, a senior fisheries scientist affiliated with both the Scripps Institution of Oceanography and The Nature Conservancy California Oceans Program. "We've only recently begun to document and understand how climate change and extreme climate events are affecting marine ecosystems.
"Overall, the United States is incredibly effective at managing its fisheries. But climate change is making it more and more difficult to manage them in the way we're used to."
In Maine, lobster fishers like Tripp see a direct connection between warmer water and poor fishing. But there are other factors affecting fishing, too.
After setting her 40 traps, Tripp made the decision to head home early to spend the summer afternoon with her son. She fondly remembers the days spent fishing with her father and grandfather, but she worries her son won't get a chance to spend that time with her aboard the Shearwater when he's older.
"That's why I started the oyster farm, because what happens if something happens with the lobster? I wanted something to pass down to my son," she says. "This is all we've ever known. I'm looking forward to teaching my son about this way of life and it could all be for nothing."
See how lobster is caught on the coast of Maine
SLIDESHOW: A Maine lobsterwoman worries how The Earth's changing oceans and climate will affect Tripp's job and New England's generations-old way of life.








RELATED ISSUES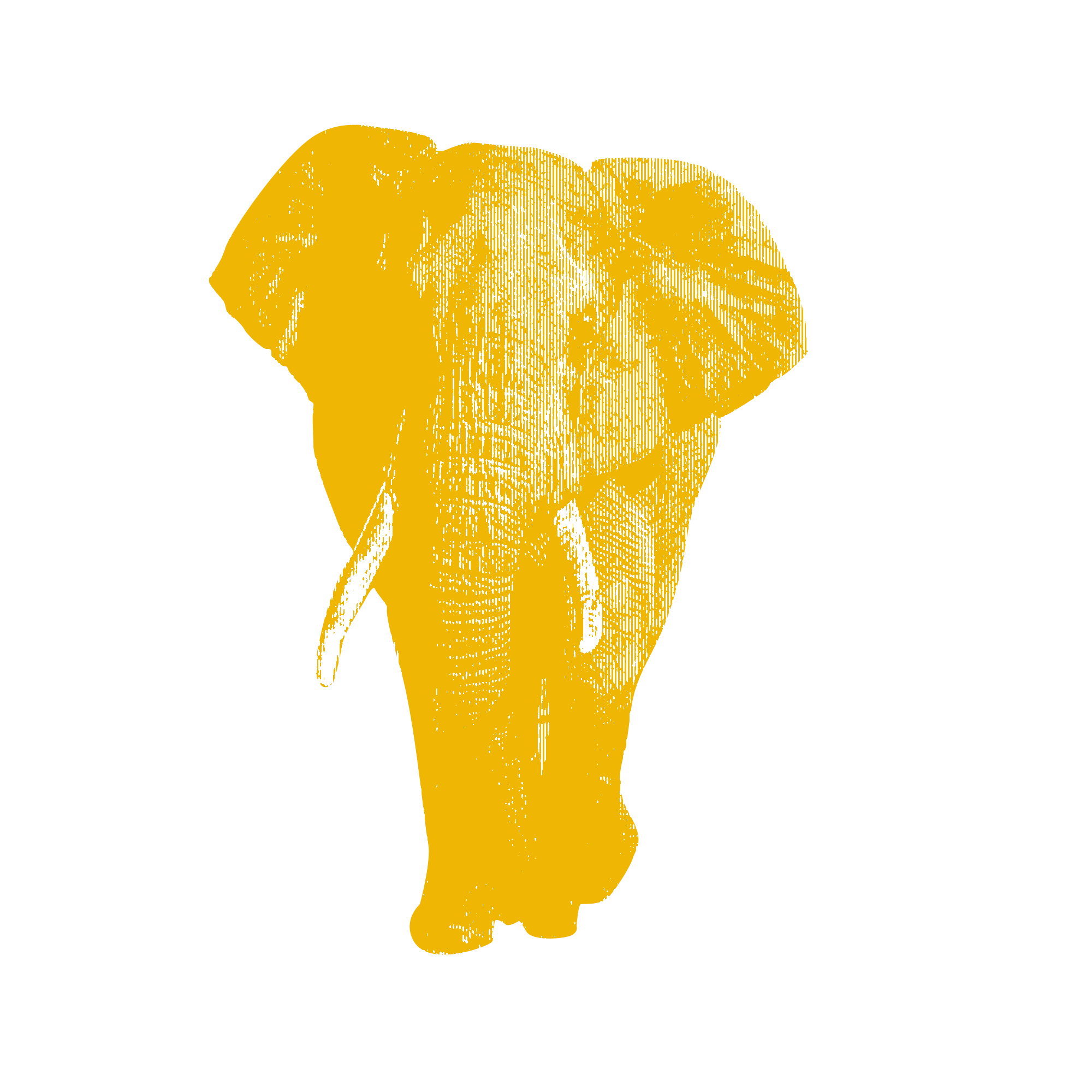 Issue
Environment and Climate Change
Environment and Climate Change

Food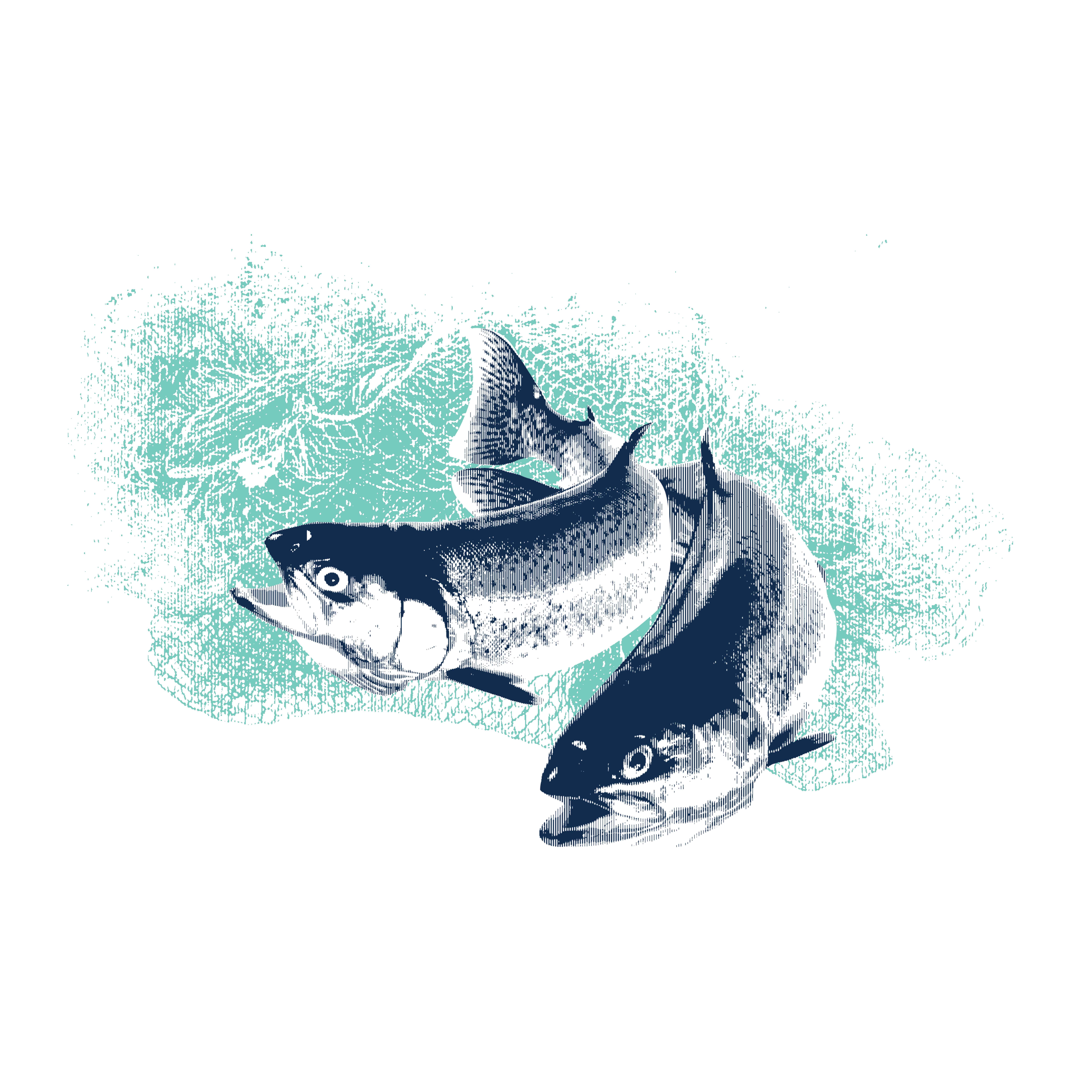 Ocean
RELATED INITIATIVES