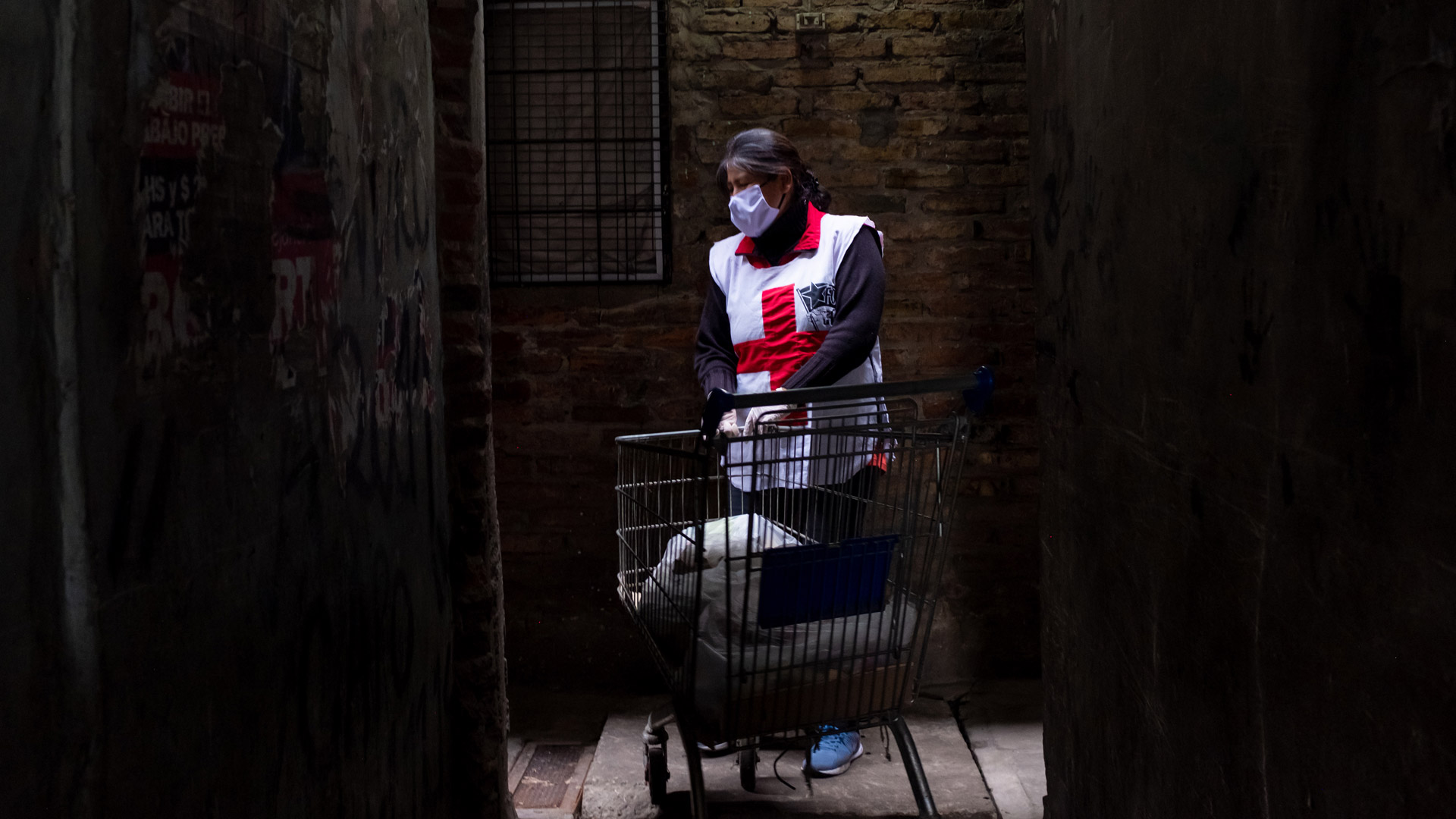 Juana rushes to arrive at the corner of Cobo and Curapaligüe avenue before noon, in the Buenos Aires neighborhood of Bajo Flores. The 51-year-old health promoter for the organization Frente de Organizaciones en Lucha (FOL) has lived in Villa 1-11-14, the most populated slum in the city of Buenos Aires, since she arrived from Peru 20 years ago. At 12 o'clock sharp, neighbors, social organizations, and doctors of the Piñero Hospital organized a meeting to denounce the lack of health resources in the area as COVID-19 continues to spread. Nothing new. The virus has highlighted the pre-existing and daily problems of many residents of the poor neighborhoods of Buenos Aires: housing, work, and health. In other words, their basic rights.
Quarantine asks us to resist by staying at home. But when home becomes a place of danger due to lack of water or overcrowded conditions, you feel the urge to take to the streets again, no matter what, to organize while social distancing and denounce without being denounced.
There are no TV cameras or other media, only neighbors watching from the pharmacy line or the greengrocer. Cobo Avenue is one of the borders that make up the city, invisible but well-felt limits through which we watch from the bus or the opposite sidewalk, and through which others see us watching without understanding much.
"The police should be there, look at what they're doing, in quarantine. They should go to work! I have been in the neighborhood for 50 years, they are thieves!" shouts a man in his 70s on the corner of Puan and Cobo, while watching the protest from afar.
"I've made that criticism, before, from outside the organization," says Juana, and she remembers when she saw protesters downtown blocking the streets. Upon entering the FOL, four years ago, she discovered "what it is is to mobilize for a claim, to fight for others, not only those of us in the organization."
To continue reading in Spanish, click here.
---
COVID-19 Update: The connection between local and global issues–the Pulitzer Center's long standing mantra–has, sadly, never been more evident. We are uniquely positioned to serve the journalists, news media organizations, schools and universities we partner with by continuing to advance our core mission: enabling great journalism and education about underreported and systemic issues that resonate now–and continue to have relevance in times ahead. We believe that this is a moment for decisive action. Learn more about the steps we are taking.