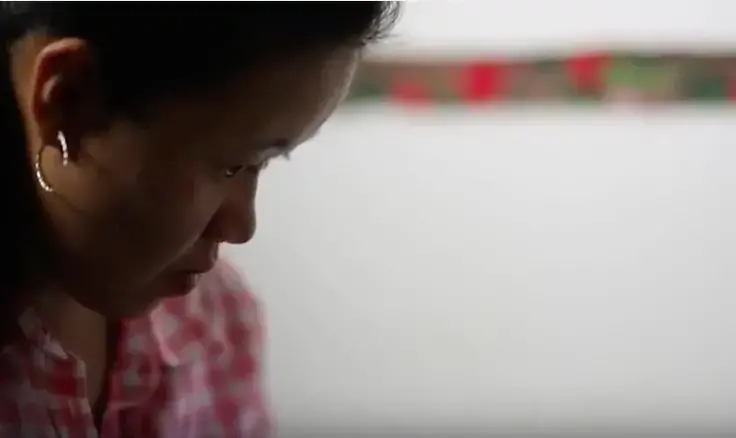 The walls of Norma Brion's room are bedecked with flowers. Sheets of white paper painted with red blooms and green leaves are surrounded by colored paper cut outs of petals and hearts. At the center of this mural are the elementary graduation pictures of her two children, Jim and Joy, with her in between.
When she cannot sleep, which is often, she lies in bed looking up at this wall thinking of her children who are in the Philippines.
"I miss them all the time," said 40-year-old Brion, who works in Abu Dhabi as a domestic helper.
She first left them when they were children and though years have passed, time somehow stopped for her. She still thinks of Joy as the studious grade 5 student and Jim as the quiet boy about to enter high school.
Time stopped
When I met Brion in Abu Dhabi the summer of 2014, I gave her pictures of Jim and Joy that were taken when I met the kids weeks before at their home in Laguna.
She was so surprised by the gesture that she asked me if she could have them. When I said yes, she engulfed me in a grateful embrace.
"Look at them. They are all so grown up. They were so small when I first left them," she said as she ran her hands over the faces in the pictures, as if she were caressing them.
In the 8 years that Brion has been working as a domestic helper in Abu Dhabi, she only came home to be with her children twice.
Brion is one of the roughly more than half million Filipinos working in the United Arab Emirates (UAE) and among hundreds of thousands of migrant mothers who take care of other people's children while leaving their own behind, usually in the care of relatives.
The estimated 10 million overseas Filipino workers (OFWs) spread out all over the world remitted at least $26.9 billion for the period January to November 2016.
Biggest export: People
The oil price crisis in the 70s triggered a global economic downturn and ushered in the usual accompaniments: high unemployment and soaring inflation.
In the Philippines, it was the early years of martial law. Businesses that were not shut down by the government, closed down.
With no jobs available domestically, the government drafted an overseas employment policy called "Development Diplomacy." The government became a placement office, matching Filipinos with jobs overseas. The country began shipping out what was to become its biggest export – its people. Later, the Filipino guest worker was to be branded as the OFW.
The demand then was for construction jobs in the Middle East, where literally cities were rising from the sand. Job sites needed muscle to grease them and keep them running, and Filipino men signed up to provide the necessary sweat equity. Wives were left behind to look after the children, and women stepped into the role of being both mother and father.
In the 90s, the labor market shifted. The Middle East remained the top destination for OFWs but developed nations had uncovered a different kind of age gap: there was no one to take care of their very young or their very old. Demand for caregivers and domestic helpers rose, and the beeline at employment agencies were began filling up with women.
Roles in the Filipino family were again reshuffled. But this time, with more single parent households and with some fathers already overseas, it sometimes meant having no parent at home. Children left behind were cared for by another family member.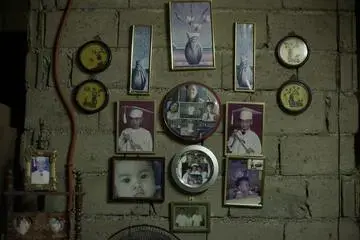 Breadwinner
Based on the number of guest workers abroad, there are about 2.5 million Filipino children with one or both parents working overseas, according to researchers.
In the case of Brion, her children were left in the care of her mother. After her husband left them, she became the family's sole breadwinner. Selling lottery tickets and taking laundry jobs were not enough for them to survive, and she had no choice but to look for work overseas.
Brion avoided saying goodbye until she no longer could. "I only told them right when I was about to leave. My bags had already been packed."
Joy still remembers the day when her mother left. She was around 10-years old then.
"It was hard for us because two members of our family had left us." And while they had their grandmother to look after them, Joy couldn't help but wonder what would happen to her and her brother.
When she had a chance to return to the Philippines 4 years later, Brion did not tell them that she would be coming home. Joy and Jim were so surprised to find their mother sitting on the sofa, waiting for them as if she had never left.
While on vacation, Brion stepped into her role as a mother. She cooked for Joy and Jim, shared meals with them, they strolled around the mall hand in hand. She did this for her wards in Abu Dhabi, but this time, she was doing it for her children.
When she had to leave a second time in 2009, it was just as hard.
"They asked me why do you always have to leave us?" Brion explained and listed reasons that her mind could process but her heart could not accept.
Virtual connection
The advent of technology and messaging platforms has served as a virtual umbilical cord. Since her youngest ward convinced his parents to buy her a laptop for her birthday, Brion has watched over her children through a computer screen.
The virtual connection has made the sleepless night easier to bear, but Brion continues to count the days when she can finally go home.
From different sides of the world, the mother and daughter only had one wish.
"I dream of the day when we can all be together again," Brion said.
"All I want from my Mom is her presence," Joy stressed.
RELATED ISSUES

Issue
Migration and Refugees
Migration and Refugees

Women

Children and Youth