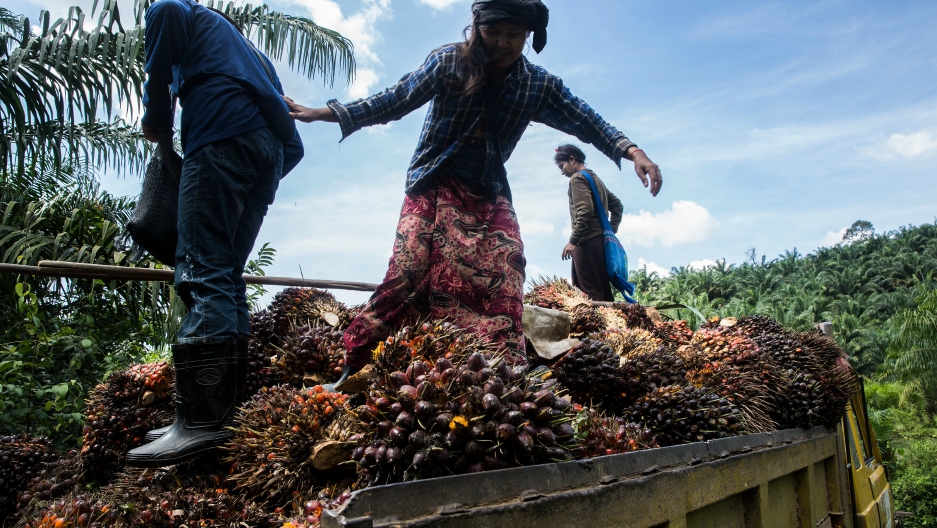 If Zaw Myo Htike could go home, he would. But even after working for nearly 13 years on a palm oil plantation in southern Myanmar, he hasn't been able to make enough money to leave.
In 2004, Zaw Myo Htike, a thin, muscular, 20-year-old Burmese man, was living in Wakema township, the heart of Myanmar's agriculturally rich Irrawaddy Delta. At the time, he was a construction worker — a job that came with irregular hours and intermittent pay. When a general employment agent told him that palm oil companies in the southern part of the country were looking for regular workers, Zaw Myo Htike decided to give it a shot. He signed a six-month contract to start out, thinking that he would soon return to his aging mother and father in Wakema.
He had no idea that he was starting a new life.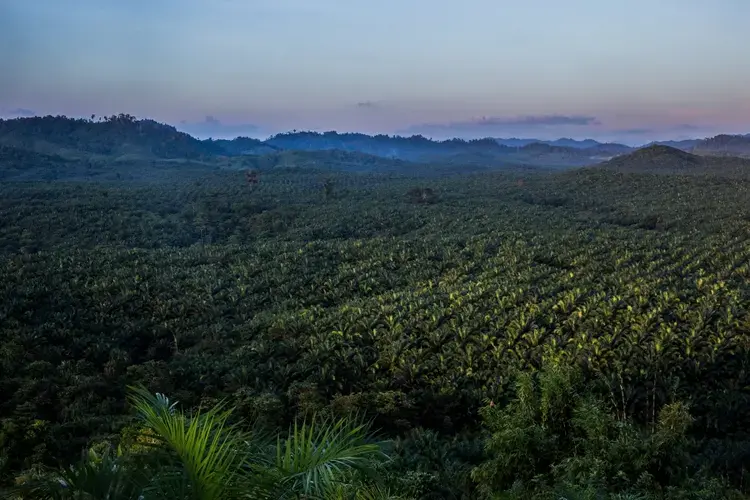 Myanmar's palm oil industry is young compared to that of its neighbors, Indonesia and Malaysia, which have produced the bulk of the world's palm oil since the 1960s and '70s. Myanmar ramped up production in the 2000s when the country was still under military rule and the government decided to develop land to produce palm oil as part of a national self-sufficiency plan. It set aside more than 1.8 million hectares of land in the country's southern Tanintharyi province for the new industry. At the time, companies — some backed by foreign investors —were not so much interested in becoming large players in the global palm oil industry, but rather, in owning the land and cutting down trees to sell timber. Today, palm oil harvested and produced on Myanmar's plantations is mainly sold as cooking oil within the country.
Zaw Myo Htike is one of many who followed the initial boom. Although Myanmar's Ministry of Labor has not kept official figures on how many people are employed in the country's palm oil industry, Burmese workers say hundreds of thousands of laborers were initially recruited to help companies clear land for plantations. Zaw Myo Htike and many others found something very different on the plantations from what they were promised. Labor and living conditions were harsh and the pay was low when it came at all. Some were able to return home, but many realized they were stuck there, unable to afford the cost of the journey out. Some of the most desperate and unlucky workers have been lured by traffickers to work on Thailand's fishing boats — a multibillion-dollar industry reliant on migrant labor.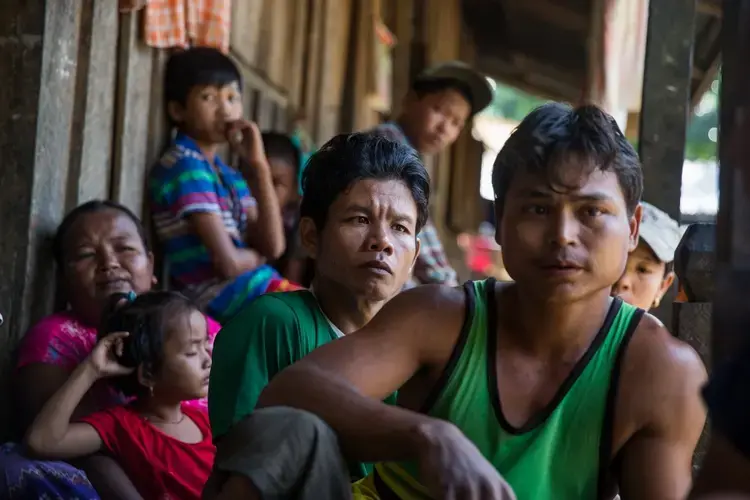 Zaw Myo Htike arrived at the palm oil plantation outside of Kawthaung, the southernmost port city in Myanmar, after traveling for four days by boat and truck — all paid for by the company, Supowin. But something didn't seem quite right when he started working.
While the agent told him that he would be clearing down small trees and shrubs, Zaw Myo Htike was instead hacking down "trees larger than I had ever seen in my life," he said.
And although the agent told Zaw Myo Htike that he would be making 50,000 kyats a month — approximately $37 and enough to live on as a single person in Myanmar in 2004 — he and the other workers went uncompensated for the entire first year. The agent back in Wakema never informed him that his wages would be withheld.
At the time, "I regretted my decision to come here and work," Zaw Myo Htike said. "I was also angry towards the agent for lying to me. But because I was already here, I decided to stay."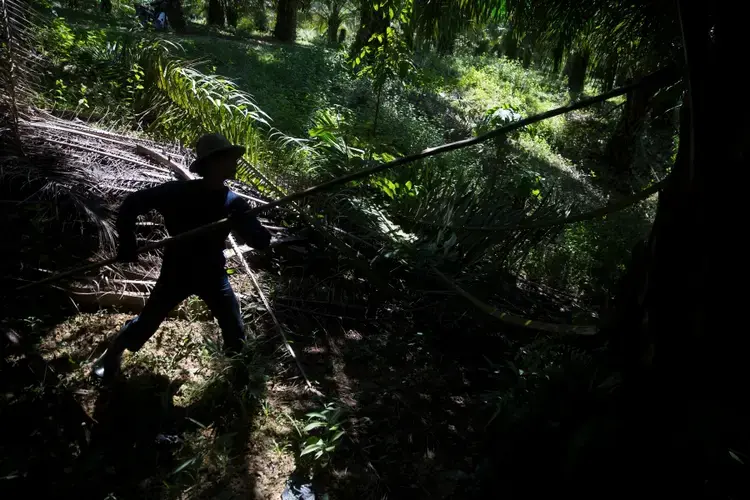 Withholding wages falls under the US State Department's definition of debt bondage, but the palm oil companies don't see it that way. They say they're calling in a debt owed by workers who didn't pay their way to the job site.
When Zaw Myo Htike and some of his fellow workers protested having their pay withheld, the message from his Burmese supervisors at Supowin was clear: "You can leave if you want to, but you'll have to pay for it yourself."
Supowin isn't the only palm oil company in Myanmar with a history of withholding wages. Other plantations, such as those owned by Dagon Timber and Yuzana, one of Myanmar's largest real estate, construction and agriculture companies, have done the same. The length of time workers had their wages withheld varied, depending on when they first arrived at the plantation. Workers who arrived at the palm oil plantations earlier tended to have their wages withheld for longer. For instance, laborers who arrived on Yuzana plantations in the last year only had two months of wages initially withheld, whereas those who arrived at the plantations four years ago were unpaid for the first eight months.
In October 2016, workers from Dagon Timber told civil society organizers that their wages had been withheld for four months. It was only after the complaints were filed and the police investigated the situation that the workers were given their payment.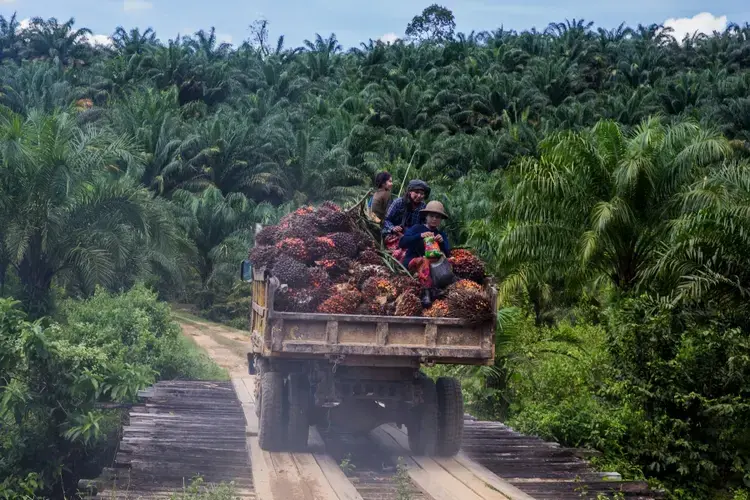 Zaw Myo Htike did eventually start getting paid, as well. Once the land was cleared — which took about a year — and the plantation was running in full swing, he started earning 100,000 kyats a month, about $76, harvesting the ripe bunches of palm oil fruit. Although it was more than he hoped to make when he signed the initial contract, he was only able to make that amount during high season when the crop was bountiful.
Life on the plantation is hard and money is short, even when workers are paid the wages they've earned. Many workers, including Zaw Myo Htike, need the wages from high season to support their families during low season. Supowin provides workers with food but deducts the cost from their paychecks. Rice for an entire family, for example, costs more than $30 a month.
Workers receive free housing but lack access to electricity and running water. Some workers have set up their own water pump; others walk to a nearby stream to wash dishes and clothes and gather water for use. Schooling for the workers' children is limited and many families drive longer distances so that their kids receive a better education. But this also means they need to spend money on gas, which costs more than $10 a month.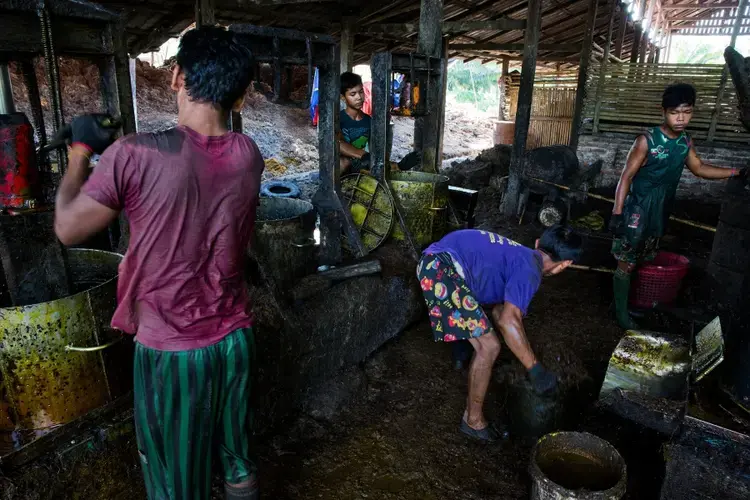 And then there's the cost of injuries from repetitive strain and accidents. Harvesting oil palm fruits can be hazardous, and it's hard on the body. While workers use the plantation clinics for minor medical issues, they need to travel for more than an hour to Kawthaung for more serious conditions and incur their own transportation and medical costs.
At the end of the day, it's difficult for workers to save money. And that means many are trapped. When a worker wants to leave the plantation, they inform the others, who often help save up money for a return trip home. For a family of three, bus tickets can cost more than $100.
And now, after more than a decade of work, Zaw Myo Htike still doesn't have enough money to leave.
***
Many of Myanmar's palm oil industry workers are looking for a way out.  And that makes them vulnerable to human traffickers.
Zaw Myo Htike and other workers say traffickers patrol the single road, lined with palm oil and rubber plantations, which connects the major cities along southern Myanmar. They promise a better future to workers in precarious positions and an escape for those trapped in debt bondage.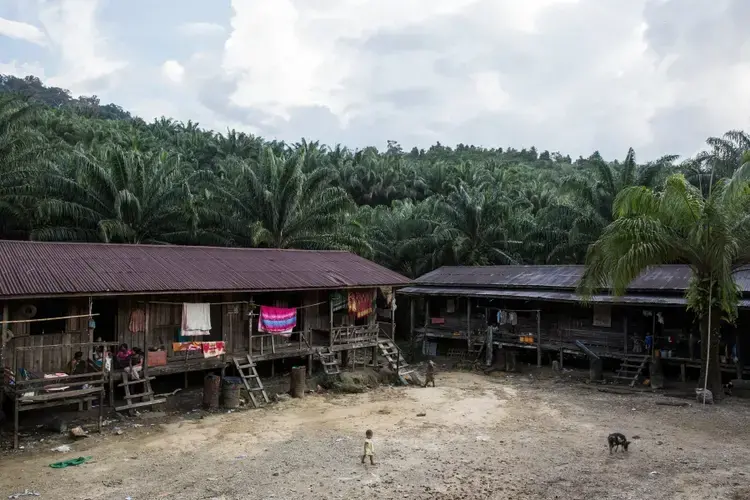 U Hla Myint, a harvester who worked at Yuzana for nine years, says two traffickers paid a visit to his home located near the plantation in July.
"The traffickers asked if we wanted jobs on fishing boats in Thailand and promised us better pay," he said. "Even though I told them, 'I don't believe in you. Do not come here ever again,' they left me their phone number and told us to give them a call if we needed any help."
Zaw Myo Htike also spoke of state-sponsored meetings where agents working on behalf of Thailand's fishing or construction industries were looking to recruit Myanmar nationals who were currently working on palm oil plantations. 
As of 2016, more than 3 million Burmese migrants were living in Thailand, according to the International Organization for Migration. Kawthuang is one of three major source cities from which Burmese workers are brought into Thailand. According to Thailand's Immigration Bureau, approximately 700 Burmese nationals crossed the border at Kawthaung daily in 2016, all seeking work in Thailand's fishing, construction or agriculture industries. That number could be an underestimate since illegal cases — for instance, where people are smuggled across borders — are not documented.
But these migrants are often naïve to realities of working in Thailand. Many of the workers who escape the palm oil plantations, either on their own or with assistance from traffickers, find themselves living and working in conditions no better than the ones they left — and in some cases, worse. On Thai fishing boats, migrant workers often lose their documentation, experience a new round of debt bondage, work long hours, spend weeks at sea and receive minimal pay.
It's not currently known how many Burmese workers in southern Thailand come from Myanmar's palm oil plantations. Neither the IOM, International Labor Organization, United Nations Action for Cooperation Against Trafficking in Persons or the US Department of State — which publishes an annual tracking report — have specifically examined what sectors Burmese migrants formerly worked in before crossing the border into Thailand through Kawthaung.
Meanwhile, traffickers and labor agents still occasionally visit Myanmar's palm oil plantations, promising workers a better future across the border.
***
Currently, there's little incentive for palm oil companies in Myanmar to reform their labor practices. The oil cultivated on their plantations is sold exclusively to the domestic market, and that market doesn't seem to be demanding change — at least not of the sort that would benefit workers. Frank Momberg, the Myanmar director of the nonprofit Flora and Fauna International, believes that the country could develop palm oil sustainability in line with the standards set forth by the Roundtable on Sustainable Palm Oil. But while there is activism and awareness surrounding the environmental issues and best agricultural practices on the plantations, labor abuses don't seem to be on the radar of these organizations.
The lack of an international market means that Myanmar's palm industry is cut off from international pressure to reform, and companies are reluctant to change their behaviors. In turn, this means that the lives of workers — like Zaw Myo Htike, U Hla Myint and others — remain precarious.
U Hla Myint, now 65, told me with a wistful glance, "I want to die in my land, but I have no idea how long it will take for me to return. Perhaps, someday in the future."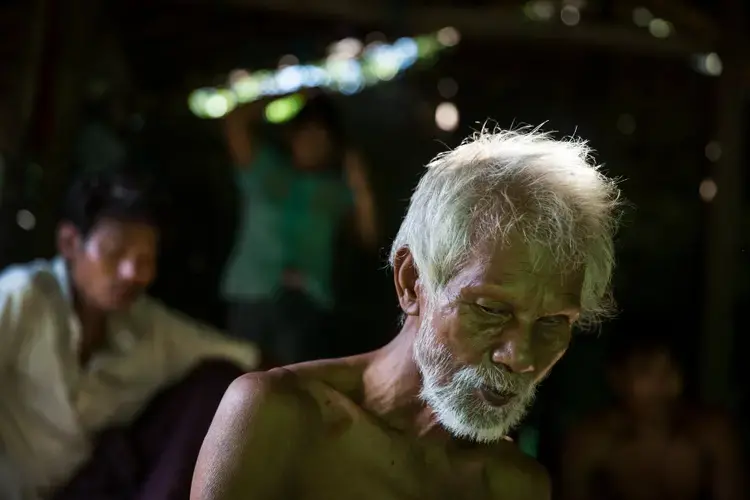 RELATED ISSUES