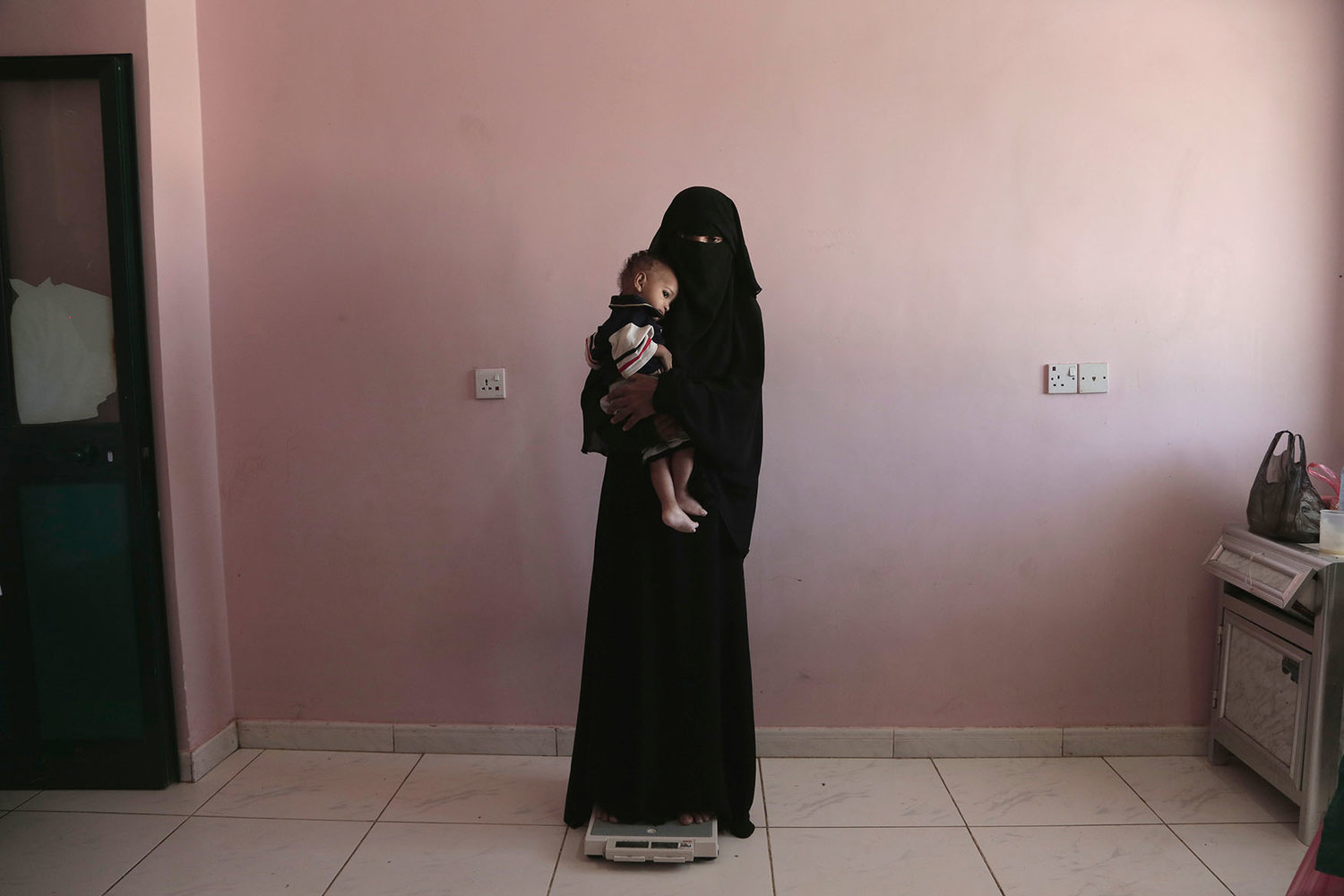 ***Warning: This story includes imagery of starvation that some readers may find disturbing***
The young mother stepped onto the scale for the doctor. Even with all her black robes on, she weighed only 84 pounds—38 kilograms. Umm Mizrah is pregnant, but starving herself to feed her children. 
And her sacrifice may not be enough to save them.
The doctor's office is covered with dozens of pictures of emaciated babies who have come through Al-Sadaqa Hospital in Aden, casualties of a three-year war in Yemen that has left millions of people on the edge of famine. 
Mothers like Umm Mizrah are often the only defense against the hunger that has killed thousands. They skip meals, they sleep to escape the gnawing in their stomachs. They hide bony faces and emaciated bodies in voluminous black abaya robes and veils. 
The doctor asked the mother to get back on the scale holding her son, Mizrah. At 17 months, he was 5.8 kilograms (12.8 pounds)—around half the normal weight for his age. 
He showed all the signs of "severe acute malnutrition," the most dire stage of hunger. His legs and feet were swollen, he wasn't getting enough protein. When the doctor pressed a finger into the skin of his feet, the indentation lingered.
Around 2.9 million women and children are acutely malnourished; another 400,000 children are fighting for their lives, in the same condition as Mizrah.
Nearly a third of Yemen's population — 8.4 million of its 29 million people — rely completely on food aid or else they would starve. That number grew by a quarter over the past year.
Aid agencies warn that parts of Yemen could soon start to see widespread death from famine. More and more people are reliant on aid that is already failing to reach people. The war, now three years old, drags on interminably between Yemen's Shiite Houthi rebels who hold the country's north, and the Saudi-led coalition, armed and backed by the United States, which has sought to bomb the rebels into submission with a relentless air campaign in support of the Yemeni government.
It is unknown how many have died, since authorities are not able to track cases. Save the Children late last year estimated that 50,000 children may have died in 2017 of extreme hunger or disease, given that up to 30 percent of children with untreated cases of severe acute malnutrition die.
"Unfortunately, now Yemen is considered to be the world's largest humanitarian emergency," said Stephen Anderson, the Yemen director of the World Food Program. Some 18 million people do not know where their next meal is coming from.
Even before the war, the Arab world's poorest nation struggled to feed itself. It is a country of deserts and mountains where only 2 to 4 percent of the land is cultivated, so almost all of its food and supplies must be imported.
The war has shattered everything that kept Yemen just above starvation. Coalition warplanes blasted hospitals, schools, farms, factories, bridges and roads.
The coalition has also clamped a land-sea-and-air embargo on Houthi-controlled areas, including the Red Sea port of Hodeida, once the entry point of 70 percent of Yemen's imports. Now far less gets in as coalition ships off shore allow through only UN-inspected and approved commercial ships and aid, often with delays.




The United States gives significant backing to the coalition campaign, providing intelligence and billions of dollars-worth of munitions as well logistical help like air-to-air refueling of coalition warplanes. The U.S. State Department says Washington has provided nearly $854 million to address the humanitarian situation in Yemen.
In many places there is food in the markets, but people simply can't afford it, since salaries are going unpaid, work is harder to find and the currency has collapsed in value.
Umm Mizrah and her husband, who have three young daughters in addition to Mizrah, usually eat one meal a day, often just bread and tea. The Associated Press is identifying her by the nickname she often goes by—meaning "mother of Mizrah"—to protect her privacy.
When the doctor in Aden told her malnutrition can be fatal, she trembled. The parents felt helpless. Cigarette burns were visible on the baby's belly. Desperate, the father had turned to a Yemeni folk cure called "maysam," or "branding"—using burns to expel evil spirits.
"I don't know what is right," she said quietly. "He was playful and doing fine then he started to get sick and stopped breastfeeding and playing."
The AP travelled across southern Yemen, territory held by the coalition-backed government, and visited several districts among the 107 areas nationwide that the U.N. warns are most likely to fall into outright famine.
It is a landscape of desperation.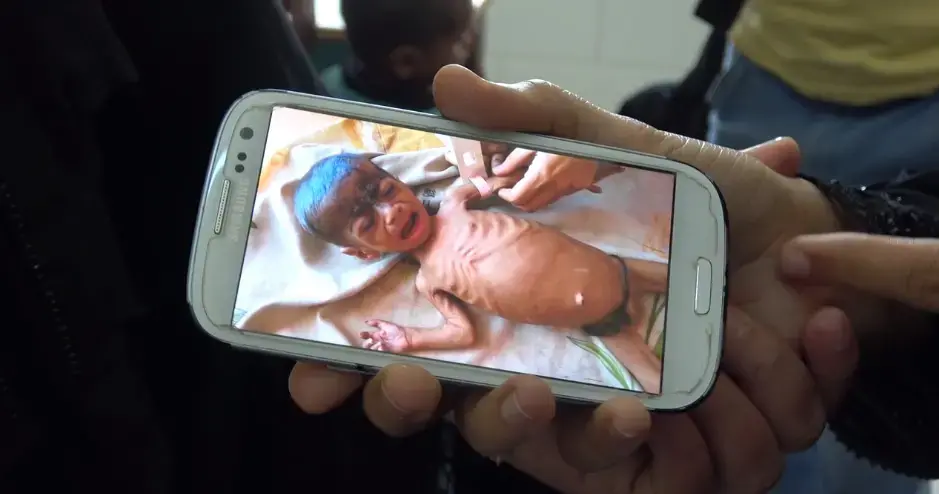 Death By Starvation
A video filmed by a doctor shows 8-month-old Fadl in his last days of life.
The baby twitches his legs in pain. He's crying but he is so dehydrated his eyes can't produce tears. His belly is inflated as taut as a balloon. You can easily count the 12 rows of protruding ribs on his rapidly palpitating chest. His desperate parents plastered his head with black henna, a dye that is used as a folk cure.
Fadl was born in the wilderness. His mother, Fatma Halabi, was eight months pregnant when she and thousands of others fled the area around her district of Mowza as government forces descended on the Houthis.
Separated from her husband, Halabi led her four children and two goats across the Great Valley, the arid plain spilling down from the mountains toward the city of Mocha on the Red Sea.
These desolate stretches are historically a site of death. More than 400 years ago, a Muslim ruler forcibly sent almost the entire Jewish population of Yemen here for refusing to convert. Chroniclers say two thirds of them died in the heat and deprivation.
Halabi and the children hid in thorn bushes to avoid artillery and airstrikes along the shifting front line. One day in April last year, she went into labor and, alone, gave birth to Fadl under a tree. And then fainted.
Eventually, she and her husband reunited and settled in an abandoned hut in the valley.
Speaking from inside her makeshift home in February, Halabi sat with a rope cinched around her emaciated waist, her blue robe sliding off her bony shoulder.
She spoke in short, exhausted sentences. When asked what she had eaten that day, she said, "Bor," the local Arabic word for flour. "We stay patient," she said. "We have to feed the children." When she gets hungry, she lies down and tries to sleep.
Often she and her husband eat one meal in the morning, and nothing again until the next day.
Unable to breastfeed Fadl, she gave him goat or camel milk, which lack the nutrients of breast milk or formula. The newborn kept getting fever and diarrhea, so she repeatedly borrowed money to take him to the hospital in Mocha.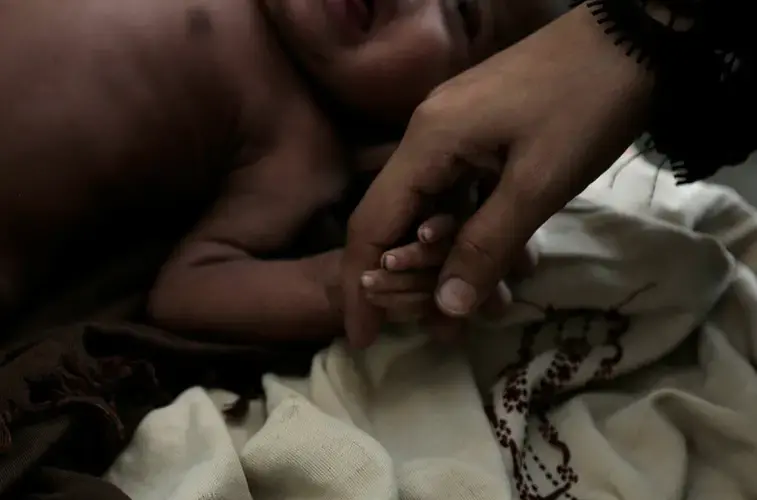 The hospital has seen 600 malnutrition cases over the past 10 months, but is so short on supplies it doesn't even have pain relievers for headaches, said one doctor, Abdel-Rehim Ahmed. It has no therapeutic feeding center. None of its doctors have been trained in treating malnutrition.
And Mocha is swelling with 40,000 displaced people.
Left untreated, prolonged malnutrition causes the body to lose its stock of carbohydrates, fats, and proteins. The body starts to eat itself. The brain struggles to find energy, the heart shrinks, and the skin cracks, exposing the body to infections. The kidney and the liver stop functioning properly, so toxins build up inside the body, leading to a vicious cycle of disease.
Fadl's last visit to the hospital was Nov. 29. At eight months old, he weighed 2.9 kilograms (6 pounds), a third of the normal weight. The circumference of his upper arm, a common measure for malnutrition, was 7 centimeters, less than 3 inches. That indicated severe acute malnutrition.
Unable to pay for a hospital stay, Fadl's parents took him home.
He gave his last breath not long after in the arms of his grandmother. His exhausted parents were asleep on the floor. The grandmother woke them and told them their boy was dead.
The only image of Fadl from his short life of hunger and pain is the video, taken by the head of the nutrition center. His parents don't have mobile phones or a camera.
"Sometimes I wake up in the morning and I remember he's no longer there and I start to cry," Halabi said. "Who wouldn't cry for their children?"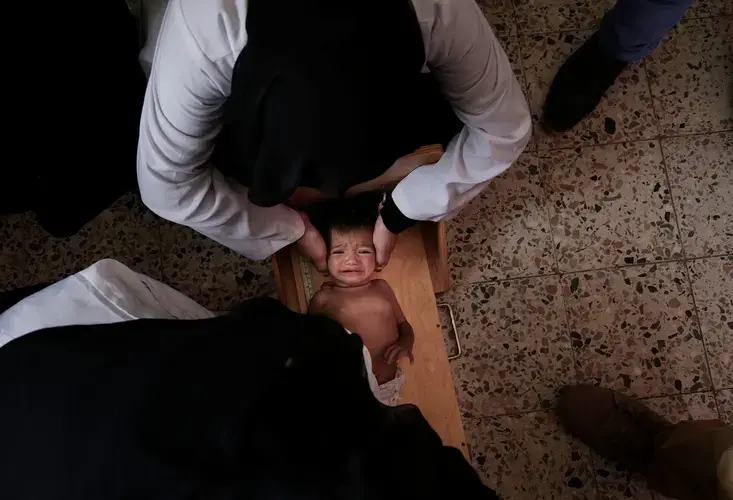 "Liberated," and Still Starving
Even in parts of Yemen that are wrested from Houthi rule, starvation persists — or gets worse.
In late February, mothers carrying babies mobbed the nutrition center at the main hospital in al-Khoukha, a little town on the Red Sea, expecting to receive monthly allotments of baby formula and nutrient supplies.
They left empty-handed.
The center ran out of supplies weeks ago. Some of the women, cloaked in black abayas, pushed and shoved feebly. But most were too weak to complain and silently shuffled away.
Al-Khoukha was taken back from the Houthis in December by coalition-backed forces marching up the coast. In rebel hands, the town had been directly connected to the Hodeida port farther north, the biggest entryway for international aid into Yemen.
Now cut off from the port, no supplies have come from the south.
"We have no vaccinations. There are shortages in medicines. The aid stopped," said Abdullah Doubala, head of al-Khoukha health department. The burden is increasing as families fleeing fighting elsewhere stream into al-Khoukha, bringing more thin and hungry children.
Doctors estimate that 40 percent of the children in the town suffer from malnutrition. Barefoot kids fill the center's corridors, many visibly emaciated, some with malaria or cholera. Some can barely stand.
Nine-month old Galila, her ribs sharply outlined, her eyes bulging in shrunken sockets, sat in the lap of her mother, Aisha.
The baby girl caught malaria and began to lose weight. Now she is all of 4.5 kilograms (9.9 pounds), compared to the average of 6 to 8 kilograms (13-17 pounds) for a 9-month-old girl.
Her mother is tiny as well, ravaged by giving up food for a family that is constantly growing.
Aisha has been giving birth each year; Galila is her 14th child. Her husband, a woodcutter, can hardly find any work. Even coming to the hospital is too expensive; if she wants to come, she has to wait for her brother, who has a motorcycle, to take her.
"I eat whatever is available or wait till next day," Aisha said. "A meal once a day."
The mothers' hunger is repeated over and over throughout the war-ravaged country.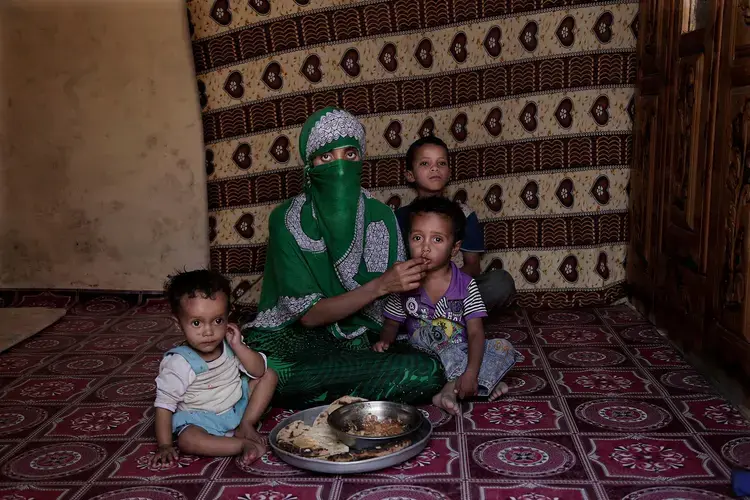 A Mother's Hunger
It isn't just those driven from their homes who suffer.
Isolated in a mountain valley, the 450 residents of the village of Qibli are wasting away. Boys and girls running around barefoot in the dirt paths are stunted.
Most of the men here are soldiers, who haven't been paid for months, or farm laborers, who can no longer find work.
Any money they have goes in search of food. The nearest market is 13 kilometers (8 miles) away, which means paying high gas prices on top of the cost for the food itself, which have doubled over the past year.
Sitting on the floor of her home, Sherine fed her two children scraps of bread dipped in "besbas," a sauce of tomato and garlic. She took no bites herself.
Her 1-year-old daughter Amal, has been diagnosed with acute malnutrition and can no longer stand up.
The family lives largely on bread and tea. Her husband is among the ranks of unpaid soldiers. His father, a retired soldier, still gets a meager pension, but uses that to help all his children and grandchildren, a family of 16 in total.
Aid hasn't come to Qibli since 2016, according to relief volunteer Rashid al-Khoushbi. Only four families in the area were on the World Food Program lists for food aid. Most households here are considered to have a male breadwinner, making them a lower priority.  
In the area's main town, al-Mallah, doctors were nowhere to be seen at the hospital. No one pays them so many staffers often don't show up.
Sitting in bed, Umm Molham was so weak she could barely lift her 13-month-old son. When the AP met her, she had been at the hospital for three days waiting for someone to examine him.
The toddler had been vomiting, coughing and suffered from diarrhea. The family can only afford to give him formula once a day. His body is emaciated, his eyes sunken, his belly
His mother sat helplessly, the baby in her lap.
"She is not breastfeeding," said her husband, Anwar Said. "She doesn't eat well and has no milk."
Umm Molham didn't say a word, even when asked questions, lost in her internal world of frailty and hunger.
RELATED ISSUES

Issue
Conflict and Peace Building
Conflict and Peace Building

Women