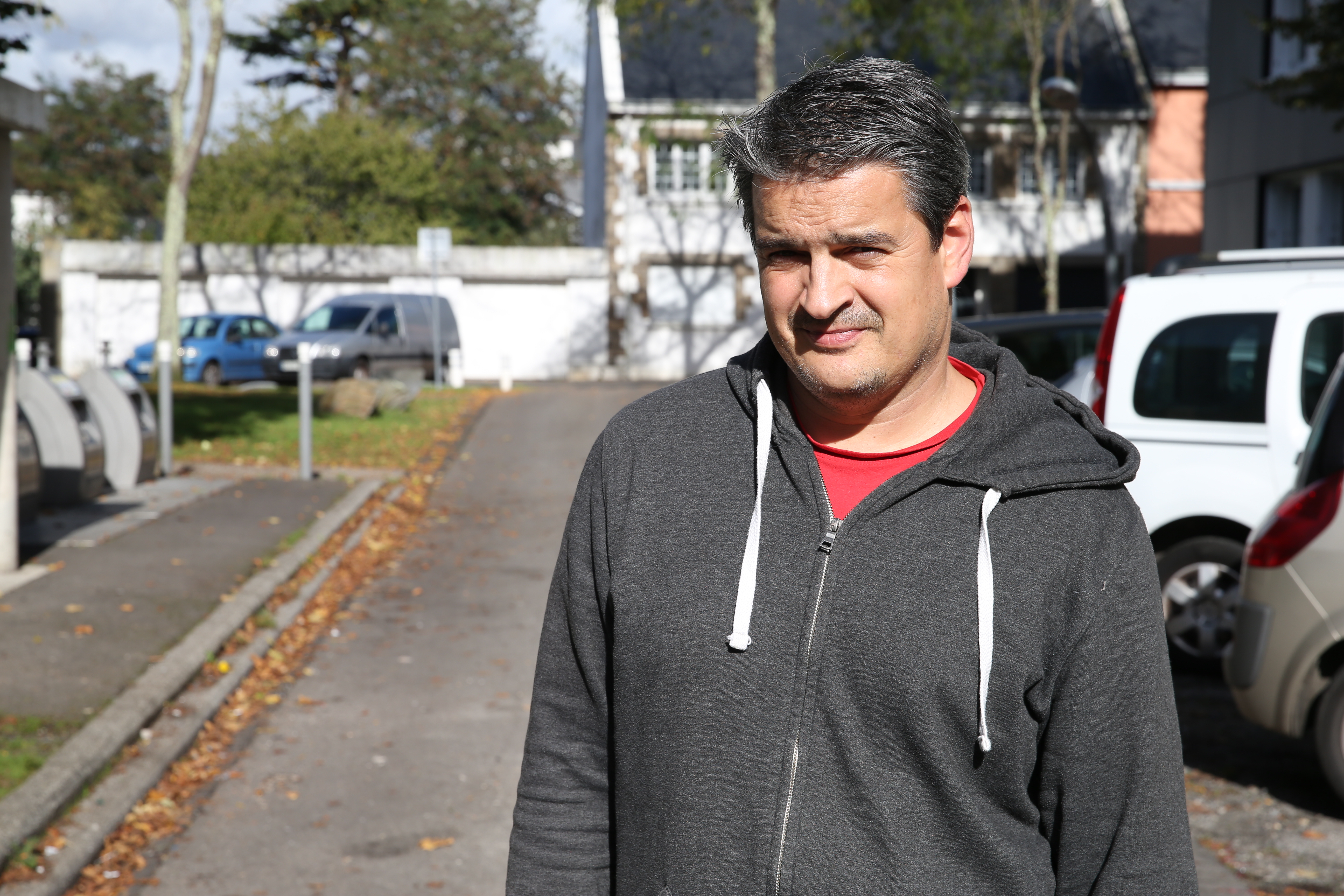 Saint-Nazaire is famous for its shipyards. Last year, workers completed the largest cruise ship ever built, Royal Caribbean's Harmony of the Seas.
But the small city on the coast of Brittany in western France is also known for something else — the welcome it gives to refugees.
Around much of France anti-immigrant sentiment is on the rise. But Saint-Nazaire, a mostly working-class city that is a stronghold of the left, is bucking that trend.
Beginning in early 2016, the city was one of the first in France to accept Syrian and other refugees from Greece and Italy as part of the EU's relocation program.
I came to Saint-Nazaire to see how a Yazidi family I met last year in a refugee camp in Greece was adjusting to their new life in France. Now I wanted to meet people from Saint-Nazaire to find out more about the city's reputation for having a welcoming attitude toward refugees.
'The city that is open and never closes'
Mayor David Samzun was an early supporter of community efforts to bring refugees to Saint-Nazaire. In his office at City Hall, he told me that the city's openness to outsiders is captured by its motto: "The city that is open and never closes."
People from different cultures have been flowing through this port city for centuries. But Samzun says its current openness to refugees also has roots in World War II; Saint-Nazaire was under heavy Nazi occupation and wasn't liberated until the last day of the war in 1945.
"It was the Americans who liberated this city," Samzun said. "So we're used to seeing people who don't come from our culture as coming to free us."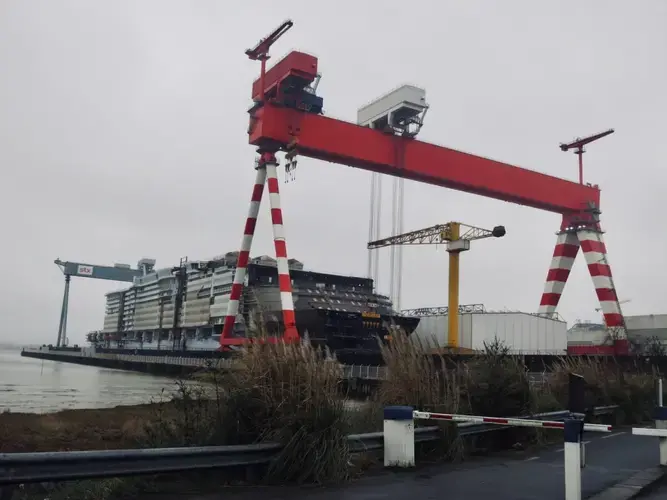 That history has also influenced Patrice Quélard, the principal of a primary school in Saint-Nazaire — and the grandson of a World War II refugee — who now helps refugees in town.
Quélard agreed to meet me over a lunch of Brittany-style buckwheat crepes in a bustling restaurant near his school. At first he was hesitant to speak about his volunteer work with refugees but eventually he told me a story that connected his family's past and present.
"Over 80 percent of the city was destroyed during the Second World War," he said. During that time, his grandfather fled Saint-Nazaire to safety elsewhere in France. "He left to escape the bombing and in his refuge he met my grandmother."
In 2015, when Quélard saw the photo of the drowned Syrian refugee boy Alan Kurdithat went viral globally, he became so upset that he and some friends formed a volunteer organization to help refugees.
His family history motivated him to help. "Without refugees I wouldn't exist," he said with a laugh.
The government pays for basic food and housing for about 200 refugees in Saint-Nazaire. But volunteers like Quélard do everything else — from teaching French to helping families navigate daily life.
One evening after he finished teaching, Quélard brought me to visit a Syrian family that arrived in town in 2016 as refugees from Greece. With Quélard's young son in tow, we huffed up the stairs to the family's fifth-floor apartment in a public housing complex.
Quélard hadn't known Mahmoud al-Hayek for very long, but they greeted each other like old friends, laughing and joking.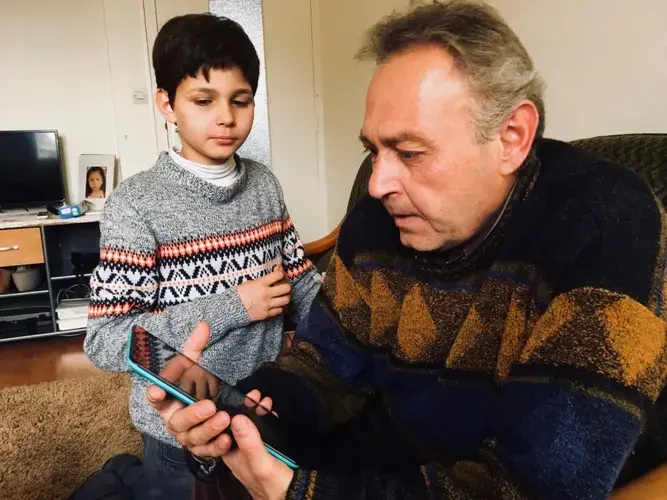 Unlike most Syrian refugees, al-Hayek already had a deep connection to France. He studied engineering in Paris in his youth before moving back to Aleppo to marry and have a family. He eventually opened three electronics stores. But his home and businesses were destroyed in the war and they fled Syria in 2016.
They suffered a crushing loss on the journey: While entering Greece by land from Turkey, their eldest daughter was killed by a train. She was 6 years old.
They had just crossed the Evros River from Turkey into Greece when smugglers led them along a railroad track. Suddenly a train passed in the dark, and the family jumped out of the way. But then they realized someone was missing. "In one second, I couldn't find my daughter," al-Hayek said grimly. (UNHCR wrote about al-Hayek's tragic story here.)
They were stuck in Greece for months after the accident. But then France accepted the family for relocation — and they landed in Saint-Nazaire.
Al-Hayek told me that people like Quélard had made him feel very welcome there.
"They're not volunteers," he said. "They're my friends."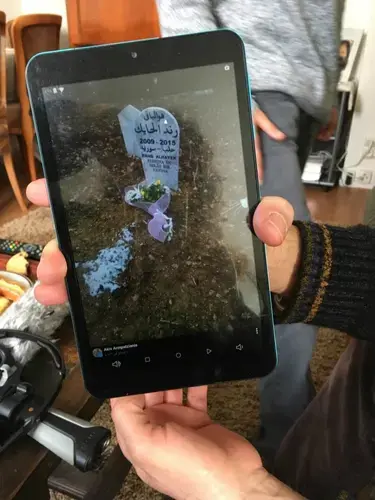 Later, at a community center in town, I visited a French class for refugees. The teachers were volunteers from all walks of life and seemed as eager as Quélard to make the newcomers feel welcome.
Mixed in with beginning grammar lessons and pronunciation of French vowels, a teacher, who was a retired actress, gave an enthusiastic introduction to religious diversity, explaining that in Saint-Nazaire there are Muslims, Christians, Jews and others. "It's a true melting pot," she said.
The teachers were also excited about an upcoming event — a local orchestra had invited refugees to sing in its chorus. So the lessons continued with vocabulary about musical instruments while Verdi's music played in the background from a small CD player.
I asked Jean-Luc, a retired engineer, why he'd taken the time to volunteer. After all, like the rest of the teachers, he'd never taught a day of French language in his life before this. "I love to meet people," he said with a smile. "It's that simple."
'Not if they impose their culture'
But you don't have to venture too far from Saint-Nazaire to find people who are more hesitant about inviting newcomers into their community.
About 20 minutes from the shipyards of Saint-Nazaire, you'll find La Baule — an elegant resort town that's long been a vacation spot for France's rich and famous. Like Saint-Nazaire, it's by the sea. But that's more or less where the similarities end.
La Baule is more conservative than Saint-Nazaire, but not necessarily right-wing. It has an insular feel to it that's often typical of elite enclaves. And unlike Saint-Nazaire, it hasn't accepted any refugees.   
I drove out to the town with a local journalist, Christophe François. As we entered, he pointed out the villas and a sprawling country club. "It even has a special stadium for horse competitions," he said.
We made our way to La Baule's central market — a glittering gourmet food extravaganza filled with well-heeled shoppers buying prime seafood, meat and cheeses.
In the pleasant plaza outside the market François and I spoke to some locals. I got a sense that this was a community that didn't want to have its routines disturbed.
Some people we approached didn't want to talk at all. After exchanging niceties one woman briskly ended our conversation when I asked her opinion on refugees. "Just hearing the word 'refugee' was enough," François said.
Other people did engage. Katrine and Cristiane, two elderly friends who wouldn't give their last names, said France should help war refugees but only on the condition they adopt French ways.
"If they're fleeing war and they make the effort to learn French, to work, and to learn the customs, then I'm totally in agreement," Katrine said. "But not if they impose their culture on France" — for example, by wearing a headscarf or cooking foreign foods. 
'My life is here now'
Back in Saint-Nazaire, Mahmoud al-Hayek's son and daughter were playing and showing off their language skills. First, they counted to 10 in the Greek they learned in the refugee camps. Then in their native Arabic. After less than a year in France, they were already fluent in French.
I asked Patrice Quélard what he'd learned about what refugees need to begin to feel at home in a place like Saint-Nazaire. He agreed with the women in La Baule that learning the language is essential. 
"The first thing for integration is the language, the French language," he said. "The longer they can't speak French, the longer they can't integrate."
But he also said the local people had a responsibility to help refugees succeed. "The citizens have to make an effort to welcome them he says, to meet them, to share their culture."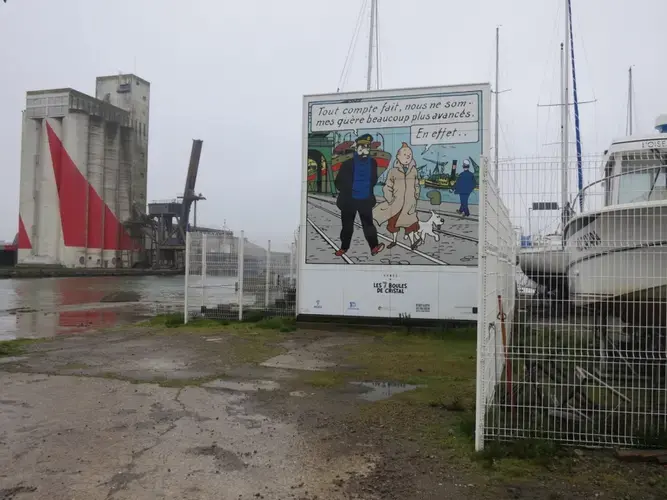 Quélard has certainly done that with Mahmoud al-Hayek and his family. They had planned to move to Paris once they got settled in France, since al-Hayek knows the city well from his student days. But now they plan to stay and make their new home in Saint-Nazaire.
"Patrice is more than my friend, he's my family," al-Hayek said. "My life is here now."
Jeanne Carstensen has been covering the Syrian refugee crisis since 2015. 
This is the fourth story in her series "Finding Home" that follows refugees from camps in Greece as they try to settle in Germany and France. In Part 1, Jeanne met with the Daas family — Syrians who fled Palmyra when ISIS overtook the city in 2015 and were trying to adjust to life in Traunreut, Germany. In Part 2, she reported on the challenges Traunreut was facing integrating the newcomers. In Part 3, she caught up with the Noh family — Yazidis who fled ISIS in Iraq and made their way from a Greek refugee camp to Saint-Nazaire, France.
RELATED ISSUES