To read this story in Russian, click the link here.
In Belarus, Sergei worked almost all his life as an entrepreneur. In an attempt to refer the appeal protesting violence against civilians to the local council, he said, he and his friends were arrested by riot police, beaten, and tortured.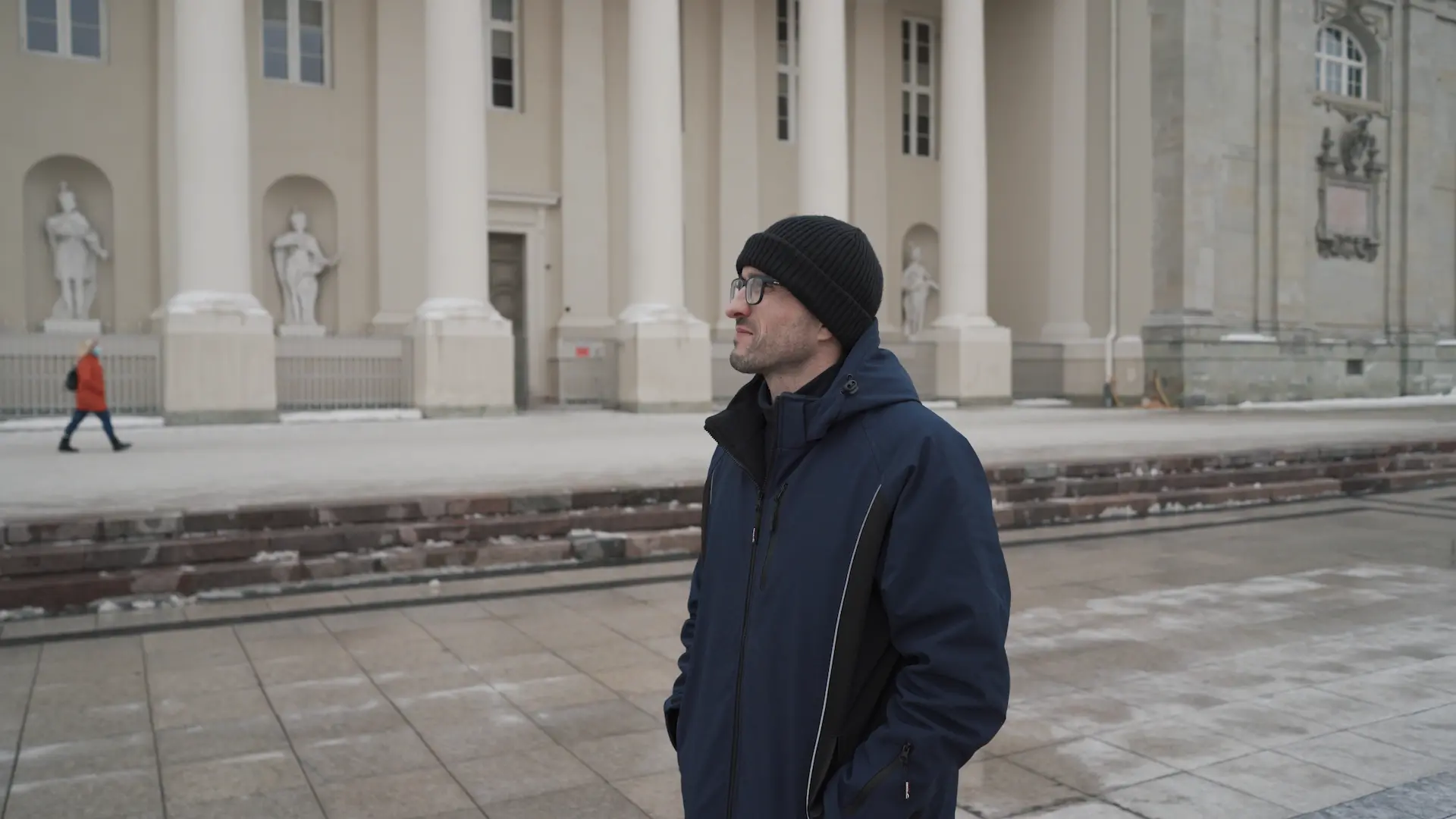 Sergei, what would you say to those Russians, Poles, and Lithuanians who believe that (Belarus' Alexander) Lukashenka is an excellent president?
For those Lithuanians, who believe that we have an uprising there for nothing and are trying to destroy our country, I propose to swap places. Let me live in your home in Lithuania, and you live in mine in Belarus. I think that no later than in a year, you will be running away from Belarus with no pants, just to run here faster so as not to stay there. That I guarantee you.
Did you take part in the protests from the very beginning?
Until August 12, until I was seized, beaten and … taken to the hospital, until that moment I was, so to say — "a couch protester." I could be indignant on the Internet, talk to someone on the street about issues, and specifically go to rallies and speak up. On the day (when we were arrested), we were not on our way to the rally. We were on the way to submit the papers against the issues that began. About people being killed. We just decided to make an appeal to our local authorities. There was me, my brother and two friends — bringing this message to the local council.
You and your friends were arrested by police?
When we gathered and moved out towards the council to bring this appeal, a minibus drove up to us. Around six-seven people got out, OMON (riot police) in full ammunition. We immediately laid down on the ground without their help because I had already heard about what they were like. They began beating us next to the car, then in the car on the way to the police department (district department of internal affairs). In short, after a meeting with them, I became an ardent "protester." … People say that someone is being beaten up, and it did not click until I was the one under and with punches taken. I thought that the information told was exaggerated.
Maybe I believed that someone got smacked a bit here and there, but unless you get into that situation yourself, you will not know what crooked power is. When you, a healthy, respectable, law-abiding citizen, are in the police station on the territory of the police department, an official body which should protect people, laid down face on the ground, kneaded with clubs, with them stomping and jumping on top of you, and you are just lying there … Even at that moment, my head cannot comprehend what's happening to me. That such atrocities can happen at all.
---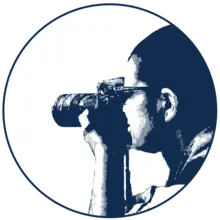 As a nonprofit journalism organization, we depend on your support to fund more than 170 reporting projects every year on critical global and local issues. Donate any amount today to become a Pulitzer Center Champion and receive exclusive benefits!
---
What happened to you and your friends afterwards?
We were lying in between two seats; we were pushed there, pressured inside, and they all were sitting, riding on top of us. Only one policeman was driving, and the other six were sitting on top of us. It also got me in such a way … the first to be thrown in was Sasha Grimayt, then Vitaly, then Vitya and me. As a last to go, there was not enough space, and my feet were sticking out. And he, policeman, was smacking the car door against my feet, shouting, "Move." And I'm just muffled much to reply, as there's a person sitting atop my head; I've no space at all. The police, in some wondrous way, managed to tangle my feet in a knot to be able to close the door, and we drove off.
Did they continue to beat you and your friends in the minivan?
And in the van, it was… Me, well, two sat on top of me, and maybe they were not so comfortable in position to hit me, but still. One took the knuckles of his hand and began pushing those against my head — "ruffling" me, whilst the other one said: "Burn it, burn it." I cannot see anything, but I hear the flicker of the lighter, thinking that a bit more and they will actually burn my hair. I managed, by surprise, to pull out my hand, as it was pressed from behind, and cover my head with it, but one of them takes one of my fingers and begins breaking it, pulling my nail even, saying, "You animal, why are you covering up?" How could I not cover up if they wish to burn my hair?
Sasha Grimayt, for example, was beaten so that the sounds came out, the same as you'd beat raw meat. He was already pleading, "don't beat me there; it all hurts in there", but he was beaten with even more violence.
He was beaten up the most, as for the questioning, he was pulled by two policemen, Sasha barely could move legs, they were dragging. He was pleading, "guys, don't beat me, I'm feeling sick".
Did they continue to beat you in the police department?
In the courtyard of the police department, there were volunteers on duty. When we stopped in there, the police said to us that if we make a sound and the people there will hear us — then we will take you out to the woods, and no one will ever find you ever again. He pulled me by the legs, I fell, hands behind my head, then he changed his mind and said that I put my hands behind my back. The policeman pulled me out to the place where it suited him. At that moment, there were two people, I felt that, by the way, I was beaten up by clubs.
Were you scared?
It is painful, scary, sad that you ask them to stop beating you up, saying, "Guys, I'm down, I'm not resisting," but from their side, you only hear swearing, insults and them beating you up. We all laid on asphalt, face down, told to look at the ground. How much can you lay like that with your hands behind your back … Your hands are trembling from the pressure when you play like that — shivers get you, as the pose is not natural to the human. Staring face down all the time, you are not able to. I had my glasses in my hands; when I was pulled, I managed to put the glasses on, but that was the excess I did. I laid, my neck got numb, so I have put my head on a side to be more comfortable. The policeman came over and said, "Move your head back, I said."
I moved my head back, with my nose directly to the ground. Then I felt like they went off somewhere, to smoke maybe. I cannot see from below. My neck got even more numb, and I once more laid head to the side a bit. The policeman had waited for me, as he came over and stepped on my face, saying, "I told you to move your head back." He crushed my glasses. The crack might have given him an idea for the moment that it was my skull, so he stood there saying, "Sorry for the glasses."
What did the police chief do?
So, we laid there for some time. Then some people came out of the police department, and they asked questions, shouted why we "organised a rally." But every time we replied that we had not organised a rally, we were just on our way to submit the papers — you would have rainfall of hits upon you. They do not let you say anything, for each word spoken — you get beaten. Then the head of the police department came out, said, "Now I'll be asking questions," and that if anyone makes him repeat questions twice, then we will feel the retribution for what it brings.
And the first question was to Vitaly. Minding, we are all face down and cannot know who he questions. And the head of the station stands behind us. So Vitaly said, "Are you asking me that?" and right after, he got beaten again. The head of the department then got the idea to use surnames when addressing us, so we would know who he questions as we are all face down, with our back towards him.
Then I got into the hospital, which I ran away from, as I was told that they would take me into custody again to the police department once I am better. They did not even want to let me out of that custody, to begin with. My face was covered in blood, my eyebrow sliced, my head was spinning, I had a concussion. I thought that my ribs were broken, as I had difficulty breathing for a month after. When they jumped on me, they stretched my intercostal ligaments.
How do you assess what happened to you?
This is the biggest humiliation in my entire life, this very thing, because up to this moment, some troubles, problems, arguments with someone — is nothing, compared to the fact that you were trampled on as a person. You feel no better than a cattle on the farm, which is prodded with an electric shock, where to go, where to graze and what to do. You begin to associate yourself with someone that is far from human. Life in the 21st century in the centre of Europe, where a person carries a prison bag with him every day, just in case. Hello North Korea!

When and why did you decide to flee Belarus?
I went to the rally when the bunch of police came around and began beating everyone up. I had our Belarus flag on a pole, so when they started beating people up, I pushed back with it, and that in Belarus is equal to eight years in prison. That is why I decided with lightning speed, and the next day I was already in Lithuania. Four hours later, on the same day when I crossed the border, police broke into the house where I am registered. It felt like half of the army came to persecute big dangerous criminal. There were police officers and some officers in civilian clothing.
Was crossing the border easy for you?
At that moment, it seems like they have not yet put me on the suspect database, not under arrest. Therefore yes, I travelled to Vilnius by bus quickly.
Did your wife support your decision to flee to Lithuania?
My wife supported my decision, as she said that it would be better for me to be out than in a prison cell with no concrete idea of how it could end. Therefore, she honestly handled it well.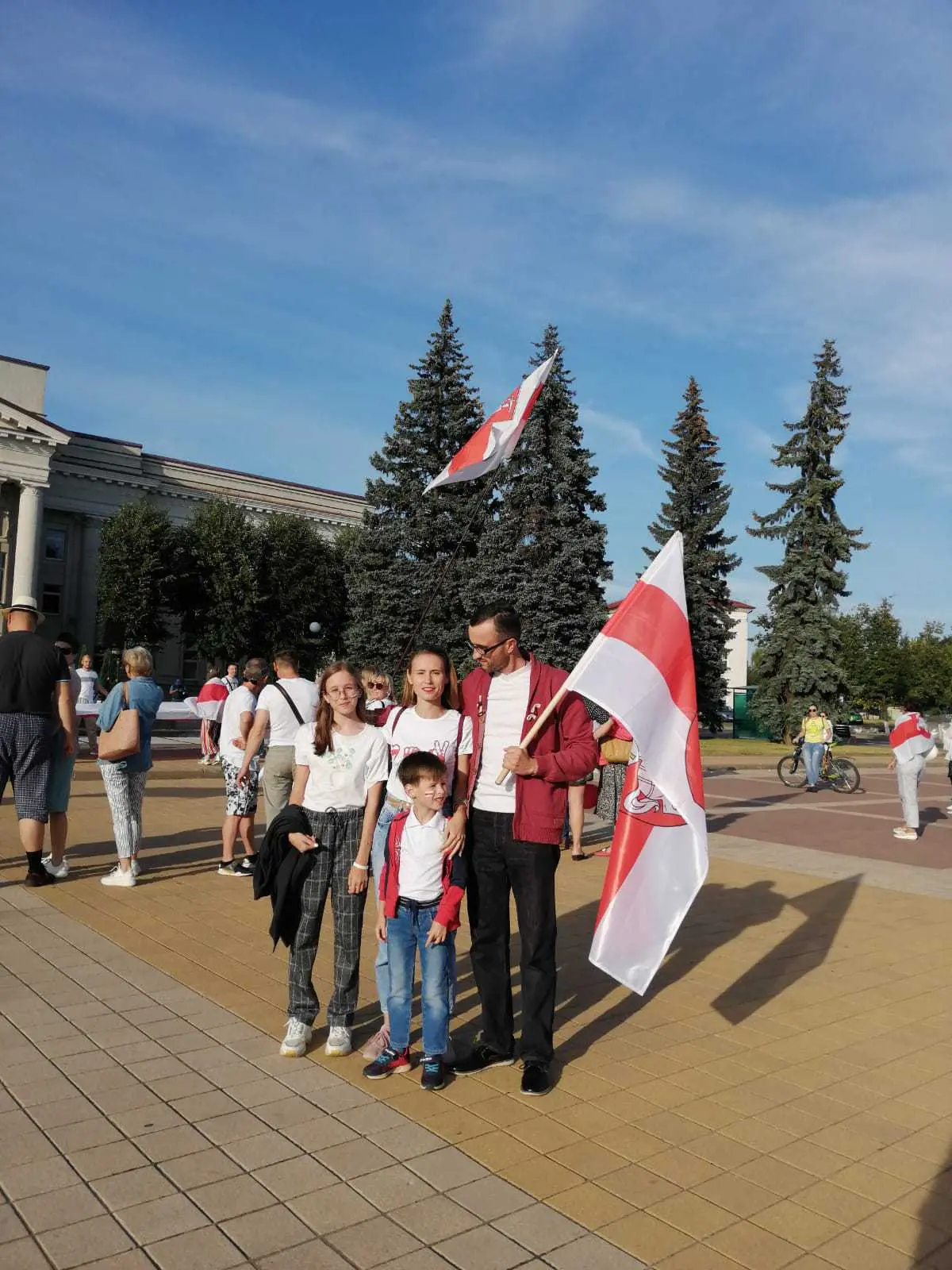 Once you started a new life in Lithuania, did you feel safe?
There were messages from so-called one-day accounts on Facebook or VKontakte. There were also text messages that roughly said, "We'll get you even in Lithuania; you'll be going home in a trunk." I think that's not possible, as Lithuania has righteousness and law enforcement, but those messages do pressure you mentally.
Do you feel that the happenings during that arrest had passed?
In Norway, they have an inspection procedure through customs. And I got to experience it. During one of the stages, they take you to a waiting room with nothing, but a bench embedded in a wall. That greatly reminds me of a bedding set up in the police department in Belarus, where I was placed. I spent almost a month in Lithuania, Norway, and Sweden. But when I was placed in that room, I felt a tremendous psychological blow. I thought that I already forgot it all and that the trauma had passed. But as I sat on that bench, feeling how it reminds me of that prison cell in Belarus, I began feeling anxious. It felt like the door will open now, and the masked men with batons will start beating me again. I wrote a complaint to the customs. That it was not necessary to be like that with people. Rather put me outside, or a room with television, coffee, and all the rest, just don't put me in such a confined space. From that customs waiting room, I came out trembling. That is why I cannot say that all those tortures passed without a trace.

What emotions and feelings do people in police uniform evoke in you after fleeing to Lithuania?
For a whole week, I still was fearful of police officers here due to the memory of those in Belarus. I was bypassing them, so God forbid I meet them. Moreover, the police here are nowhere to be seen. It appears only when it is genuinely needed. Not like back in Belarus, where police officers walk around to intimidate people so that everyone sees their "we are here" attitude. For instance, this already happened in Panevezys. I met a police officer at the exit, and I felt the click — where should I go, what do I do not to meet them. The instinct of self-defense clicked. But then I calmed down, and it died down a little. Now I look at all and understand that the law enforcement bodies can be different. Not like the ones portrayed in Belarus. There can be fewer policemen around, and yet they will conduct their duties.
RELATED ISSUES

Issue
Conflict and Peace Building
Conflict and Peace Building

Issue
Migration and Refugees
Migration and Refugees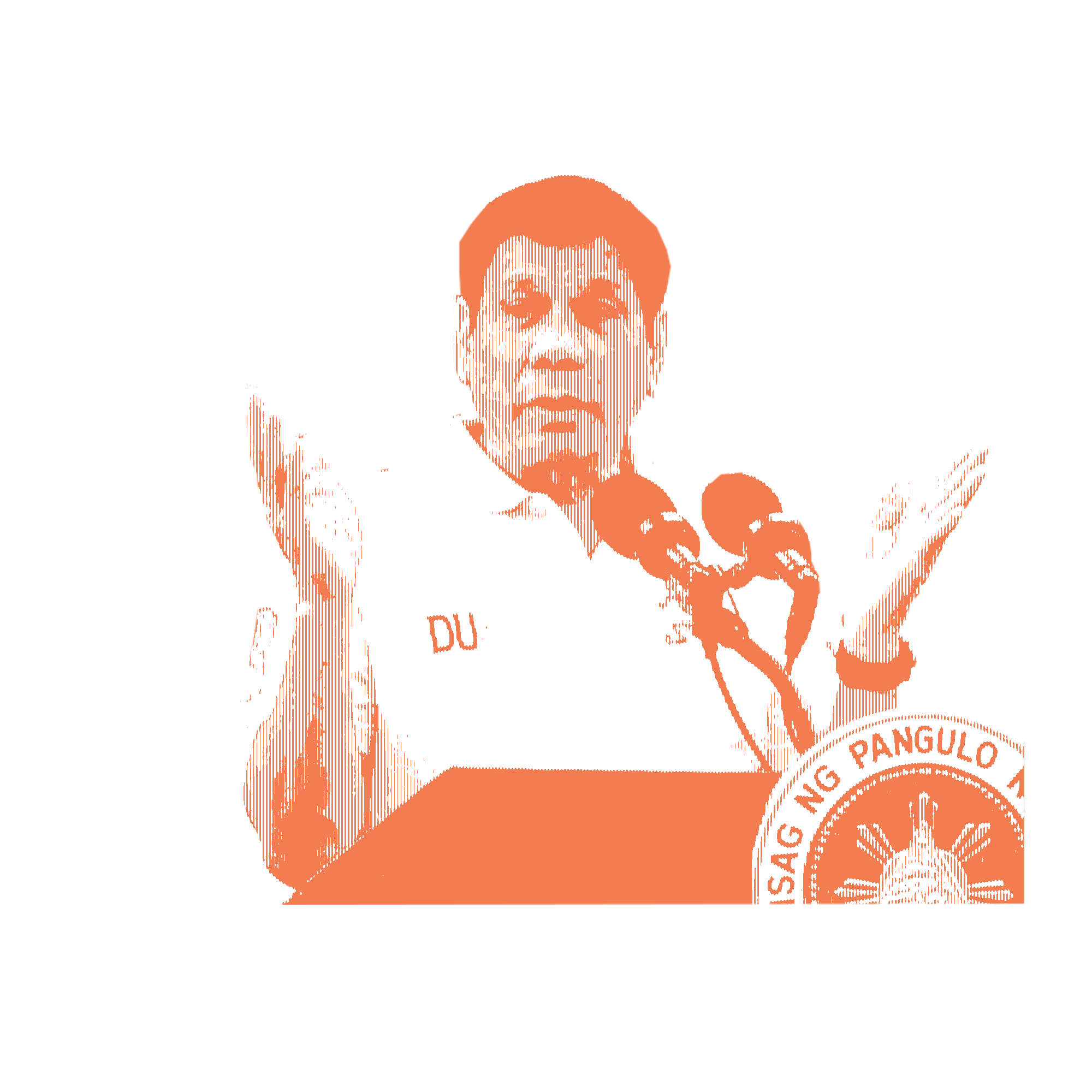 Issue
The New Authoritarians
The New Authoritarians