Pour lire ce rapport en français, cliquez ici.
SAINT-LOUIS, SENEGAL — The new sea wall in this old city isn't just a wall, it's a kaleidoscope.
From the wall's boulders you see children playing soccer, children joining hands for "Ring Around the Rosie," wandering goats, wandering mules, lots of animal excrement, stray cats feeding on dead fish, discarded plastic bottles, discarded clothes, wooden boats painted red and yellow and green — boats pointed west toward a sinking sun that brings out the aqua in the advancing waves.
A man approaches with an offer of an informal tour, and the kaleidoscope turns.
---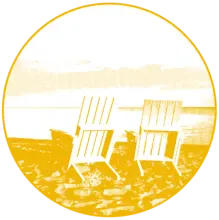 As a nonprofit journalism organization, we depend on your support to fund our nationwide Connected Coastlines climate reporting. Donate any amount today to become a Pulitzer Center Champion and receive exclusive benefits!
---
Now you're in the neighborhood behind the sea wall, walking fast through a maze of alleys as wide as your shoulders, passing open doors and sounds of cook pots, children's voices, a rumbling boil of activity, until you stop and come face-to-beak with a big white pelican next to a tethered goat.
A young woman, slightly irritated, grabs the pelican by its beak and drags it a few feet into the sandy street. Your tour guide tries to explain this scene in French and Wolof: That squawking pelican? It thinks it's a goat, and they're pals.
It's all a bit disorientating, this spinning collage in Saint-Louis, a city that, like Charleston, has a faded colonial past and an ongoing battle against rising seas.
Saint-Louis is in northern Senegal near the country's border with Mauritania. About 200,000 people live on its two barrier islands and a peninsula that juts into the Senegal River.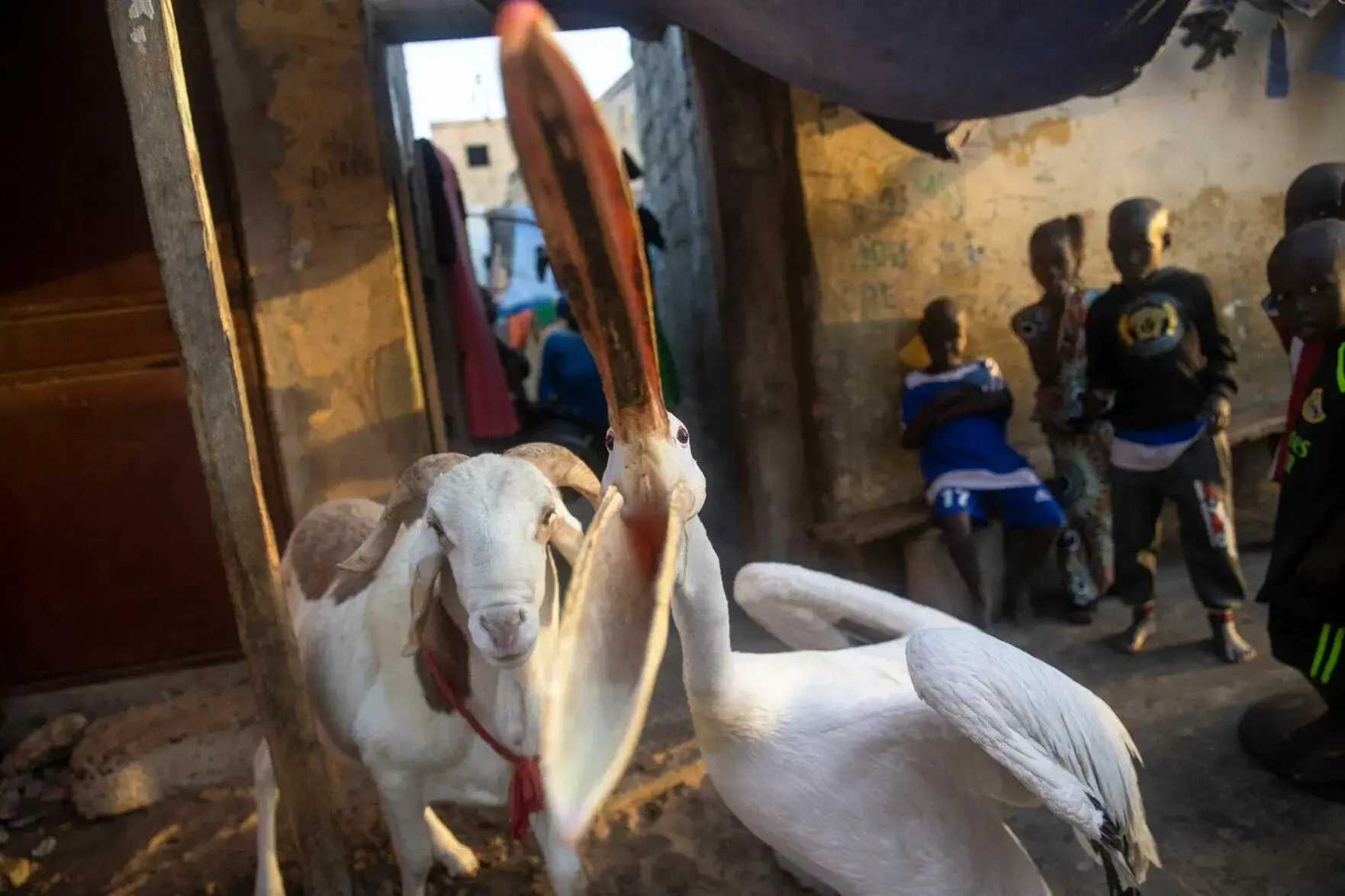 Saint-Louis once was the capital of French West Africa, and its 19th-century architecture hints at its former stature. Two-story villas with peeling pastel walls shade narrow streets. Many buildings have balconies with wrought-iron railings and floor-to-ceiling shutters, similar to the French quarters of New Orleans and Charleston. In 2000, the United Nations designated part of the city a World Heritage Site, which helped spur a growing tourist industry.
So comparisons to Charleston are easy: two cities with histories shaped by slavery, Saint-Louis sending the enslaved, Charleston receiving them; two cities now drawing tourists seeking walks back in time.
And two low-lying cities wrestling with the effects of a rapidly warming planet: Saint-Louis with its new sea wall; and Charleston with one about to be designed.
What lessons can we learn from this similar but distant place in West Africa?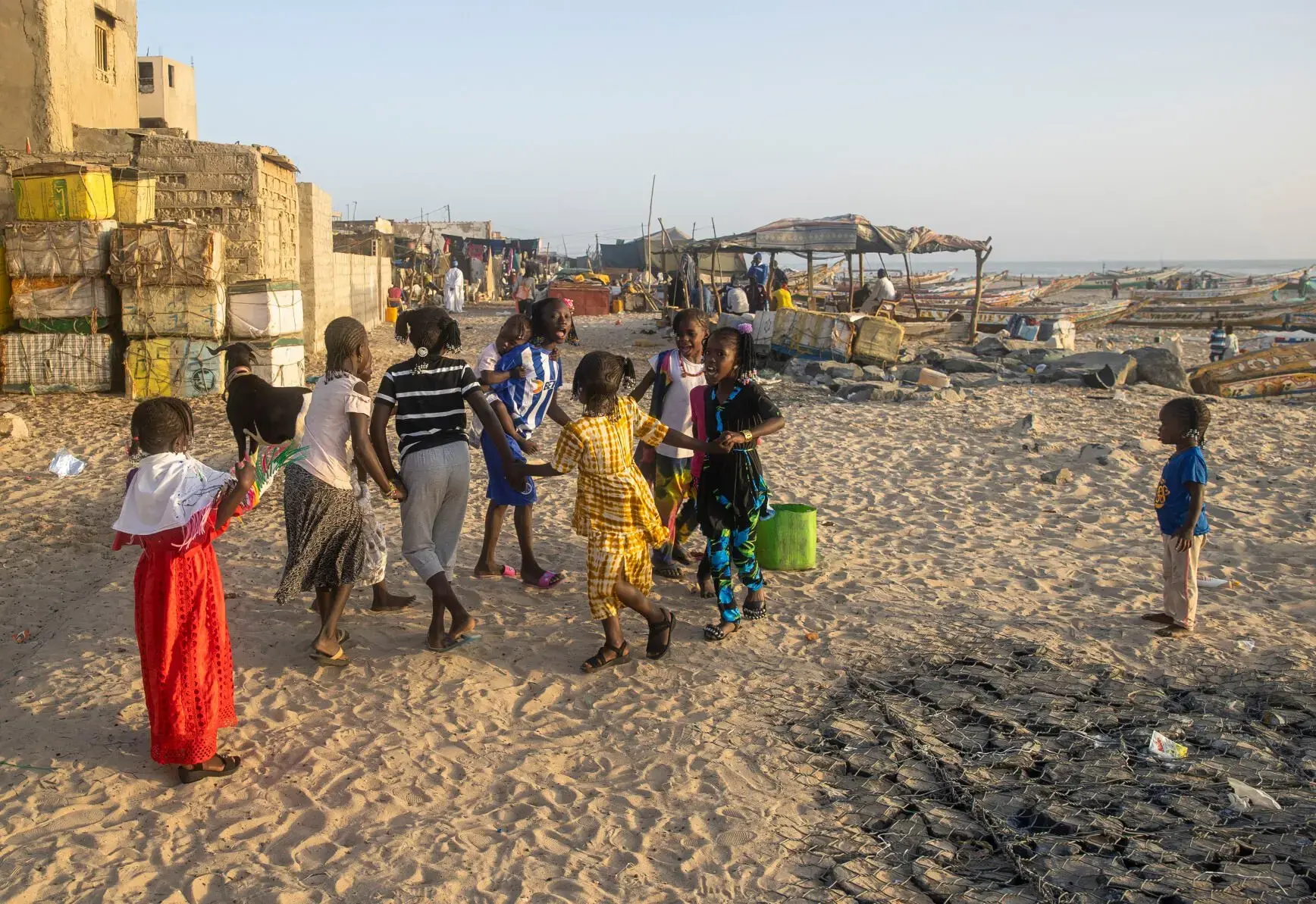 Lesson 1: Bellwether
The first is that Saint-Louis is a bellwether, given its proximity and exposure to two powerful forces, the Atlantic Ocean and Sahara Desert.
Some history and geography are helpful: The French established a presence here in the mid-1600s, building on sandy barrier islands at the mouth of the Senegal River. The settlement became a major trading hub for human captives and gum from acacia trees. Like Charleston, Saint-Louis grew wealthy because of water. Like Charleston, it has always been vulnerable when the water rises.
Unlike Charleston, Saint-Louis is south of the world's largest desert. The city marks the western boundary of the Sahel. Here, the Sahara merges with the tropics, an area of grasslands, scattered acacia and baobab trees, and patches of desert. Like the Sahara to the north, this belt is huge. It's about 600 miles wide and wraps 3,700 miles across Africa to the Red Sea. The Sahel normally has a single, short rainy season as thunderstorms near the equator move north. A long dry season follows.
But in 1968, the monsoons didn't shift north as they had, and a punishing drought settled in. Rivers dried up, grasslands wilted, cattle starved and millions of people across the Sahel soon went hungry. The drought continued year after year, then decade after decade. Villagers left their farms for cities on the coast like Dakar and Saint-Louis.
When the drought eased in the 1980s, the rainy and dry seasons had a different rhythm. Dry seasons were longer and rainstorms more intense.
Scientists later found evidence that warming oceans in the tropics and air pollution in the Northern Hemisphere had shifted the Sahel's rainfall patterns. Now, this fragile zone was even more vulnerable. Heat waves hit harder. When fierce storms struck Saint-Louis, floodwaters from the Senegal River met the roiling and rising Atlantic. Waves poured into the city's low-lying areas, especially on the barrier island known as Langue de Barbarie, or Barbary Tongue, and its neighborhood Guet Ndar.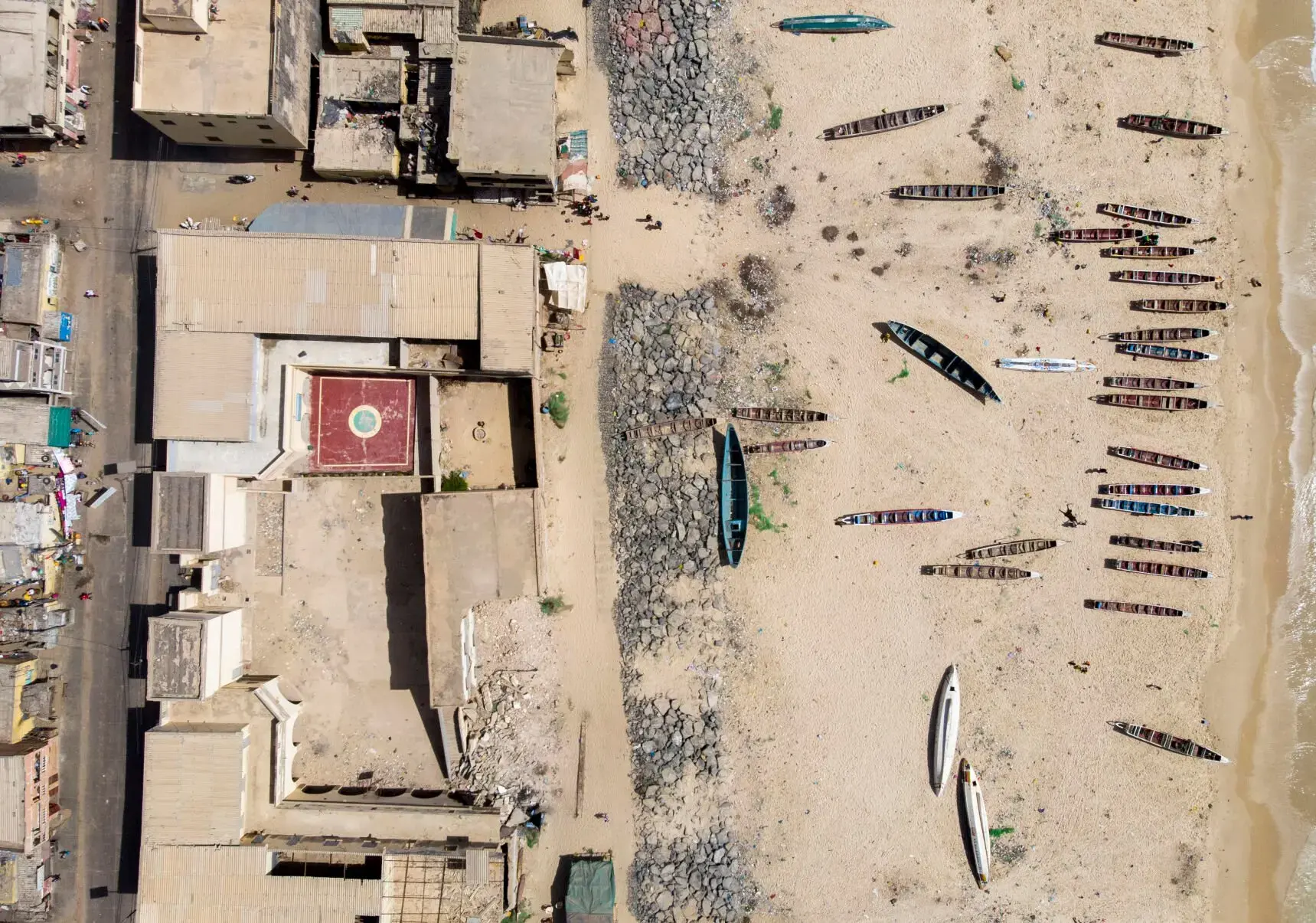 ---
Guet Ndar is among the most densely populated places in Senegal, packed with homes, schools and mosques. On a cloudy afternoon in May, a fisherman named Bara Bar stood near the ruins of a school destroyed by surging waves. Most of its walls were blown out as if bombed. One still standing had a large mural of a red boat full of fish.
Floodwaters surged through Guet Ndar in 2017 and 2018, and then an especially bad one hit in 2019, Bar said. Thousands fled. He and his family and neighbors lost everything as walls toppled and waves swept their belongings out to sea.
Some of his neighbors ended up in a displacement camp on the outskirts of town, he said. But he stayed and moved into a house a row behind the ruins — and now a new sea wall.
"I'm a fisherman," he said, his posture straightening. "I won't leave."
Stay or leave?
Bar and so many of his neighbors in Guet Ndar were forced to make that decision.
With seas rising faster than they have in 3,000 years, hundreds of millions of people in other coastal areas will soon face similar choices, António Guterres, the United Nations secretary-general, said in February.
One answer is to stay — and build a wall.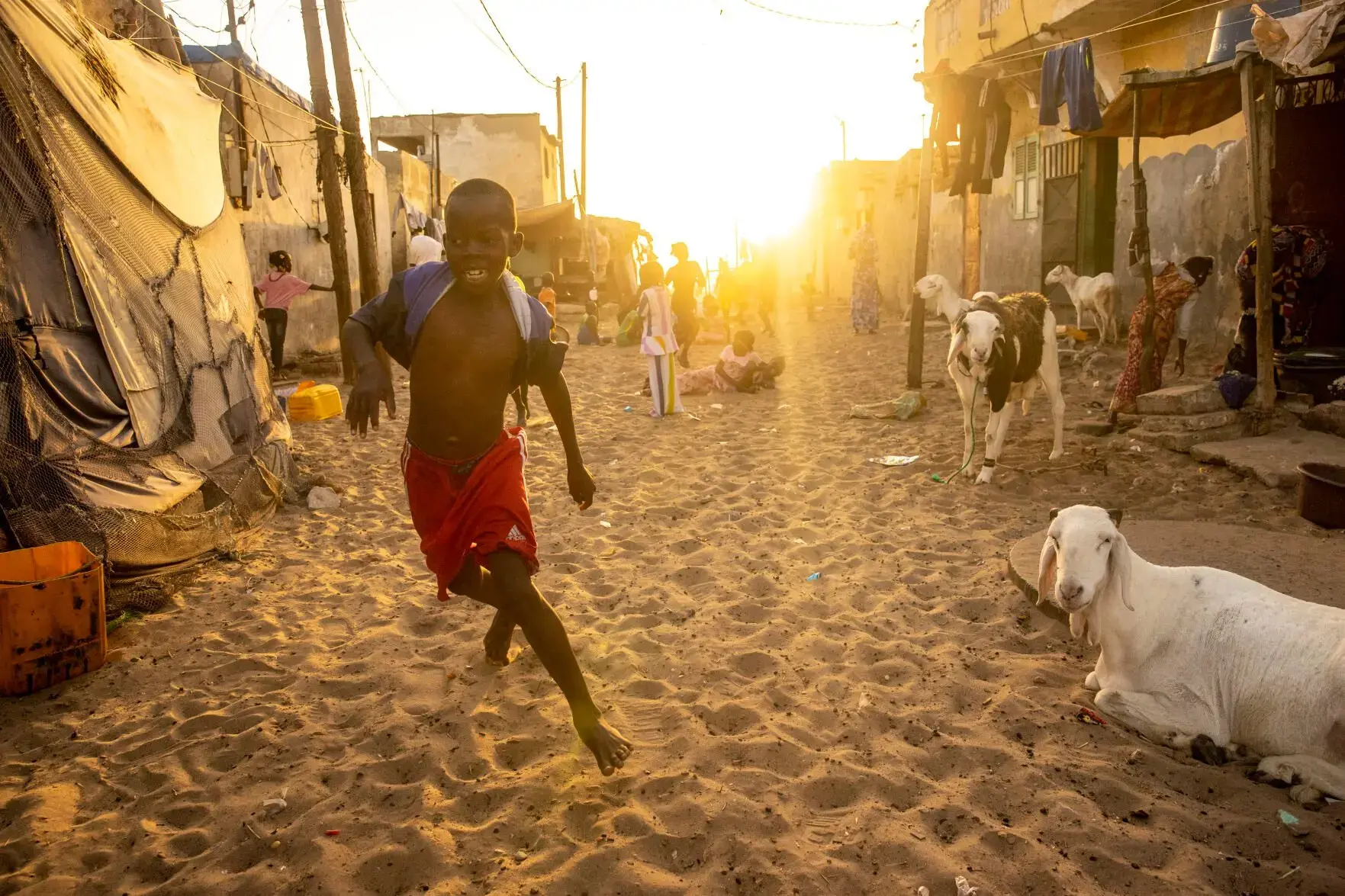 Lesson 2: Walls Work
That's what happened in Saint-Louis.
But first, they tried the opposite, which yielded a lesson in unintended consequences.
In 2003, the government carved a 13-foot-wide canal through the barrier island, about 4 miles south of the city's Guet Ndar neighborhood. Area leaders hoped the ditch would drain the Senegal River faster during the increasingly frequent torrents.
But the sea and swollen river widened that canal. Soon it swept away an entire fishing village of 800 people. Today, that breach spans more than 3 miles. Because of that failed project and higher seas, a United Nations official in 2008 said Saint-Louis was the most vulnerable city in Africa to a rapidly warming climate.
Boubou Aldiouma Sy, a geography professor at Gaston Berger University on the outskirts of Saint-Louis, said the breach was a local catastrophe. But rising seas are affecting the entire coastline of West Africa, stealing 2 to 3 feet a year, he said. (South Carolina's beaches and marshes are losing between a foot and a foot-and-a-half every year, a 2018 study found.)
These losses don't sound like much, he acknowledged, but through a geologist's lens, the pace is incredibly fast, one that required an equally urgent response.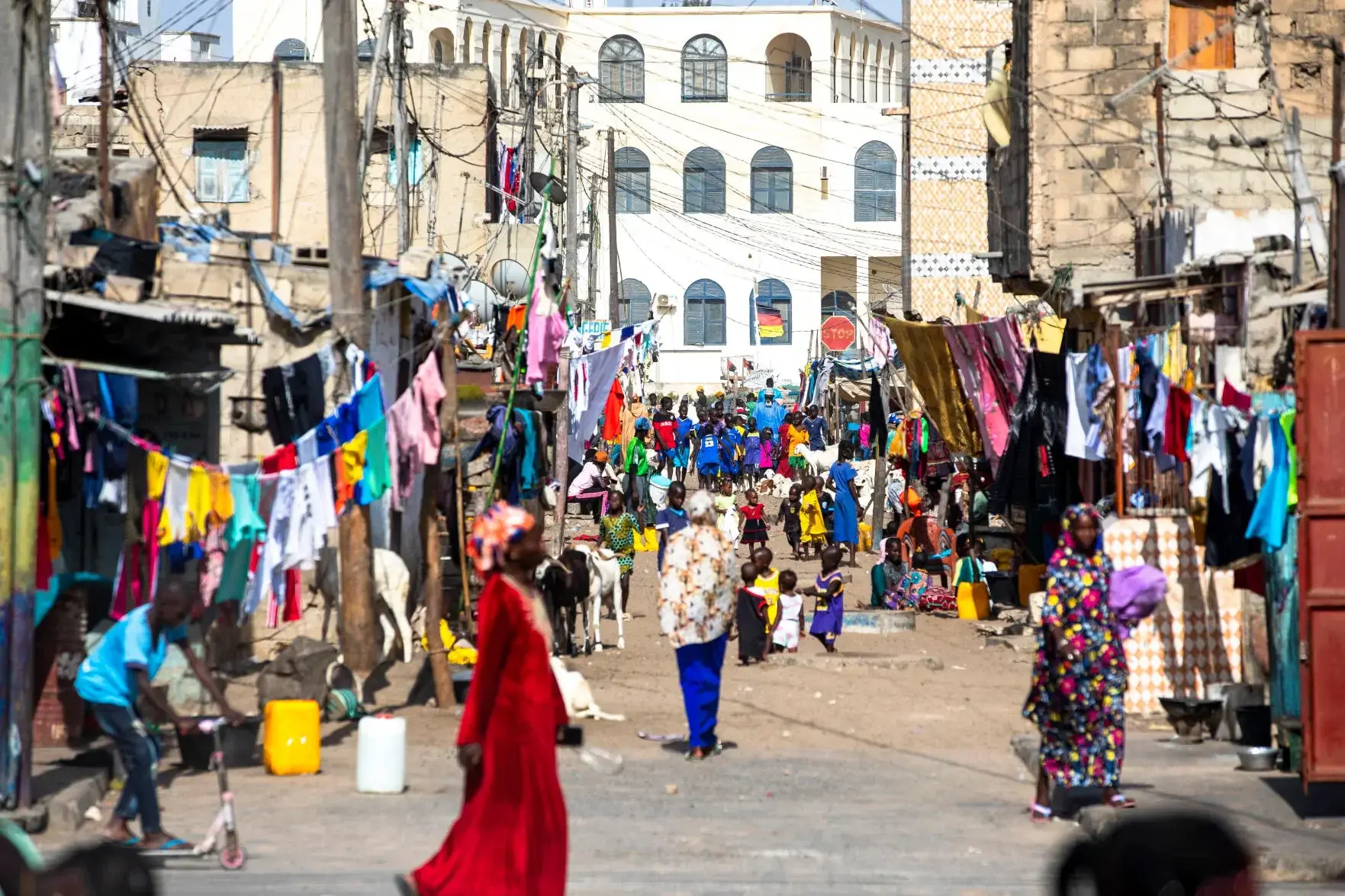 ---
A few years before the current sea wall project, crews built a barrier on the beach, but the rocks were too small, and surges soon broke through, said Mouhamadul Mokhtar Kane, a Senegal official who worked on the Saint-Louis coastal protection project.
In 2020, work began on a more substantial structure, with crews digging deep into the sand and dumping heavy basalt boulders into the pit. That gave the wall enough mass and holding power to withstand the waves, he said. The rocks are porous, which helps absorb and dissipate the waves' impacts. Crews finished their work a year ago.
Today, it looks more like a rocky mound than a wall. It stretches for about 2 miles to an existing colonial-era sea wall that's still in place. It's about 20 feet wide and rises about 4 feet above the high-tide waterline. Time and trash have made the wall blend in with the beach, as sand and fishing nets filled nooks between the basalt blocks.
It's decidedly low-tech, but it still cost more than $100 million. That includes more than $17 million for construction and $92 million to resettle people pushed out by rising waters. The Senegalese government, France and the World Bank funded the work.
Ask fishermen like Bara Bar about the wall and they'll say it was worth it.
The barrier created a new sense of security, he said while standing next to the wall's boulders. He's glad he didn't move to the displacement camp. As for the future, he knows firsthand the sea is fickle.
It gives us our riches, he said, and sometimes it takes them away.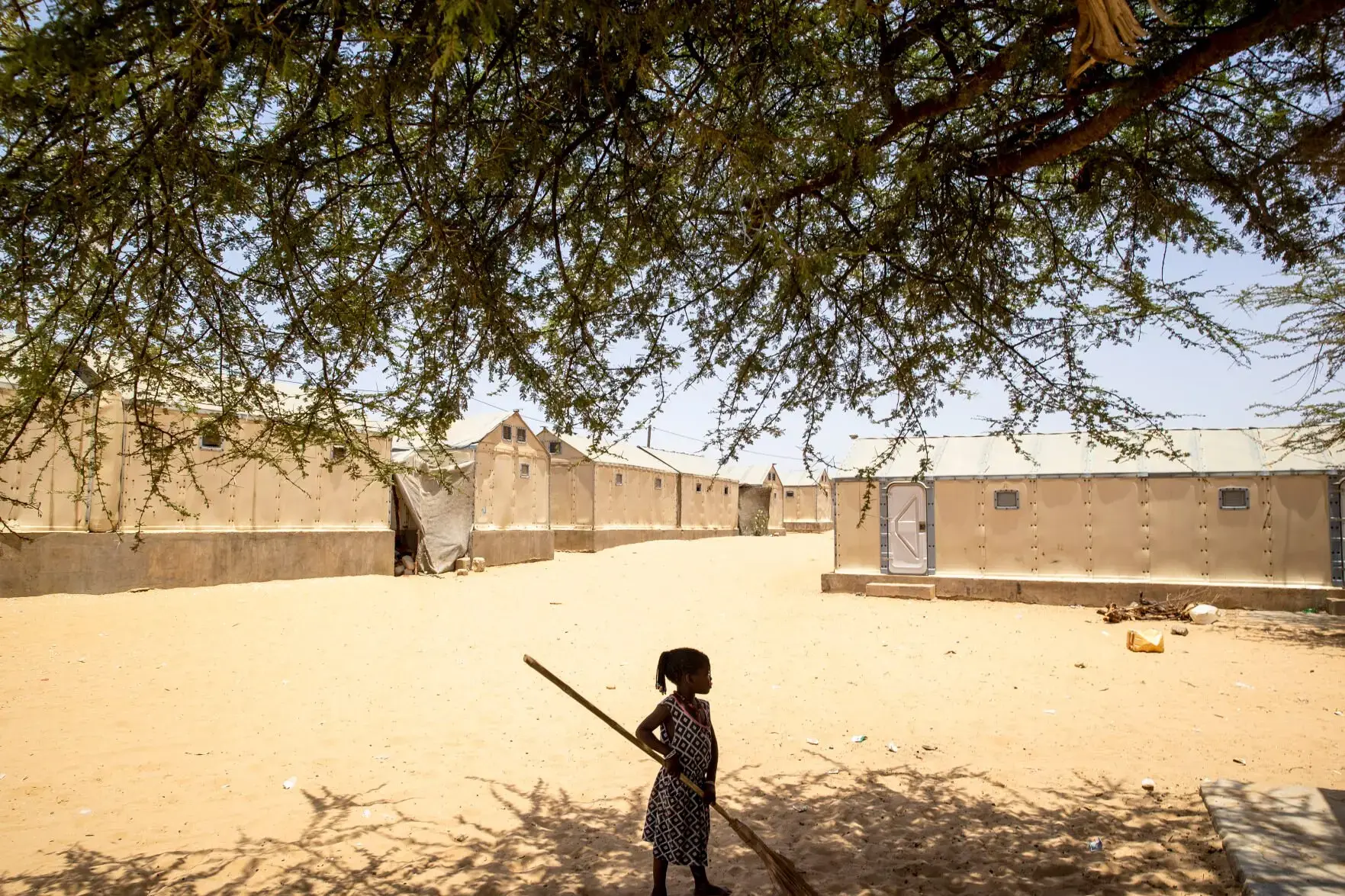 Lesson 3: Identity Adrift
About 6 miles inland, the lessons of loss burn deep. Here on the city's outskirts, the government built a camp for those who couldn't stay.
It looks nothing like their kaleidoscopic old neighborhood. Instead, it has the order and monotonous lines of a military encampment. Beige tentlike structures made of thin plastic are arranged in tight rows on the sand. Instead of a buzz of activity, the sand between the tents was empty, except for a barefoot child who ran toward trees shading two women selling vegetable scraps and fish.
The women said they lived by the water when the waves hit in March 2018.
"We had nowhere to go," said Aminata Yade.
They stayed in a temporary shelter near the beach and then moved to this larger camp.
Marie Sarr said she missed the window of her house because it looked out onto the water. She missed how she could walk with her son in the early morning hours as he went to sea.
Years after the floods, the camp still lacks a health center and stores, they said. The Sahel's sun beats down harder here without the ocean's cooling breeze, and there's no air conditioning. Jobs are scarce.
Behind them and beyond the rows of tents, construction crews worked on a permanent village and part of the larger project to resettle people from waterfront areas in Saint-Louis.
The women are looking forward to moving into those homes, but fishermen still must trek miles to reach their pirogues, the banana-shaped boats Senegalese fishermen have used for centuries. Moving away from the ocean was "a deep cut," Sarr said.
That's the lesson people should learn from what happened on the barrier islands of Saint-Louis, the two women said.
The shock of being displaced is terrible, but the scars of being adrift last much longer.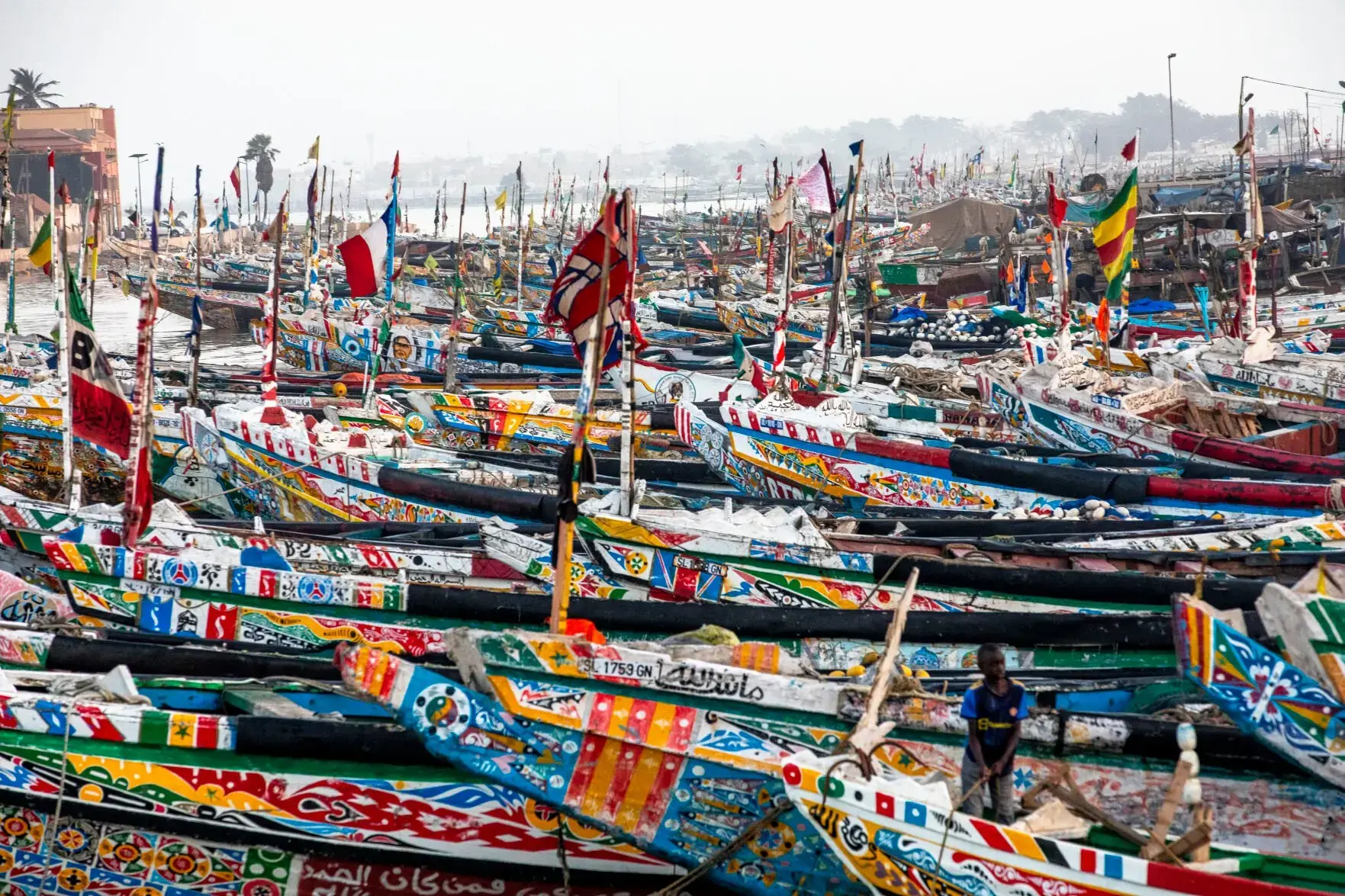 Lesson 4: Act Now
They and others along the wall have another lesson: The best time to deal with these challenges was years ago — before people's lives were thrown into chaos.
It's a lesson to keep in mind as cities across the Atlantic, including Charleston, wrestle with the same challenges.
Charleston launched its sea wall project in 2018, an effort that last year finally yielded a plan to build an 8-mile wall around the city's peninsula.
The barrier would rise about 8 feet above the point where tides flood the city, as high as the top rung on the peninsula's High Battery, the old war fortification now a primary defense against the sea.
Years later, the city and Army Corps of Engineers are poised to design the wall, a process that will answer a key question: Can a barrier blend into a city known for its history and human scale?
The Army Corps' first shot wasn't promising. When engineers unveiled their idea in 2020, many feared a simple wall would destroy the city's historical fabric; others said the wall wouldn't protect minority neighborhoods. More than 400 people commented, with most wanting more details.
Answers may not come for three or four years — until the city and Army Corps settle on a fully engineered design. And the wall itself may not be constructed for another seven years, said Dale Morris, the city's resilience officer.
That's at least 10 more hurricane seasons.
Meantime, the Army Corps estimates the wall could cost $1.3 billion, a number that, like the sea level, will only get higher over time.
And Charleston is just one of many coastal cities thinking about sea walls.
Other Army Corps projects are in the works for Miami, Norfolk, Va., and New York, barriers that the Army Corps says would affect 19 million people and cost upward of $125 billion.
All three have preliminary designs for wall sections with the aesthetic appeal of highway sound barriers.
All are only on paper at the moment. Saint-Louis has a barrier now.
But even here in Senegal, officials acknowledge that it's just a temporary fix.
Sy, the geography professor, said more research needs to be done on the effectiveness of the new wall. They need to explore other solutions, such as beach renourishment.
Still, the forces pressing in on Saint-Louis are clear, he said.
"The desert is getting closer, and the beach is going away."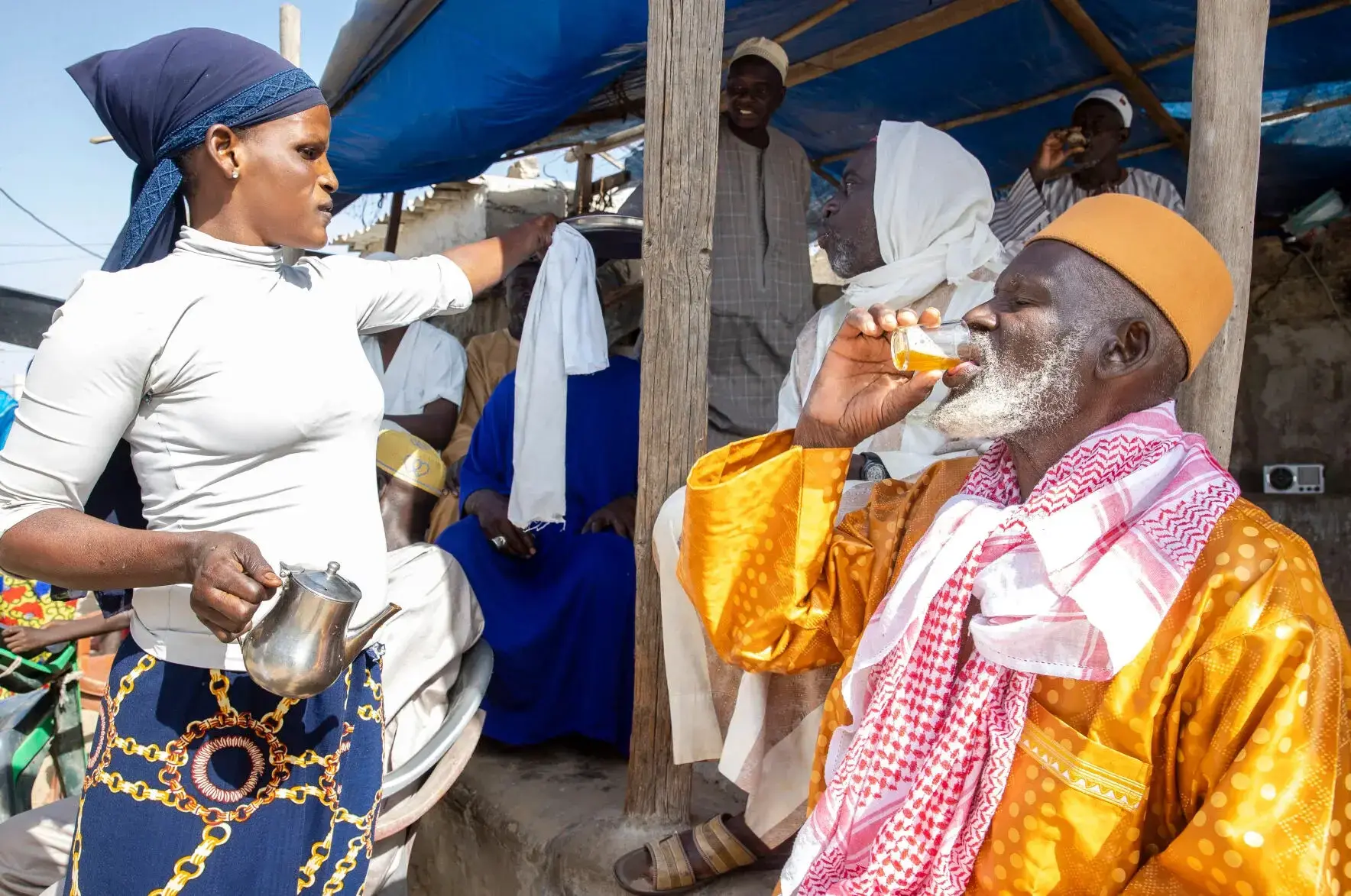 ---
But for the time being, the Saint-Louis sea wall has worked.
And it's why a group of elders are able to sit behind it one afternoon in May, as the neighborhood around them spins toward evening. 
Children race past; goats bray as they pick through the sea wall's rocks. A woman brings the elders tea, lifting the spout high for long pours into their cups.
The men say they wouldn't have been able to sit here without the wall's protection.
They say that before the wall, they were in constant fear. They lost sleep because the worst of the waves seemed to come at night.
Some are still fishermen and keep their pirogues within eyesight. With the wall's protection, they hope their children will continue to ply the waves because fishing has been part of their identities for generations.
Suddenly, there's another shift around the sea wall: shouting, then the bow of a painted pirogue. A group of young men carrying the boat push through a crowd, parting them like water. They pass the elders and take the boat over the sea wall, tracing a line behind them in the sand as they head toward the still-advancing waves. •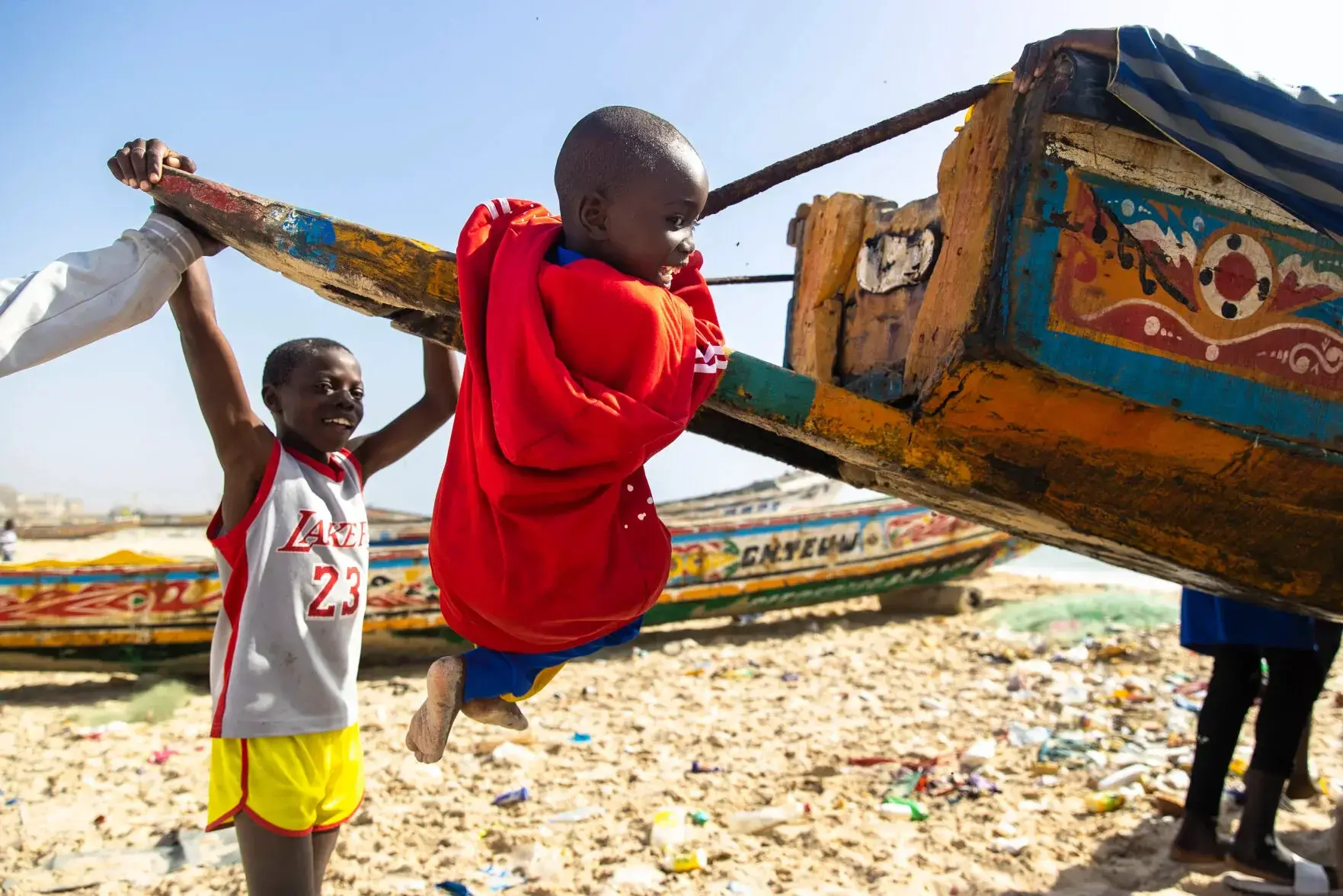 About the project and acknowledgements
The Sahara Connection and Lessons of Senegal reflect The Post and Courier's commitment to identify important climate connections, including ones that have largely flown under national media's radar.
This includes stories about ocean plankton, which produce half of the oxygen we breathe; how the Gulf Stream lowers our sea level; and how Greenland's ice has a gravitational force that also affects our sea level.
Connecting these dots can be expensive. Fortunately, the Pulitzer Center and The Post and Courier's Public Service and Investigative Reporting Fund supported travel and other costs of bringing many of these stories to life.
Borso Tall, our local journalism partner in Senegal, helped facilitate our reporting and translated interviews. Mounia Malki translated this story into French.
We're grateful to have met and learned from Senegal researchers at Cheikh Anta Diop University in Dakar and Gaston Berger University in Saint-Louis. This project was written by Tony Bartelme, edited by Glenn Smith and designed in print by Chris Tabakian and Fred Rindge. Brandon Lockett produced digital and print content. Artists Steve Ocier, Jayson Mabelin and Rosario Pineda produced our Flood Woman comic.
Flying creates a large carbon footprint, and we offset this trip with carbon credits from Terrapass.
RELATED ISSUES
RELATED INITIATIVES