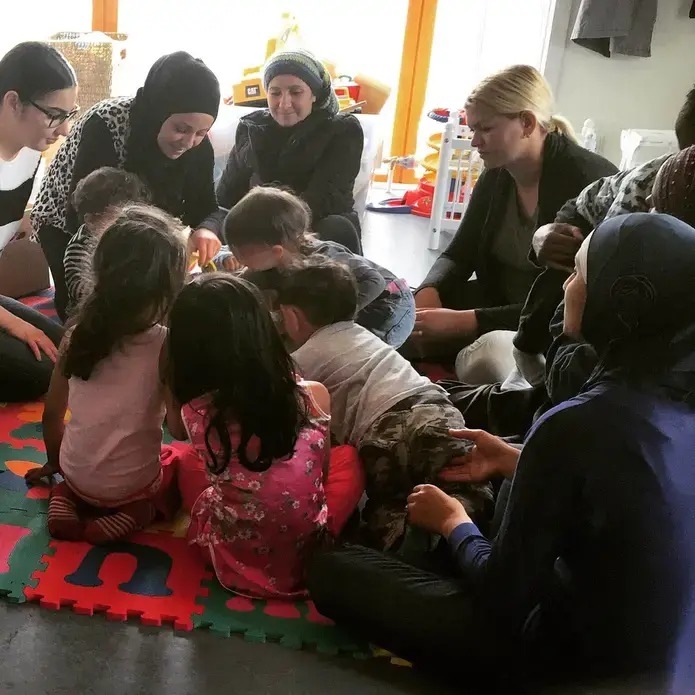 For about an hour and a half every Tuesday and Thursday, the small sewing room at the Center Sandholm is transformed with the sound of chanting, clapping and laughter. At the end of the play date, half of the women who are Red Cross volunteers will go home. The other half has no place to go home to. Image by Ana Santos. Denmarl, 2016.

COPENHAGEN, Denmark – For about an hour and a half every Tuesday and Thursday, the small sewing room is transformed with the sound of chanting, clapping and laughter.

Mothers with babies nestled in their lap and toddlers propped up by the arms gather in a circle singing along to nursery rhymes.

At the end of the play date, half of the women who are Red Cross volunteers will go home. The other half has no place to go home to.

For 27-year-old Mirvat Bak, her son, Yosuf, and about 600 others, home is the Center Sandholm, an asylum center run by the Red Cross located just outside of Copenhagen.

For those seeking asylum in Denmark, Center Sandholm is the first stop.

"Now we get about 11-15 asylum seekers a day. During the winter time, there are about 400 applicants a day," said Jytte Jensen, the head nurse at the Center Sandholm Clinic.

The body of an asylum seeker tells the story of months crossing borders on foot and sleeping in rough conditions. Skin clings to bones. Shoulders are slumped with fatigue. Teeth are whittled down by cavities and gums are open and raw from untreated infections. After two to three months of traveling miles on foot, regularly brushing your teeth becomes a luxury rather than a necessity.

When asylum seekers arrive in Denmark, the Red Cross registers and records their information in a database system, gives them a medical check-up and provides them a roof over their heads.

The Danish National Police, the Danish Immigration Service and the Danish Refugee Appeals Board will review their asylum applications.

From a life of fleeing comes a life of waiting. Sometimes weeks, more often, years. Some asylum applications are approved, some are not.

Normalcy

"We try to make life as normal as possible for asylum seekers while they wait," said Jensen.

Medical and dental check-ups are provided for free. A center has been set up for donations of clothes, toys and even make-up products like nail polish. A computer center and daycare center provide leisure options for adults and children. A sewing room, that doubles as a playroom, is open for new skills to be learned.

Volunteers can sign up to help asylum seekers adjust to the Danish way of life by orienting them on the transport system, passing on important Danish words and teaching them how to ride a bike – a skill that is very much in demand in a country whose roads are built to safely accommodate both cars and bicycles.

Life May Have Stalled but It Goes On

For the young people, the passage of time and life's milestones like dating and relationships are acknowledged.

According to Jensen, most of the asylum seekers at Center Sandholm are young single men. "These are always available for them," she said, handing over a box filled with condoms.

An unplanned pregnancy is not ideal in the uncertainty and limbo of waiting for asylum, but it is also in intimate relationships that young people might find a sense of security and belonging.

Programs are targeted to help young people deal with the pains of growing up in the middle of a humanitarian crisis. Young men are oriented on Nordic sexuality norms, young women are counseled and given access to birth control pills and the option to have an abortion, which is legal in Denmark.

Contraception Access in Humanitarian Situations

Globally, there are more than 80 million people displaced by war or natural disaster. According to the International Rescue Committee (IRC), the average length of long-term displacement is 20 years.

At the Women Deliver conference on reproductive health held last May 16-19 in Copenhagen, health experts and advocates called for the urgent but overlooked need to provide comprehensive access to contraception and abortion in humanitarian situations like asylum.

"Eight out of 10 of countries with the lowest contraception prevalence rates are fragile states," said Ashley Wolfington, IRC senior technical adviser for reproductive health.

"Women's needs in crisis situations should be a universal priority. Instead, it is an afterthought. Conflict countries receive 57% less funding for RH (reproductive) health than countries not experiencing conflict," said Wolfington.

Refugee Situation

Last year, an estimated 1.2 million migrants and refugees entered Europe to escape armed conflict, violence and other causes. Germany, Hungary, Sweden and Austria received two-thirds of the asylum seekers who were mostly from Syria, Afghanistan and Iraq.

Denmark, situated between Germany and Sweden, is not as popular a destination as its neighbors, but it continues to receive an increasing number of refugees.

In 2015, there were an estimated 21,000 asylum seekers who came to Denmark, nearly double the number from the previous year and almost four times more than in 2009.

Refugees Not Welcome

Denmark's refugee policies have been criticized as "unattractive".

Earlier this year, the Danish government approved a measure to collect valuables like jewelry and cash from refugees to offset the cost of resettling them.

Prior to that, social programs for refugees were slashed by 50%. The New York Times reported that the move was announced in Lebanese newspapers in ads that ran both in English and Arabic. The ads came with a warning that asylum seekers whose petitions were denied would be "quickly kicked out". A bill that extends waiting time to sponsor family members for reunification from one to three years is currently being reviewed.

In January, the United Nations High Commissioner for Refugees (UNHCR) issued a statement saying that Denmark's policies run counter to the country's commitments as a European Union (EU) member state and as a signatory to several UN treaties. Denmark was one of the first countries to sign the 1951 UN Refugee Convention.

"UNHCR regrets that Denmark is restricting its asylum legislation for the sole purpose of curbing the number of asylum-seekers," it said in a statement.

UNHCR also expressed concern that Denmark's actions would fuel fear and xenophobia and set a precedent for other countries to follow suit.

As Europe struggles to cope with the worst refugee migrant crisis since World War II, it swings ambivalently between opening its doors and extending help and closing it borders to protect the jobs and interests of its own citizens.

"We are always thinking about what migrants and refugees take away from us. We should also think about what they can also give to us as a country," said Jannich Bisp, Department Manager of the Red Cross Asylum Center.