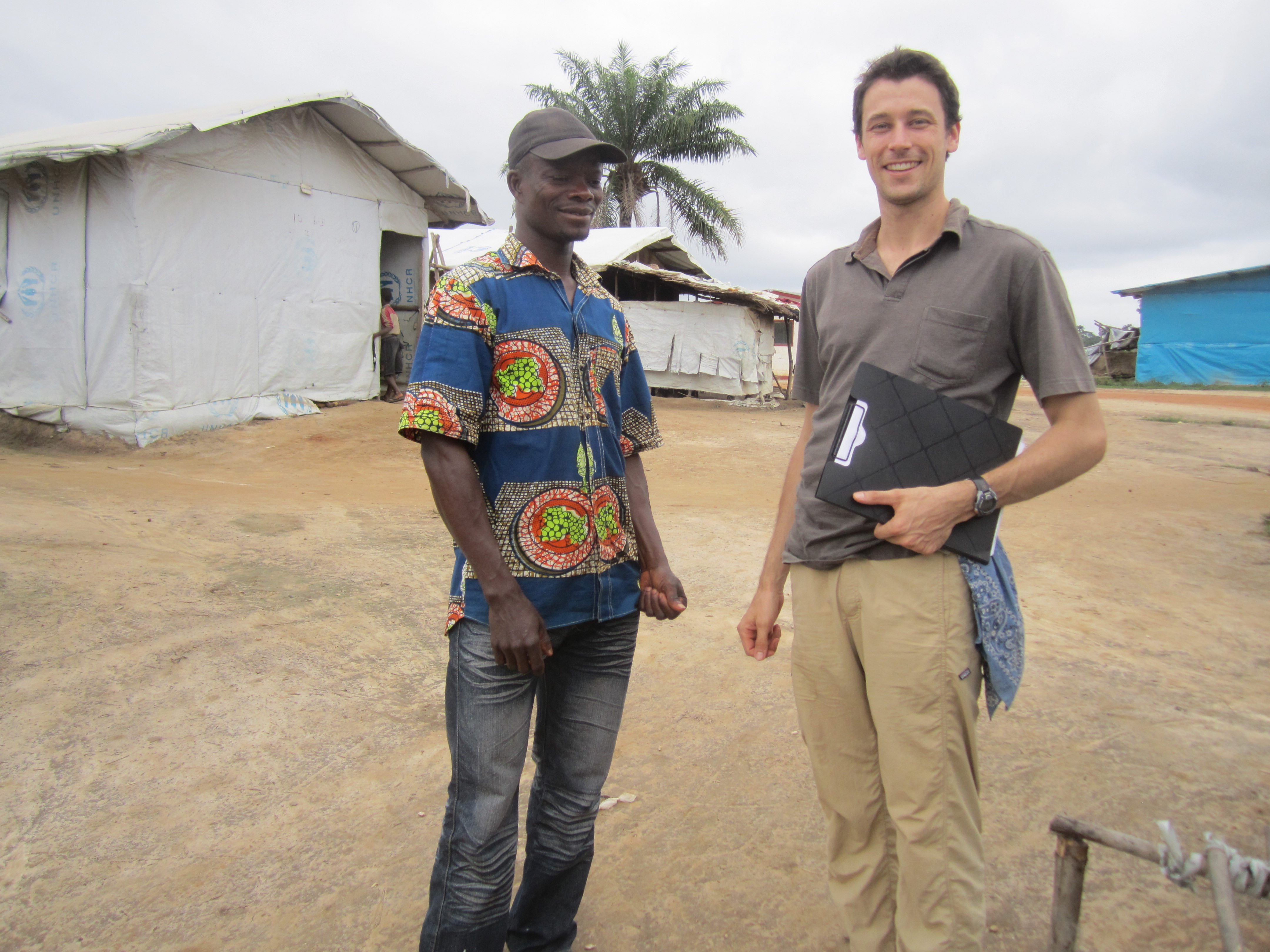 FREETOWN, Sierra Leone — Ask Ted Morse what made his son do it, and you can practically hear the shrug over the phone.

"We scratch our heads and say, 'I have no idea where he got that from,'" he said. "No one else in my wife's family or my family, none of them are doing anything like what Ben's doing."

Benjamin Morse, 28, who graduated from Waterville's Colby College in 2009, has spent much of the past year in a part of the world the U.S. Centers for Disease Control and Prevention is warning Americans to stay away from: West Africa, where the Ebola virus has infected more than 26,000 people and killed more than 10,000.

But Ben isn't one to mindlessly follow guidelines or warnings. "He marches to the beat of a different drummer," his father said, "and his song is his own."

Ben is administering surveys in West Africa, going door to door on behalf of a nonprofit that is trying to figure out why Ebola spread so fast. What he's finding is that distrust of government and others is at the heart of the problem: People have not responded quickly, or at all, to quarantines or even advice about washing hands.

"I got interested in international development when I studied abroad in Ecuador while at Colby College," Ben said. "I wouldn't locate it in any one experience or observation but probably simply that foreign countries, particularly developing countries, are just so much more interesting from a social and political perspective."

AN INDEPENDENT STREAK

Ben's journey into Sierra Leone actually started many years ago. He grew up in Radnor, Pennsylvania, an affluent unincorporated community of 31,000 in the southeastern part of the state. His father owned a software company until three years ago, and his mother is a financial planner. Even when he was a teenager, the qualities that drive Ben today were beginning to surface.

He played rough-and-tumble sports, tested himself in difficult environments and pursued activities with a hint of danger. He played lacrosse and ice hockey. He took up rock climbing and surfing. He camped in Newfoundland in the dead of winter and learned to scale icy peaks.

During summer vacations, he swam off Chebeague Island in Casco Bay, eventually mastering a surfing sailboard. But while Ben was testing his own physical limits, he was also discovering within himself a strong sense of fairness and morality, his father said. Ben always organized the games at Memorial Day gatherings, making sure that the smaller children got equal access to a Frisbee or a set of roller skates.

As he grew into adolescence, Ben also began probing the assertions of those around him.

"He's always been good at putting together arguments," Ted said. "If someone said something like, 'I think the Republicans should win,' he would start to engage people in intellectual discussion to see whether they knew what they were talking about, checking what was real or not real."

Questioning the assumptions of those around him led to his development of a strong independent streak; his father said he grew concerned when Ben got to high school and demonstrated that he could be "a little wild."

But the summers in Maine made an impression on Ben. After he graduated, he zeroed in on Colby as his college of choice.

"When he went to Colby, we were very surprised at how easily he really settled in with a good crowd and really excelled academically," his father said. "He really grabbed onto the Colby education, and I think that a lot of his connections there and what he learned there led to the direction he chose in life."

'TACT AND CHARM'

Within months of earning a bachelor's in government at Colby, Ben took a position in New York as a research assistant with the nonprofit Innovations for Poverty Action. His work with Innovations took him to Mexico, where he studied the world of high-interest loans issued by the country's criminal underworld.

He first traveled to Africa in 2012, working in both Liberia and Ivory Coast as a consultant for the Norwegian Refugee Council. He helped measure the impact of 150,000 Ivory Coast refugees who had traveled to Liberia, seeking to escape a violent post-election conflict.

He sees his current work in Africa, administering surveys to track down the forces that drove the Ebola epidemic, as a natural extension of his earlier work in the region. Beginning in 2014, Ted and his colleagues oversaw a door-to-door survey conducted in Monrovia, Liberia's capital city, seeking statistical evidence that would help to inform efforts to stem uncontrolled Ebola transmissions.

His co-researcher, Robert Blair, said that after five years of working with Ted, he has come to appreciate his meticulous attention to detail. "He's an extremely careful, diligent researcher," Blair said.

Ben's father said that his good-natured personality allows him to make fast friends in unfamiliar surroundings.

"Every village he goes to, he has to meet with the elders and explain to them what he's doing to get permission from the chief of the town." Ted said. "That takes tact and charm."

KEEPING TRACK

Though his son has traveled the world and done humanitarian work in different parts of it, Ted said that sometimes the family is the last to know about his whereabouts.

In order to ease their worrying, Ben agreed to have a tracking app downloaded onto his phone, so that a brother could track his whereabouts. A few weeks ago it yielded some interesting information.

"We kind of find out after the fact," Ted said. "He did not tell us that he was going to Sierra Leone."

Only after he got there did he send the family an email detailing his journey into the country from the neighboring nation of Liberia, which involved a hundred-mile trek on dirt roads crammed into a taxi with 10 people; after the taxi broke down for the third time, he wrote, he was forced to continue the trip at night, on a motorbike with no headlights.

The brother emailed him a humorously dry response: You probably shouldn't have cc'd Mom on this.

Ted said that his wife, Barbara, does worry about Ben but also speaks of him with pride.

"Barb calls him our save-the-world child," his father said.

A MATTER OF TRUST

The observations of Ben and the other researchers offered a deeper understanding of what fueled the Ebola epidemic.

Biologists in the region have focused on the mechanisms the deadly virus uses to attack the body and the level of human contact needed to cause transmission. Ebola is transmitted through direct contact with the bodily fluids of an infected person. Once the virus enters the body, it disables the immune system and then attacks the body's tissues and organs, a process that eventually clots the blood, liquefies much of the body's collagen, and generally kills its victims through massive blood loss.

But Ben's research focused on a different way to understand the virus' spread: distrust.

His team found that Ebola spread when people failed to cooperate with government-led public health campaigns, such as obeying quarantines and washing hands with a chlorine solution at checkpoints in public areas.

The biggest determinant of whether a person was likely to comply with those control measures was his or her level of trust in the government. Individuals who had undergone personal hardship — such as seeing dead bodies, losing a loved one to Ebola or becoming unemployed — were less likely to trust the government and more likely to spread Ebola through noncompliance.

"This suggests the possibility of a vicious cycle in which distrust increased non-compliance, non-compliance increased hardship, and hardship increased distrust," the team wrote in a recently released report for the International Growth Center.

Ben's personal impression is that Ebola's rapid spread caused trust in Western medicine to decline.

"Ebola is a strange disease, not well treated by Western medicine," said Ben, who is now pursuing a doctorate in political science from the Massachusetts Institute of Technology. "Moreover, the health care systems severely mishandled the crisis."

For his part, Ted is not surprised by his son's dedication to a global health cause.

"He's always been very analytical," his father said. "Being analytical, you wouldn't think that he had much concern for other people, but all of his projects in Liberia and Sierra Leone have been collecting and analyzing data to help the less fortunate and the less powerful."