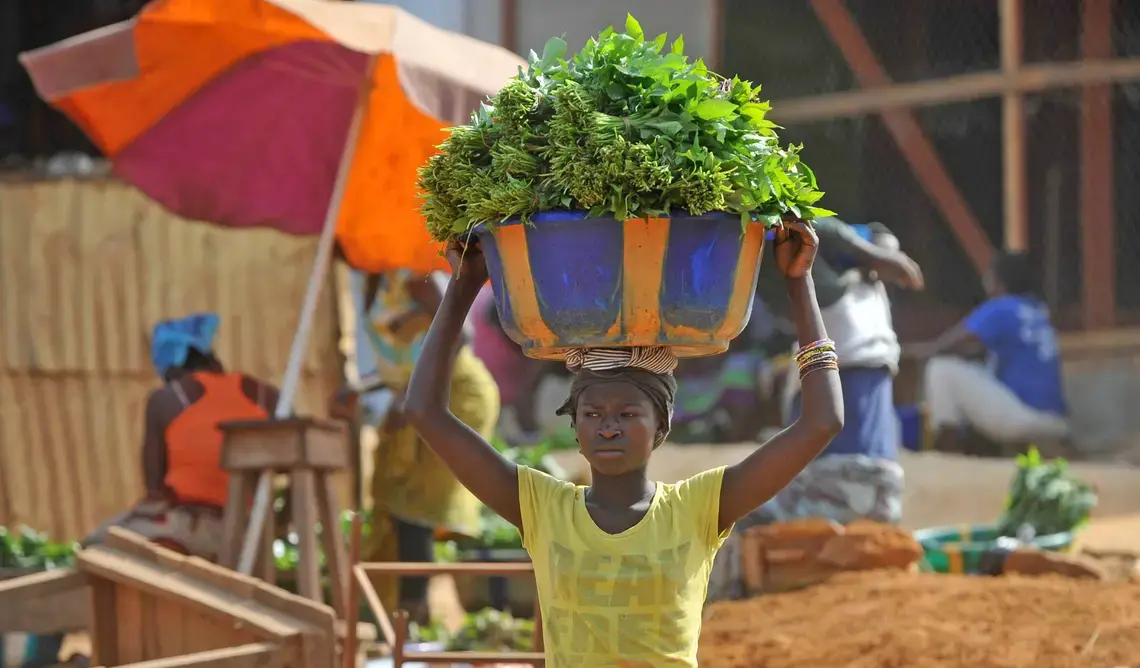 A woman carries a plastic tub of cassava leaves on her head as she walks to market in Freetown. Image by Michael G. Seamans. Sierra Leone, 2015.

FREETOWN, Sierra Leone — In Freetown, the capital city of Sierra Leone, the streets are as hot and heavy as two furiously embraced lovers, all color and motion and positional parrying. If you look at the World Health Organization's report on the safety of driving conditions in the country, Sierra Leone get reasonably high marks for having laws on the books, but the enforcement ranges from abysmal to nonexistent, essentially leaving the people to navigate the public space at their own risk.

Our driver skillfully maneuvers his car across a massive pothole, not pausing as a motorbike carrying a driver and passenger comes within inches of the front bumper. The seemingly inevitable collision is made even more certain when the motorbike's driver shifts just a hair closer to our car to maintain some invisibly tiny boundary with a colorfully dressed woman crossing the street.

But in the chaos, the woman herself is an oasis of calm, floating unhurriedly along the rough streets, her brightly colored lappa wound around her waist, a coiled scarf lying, like a snake, on her perfectly postured head. Balancing improbably on top of that cushioning fabric is what looks like a large plastic laundry tub, black with decorative green stripes.

The woman is not alone. All up and down the streets, a thousand entrepreneurs walk, carrying goods on their heads, seeking eye contact with potential customers, who often take their purchases home in the same manner.

Some of the loads carried on heads were impressive for their volume, as in the case of the woman who had at least 15 laundry baskets stacked within each other, or in the inverted pyramid of fabric bundles that was as tall and wide as the man beneath it. In others, the impressiveness lay in the carriers' finesse, the way they slid precisely in and out of traffic with a wide platter of roasted peanuts, or a four-tiered stack of apples up top.

For the urban poor of Sierra Leone, the majority of whom live on less than a dollar a day, it is an economy of space and balance, a perfect solution to the problem of how to get materials to and fro in the cramped marketplaces.

The load causes little strain, as long as the back and neck are well-positioned to provide support. It keeps the items in question on display for potential buyers, while leaving the hands free to conduct transactions. And best of all, it allows the walker to slip slimly through the narrow safe zones created by the constant ebb and flow of traffic without fear that a wayward bumper or motorbike passenger's clumsy foot will upset the day's products.

When I stayed in one place for 20 minutes, I tried and failed to describe the people streaming by. Every person was rich in color and character, full of sweat and smiles and mannerisms, each individual with a life worth living, a song to sing, a worry, a hope, a pain, a mother, a father, a bed, a past, a future.

And yet, like the most cowardly of sketch artists, I reduced each fulsome being to a few cheap strokes of my pen:

∎ big plastic tupperware container with food and, on top, a plastic bag

∎ gray cooler over gray shirt and pink skirt, contents unknown

∎ blue plastic basket with pink bars of soap over black shirt, black white orange skirt

∎ man in teal shirt, blue jeans, black plastic mail container

∎ muftah, Saba powder detergent flopped over cardboard box. Silver trim to muftah, muted floral pattern over denim jeans, perhaps 14 (note: I later learned this particular type of head covering is called a khimar)

∎ beside her, a young man, tall in light purple shirt, with inverted plastic tub over head

∎ man in a suit vest over buttoned shirt. Cardboard boxes. Khaki shorts

∎ Cassava leaves in large tub

∎ boy with three dozen eggs, seasoning

∎ woman with eight dozen eggs, matronly

∎ rolls in see-through container

∎ woman w/bag of groceries

∎ man with flattened cardboard boxes

∎ boy with metal wire basket lined with towels, contents unknown

∎ woman w/wicker basket full of bottled water

∎ man w/bag of rice or concrete mix

∎ woman w/tub flip flops

∎ plastic tub w/associated bathroom products

∎ boy w/yellow gas container

∎ blue w/bananas

∎ man and two daughters w/stone containers filled with rocks in irregular chunks the size of paving stones

∎ 8 y.o. boy w/large orange cooler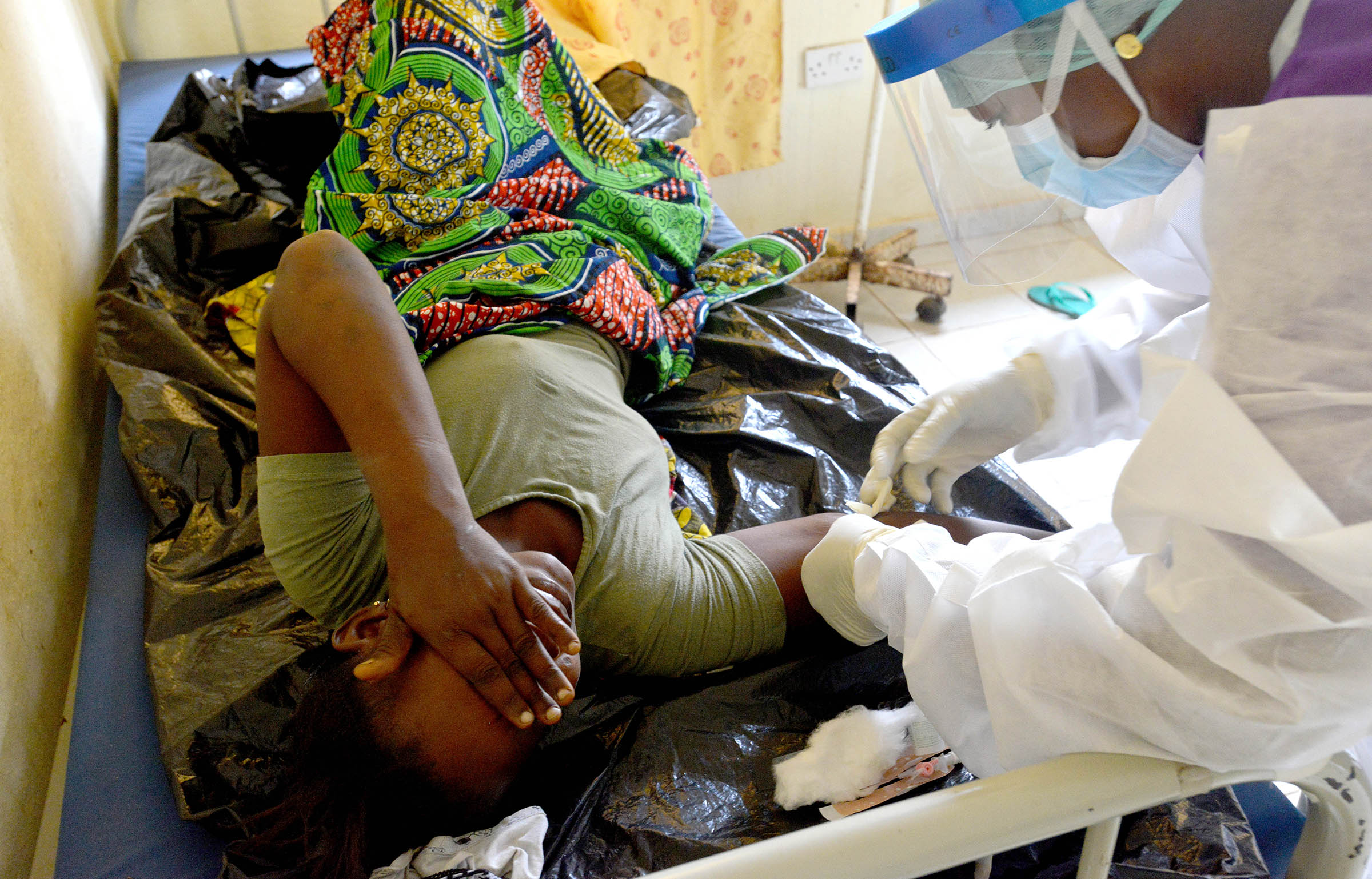 Matt Hongoltz-Hetling and Michael Seamans traveled to Sierra Leone to document an ongoing healthcare...