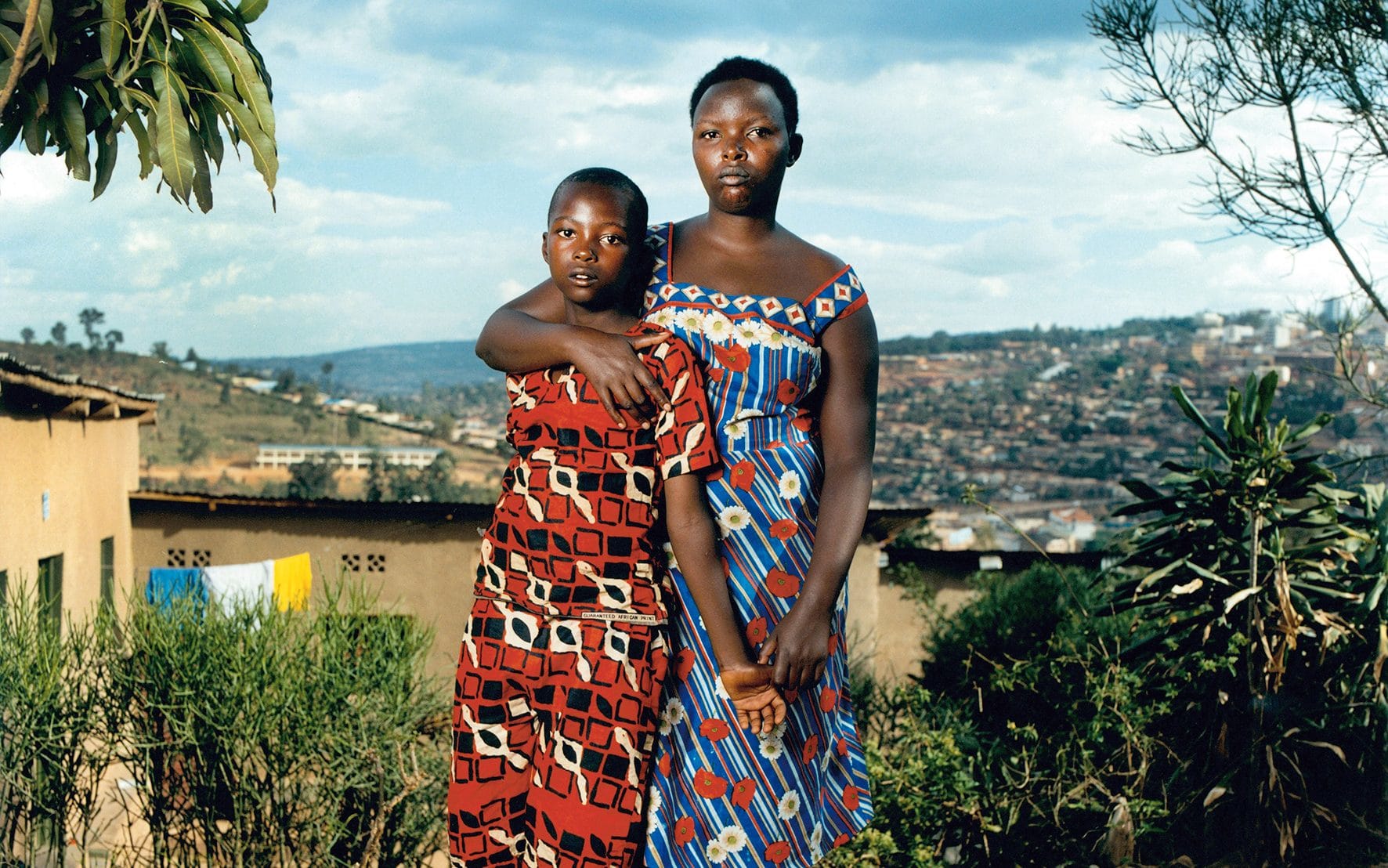 In 2007, the Telegraph Magazine published a series of portraits by documentary photographer Jonathan Torgovnik of women and their children – children who had been conceived as a result of rape during the Rwandan genocide. Between April and July 1994, extremists from the Hutu ethnic majority slaughtered their Tutsi neighbours. Over 800,000 died, and during the violence it is estimated that 20,000 children were conceived during a campaign of systematic rape.
Torgovnik's original images prompted a huge response from Telegraph readers, who donated £75,000 to his fledgling Foundation Rwanda charity. The foundation eventually raised more than $2 million to support the children of about 850 families – at this point on the threshold of their teenage years – through secondary education, while providing psychological and medical support for the mothers, many of whom had contracted HIV at the hands of their abusers.
None of the children looking out from those portraits knew the true circumstances of their conception. But when Torgovnik returned to Rwanda to take their portraits once more, they all – now in their early 20s – understood that they were the product of rape.
'It ended up being a positive reaction, rather than negative,' he says. 'Of course they were sad, finding out that their father was a killer and rapist. But it was a relief to know the truth. Most of them said they became more understanding of their mothers, who didn't only disclose to them how they were born but lots of things about the genocide.'
Returning to Rwanda a decade on, Torgovnik also noticed that the passage of time, as well as the foundation's support, had healed some wounds. 'In 2006 they were shattered, not confident. This time, in every single mother I saw a huge difference in self-esteem and confidence,' he says. 'They see their kids in education, and by and large they're more accepted within the local communities.'
Now the foundation is focusing on bringing the children together in camps to share their experiences, and get to grips with the identity issues that the circumstances of their conception have raised. The charity still funds their vocational training or university scholarships, too.
And there is now another generation to consider, says Torgovnik: 'One of the girls was pregnant when I took her photo – recently her mother sent me a message saying she's married and has just had a child.' 
Bernadette, 56, and her son Faustin, 24 
Bernadette was raped by a militiaman and beaten so badly that her left leg had to be amputated. She testified against him in court and her son Faustin later met his father in prison. Faustin is finishing his secondary education.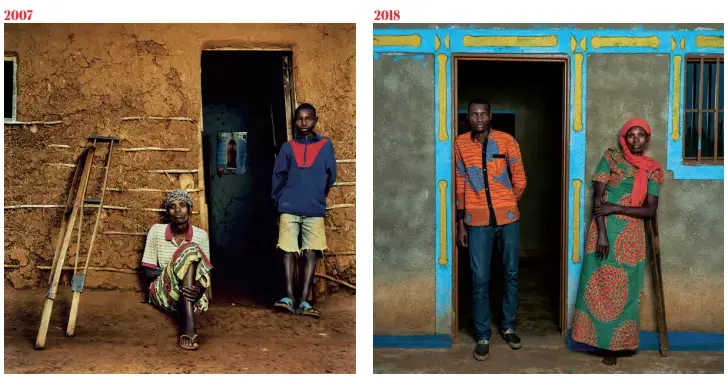 Bernadette
When I disclosed to my son the circumstances of his birth, he was traumatised, and he wanted to be on his own. He wanted me to describe to him how the Interahamwe [Hutu militia] looked, and I tried to describe how I saw them during the killings. I felt a weight was lifted off me after I told him. My son has always loved me and trusted me. He is very obedient, he helps a lot with the housework.
I testified against my rapist and the father of my son at the gacaca courts [community genocide courts]. He was taken to the ICTR [International Criminal Tribunal for Rwanda] in Arusha, but then he admitted to his crimes. One day he came to my house and pleaded with me to forgive him. I reflected on how many women were raped and killed. But I was raped and he did not kill me, so I forgave him. The government pardoned him, he was released and now he does not live in this community.
After 25 years, I have healed and no longer feel isolated. The support I received from Foundation Rwanda has helped. Even now, without my left leg, I look smart and people comment about me looking very good. Today I'm no longer living in a mud house. My son is in school doing very well, and gets the materials and school fees that he needs. My son's future is good. I also see mine as good, even if it's difficult for me to provide for my needs.
Faustin
When I was 13 years old, my mother told me that I was born as a result of her being raped during the genocide. I felt like something was piercing my heart. 
I tried to behave very well so people would not label what I do as coming from my father. I am always careful what I say and try to be simple, to avoid conflict. In school my results were good, and the teacher would wonder why I was ashamed to speak out in front of other students, so this teacher encouraged me.
I went on to become the leader of the [genocide] survivors student association, giving talks to students. I met my father once, in prison. He was ashamed and didn't want to speak with me. I forgave him, because I believe if someone asks for forgiveness they should be forgiven. I also told him that I found parents who are helping me to get an education, and be a responsible person, free from drugs. Those parents are Foundation Rwanda. 
Sometimes, before going to bed, I spend hours thinking, why was I born this way, as a result of rape? But I also feel sorry for my mother, for the opportunities in life that she has missed. Our relationship is very good. I feel loved very much.
Odette, 43, and her son Martin, 24
After her neighbours ransacked her family's house, the teenage Odette was repeatedly raped by several men, who infected her with HIV and made her pregnant with her son, Martin. She married in 2013 and has a young daughter. Martin is a civil-engineering student.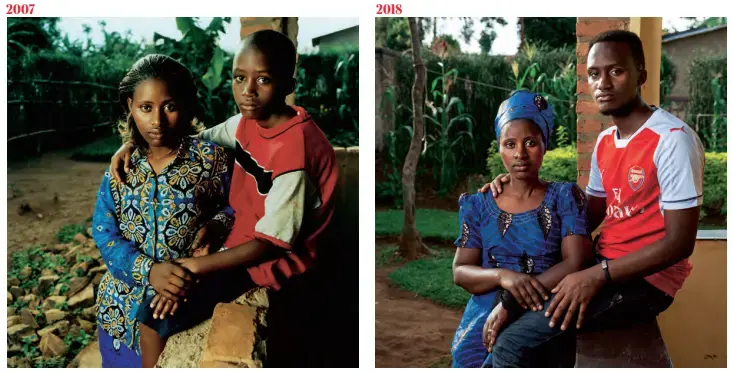 Odette
Twelve years ago I almost became a beggar on the street, but I was able to recover, and now I have a job and am married with a baby girl. I take medication for HIV/AIDS as a result of the rapes, and I told my husband everything I went through during the genocide – it hurts him, but he appreciated me telling him.
My relationship with my son is not very good, especially since I got married. In 2015, encouraged by my husband, I told him that during the genocide I was raped and that I don't know who his father is. I still feel good as a mother because I did what I was supposed to do.
I love him but I think I might have spoilt him growing up.
Martin
I tried to ask my mother about my father. She doesn't like to talk about the past, but she told me how she was raped by three men. It will take me time to accept this. Realising that my father was a killer and a rapist makes me feel shame, and to know that my mother has HIV/AIDS because of the rapes is a very heavy thing for me to accept. For a long time I believed my father was a soldier who protected my mother, and discovering the truth has been a setback in my life.
My mother could have aborted me. I respect that she didn't neglect me – she took responsibility and raised me, educated me, and I know it was hard work. But at an early age she took me to live with relatives while she went back to school for five years. When she came to see me I called her Auntie, not Mother. 
I love my mother, but when she got married in 2013 I felt our bond had been cut – she was not as interested in me. One day I said, 'I want you to tell me that you love me.' She just said, 'I take care of you and did everything for you…' But she couldn't say the words 'I love you'.
I haven't visited my mother for several months. Most of our problems arose from questions about who I am and who my father was. Now this has been resolved, I hope there will be less conflict between us.
Josette, 40, and her son Thomas, 24
In 1994, Josette and her sister were beaten and raped by militiamen. Her sister died and, after the genocide, a pregnant Josette was rejected by members of her family. Thomas is now training to be a plumber.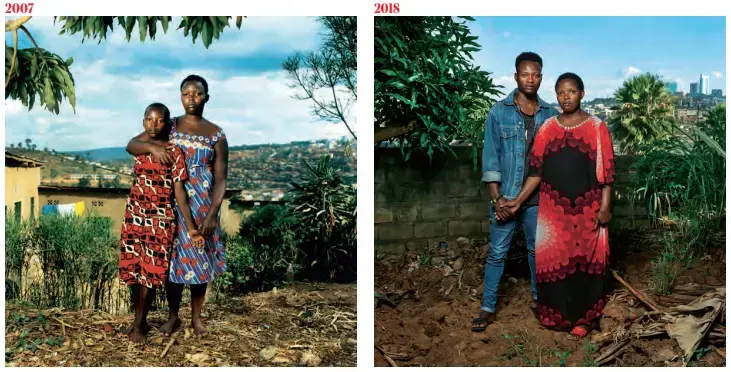 Josette
I first told my son he was born as a result of rape when he was 18 because he was asking a lot of questions. He didn't believe me. His feelings changed towards me. He attacked me, claiming I killed his father or something went wrong with his father because of me. My son had a hard time accepting the truth, and he was not doing well at school. He even tried to attack his sister, because his sister is Tutsi and he identified with his [Hutu] father.
I had an older cousin who lived with us for a while and would beat my son if he did something wrong, and accuse him of being the child of killers. So my son grew up with these words ringing in his ears.
Thomas is experiencing trauma, but he is changing little by little. He never used to call me 'Mother', but recently he has, and he comes to talk to me, and I am not afraid of him any more.
Thomas
I was 18, on my way to play football, when my mother said she had something to tell me – she was different, a bit sad. She told me about the terrible things she went through and that I was conceived as a result of her being raped. My aunt was killed by the same man who raped her.
I used to feel bad knowing that my father was a killer and a rapist, and I felt stigma about it.
I was violent in the past and tried to attack my mother, but the confusion of not knowing the truth about how I was born and who my father is led to my behaviour. Now I have decided to wipe him out of my life and move on.
I am grateful that my relationship with my mother has improved in the last few months. I can talk with her and tell her what plans I have, and what is hurting. We talk like mother and son.
She really struggled – she gave birth to me in hospital but had no money to pay the bill and had to hide me in a bucket and escape. It was not easy for her to tell me all this. I know that she works hard to ensure we are getting a better future, and whatever she does is because she loves me.
Now I identify myself as Rwandese, not as Hutu or Tutsi. I find comfort in that.
Justine, 41, and her daughter Alice, 24
When her family were murdered in a church during the genocide, Justine was repeatedly raped by Hutu militiamen. She now works as a cleaner, and Alice is a university student.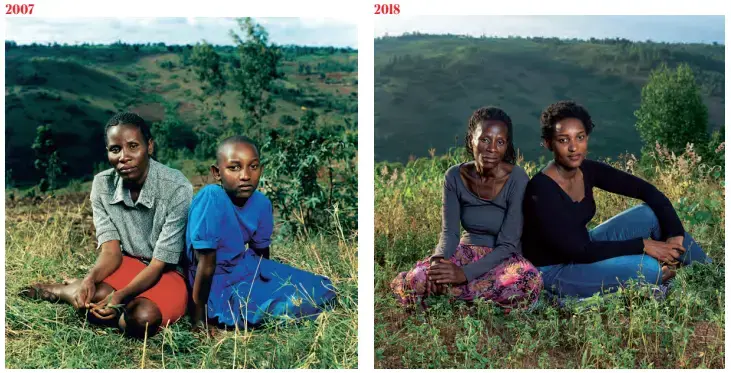 Justine
One day I called my daughter into the bedroom and I told her about my experience of the genocide, that I was raped by many men and that I didn't know who her father was. She was quiet, and shocked. But I was relieved to have told her. My daughter is very reserved, which I think is because of the uncertainty of not knowing her history.
Life was very difficult after the genocide, when the trauma was fresh. But as we are nearing the 25th anniversary, I feel that I have been psychologically and materially supported by Foundation Rwanda and my health and my relationship with my daughter have improved. I work at the health centre as a cleaner and sometimes the work requires more strength than I have, so it is challenging. But my daughter checks up on me often, and I feel more love for her. She was able to complete secondary school and is now in her second year of university, and I know that whatever I need in life, she will try to provide for me. So I think the future is bright.
I am so glad that Foundation Rwanda helped when I got really sick. I was bedridden for a long time, but I got better.
My relationship with my daughter improved after I attended counselling – I met other women in the same situation and we received support from counsellors about how to tell our children about the circumstances of how they were born.
Alice
I heard a lot about the genocide from history lessons and watching documentaries. I used to ask my mother about my father and my birth, and she would avoid my questions. But one day she did tell me – that I was born out of the violence that was done during the genocide. After she told me I felt sad. I pretended to be strong because I didn't want her to feel more depressed. But I was happy to know the truth, and now we talk freely.
Life has improved thanks to Foundation Rwanda, which helped me get my education, and through it I was able to meet other people like me [born of acts of rape during the genocide].
When I was growing up, I avoided going where there might be families; I didn't want to see children with both parents. Living without a father affected me deeply. I am a young lady, I want to get married at some point – whose names would be on the invitation to my wedding? But I don't feel the need to know who he is now, it would probably make me sad. The fact is that my father was a killer and behaved worse than an animal; I would not want to identify with him.
To learn how you can help the mothers and children in this story, visit Foundation Rwanda's website.
RELATED ISSUES

Issue
Conflict and Peace Building
Conflict and Peace Building

Women

Children and Youth