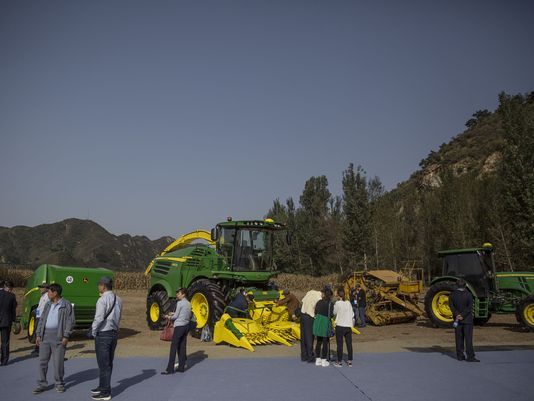 LUANPING COUNTY, China — The Iowa farmer stepped up to the lectern in a setting both familiar and foreign.
He stood within view of yellowed and crinkly corn stalks nearly ready for harvest and a row of shiny green John Deere tractors.
He might have glanced across the countryside anywhere in Iowa this time of year and seen the same thing.
But the farmer, Rick Kimberley, also stood in front of a head table on a massive stage that featured a cross-cultural lineup of a dozen officials presided over by the local Communist Party secretary for this corner of China, as well as U.S. Ambassador Terry Branstad.
The event was the groundbreaking for the China-U.S. Demonstration Farm, or the "Friendship Farm," a partnership between the two superpowers.
A recreated version of Kimberley's farm is at the heart of the new tourist draw, in partnership with Iowa businessman Luca Berrone, Chinese company Risesun and, of course, the government.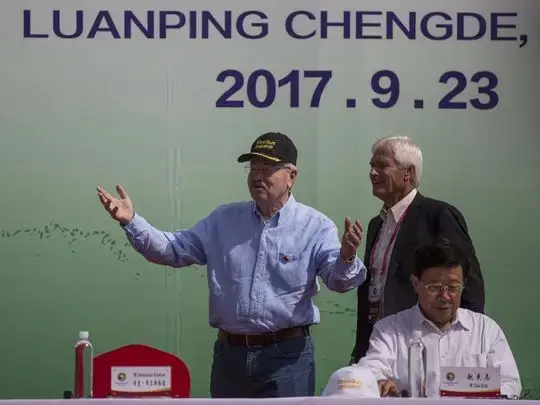 China is eager to modernize the operations of its 260 million mostly small-scale farmers, with Iowa held up not only as a model but an ideal: In the words of one Chinese official, Iowa is "the place where the dream for modern farming began."
Iowa, meanwhile, craves ever more access to the Chinese market and its growing middle class.
Five years ago, Kimberley was quietly tending to his 4,000 acres of soybeans and corn on his family farm near Maxwell.
Meanwhile, his son Grant was getting more involved in international trade through the Iowa Soybean Association and biofuels.
Flash forward to the present, with Kimberley in a mountain valley on a breezy day in rural China acting as a full-blown citizen diplomat and international businessman.
The setting was a little surreal, especially by farm standards.
Red velvety carpet covered the dirt, with 250 or so mostly Chinese dignitaries in suits seated in cloth-covered chairs — or even in leather recliners in the VIP tent.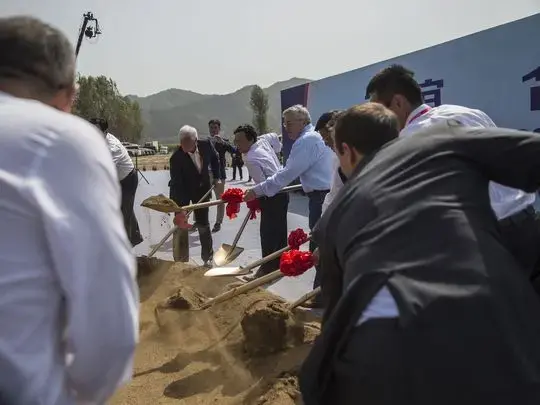 White-gloved assistants carefully positioned a water bottle in the same spot at every seat.
Orchestral music blared as prelude, making the event feel all the more like an Olympic opening ceremony than a rustic farm party.
The backdrop on stage showed the image of the Great Wall on one side and the Golden Gate Bridge on the other — one more sign of how this single Iowa farm is being leveraged for much more ambitious bridge-building. 
At the back of the open-air seating area, 16 golden shovels festooned with red bows poked from a circle of fine brown dirt, with a foundation stone at the center.
Kimberley stood there Saturday morning thanks to a famous visitor to his own Iowa farm in February 2012: Chinese President Xi Jinping surveyed the vast fields, towering grain bins and enormous tractors and saw inspiration for the future of rural China.
Branstad stood there that day, too.
Zhou Zhongming, the party secretary from Chengde who presided over Saturday's groundbreaking, spoke of Xi's explicit instructions two years ago that this province of Hebei should strengthen its agricultural cooperation with Iowa, its sister state.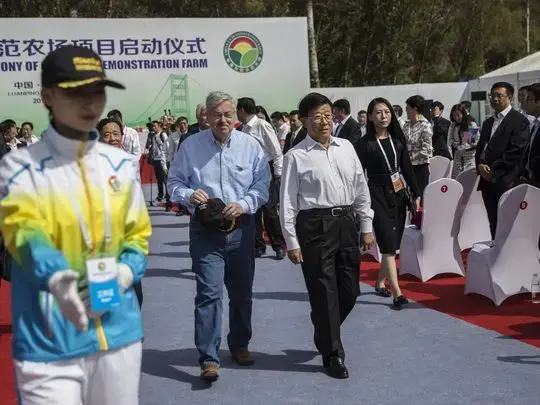 Kimberley, meanwhile, told the Chinese how his grandfather purchased his first modest tractor in 1930, a 30-horsepower John Deere. And since he began farming in 1972, his yields have doubled.
Branstad arrived with much of his family in tow: his wife, Chris; son, Eric; and daughter, Allison, and her husband, Jerry, and their two daughters, who scampered through the harvested field.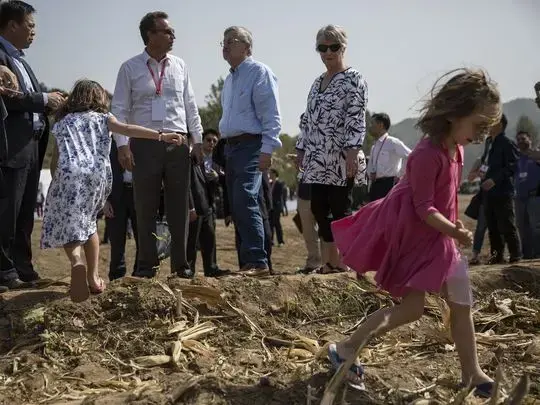 Like a vintage Iowan, the ambassador sported farm-sensible blue jeans — prompting other delegation members to hurriedly remove their neckties to dress down and match him.
"I can't feel more at home than I am in a location like this," Branstad declared. 
One would be hard-pressed to find anything resembling a mountain in Branstad's northern Iowa stomping grounds around the small town of Leland, but the Chinese crowd seemed to perfectly understand his point.
The proximity of this farm site to Beijing and the nearby tourist draw of the Imperial Summer Palace in Chengde largely drives the Friendship Farm's location.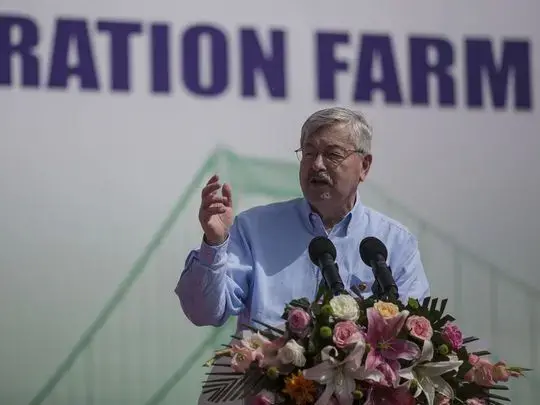 Richer and flatter Chinese farmland lies farther north in, say, Heilongjiang Province. In this mountainous region, corn was planted in every available nook and cranny.
But Hebei has the deep ties with Iowa and convenient access to the capital to create what the party secretary through a translator called "high-end eco-tourism."
Any enterprise in China tends to have grand plans, and this is no different: The demo farm is supposed to be built in phases until it features six different "centers."
On the drive from Beijing through the countryside, foundations for a new high-speed rail line were visible from the highway.
The brief groundbreaking ceremony was followed by a "Seminar on Modern Farm Construction & Agricultural Development" held in the nearby city of Luanping.











Zhu Ming, president of Chinese Academy of Agricultural Engineering, extolled U.S. development of mechanized farming. He spoke about how the Chinese, with their smaller and more diversified farms, are decades away from farming on the scale of the Kimberleys.
But China is serious about scaling up with a 35-year plan that includes more of ethanol and everything else — providing that the interests of farmers, business and the government can be balanced.
"It's for China to decide what they want to do," Kimberley told a fan base that he never expected to have. "But we're going to demonstrate it here."
RELATED ISSUES