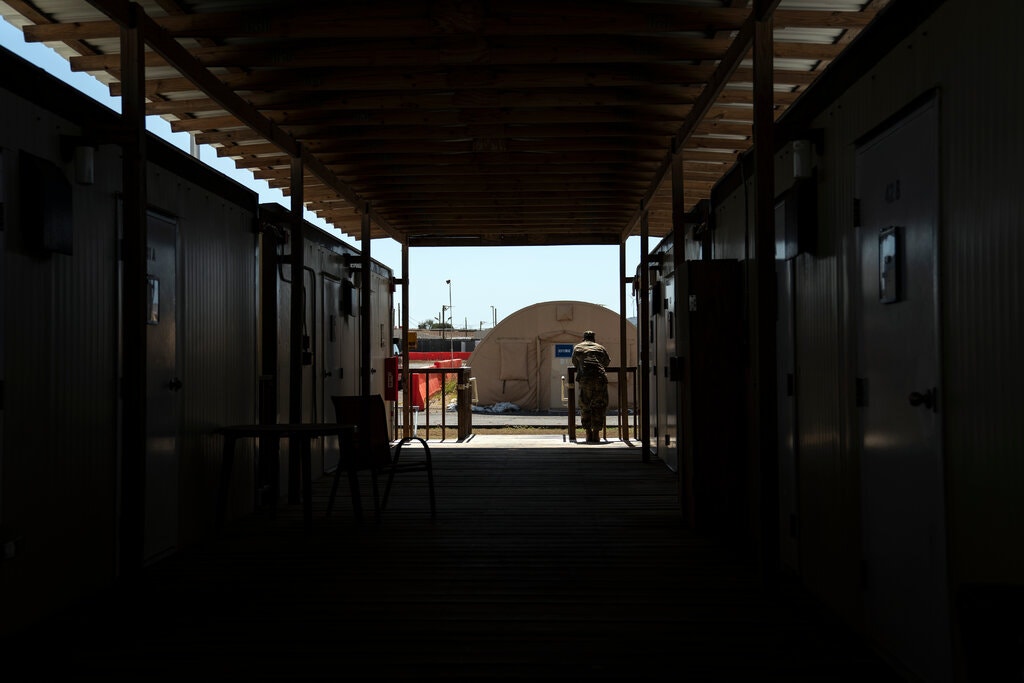 WASHINGTON — A retired Minnesota National Guard colonel whose daughter recently deployed to Guantánamo Bay, Cuba, on her second tour is accusing the military of dangerously isolating a company of military police for 14 days to protect the base from the coronavirus.
The 150 members of the 34th Military Police Company arrived on Sept. 6 from Fort Bliss, Texas, where they were also quarantined, but collectively. Over the summer, the same soldiers were the first National Guard troops deployed to the streets of Minneapolis during the unrest after the police killing of George Floyd in May.
Now, according to Eric Kerska of Rochester, Minn., who served three deployments in Iraq and retired as a colonel in 2015, enlisted troops like his daughter, Staff Sgt. Mackenzie Kerska, have been confined individually inside 9-foot-by-12-foot containerized housing. They are given 7 a.m. temperature checks followed by three meals left at their door throughout the day by troops who knock and disappear.
"My complaint is about the solitary confinement," Mr. Kerska said in interviews over the weekend. "Lack of human contact is dangerous. We all know that. Studies are clear."
Sergeant Kerska is 28, has a bachelor's degree in sociology and criminal justice, and works in corrections as a civilian. She previously deployed to the wartime prison at Guantánamo in 2017 and is responsible for the welfare of 12 lower-ranking soldiers. Her father said they were concerned about the younger soldiers in the unit, "who never deployed before, have never been away from home before." Men aged 18 to 24, he said, were statistically more susceptible to suicide.
"Covid is something serious," he said. "But this is not a way to take care of soldiers. It's all about mental health. You don't leave soldiers on their own that long without checking on them."
The base has had a form of 14-day quarantine called restriction of movement, or R.O.M., since the World Health Organization declared the pandemic on March 11. But Mr. Kerska said he raised an alarm in local news interviews starting on Sept. 11 because his daughter had been reduced to checking on her troops via text message or FaceTime.
Moreover, he said, the unit already underwent a two-week communal R.O.M. and was tested at Fort Bliss. Mr. Kerska said guidelines he consulted showed service members needed just one round of quarantine.
A spokesman for the U.S. Southern Command, which oversees the prison, said on Sunday night that troops in quarantine get "morale checks" three times a day. Army Maj. Gregory McElwain did not specify how many were done face to face versus virtually.
Everyone who goes to Guantánamo — a base of 6,000 residents cut off from Cuba by a minefield — is restricted in their movements for two weeks, the major said, because of "the unique mission and challenges the location presents."
Maj. Gen. Shawn Manke, who became the adjutant general of the Minnesota National Guard last month, said in a statement on Sunday that his staff was "vetting these complaints for validity with the unit in Cuba and the higher-level command authority there."
His staff had been in contact with the prison to receive assurances that the Minnesota troops' "basic needs are met."
Soldiers in quarantine at Guantánamo who smoke are allowed out for brief periods alone, said Mr. Kerska, who is his city's fire chief. But the troops are told to exercise with situps or push-ups inside their quarters.
"I think probably the prisoners can go for a walk once a day," he said, calling the way the military was managing the quarantine wrong, dangerous and "arbitrary and capricious."
The complaint comes a month after a group of senators who reviewed a skeletal plan for handling an outbreak of the virus expressed concern about the Guantánamo prison's capacity to protect troops and prisoners from the pandemic.
The prison staff of 1,500 troops includes more than 100 doctors, nurses and medics who treat both the prisoners and their guards, in separate facilities. The prison clinic has six ventilators and the technical if not staffing ability to maintain four Covid-19 patients in intensive care settings, according to doctors who studied the plan.
The military acknowledged two cases of the virus on the base, in March and April, before the Pentagon ordered installations to stop disclosing any new cases for "operational security" reasons. The chief prosecutor for military commissions, Brig. Gen. Mark S. Martins, told lawyers in a conference call last week that he was unaware of any current cases.
Since March, people arriving at the base have been confined in a variety of settings. Military and contract families stayed at their base homes with daily deliveries from the commissary and access to their yards. Contractors were allowed to check into base hotels or guest quarters, and lawyers were told that they would be confined to barracks with communal bathrooms and checked three times a day for their health and morale.
The soldiers now being quarantined at Guantánamo were training for the prison mission in May when they were abruptly mobilized to Minneapolis and St. Paul as the vanguard of a 7,000 troop call-up of National Guard soldiers. They were activated for 10 days, including across the state line to North Dakota.
RELATED ISSUES

Issue
Conflict and Peace Building
Conflict and Peace Building

Criminal Justice