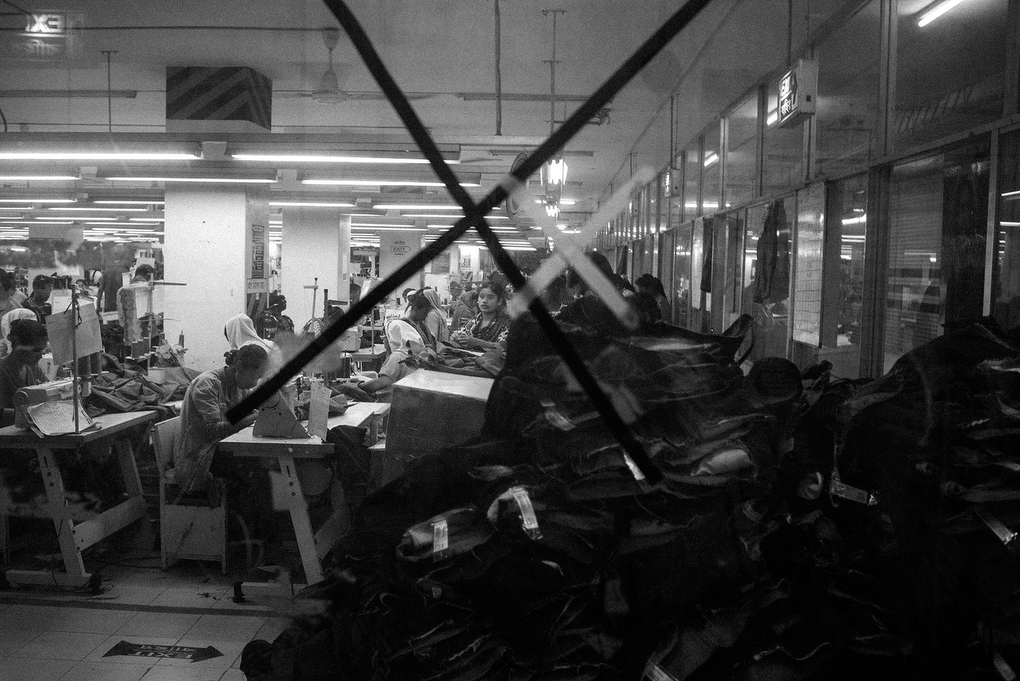 "I bought this for myself with the compensation," says Nazma. Three years after the accident, she still hears the hellish noise of the collapsing Rana Plaza building. The worst is at night.

"At least this. A pleasant little house," I answer. She looks at me with surprise.

"Furniture, I bought furniture for this room!"

I look around me. Two metal beds, a closet and a mirror. "Nice," I say.

Nazma lives in a rented room with her husband and five children. Nila, the youngest among them, she is 8, is actually her niece. Her mother, Nazma's sister, didn't survive the Rana Plaza disaster.

Clenched fists. Hammer and sickle. A several-meter-high concrete statue stands in the place where, in 2013, if we stick to official numbers, 1,130 textile workers died under the ruins of the Rana Plaza building, and 2,500 were injured. The fists emanate power. Rebellion and belief in the victory of workers. Male fists. But most of the workers in Bangladesh's textile industry, the second largest in the world, are women. They make up 60 percent of the country's 4.2 million textile workers.

Syed Sultan Uddin Ahmmed, assistant to the director of BILS (the Bangladesh Institute of Labor Studies), says that most of the women come from rural areas where traditionally there was only one goal (or possibility) for girls—that they marry. They didn't have any other choice. In his opinion, the textile industry brought big social changes to Bangladeshi society. "Sometimes girls, women didn't even dare to think that they would cross the borders of their village. Now they go to Dhaka. They fight for survival, but also for their rights. Before, brothers were sending them dresses for celebrations—now they are the ones who give money to parents, take care of schooling for brothers."

"And for children," says Anowara. "They have to finish school. I don't want that they would live their lives behind the sewing machine, like I do." She and her husband work in a textile factory, where 12,000 workers are employed. The children are with her parents in a village in northeast Bangladesh, approximately 650 km away from Dhaka.

"Living in the countryside is easier, but only if you have money. There is no possibility for income," she explains.

They have been in Dhaka for three years.

"I don't regret that we came. But when we save enough money, we will go back. With the help of parents, we will buy a piece of land and will farm. I hope I will be able to also buy myself a sewing machine."

Anowara's working day is at least 10 hours long, and when there are larger orders, it gets prolonged. In a month she earns, with all the extras, 89 dollars. The rent for a walk-through room costs $39, for food they spent $32.

The leader of a small, actually clandestine, union of textile workers is certain that he simply needs the textile industry. There are no other jobs for textile workers in Bangladesh. And these workers simply cannot afford to be without even this minimal income. That's why he, like other union leaders, is afraid of Western consumers boycotting certain labels of fashion produced in Bangladesh. Instead of a boycott, they advocate public pressure from developed countries on the owners of fashion labels and also on states to ensure decent working conditions for workers and fair payment. Everywhere. Not only in Bangladesh. They are aware of uncompromising multinationals which would, in a moment, simply move their production to other states in the third world out of sight from the critical Western public.

During this time, while I am walking through workshops, co-ops, and larger factories—where simple but also very special clothes are being made—Jošt Franko, the photographer who is accompanying me, comes across an article in a local newspaper stating that one of the biggest clothing companies in Bangladesh is already manufacturing simple clothes in Ethiopia.

Did anything change after the Rana Plaza accident? The tiny fists of Shirin, who was 11 years old when the Rana Plaza building collapsed, have won subtle changes for workers. The unions confirm that safety is better at the larger factories that cooperate with world labels, at least in those working halls where foreign mediators and buyers can enter. But workers, also children, are still without any medical insurance or state pensions. By law, they have a minimum wage. Approximately 5,300 taka. A little less than 68 dollars. But this is already too much. In Ethiopia they can get by with less.
RELATED ISSUES