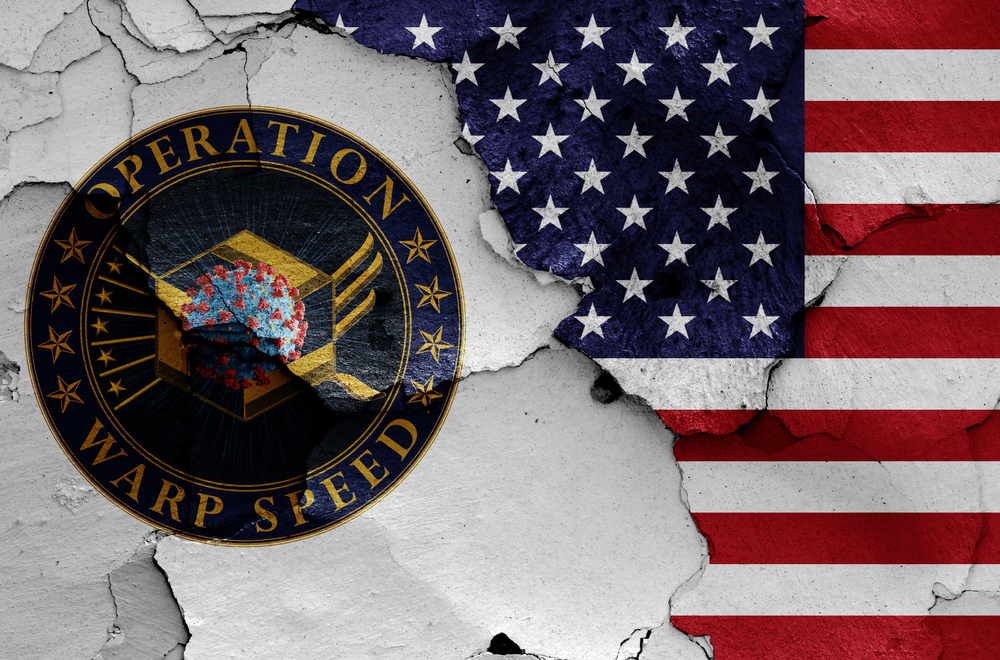 Science's COVID-19 reporting is supported by the Pulitzer Center and the Heising-Simons Foundation.
When President Joe Biden took office last week, his administration swiftly announced it would be renaming Operation Warp Speed, the Trump administration's crash program to develop COVID-19 vaccines. The decision puzzled immunologist Moncef Slaoui, scientific head of Warp Speed, but he attributes it to a word he says with disdain: politics. 
Slaoui recently resigned from his post, but has agreed to help the Biden transition team into February. In a lengthy chat with Science from his home in Pennsylvania last week, he reflected on his time with Operation Warp Speed, discussing challenging interactions with former President Donald Trump and how to be better prepared for a future pandemic. Never a Trump supporter—he's a Democrat—Slaoui had reluctantly taken the Warp Speed job because, as the former head of vaccines at GlaxoSmithKline (GSK), he thought he could help solve one of the world's most urgent problems.
But long before COVID-19 surfaced, Slaoui had become frustrated that the vaccine industry had such a haphazard, ad hoc response to emerging infectious diseases. About 6 years ago at GSK, he began working with the company to create a nonprofit division they called a Biopreparedness Organization (BPO) that would exist solely to make vaccines to prevent pandemics. In 2016, after recent outbreaks of Ebola and Zika had made headlines, he explained why the project was sorely needed. "Unfortunately, one of these days, one of these agents is going to be global and very lethal. It's going to be catastrophic," he said on a TV show. "So we have to have a longer term commitment and solution that governments and a long-term institution should drive and fund."
The company ended up buying a defunct drug manufacturing plant in Rockville, Maryland, but it wanted financial help to launch the BPO. The U.S. government, which has sunk more than $11 billion into Warp Speed vaccine R&D, wasn't interested. GSK helped form the Coalition for Epidemic Preparedness Innovations in 2017, a nonprofit that would fund vaccine development, but it, too, ultimately didn't want to bankroll the BPO, and the idea died. The plant is now called GSK's Slaoui Center for Vaccines Research.
During his undergraduate years at the Free University of Brussels, Slaoui was a militant in a secret organization that wanted to spark a revolution in Morocco, his native country. "What I realized at the very end as I got in trouble with the regime was that, at least as far as I'm concerned, I want to participate in changing the world."
Deeply proud of what he and the Warp Speed team accomplished, Slaoui is chagrined that Biden has called the vaccine rollout a "dismal failure." He shares the dismay that there have been significant problems administering the vaccine doses Warp Speed has sent to the states—the troubles make him "sad" and "reflective" about what else he could have done. But he says most of the troubles stem from overwhelmed local public health systems, issues outside of Warp Speed's purview. "Hundreds of people worked 20-hour days for the last 8 months," he says. "I cannot wait to actually celebrate with all the people that worked together, someplace where we have a great dinner and we just take time to say, 'great job, everyone.'"
Earlier today, Slaoui received his first dose of a COVID-19 vaccine, from Moderna, on whose board he once sat. "I feel a joy I am sure every person that has been vaccinated has felt—a form of liberation," Slaoui told Science immediately afterward. The interview below has been edited for clarity and brevity.
Q: We met 4 years ago to talk about your vision for a pandemic preparedness vaccine manufacturing plant. It didn't get off the ground. Would it have made a difference?
A: Absolutely. The whole concept—after we went through the flu pandemic, the Ebola outbreak, the Zika outbreak—was to say, "Listen, the problem is always the same, which is there are no manufacturing facilities sitting there idle, waiting to be used. Even if we had one, we would have trouble because we would have to stop manufacturing other vaccines, which are essential for saving people's life." So we thought, "Why don't we take a dedicated facility and have them work on discovering vaccines against known potential outbreak agents, one after the other?" They would become incredibly skilled and trained at going fast, discovering vaccines. The company was prepared to make available the facility and ask just for the cost of running it. Unfortunately, it didn't fly. [For the COVID-19 vaccines,] the biggest challenge we've had to work on the hardest has been manufacturing.
Q: So you think you would have been better prepared if the BPO was up and running?
A: Yes. I have already started discussing this with my successor with the new administration, David Kessler [Biden's chief science officer for COVID-19 response]. This pandemic is costing $23 billion a day to the U.S. economy, every single day. Investing $300 million to $500 million a year into such a facility is peanuts and would save countless lives.
Q: There must be some "I told you so."
A: It's never my philosophy to say, "I told you so." I think it's a negative, it's not helpful. For me, it's more, OK, we learned more. Let's set ourselves an ambitious objective and try to now make this happen, capitalizing on everything we've learned. Clearly, we can develop vaccines within 8, 9 months against an unknown pathogen. That's just amazing.
Q: What did you think of Trump?
A: I completely disagree with the values that he projects, as a person, in terms of respect, in terms of capacity to listen, accepting diversity. Many of the policy decisions that ended up politicizing this pandemic were wrong, particularly around wearing the mask. But at the same time, I do think that Warp Speed was absolutely visionary to put together science, government, the military, and the private sector and just give us full empowerment. It was the right thing to do.
My preference is even after the fact, not to politicize this. I worked so hard to stay out of any politics, because I was convinced it would derail it. Even now I think it could derail it when I see the headlines. It just kind of makes me sad.
Q: What headlines are you referring to?
A: That there's absolutely no plan for the vaccines. I saw that today on CNN. How can you have discovered two vaccines, developed them all the way to approval, manufacture, and distribute with 99.9% precision 14 million doses to 14,000 sites and it's labeled as there is no plan? We had to do everything from scratch. The biggest lesson for politicians in public health is: Never politicize. Just let people do the work, and if there are things that are wrong, let's fix them versus make a whole story out of that because it freaks out people.
Q: Trump had a concern about a deep state, the worry that people in the government were working against him. Did he ever confront you and say, "You're a Democrat, you didn't vote for me, are you working behind my back?" Did he ever get in your face?
A: Absolutely not. He never told me, "Why can't you make it happen sooner?" He asked me, "Can it happen sooner?" And I should say also, frankly, that Jared Kushner, with whom I had a lot of interactions, was absolutely straight, no interference, very rational, and very balanced.
Q: Trump made an assertion that Pfizer delayed announcing its efficacy data until after the 3 November 2020 presidential election to hurt him. What was your reaction when you heard him say that?
A: He asked me. And I said, "No, this is not how it works." There is a data safety monitoring board and they're independent. These companies have processes, they have tens of thousands of people in them. They can't do this. It would be the end of the company if they did that, and I've been on the board of a big pharma company and an executive in a big pharma company. I know how it works. The CEO will be fired in a second. I have frankly big respect for [Pfizer CEO] Albert Bourla for just having said it's going to be this day and then it was that day and that's what it is.
Q: Where were you when you learned the Pfizer data?
A: Albert Bourla emailed and then called me. I was in my hotel place in Washington, D.C., which is very close to the White House. I was expecting high efficacy, but it was an unbelievable joy. It may have been 5 a.m., and I remember telling myself, "I'm not going to scream." When I think about this now, it gets emotional. I just realized, "Oh my God, we're going to control this pandemic."
Q: One of the problems you had from the very beginning was allegations of your own conflicts of interest and you were very upset by Senator Elizabeth Warren's (D–MA) attack on you and all the media accounts. What do you think of the way you were criticized? [Slaoui was on Moderna's board, which received substantial Warp Speed support, and also retained GSK stock, though offered to donate to research any increase in value it had turning his tenure.]
A: I was proactive and decided to resign from the Moderna board and agreed I would sell my shares to make sure there is no conflict whatsoever. I don't complain about that, but if you look at the share price at the time I sold and the share price now, I left an enormous amount of money on the table.
Q: How much approximately would you have made had you not taken this job?
A: Maybe between 8 [million] and 12 million. But honestly, I'm not calculating, that's not what I stand for, believe it or not. I've dedicated all my professional life to make sure I help and support global health by being inside a big company and driving its policies. I was shocked by people saying, "You're corrupt, you're doing this for the money," by making an assertion that because you're a pharmaceutical executive, you have to be a person with no values and no principles. That crossed a line. Even now I'll ask, Elizabeth Warren, which vaccine did you take as a senator? The Pfizer vaccine maybe or the Moderna vaccine? Aren't you happy you had the vaccine? Did I make a penny? Was I helpful?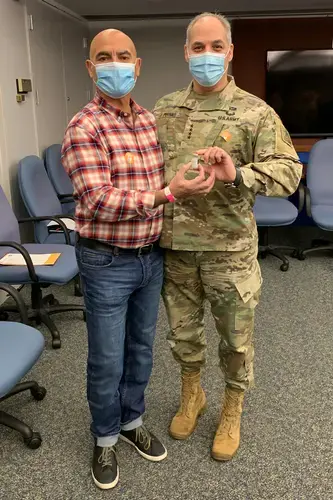 Q: Warp Speed has been heavily criticized for not getting vaccines into more arms. What do you think about that? [To date, 41 million doses have been distributed to states and about half have been administered.]
A: There has been a huge misunderstanding. Between May [2020] and now, we've moved five vaccines into phase III trials, two have been authorized, two are completing phase III—and one of those could be approved imminently. One other vaccine is in phase IIb. By all standards, this is absolutely exceptional.
Our mission in its second piece, with my co-leader Gen. [Gustave] Perna, was to distribute the vaccines, take them from point A to the point of immunization. That's how we designed it and worked it out with all the jurisdictions in the country. We went to the departments of health of various states, we explained that we're going to ship vaccine on a weekly basis as they are produced and quality controlled. We will proportionately give doses to each jurisdiction based on the population so that it's fair.
Indeed, the immunization definitely is not working appropriately. And as long as that is not working appropriately, we're failing. Overall, we're failing, because the objective is to immunize.
Q: The Trump administration from the beginning of the pandemic response said, "We'll help, but this is up to the states and local jurisdictions." The Biden administration comes in and says, "No, the federal government can coordinate this."
A: Frankly I've been caught in the middle of that. But if I am [a state or local official] who is deciding how many doses I need, I should at least say, "Hey guys, I don't have the resources to immunize." We have never been told that.
Q: But the Trump administration told us there would be 300 million doses by January. We were not told in a transparent fashion how many doses are coming week by week—there's no dashboard that everyone can see. So there's confusion about how many doses really are available.
A: What's really important is to truly understand how we can solve the problem. I have always said, "Listen, if there is a problem, please come and help us with a specific proposal and let's pull up our sleeves together and work it out." I did vaccines for a long time. Manufacturing is very difficult and very complex.
Q: In addition to what the companies are producing, would you have the government build another manufacturing plant?
A: Yes. My proposal would be for the government to have a license to these technologies for pandemic agents exclusively, not for commercial use.
Q: The Trump administration has been criticized for not being helpful to the Biden administration during the transition. Was it bumpier than you had hoped it would be?
A: I had interactions with David Kessler during the summer. I spoke to him regularly. Once the election happened, it was absolute silence—it was against the law for us, as federal employees or contractors, to talk to nonfederal people. I was surprised that nothing happened. We had no contact, no meeting, no nothing. And then somewhere in the second half of December [2020], we had a first meeting with Jeff Zients [coordinator of Biden's pandemic response] and David Kessler and others, where we just introduced each other and discussed what was involved.
Q: Do you think Trump's failure to concede made it more difficult to transition the information to the next team?
A: For sure. It was at least very, very unfortunate, to use a polite word.
Q: When will you leave?
A: I am very supportive of the new administration. I don't want to turn my back and leave. They proposed that we could have a notice period of 30 days after I resign, and that gives us time to cover the transition. So I did that ... on 12 January, and my last day will be 12 February.
I've since had many very good discussions with David Kessler over the phone that last more than an hour each to share everything I know. I'm totally committed to help 100%.
I'm surprised we got an email yesterday saying, "As of tomorrow, you cannot use the name Operation Warp Speed any more." I asked myself, why? What's the added value? This is probably why I'm not a politician. It just escapes rationality and understanding. Because in a way, everybody that works under Operation Warp Speed feels like, "What did we do wrong?"
I'm not married to that name. I don't care. Honestly, I feel so fortunate and happy to have served and hey, that's all that counts. I would redo it in the blink of an eye. But next pandemic virus, please, do not come during an election year.
---
COVID-19 Update: The connection between local and global issues–the Pulitzer Center's long standing mantra–has, sadly, never been more evident. We are uniquely positioned to serve the journalists, news media organizations, schools, and universities we partner with by continuing to advance our core mission: enabling great journalism and education about underreported and systemic issues that resonate now–and continue to have relevance in times ahead. We believe that this is a moment for decisive action. Learn more about the steps we are taking.