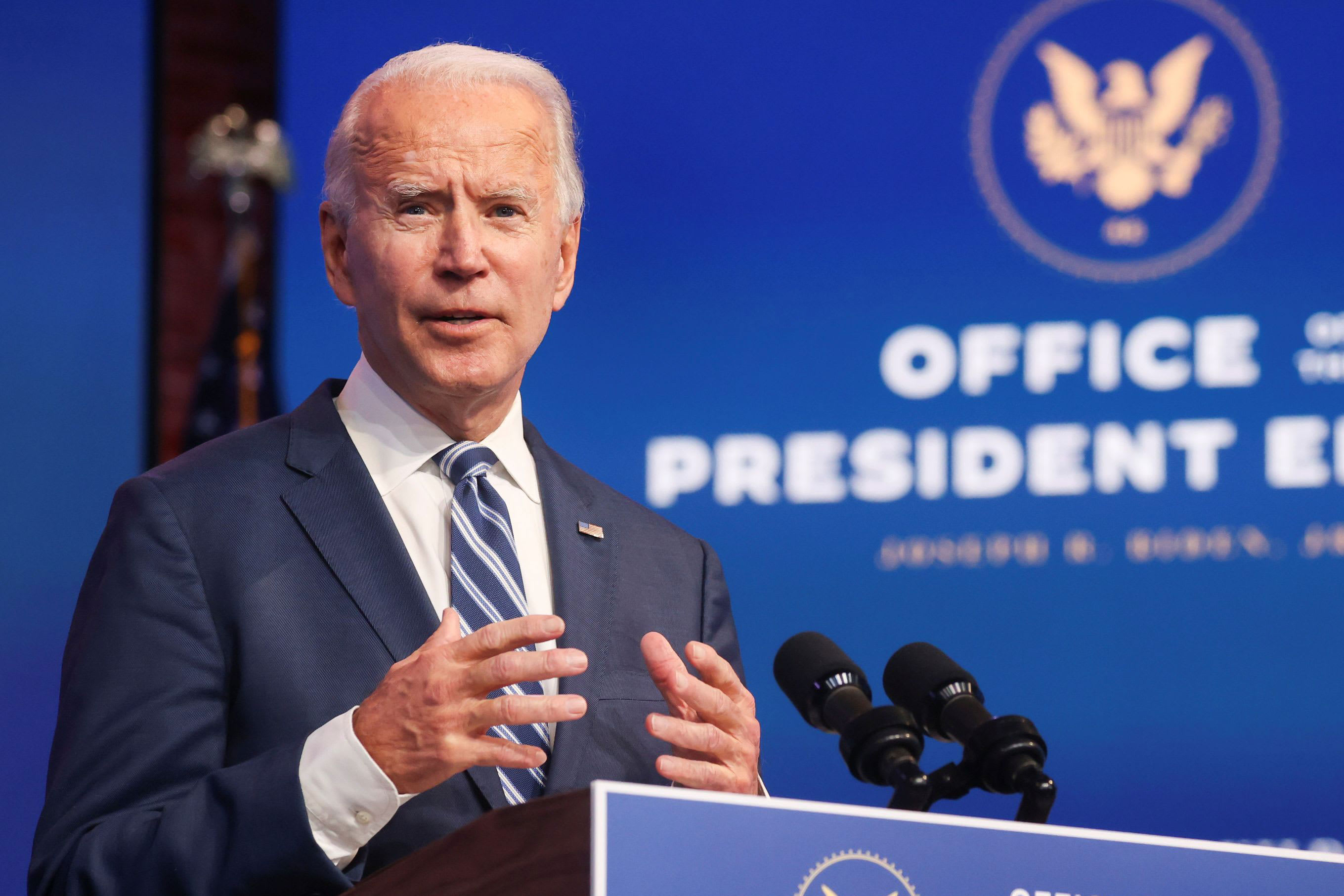 Science's COVID-19 reporting is supported by the Pulitzer Center and the Heising-Simons Foundation.
After announcing a $1.9 trillion "American Rescue Plan" yesterday to "change the course of the pandemic," President-elect Joe Biden today provided more details on how his administration will address what he called the "dismal failure" of the COVID-19 vaccine rollout, safely reopen schools by March, and ramp up surveillance to track where SARS-CoV-2 is moving and how it's mutating.
"The more people we vaccinate and the faster we do it, the sooner we can put this pandemic behind us," said Biden in an afternoon speech. Almost simultaneously, the president-elect revealed key members of his administration's science team, many of whom will be central to the plan.
Much of the huge price tag for Biden's pandemic plan would help people who are financially struggling because of COVID-19, offering $1400 checks, rent and food assistance, and expanded health care and unemployment benefits. But Biden also wants Congress to allocate $400 billion of the money to bolster the pandemic response, with $160 billion of that going toward mounting "a national vaccination program," expanding diagnostic testing for COVID-19, and hiring 100,000 new community health workers—nearly tripling the 59,000 now doing the work. They would promote vaccination and trace contacts of newly infected people, but they are also intended to become a permanent fixture in the U.S. public health infrastructure.
"In terms of direct federal involvement in the lives of ordinary Americans, there has been nothing like this since FDR [former President Franklin Delano Roosevelt] and the first 100 days of the New Deal," says David Oshinsky, author of Polio: An American Story and a medical historian at New York University's Grossman School of Medicine.
Michael Osterholm, an epidemiologist at the University of Minnesota, Twin Cities, who is on the Biden transition team's COVID-19 advisory board, says he is "strikingly surprised" that the recommendations he and the other 15 experts offered were heeded. "It's the best effort I've seen by any administration, even dating back to the bioterrorism effort in 2001/2002," says Osterholm, who has advised many presidents. "What we proposed, shared, and are concerned about is showing up in the plans. It wasn't just a window dressing—and I have been involved with so many groups where it has been just that."
Osterholm says a key to the plan is that the new public health workers won't be "slotted into one thing, because somebody had a pet project," but instead will aim to bolster needs spelled out by individual states. "[Former Representative] Tip O'Neill said all politics are local. All public health is local in the end," Osterholm says. "This plan says we'll give you whatever resources you need."
One of the most pressing issues is moving vaccines from freezers into arms. Osterholm says the Trump administration's Operation Warp Speed deserves "tremendous credit" for investing $11 billion into the R&D and acquisition of vaccines, but adds that its officials didn't properly organize and fund the final stage. "They built this bridge that was incredible for 1280 yards, but they forgot the last 25 yards," he says. "That doesn't work very well."
The new health care workers, which could include National Guard members, will help overwhelmed state and local health departments provide shots at thousands of what Biden called "community vaccination centers" like gymnasiums and sports stadiums. They will also conduct more aggressive diagnostic testing and contact tracing to help better target responses. Biden said he would help private industry by using the Defense Production Act to make material "needed to supply and administer the vaccine."
The plan pledges an unspecified amount of money to "dramatically" increase surveillance, sequencing, and analysis of the coronavirus, which is rapidly evolving mutant forms that are in at least one case much more transmissible. This might allow the United States to catch up with the more aggressive surveillance efforts of countries such as the United Kingdom. Biden's plan also calls for putting more money into the development, manufacturing, and purchase of new drugs to combat COVID-19.
"It sounds like public health and science are back—and relevant once again!" says Bruce Gellin, president of global immunization at the Sabin Vaccine Institute. Still, he calls for "realism" about the timeline for implementing the ambitious response. "It's not like you're calling in your neighbors for a village barn building."
Biden's pandemic proposal would be entirely funded by new borrowing—and thus needs Congressional buy-in, which is far from guaranteed. In launching the New Deal, "FDR had overwhelming Democratic majorities in both houses of Congress," Oshinsky says. "He didn't have to worry about what Biden will have to worry about."
Biden acknowledged that this is a grand vision. "This will be one of the most challenging operational efforts ever undertaken by our country," he said. "But you have my word, we'll manage the hell out of this operation."
As he announced details of the new plan, Biden elevated one co-chair of the Transition COVID-19 Advisory Board that he named in November. David Kessler, a pediatrician and lawyer who directed the U.S. Food and Drug Administration (FDA) under former Presidents George H.W. Bush and Bill Clinton in the 1990s, will become chief science officer for the country's COVID-19 response. Kessler will also replace Moncef Slaoui as the top scientist overseeing Operation Warp Speed. Unlike Slaoui, a former executive at a vaccine manufacturer, Kessler has never worked in industry and vaccines are not his specialty. But he has a long track record of taking on controversial tasks both in government and academia, including battling tobacco companies and speeding approvals of anti-HIV drugs at FDA. While dean at the University of California, San Francisco, he tackled financial irregularities there.
Biden appointed Andy Slavitt, who was brought in to fix the troubled rollout of the Obama administration's website healthcare.gov, as senior adviser to COVID-19 Response Coordinator Jeff Zients. Slavitt, who was also acting head of the Centers for Medicare & Medicaid Services under former President Barack Obama, is expected to focus on COVID-19 messaging and on vaccine distribution, CNN reports.
The incoming Biden administration has "adequately and comprehensively assessed the problem and they get it," Osterholm says. "What they're trying to do right now is to plug as many holes as they can."
Black public health experts responded cautiously to the plan, applauding its ambition but warning that the huge amounts of money need to be carefully directed in consultation with communities of color in the United States, which have suffered disproportionately both from COVID-19 and its economic fallout. 
Fatima Cody Stanford, a pediatrician and health policy expert at Harvard Medical School, notes that distrust of vaccination runs deep in the Black community. "The vaccination piece is extremely important," she says. "But they need to be extremely vigilant about what that looks like, particularly in communities of color. [The Black community] prefers receiving these messages from people who look like myself. Black doctors. Black health care workers."
Richard Allen Williams, president of the Minority Health Institute Inc., an organization devoted to eliminating health care disparities, says he is "very impressed" with the incoming administration's $400 billion commitment to fighting COVID-19. "You are talking about something that's 40 times more financially potent than what the Trump administration allotted [to Operation Warp Speed]." Still, he says: "The question comes up: How is that going to be deployed to the benefit of Black and brown communities?"
Biden said it "may take many months to get to where we need to be" and warned "there will be stumbles." But he assured "science and scientists" would lead the way and that his team would clearly convey the status of the new administration's efforts. "We'll always be honest and transparent about where we stand, both the good news as well as the bad."
---
COVID-19 Update: The connection between local and global issues–the Pulitzer Center's long standing mantra–has, sadly, never been more evident. We are uniquely positioned to serve the journalists, news media organizations, schools, and universities we partner with by continuing to advance our core mission: enabling great journalism and education about underreported and systemic issues that resonate now–and continue to have relevance in times ahead. We believe that this is a moment for decisive action. Learn more about the steps we are taking.