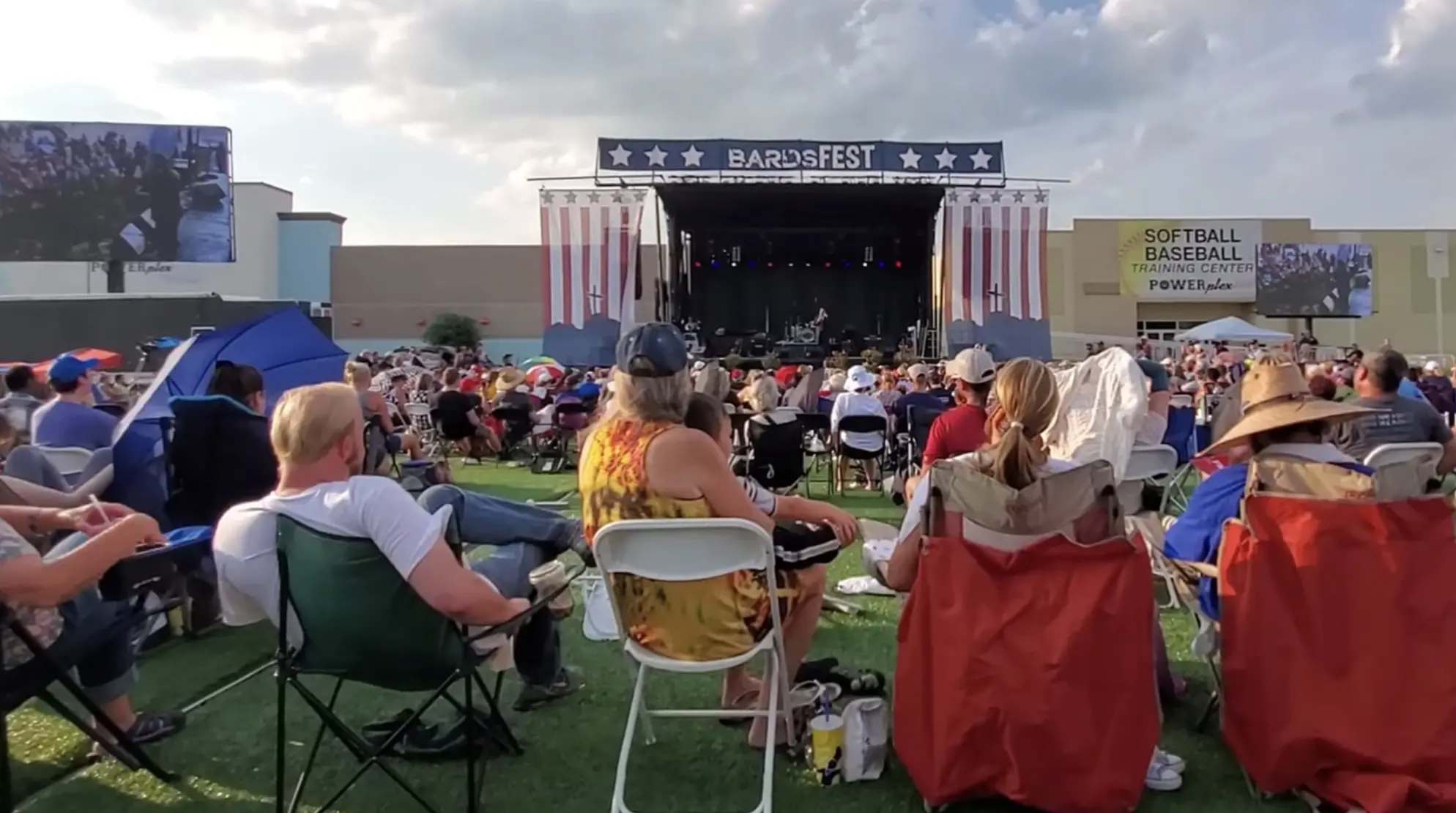 About midway through his address to a crowd in St. Louis in late August, Greg Locke shifted gears. The goateed pastor of Global Vision Bible Church in Mount Juliet, Tennessee, had been regaling the audience — "patriots," he called them — with stories of defying state health recommendations by holding maskless, in-person worship services during the COVID-19 pandemic.
Shouting into the microphone, Locke — who weeks earlier denied the delta variant of the coronavirus existed — suddenly began scolding listeners for not doing enough in the fight against pandemic restrictions.
"Do something in your hometown," Locke said. "Stir your school board meeting up for the glory of God. Run for office. Do something. Go let some churches know in town they need to open up and quit playing the coward. Make some Facebook videos until they de-platform you. Don't just go to conferences and enjoy people — save the nation."
---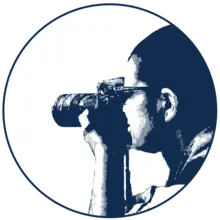 As a nonprofit journalism organization, we depend on your support to fund more than 170 reporting projects every year on critical global and local issues. Donate any amount today to become a Pulitzer Center Champion and receive exclusive benefits!
---
It was a call to arms repeated throughout Bards Fest, a largely Christian extravaganza held Aug. 26-29 at the POWERplex, a drive-in movie theater and events space in St. Louis. Organized by podcaster and vocal QAnon devotee Scott Kesterson, it was billed as "a re-awakening of GOD's glory as the foundation of our great Nation" and the "greatest spiritual revival in human history."
Footage of the event suggested it attracted no more attendees than many megachurches on any given Sunday. But livestreaming across alternative digital platforms likely expanded its reach, making Bards Fest a broad platform for a peculiar, rapidly emerging variant of Christian nationalism being spread by pastors and anti-vaccine influencers: one that mixes assertions the United States was founded as a Christian nation with conspiracy theories derived from the QAnon movement and a conviction that government efforts to curb COVID-19 are oppressive — and an opportunity to further a religious cause.
Appeals to Christian identity were common during the Trump administration, and Christian nationalist themes were widely visible during the Jan. 6 insurrection at the U.S. Capitol. But with Trump out of office and hundreds of insurrectionists now facing federal charges, hard-line Christian nationalists are increasingly fueling their movement with opposition to COVID-19 vaccines and mask mandates, which they cast as threats to their religious and constitutional freedoms.
A June poll by the Public Religion Research Institute and Interfaith Youth Core reported that among the 13% of Americans who said they would not get vaccinated, white evangelicals make up the largest religious chunk, representing 28% of "vaccine refusers." White evangelicals also happen to be one of the faith groups most likely to embrace QAnon, which claims the world is secretly run by Satan-worshipping pedophiles. Among vaccine refusers, too, a full 42% believe conspiracy theories associated with the movement.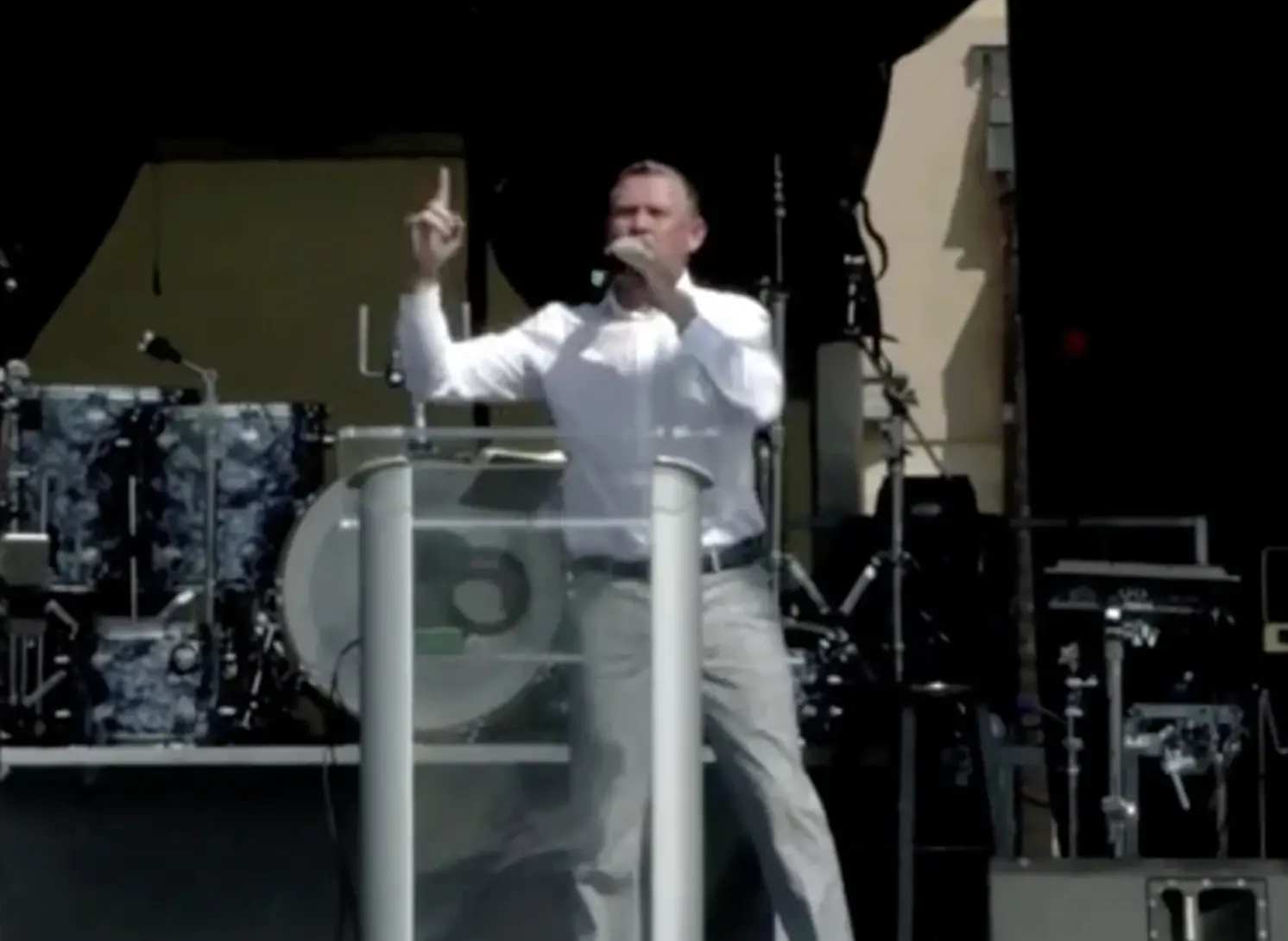 There's also a historical subtext: Locke's call to "stir up" school board meetings harks back to the strategy of the religious right in the 1980s and 1990s, which agitated at — and eventually took control of — school boards and other local government bodies in an effort to shift American culture from the grassroots up.
But today's Christian nationalists are arguably more confrontational than their religious right progenitors. At a school board meeting in Lee County, Florida, on Aug. 30, protesters who gathered outside to oppose an impending mask mandate wore shirts that read "Jesus is my savior, Trump is my president" and the logo of the recently launched "Conservative Christians of Southwest Florida," which features an outline of the state emblazoned with the American flag.
As protesters and counterprotesters bickered, eventually exchanging blows, a pair of white-coated doctors attempted to walk by the crowd. They were promptly shoved and glared at by apparent opponents of the mask mandate.
Inside the meeting room, two men wearing the conservative Christian group's shirt spoke against the mask order. Later, a woman gripping a cross pointed at school board members and denounced them as "demonic entities," saying people like them are in "all the school boards" in the U.S., but that "all of us Christians will be sticking together to take them all out."
It's a message that likely would have resonated at Bards Fest, where the crowd skewed white, evangelical and, judging from the applause at the speakers' most intemperate lines, largely unvaccinated. 
"Now they're coming after your kids, and I do not understand, if I live to be 157 years old, why parents are not storming the gates at the schools," said Bards Fest presenter Dr. Sherri Tenpenny, an osteopathic doctor from Ohio and longtime anti-vaccine advocate. "I don't believe (the) excuses of why parents can't homeschool and do it as a collective. … Just figure it out. Grab your kids and run."
Tenpenny's campaign against inoculation exploded during the pandemic, landing her on the Center for Countering Digital Hate's "Disinformation Dozen" list — a group of 12 people researchers say are responsible for 65% of anti-vaccine misinformation on social media platforms. Tenpenny claims her content was subsequently removed from Facebook, Instagram and other social media websites. But at least one of her programs persists: "Happy Hour with Dr. T," a semiweekly Bible study on Instagram Live that intermingles faith with erroneous claims about COVID-19 with QAnon conspiracy theories.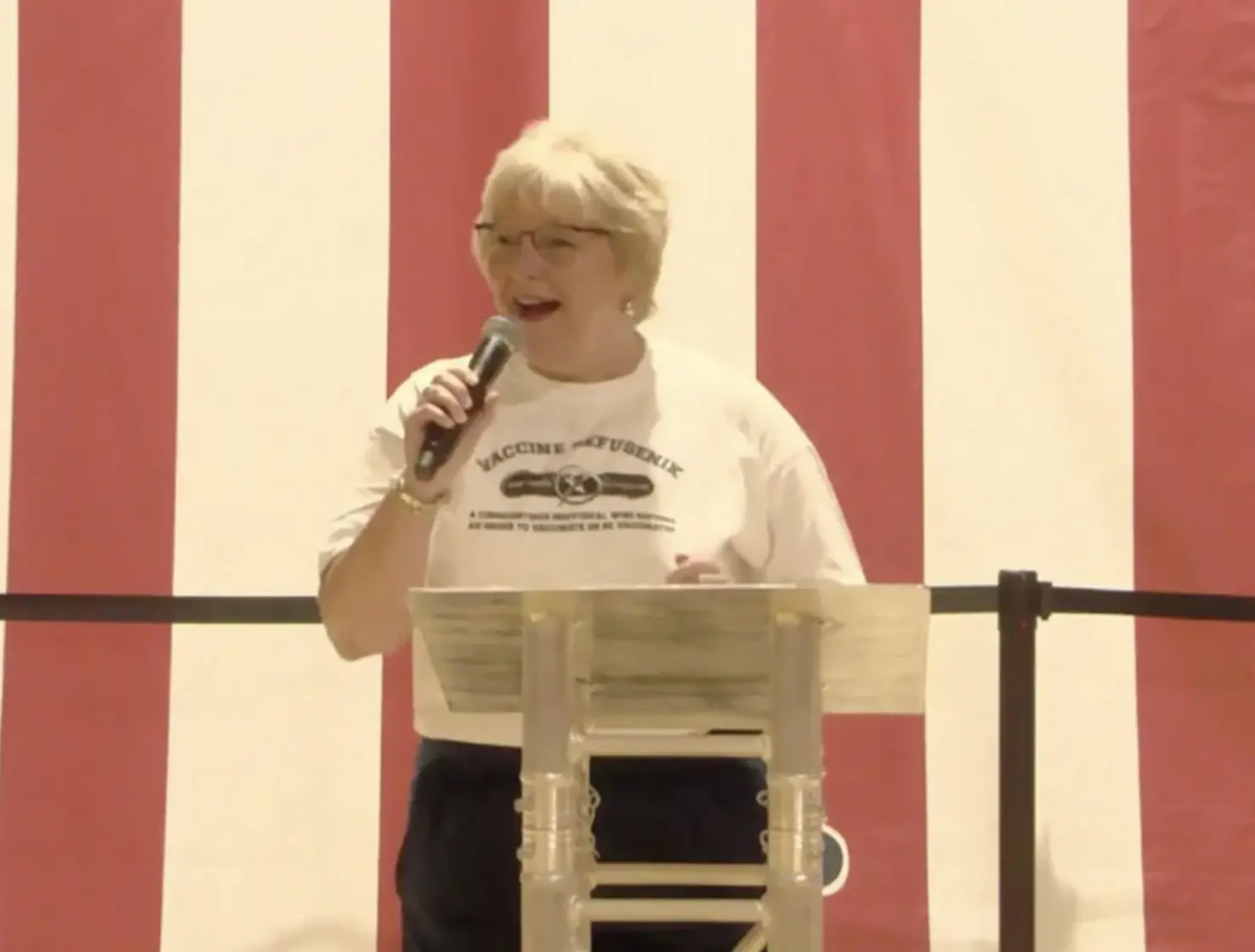 At Bards Fest, Tenpenny compared herself to Noah ("everybody thought he was a conspiracy theorist, too, until it started to rain"), described getting vaccinated as a "sin" and told listeners not to "genuflect to the person in the white coat," because "we kneel to God."
Tenpenny and other presenters often framed anti-mask and anti-vaccine sentiment as upholding individual liberties, describing it as "health freedom" or "medical choice."
Bards Fest was just one faith-oriented anti-mask and anti-vaccine rally that convened the last weekend of August. At an event in Harrisburg, Pennsylvania, a nurse helping organize against vaccine mandates for medical workers asked the crowd to cheer if they loved America, freedom, "God-given rights," and Jesus. (They roared after every word.)
While acknowledging the danger of COVID-19, the speaker nonetheless alluded to the biblical story of David and Goliath in describing her fight against vaccine mandates, insisting the U.S. is "in a pandemic of twisted truth, of hate and division, of degrading families and taking God out of our country."
She said her campaign was removed from the popular crowdfunding website GoFundMe but appears to have found a home on GiveSendGo, which touts itself as "The #1 Christian crowdfunding site."
These Christian nationalist themes remain intricately tied to Trump's presidency and claims that, according to a lengthy presentation at Bards Fest, "the election was stolen" from the former president. MyPillow CEO Michael Lindell, a frequent purveyor of Christian nationalist rhetoric and longtime distributor of widely debunked election claims, delivered an hourlong speech in which he told his own faith story and criticized Fox News.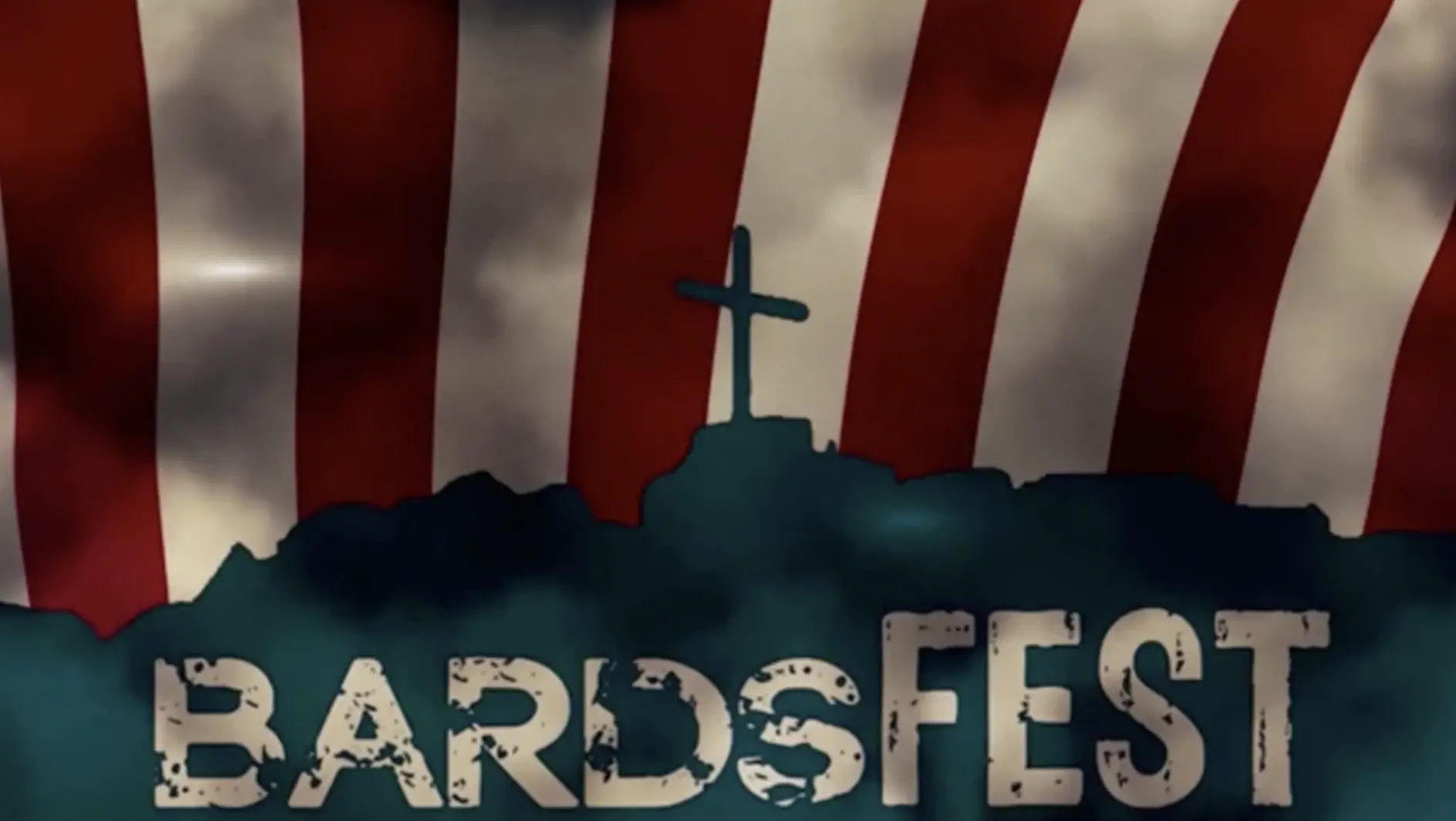 But Bards Fest presenters often seemed less interested in re-litigating Trump's defeat. Instead, many focused their remarks on invigorating a grassroots movement to oppose mask mandates and espouse Christian nationalist values.
"Hey, I like Donald Trump, but I ain't waiting on him," shouted "Coach" Dave Daubenmire, a onetime public high school football coach who was sued by the American Civil Liberties Union in the 1990s following allegations he led his team in prayer and passed out Scripture to players. Daubenmire told Bards Fest, "We're going to go into the enemy's territory and take back what the enemy stole."
Shortly after Bards Fest, Tenpenny and Daubenmire announced a new joint project, "The Christian Revolution," an organization that aims to raise $100 million to create "Christian training centers" to protest businesses that have donated to Black Lives Matter activists and support people who "speak out against this global government tyranny" — referring to opposition to vaccines and mask mandates.
The Jan. 6 insurrection loomed large at Bards Fest. It featured nightly shofar-blowing sessions — a practice drawn from the Jewish tradition that became common at Christian nationalist "Jericho Marches" in the weeks leading up to the attack on the U.S. Capitol. Locke noted in one of his speeches that he was recently named in a document request filed by the U.S. House of Representatives committee investigating the insurrection.
And in his Bards Fest speech, Daubenmire, adorned in his distinctive red, white and blue cap affixed with a cross, asked the crowd if any had been in D.C. on Jan. 6. Several cheered.
"Why are they arresting those guys still today? Because they don't want you coming back," Daubenmire said, referring to insurrectionists. "They're afraid you're gonna get it. They're afraid you understand that as Christians, all power has been given unto us. We have all power. We the people have all power."
Indeed, religious expression has become increasingly visible among insurrectionists and their allies elsewhere. Couy Griffin, a pastor and founder of "Cowboys for Trump" who prayed over participants in the Jan. 6 insurrection and was later arrested for his involvement that day, is the subject of a recent documentary portraying him as a "political prisoner." Members of the militant nationalist group Proud Boys were spotted praying before the breaching of the Capitol, and some in the Proud Boys Portland chapter have adopted a cross as part of their logo. There are also reports of Christian nationalist rhetoric at their gatherings.
Since Jan. 6, individuals charged in the insurrection have served as security for recent rallies organized by Christian musician and anti-COVID-restrictions activist Sean Feucht. The 1st Amendment Praetorian guard, a group that has provided security for QAnon events, also listed Bards Fest among its upcoming events.
These seemingly disparate trends swirled together at Bards Fest, where QAnon proponent Kesterson grew visibly emotional as he thanked those who made the trek to St. Louis. After encouraging men to challenge their school board and city council members, he referred to the crowd as "the remnant" — a reference to the term's use in the Bible, where it is invoked to describe, among other things, Israelites who survive an Assyrian invasion.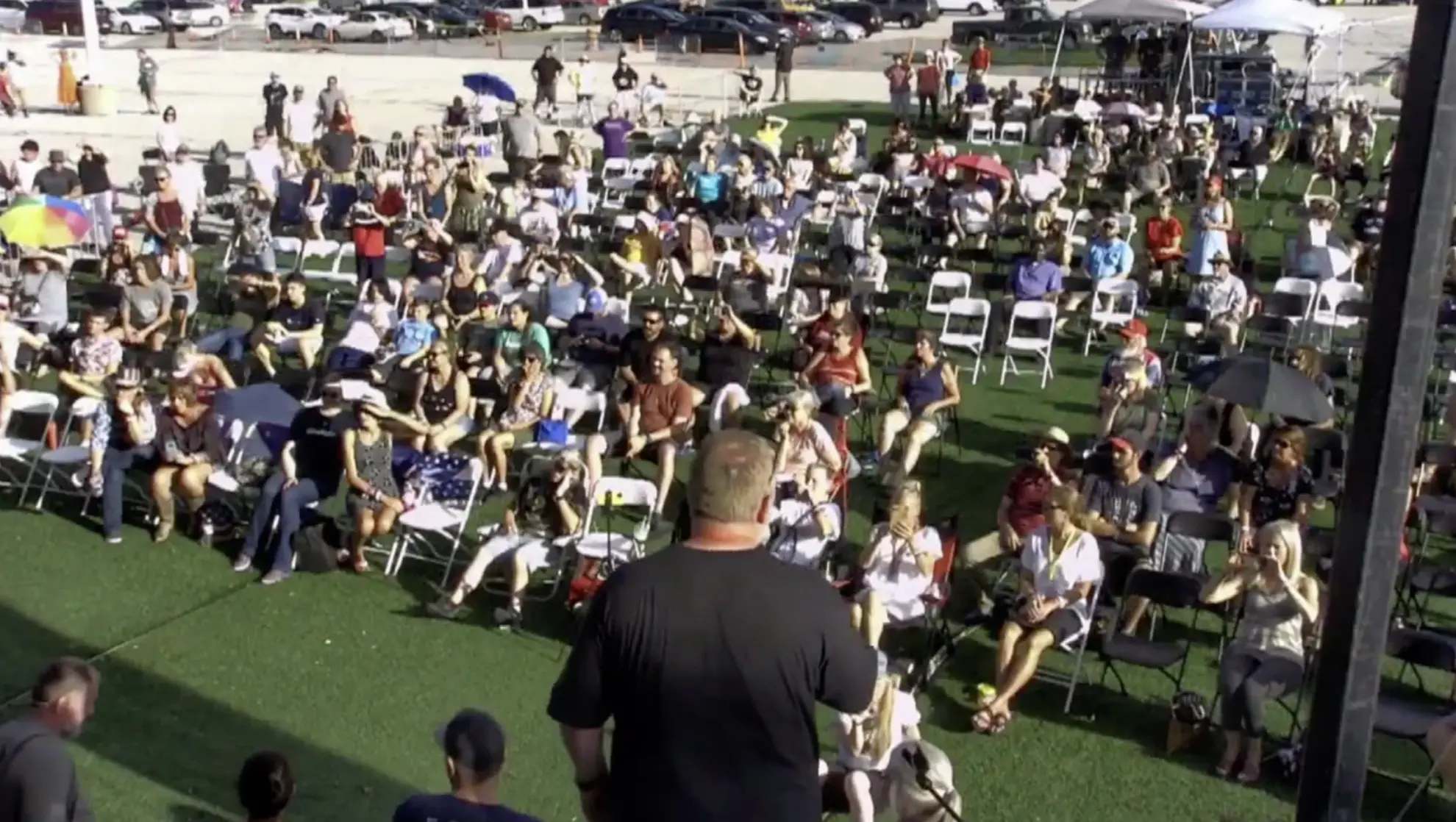 He also likened them to the so-called "3%," a belief popular with right-wing extremists — but challenged by historians — that only 3% of colonists participated in the American Revolution.
"I'm thankful for every single one of you that listen and have come," he told the crowd, which was once again assembled in a gymnasium to avoid the weather. "This is America. This is our country. This is the remnant. This is the 3%. This is how we take it back."
Kesterson then bowed his head and prayed, describing those present "as warriors of Christ" and exclaiming to God that "no matter what the cost in flesh and blood, we will not quit this country, this blessed country that you gave us."