The locals say everything has changed. The descriptors "dead," "dry," and "different" come up often in conversations about Kunene, their home. The Kunene they knew even as little as 20 years ago was nothing like the parched desert they see before them today. Back then, locals say, the land overflowed with grass for grazing and foliage for browsing. Now, with the droughts having gutted the greenery, local residents are struggling to keep up with their centuries-old tradition of livestock farming. 
Aridity is no novelty in Kunene. Michael Bollig, a German anthropologist who has been studying the northwestern region for decades, calls it "desert margin."
"This is not a garden [of] Eden, a fertile landscape," he says, "which now suddenly falls to drought." No, Kunene has been "desert margin" for as long as records can show. Drought is not abnormal, but Bollig sees what the locals see too—that the climate in Kunene is not what it used to be. 
---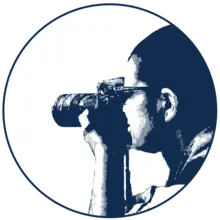 As a nonprofit journalism organization, we depend on your support to fund more than 170 reporting projects every year on critical global and local issues. Donate any amount today to become a Pulitzer Center Champion and receive exclusive benefits!
---
Namibia is a place of "climatic extremes" which have in recent years worsened. The past decade or so has brought with it a row of very dry years in the country, including "the worst drought in 30 years" in 2013 and national emergencies in 2016 and 2019. The already dry region of Kunene has been especially affected. In place of the abundant savanna grasslands that the locals remember from years past are patchy, rainless plains that no longer sustain life, but instead destroy it.
Following the widespread livestock losses experienced by farmers in 2016 caused by a drought-induced lack of pasture, the Ministry of Agriculture, Water, and Land Reform and the Environmental Investment Fund stepped in to help the people of Kunene better adapt to drought conditions. The government-led project, called Improving Rangeland and Ecosystem Management (IREMA), has distributed goats to a select number of livestock farmers and poured resources into restoring community gardens. Still, living off the land in Kunene remains difficult.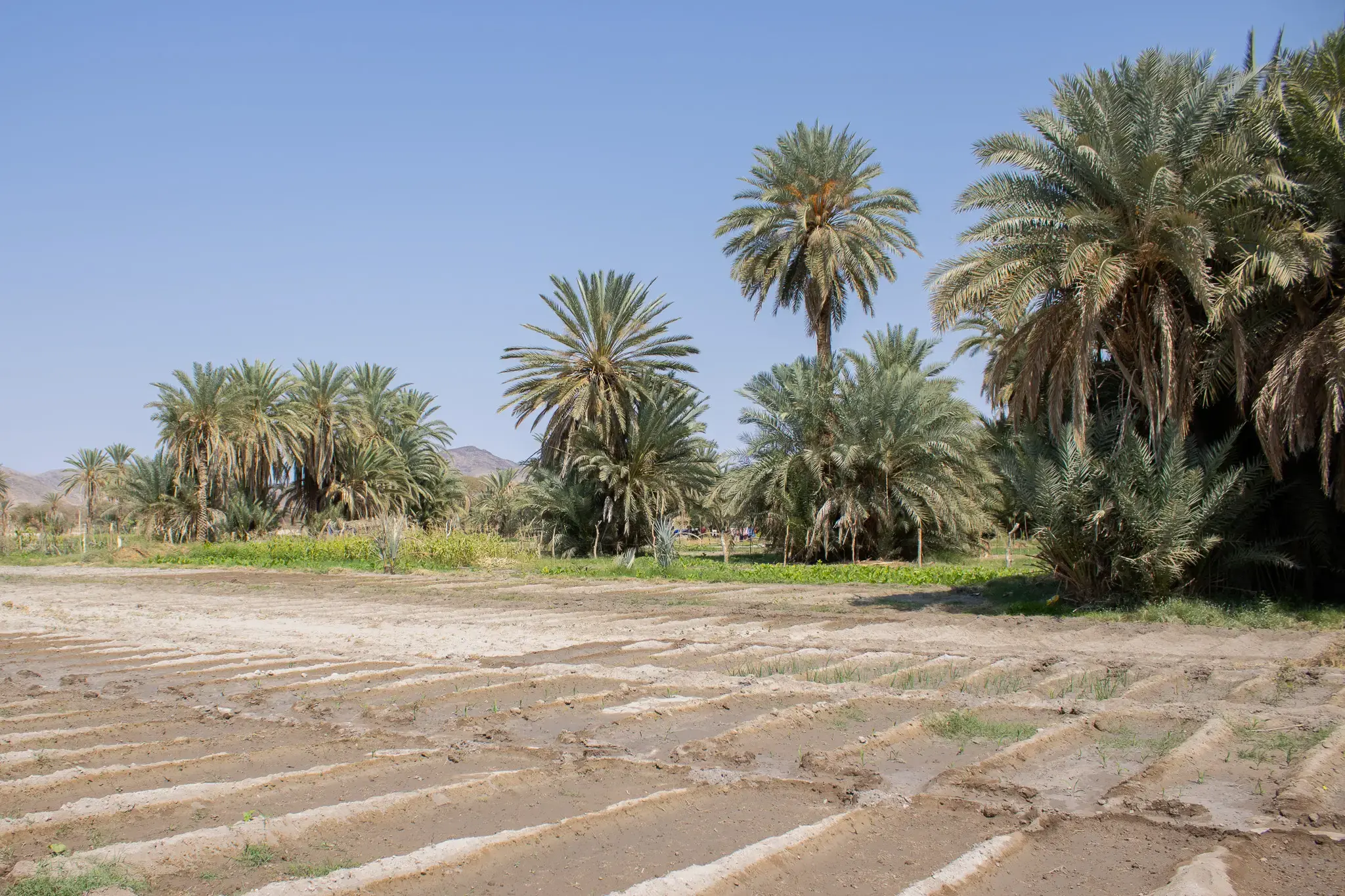 The Sesfontein community garden has been around for decades—some community members don't even know the exact dates—but the recent improvements by IREMA have revived the garden and made water more accessible. As photographed, IREMA still faces challenges with flood irrigation—which uses more water than necessary—due to faulty drip irrigation pipes.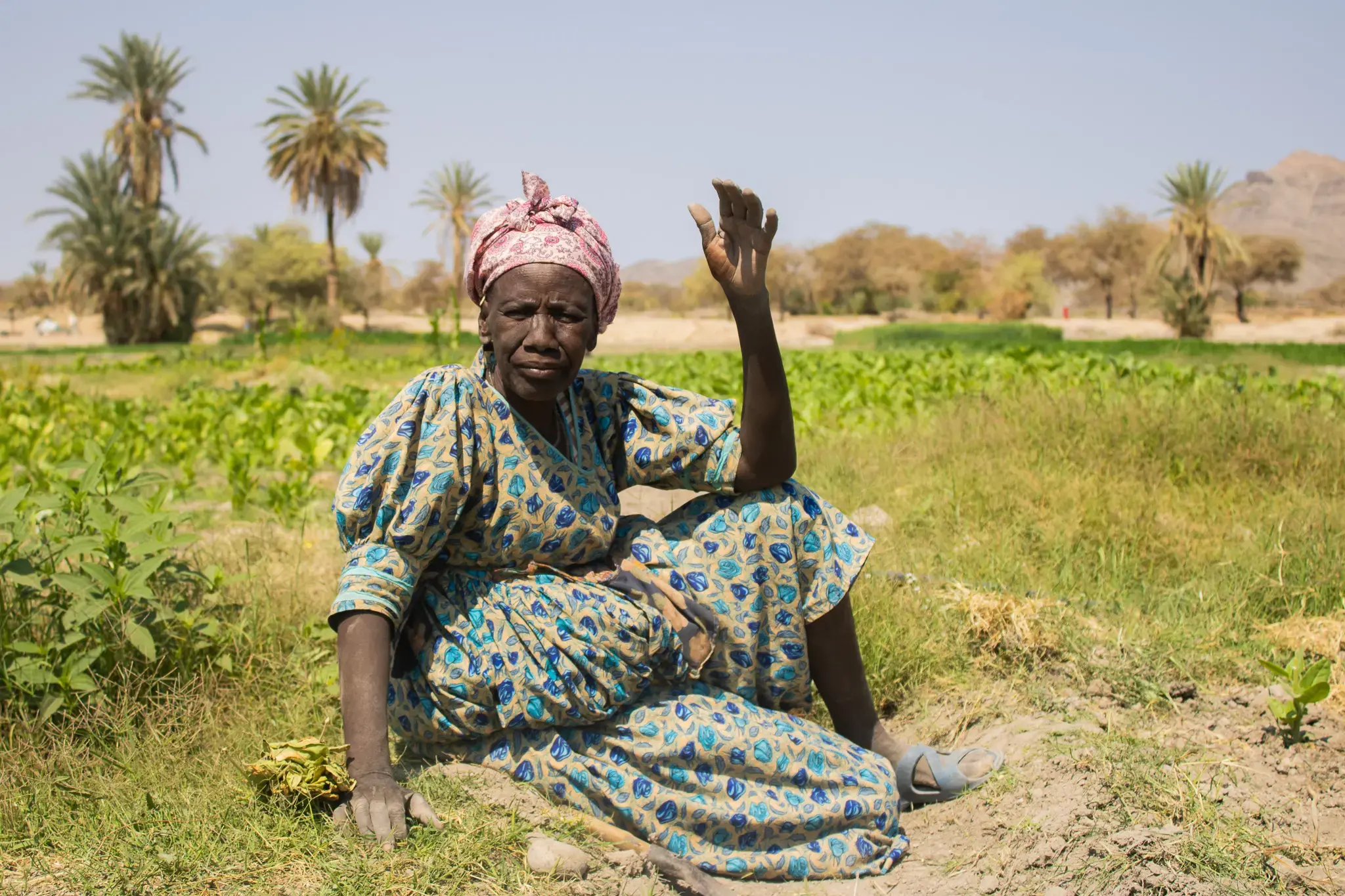 Rosalia Mbomboro takes a break from weeding her tobacco plot in preparation for harvest and sale. Mbomboro, a patron of the Sesfontein community garden, comes here to till the land every day, a routine that goes back as far as her great-grandparents. Having lost most of her family's livestock to drought, this is how she makes a living.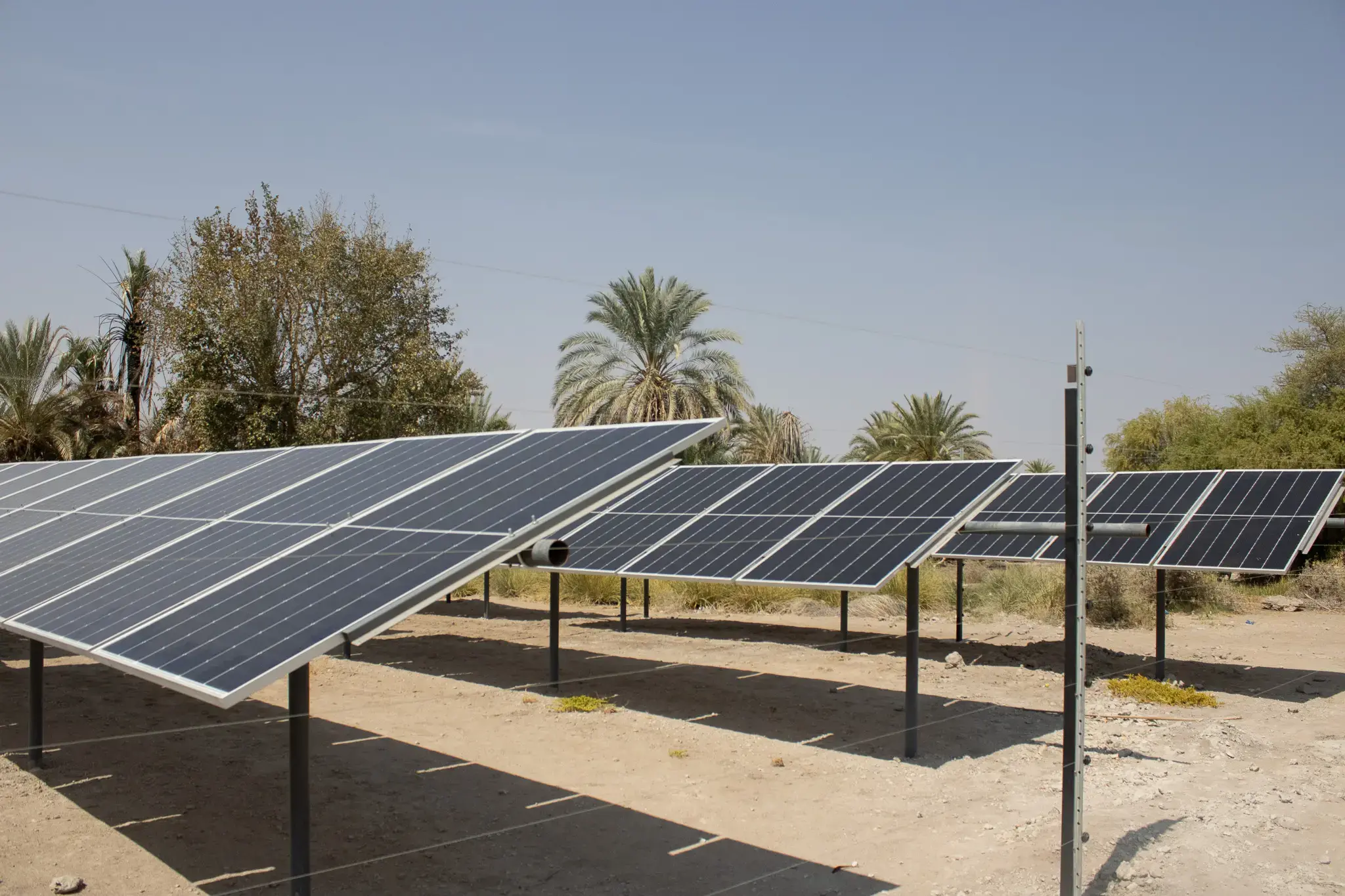 Solar panels in the Sesfontein community garden supply power to the pumps that transport water from two natural springs to the gardeners' plots. The panels are turned on from 10am until sundown and, on top of being a source of renewable energy, ensure that "the community does not have to bear the cost," says Kunene Governor Marius Sheya.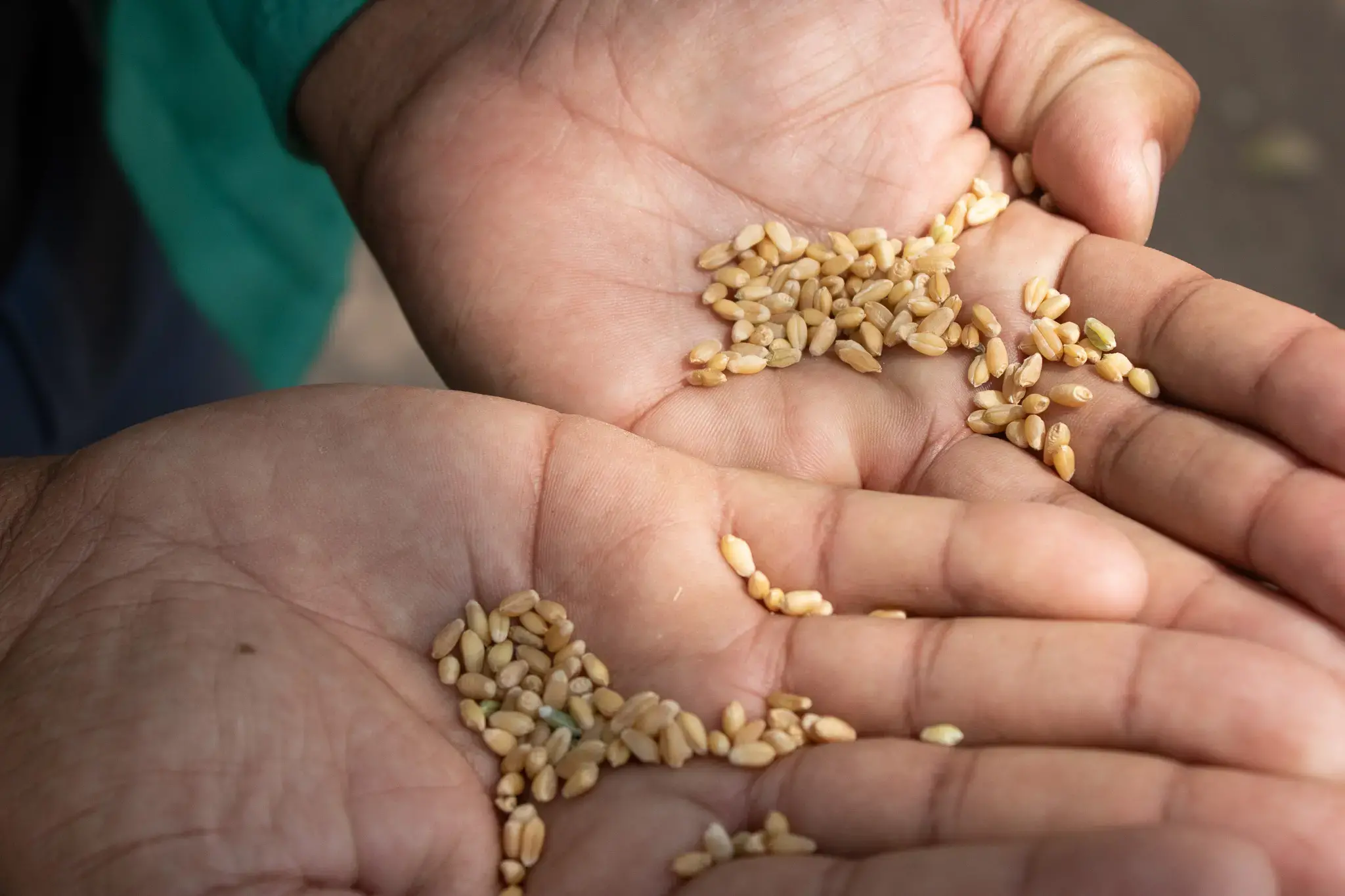 Salomon Gowaseb, who was contracted to manage the Sesfontein community garden during the IREMA project, holds grains of wheat. This crop, along with tobacco and maize, is the primary product of the garden.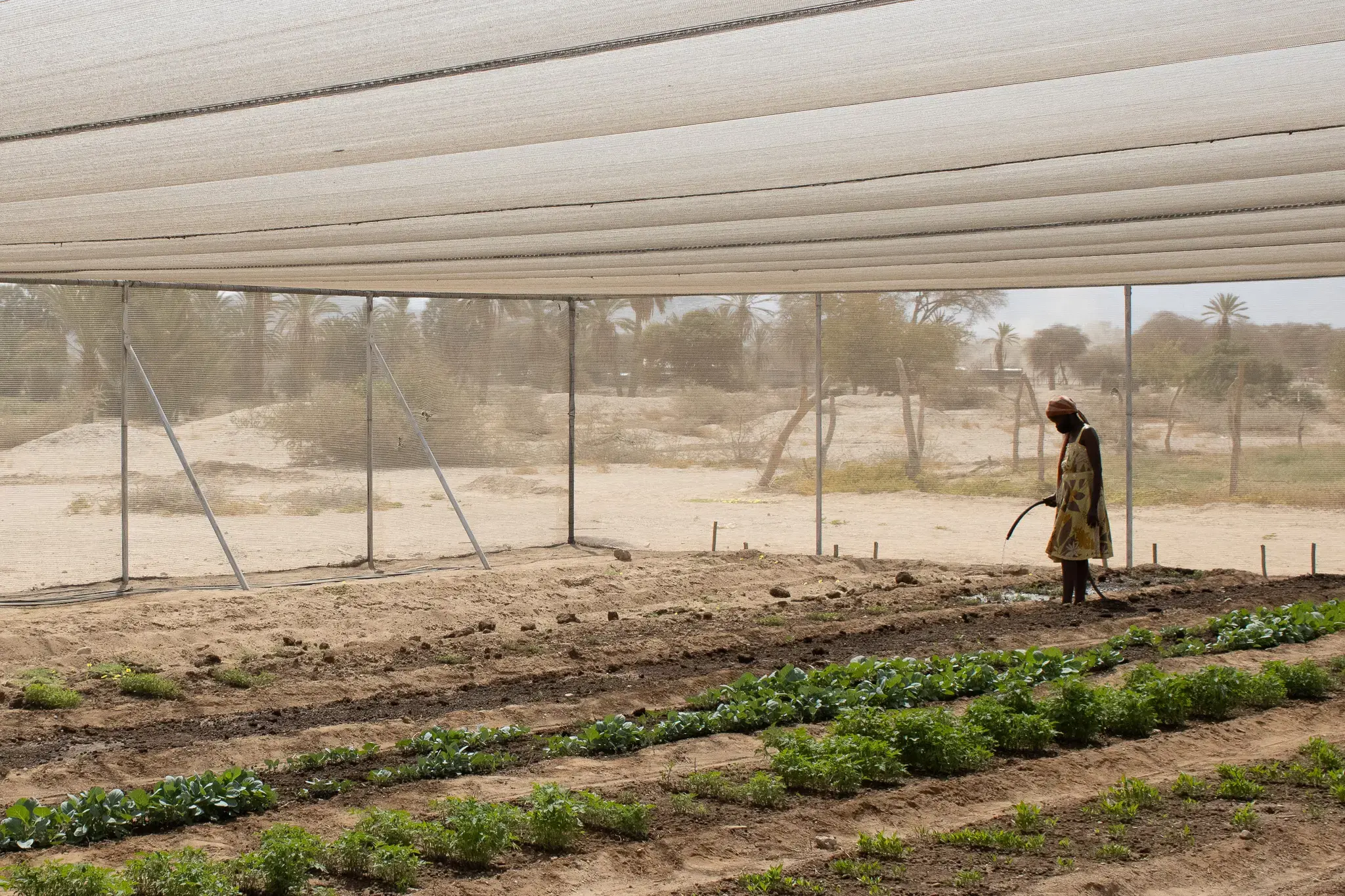 A woman waters plants in the Sesfontein community garden nursery where the patrons grow the beginnings of tobacco and carrots, among other crops. The drip irrigation pipes installed by IREMA are frequently blocked by minerals in the water that settle in the holes from which water spouts. As such, patrons of the garden often use hosepipes that waste water.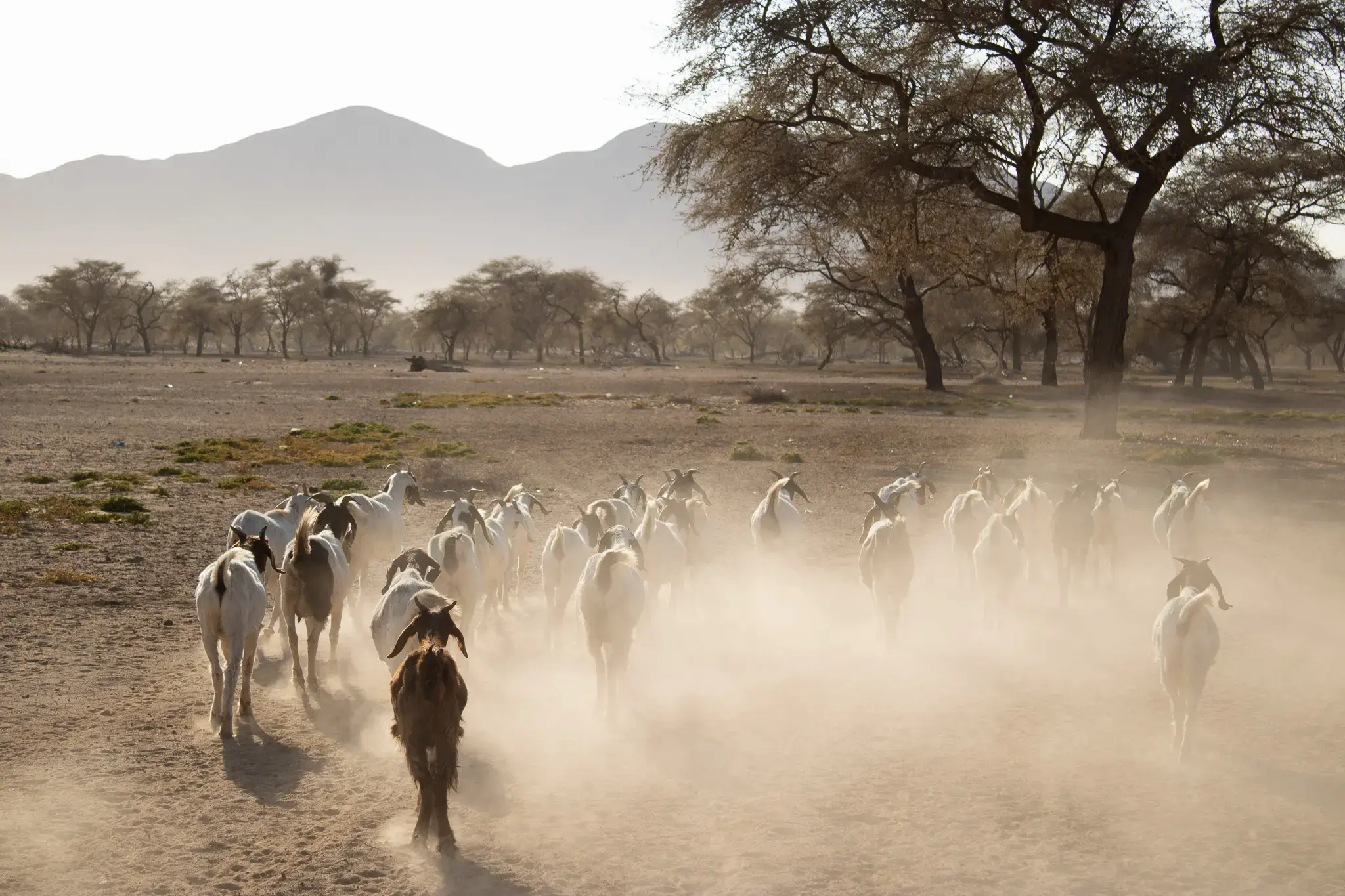 Jod Awob, a livestock farmer who lives down the road from the Sesfontein community garden, received 21 goats from IREMA in 2021. The lack of rainfall led to some livestock deaths, but Awob has managed to grow his herd.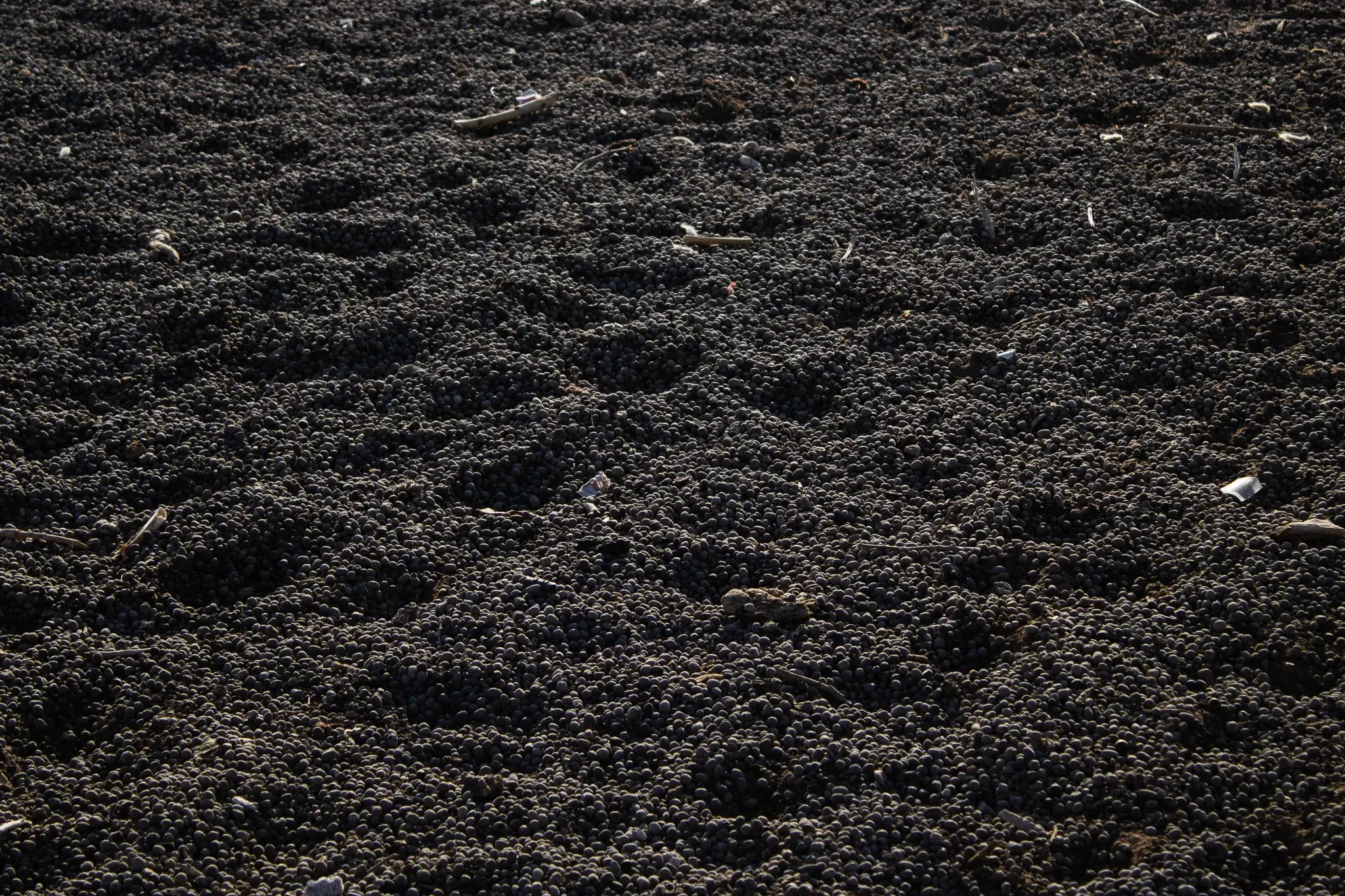 Goat droppings coat the ground in a coffee-bean-colored carpet. Since the onset of the recurring droughts in Namibia's Kunene region, farmers have switched from cattle farming to keeping livestock that requires less pasture to survive in dry conditions, such as goats and sheep.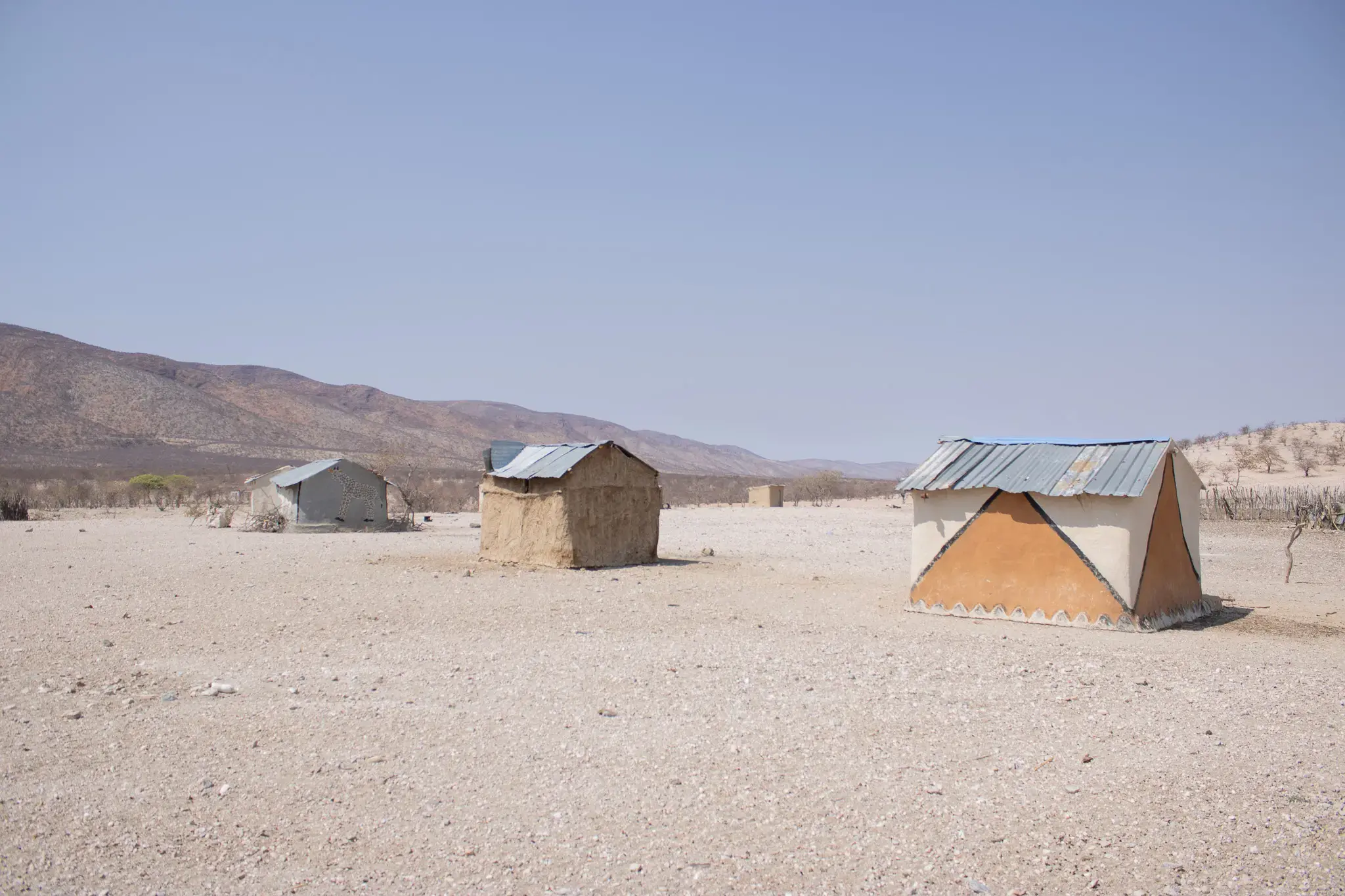 A permanent homestead in Otjikondavirongo, 46 kilometers (about 28 miles) from Sesfontein. This is where Tutjiwee Koruhama, a livestock farmer, lives when he's not out with his goats.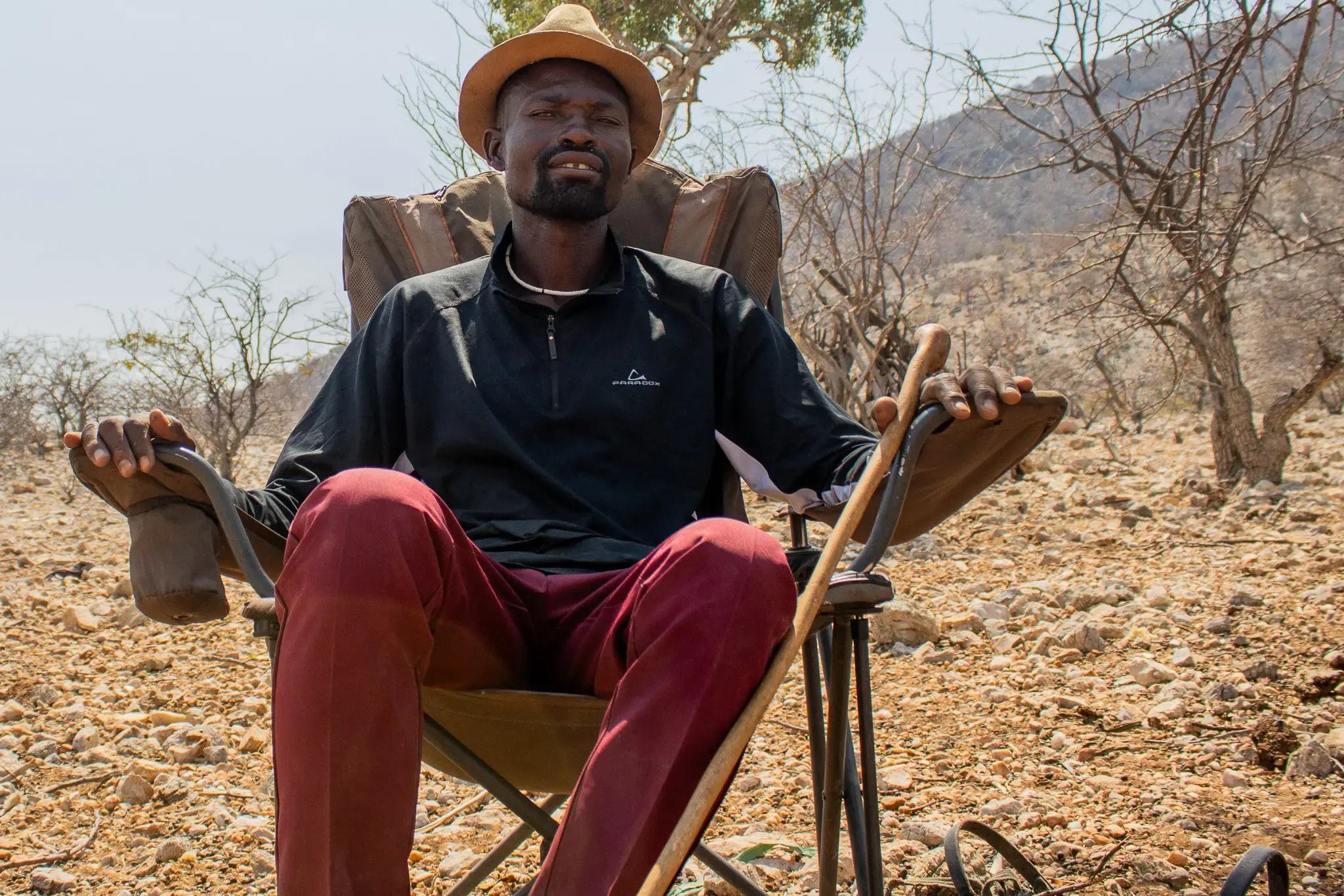 Tutjiwee Koruhama sits in a camping chair on a mountain about 5 kilometers (about 3 miles) from his permanent home. He and his family created a temporary dwelling using camping tents, something they do when they take their goats out to graze. With close to 100 goats in his herd, Koruhama would be considered wealthy by today's standards.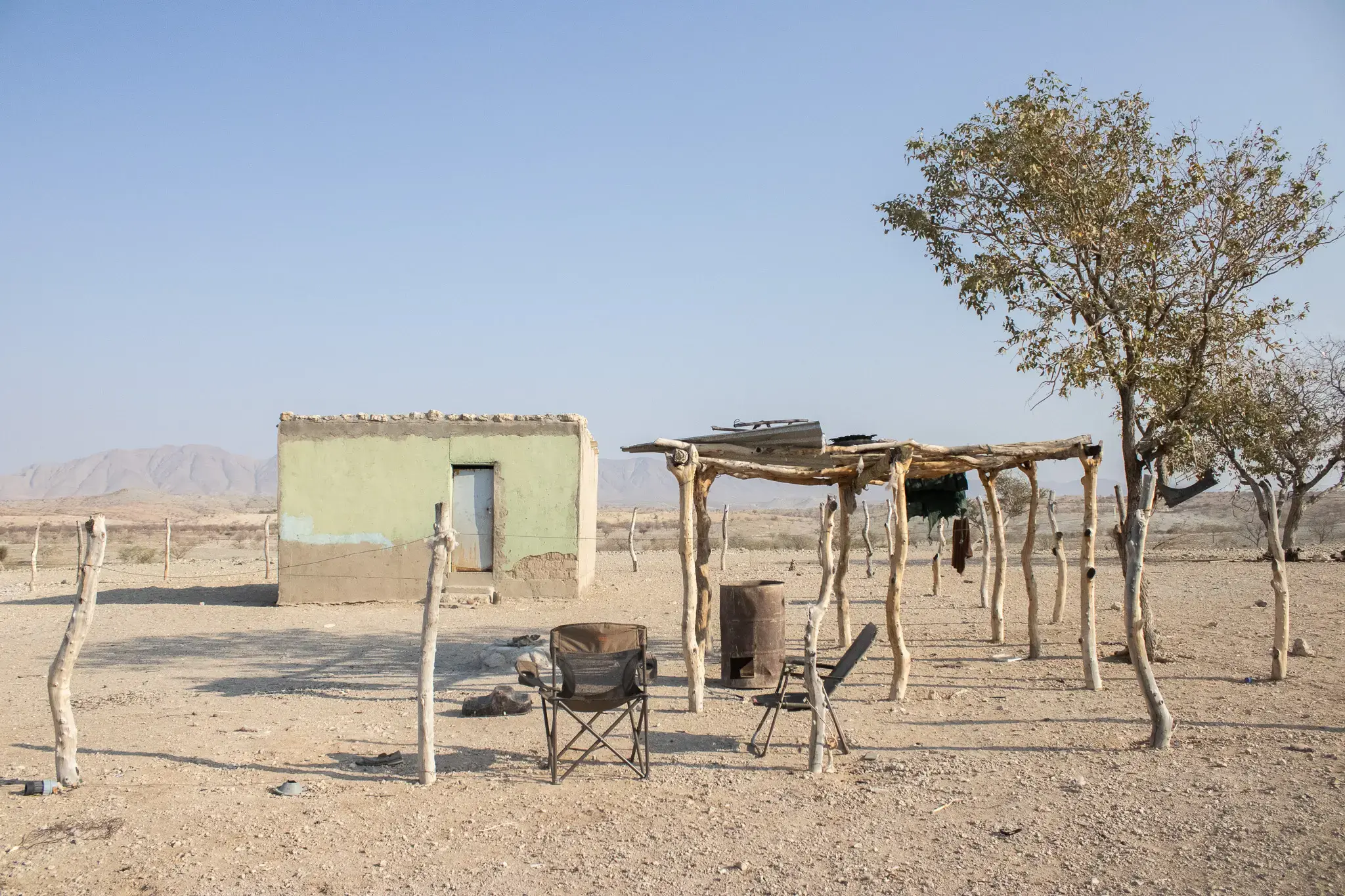 In Warmquelle, 22 kilometers (about 13 miles) away, Christofine Mombura's house sits atop a hill. This area receives less rainfall than other parts of Kunene. Mombura, a livestock farmer, recounts how dry Kunene has become compared to the green, luscious home she remembers growing up.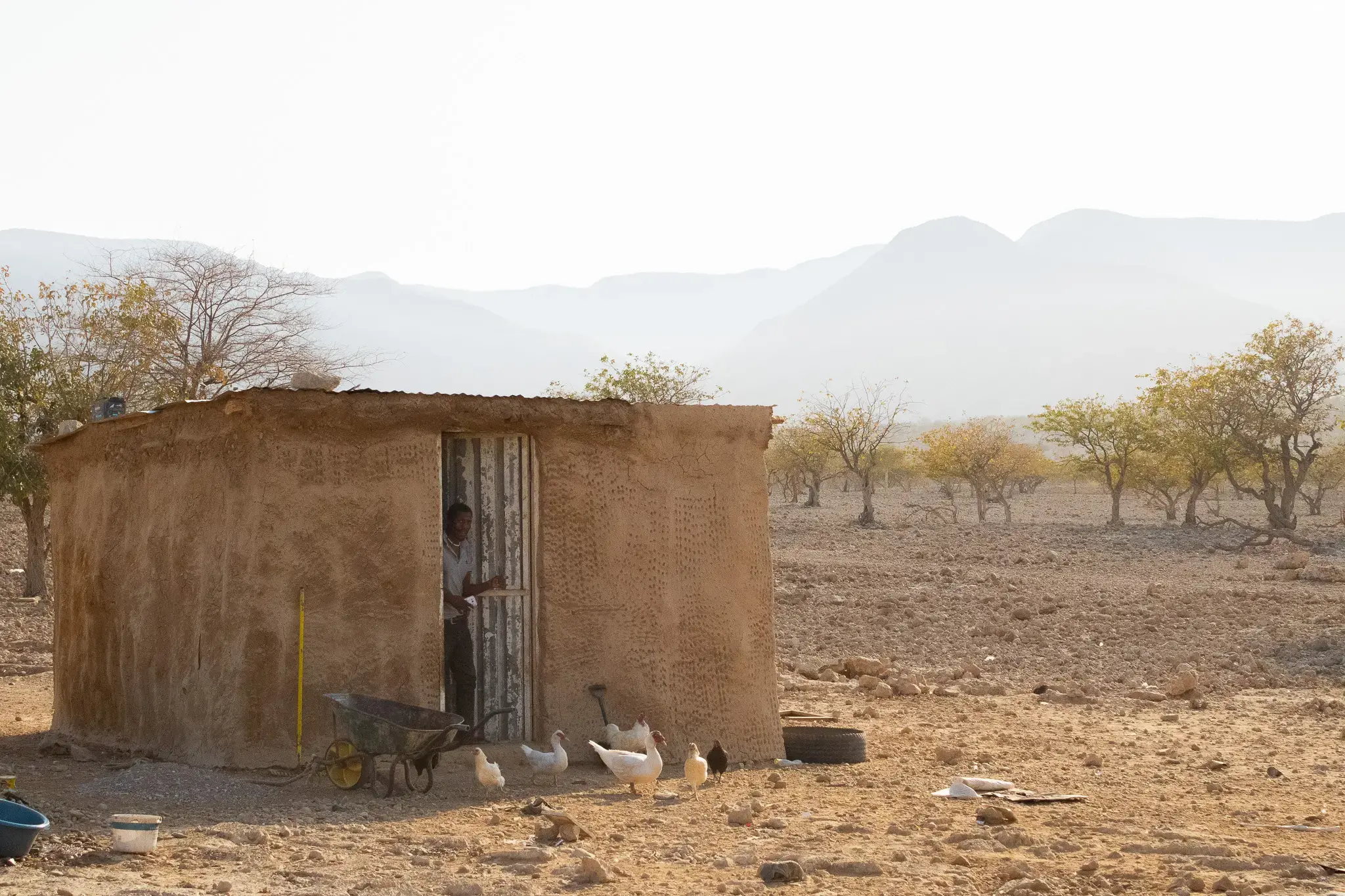 Mombura Ngarerue steps out of his living quarters on a cool Wednesday morning in Warmquelle. Like many people in Kunene, Ngarerue's highest level of education is high school. To keep up with his English, he teaches the language to the children in his neighborhood and receives little compensation from the government. The 25-year-old helped his mother, Christofine Mombura, set up a garden in their yard to supplement her livestock farming.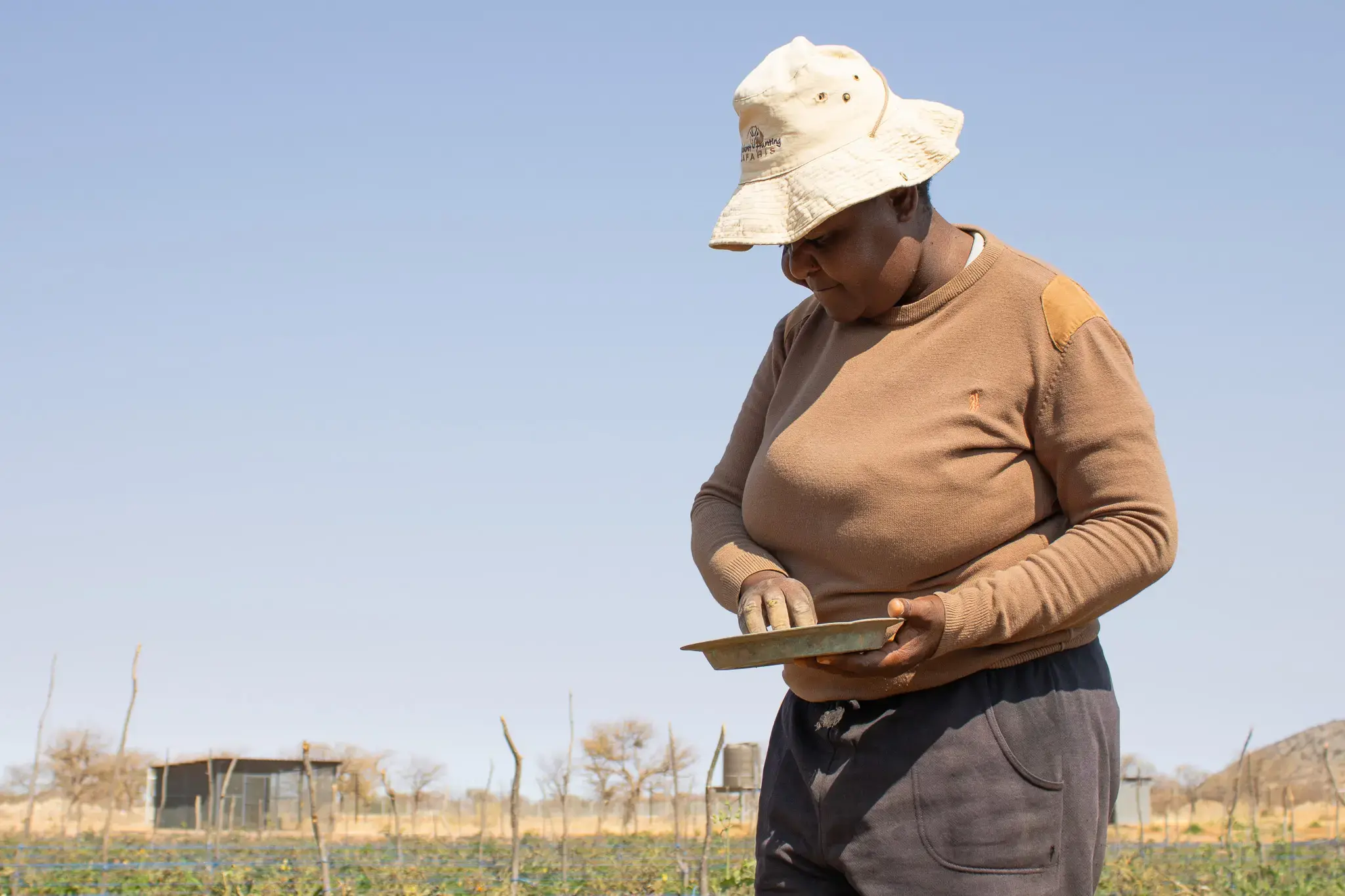 In Fransfontein, 274 kilometers (about 170 miles) northwest of Sesfontein, livestock farmers are turning to gardening. "Me, I'm an animal farmer," says Rosalia Seibes, a patron of the community garden, as she fertilizes tomato plants. But working in the garden is the only way to feed herself and her family.
Seibes and her friends come to the community garden six days a week. On a hot August afternoon—as are all August afternoons in Kunene—they harvested a batch of tomatoes, most of which had been damaged during the winter.
The Fransfontein community garden's endurance depends on the contributions of residents of the area. Here, four volunteers have come to help weed the garden on a sunny Tuesday morning.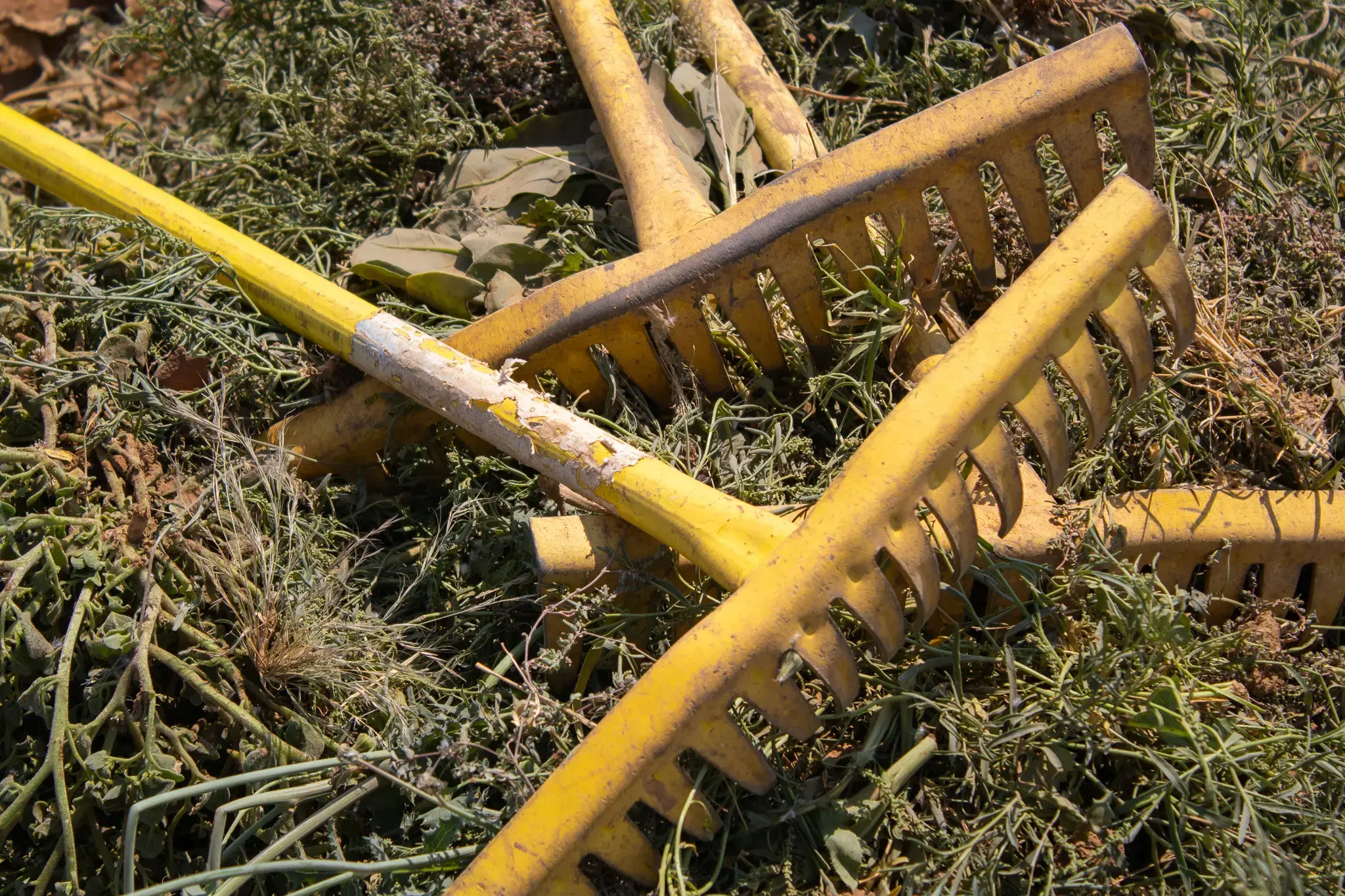 Since the program began in 2019, IREMA has made notable improvements to the Fransfontein community garden, including supplying gardening tools, building a storage room, and installing drip irrigation pipes.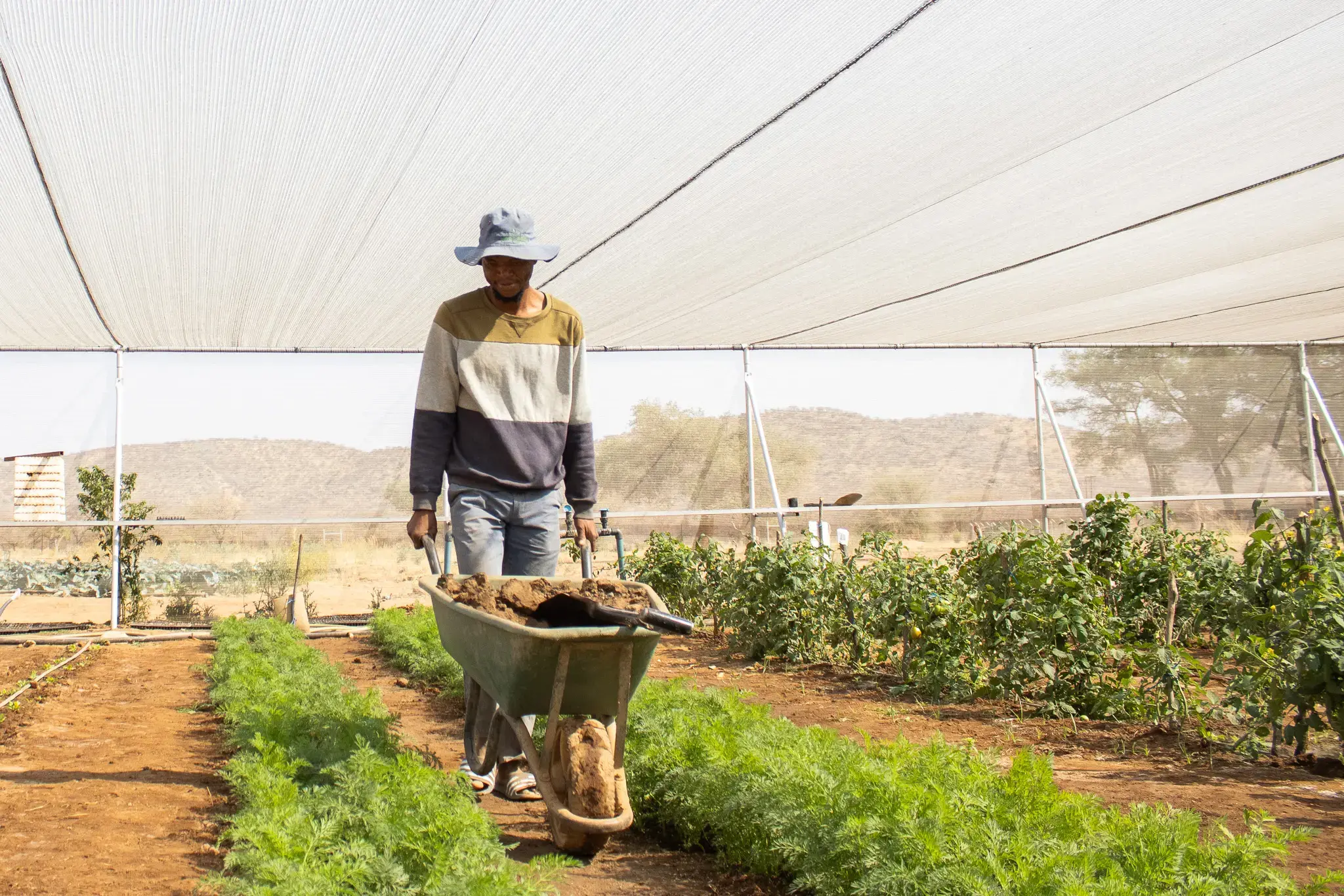 Paulos Ashipala, 30, wheels a heap of fertilizer in the Fransfontein community garden nursery, where the patrons have planted carrots, beetroot, tomatoes, and onions. Ashipala moved to Kunene from the Oshana region and now manages the garden. "I just want to farm," Ashipala says. "And then I want to go back to school to study crop production."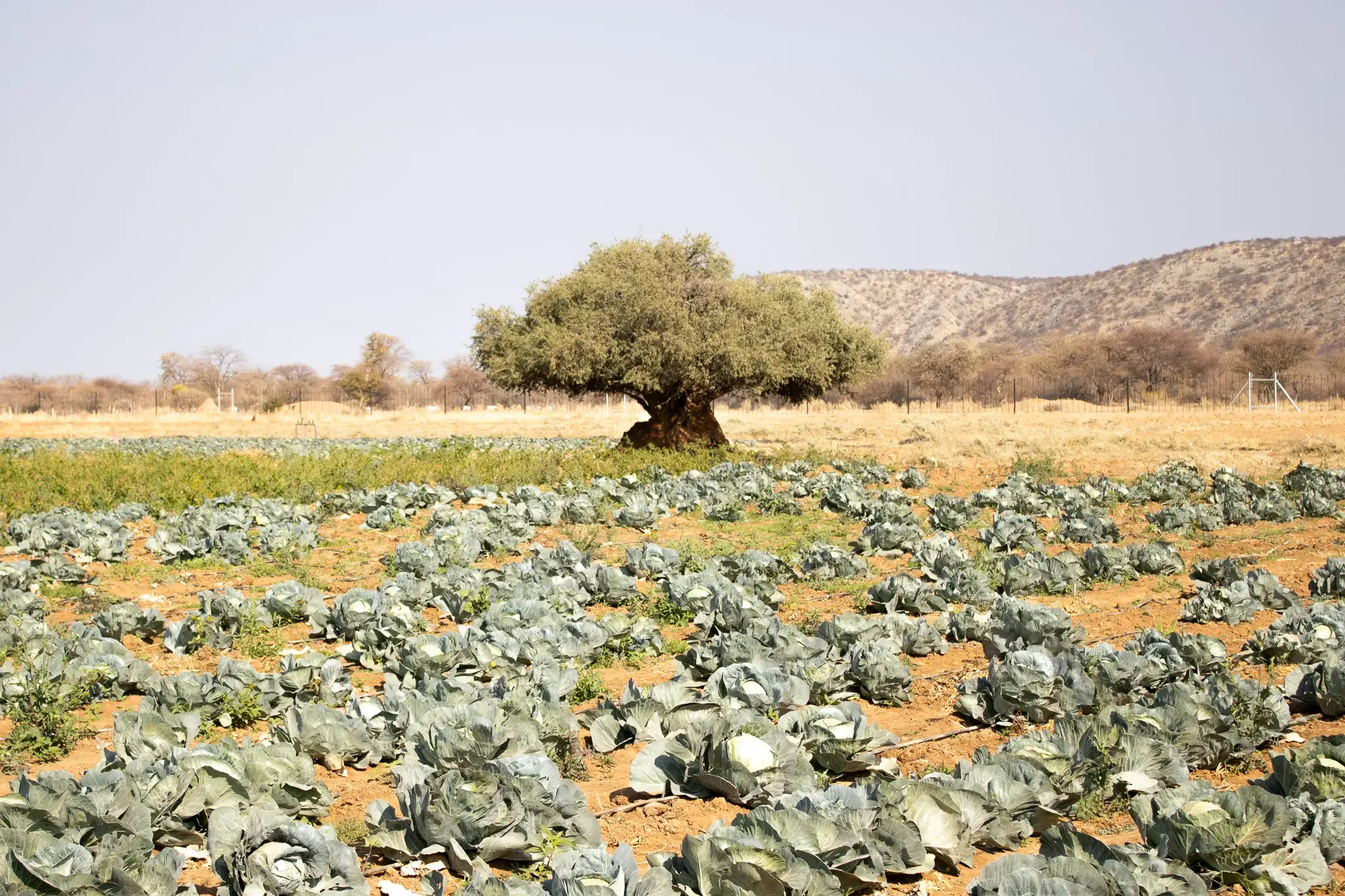 Rows of cabbage line the Fransfontein community garden. Unlike government-supplied drought relief food, the produce from the garden gives the people agency over their nourishment.
RELATED ISSUES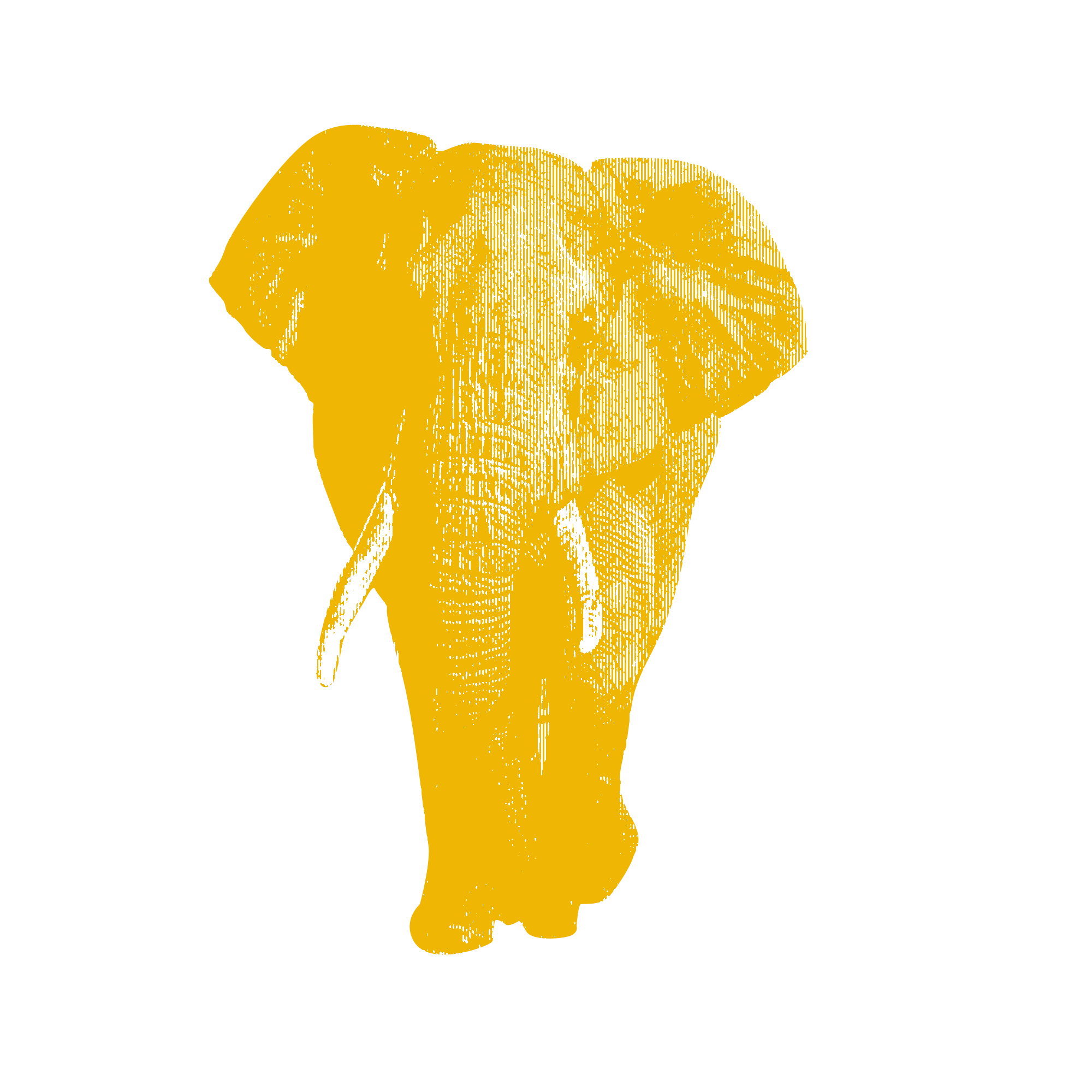 Issue
Environment and Climate Change
Environment and Climate Change

Food