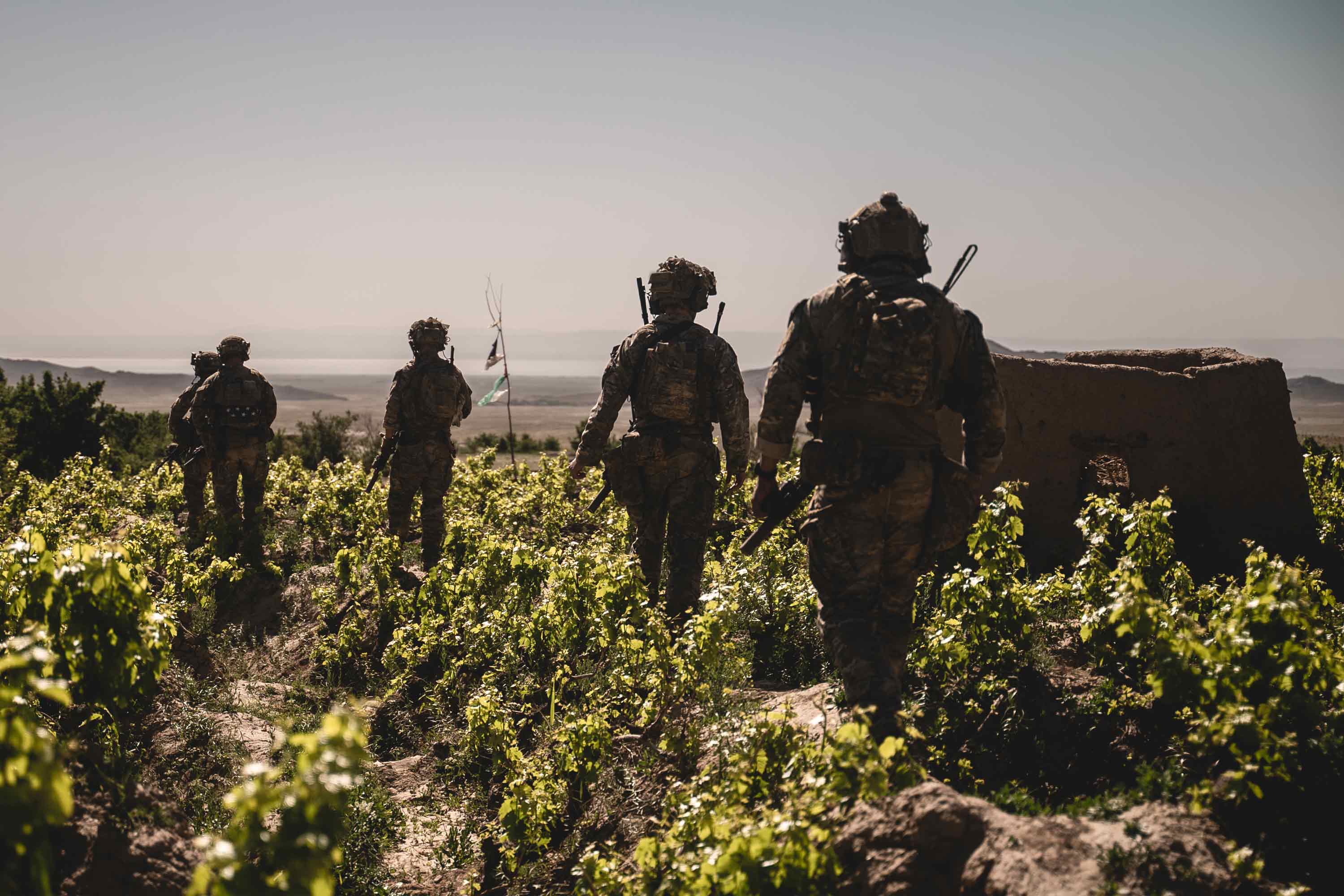 President-elect Joe Biden will arrive at the White House next week with the smallest military presence in Afghanistan in nearly two decades. The Pentagon confirmed Friday that it had hit President Donald Trump's Jan. 15 deadline to reduce the number of troops there.
The drawdown appears to be happening despite a provision in the fiscal 2021 National Defense Authorization Act, or NDAA, enacted after a last-minute congressional override of the president's veto, legally restricting the use of defense funds for troop reductions in Afghanistan.
"U.S. force levels in Afghanistan remain on trajectory to reach 2,500 by January 15, 2021," Maj. Rob Lodewick, a Defense Department spokesman, said in a statement Tuesday. In a statement, Acting Defense Secretary Christopher Miller confirmed Friday that forces in both Iraq and Afghanistan had reached 2,500, in accordance with Trump's mandate.
"With a force of 2,500, commanders have what they need to keep America, our people and our interests safe," Miller said in that statement.
Under section 1215, the NDAA stipulated conditions, including submission of a report to appropriate congressional committees detailing the drawdown's national security risks and impacts, before the DoD can use any funds appropriated this fiscal year to reduce armed forces deployed to Afghanistan below 4,000 (the number deployed as of the date of the legislation's enactment), and then again before going below 2,000 troops.
Miller announced in November that the U.S. would draw down forces in Afghanistan from around 4,500 to 2,500 by Jan. 15. Officials have not provided regular updates on how many troops have departed since the announcement, but a senior DoD official who declined to be named said there were around 3,000 troops in the region as of Tuesday.
A House Armed Services Committee aide speaking on background confirmed the Pentagon's continuing drawdown effort despite the legislation prohibiting it. The aide said the committee has requested additional information, and had queried about rumors of a national security waiver. The NDAA allows for waiving the reporting conditions, provided the president establishes that a drawdown delay is not in the country's national security interests.
One policy expert suggested that the drawdown leaves remaining personnel more vulnerable to attack, adding that Congress' inability to get the bill into law quickly enough is why the reduction could not be halted in time.
"My guess is that this provision of the law is being ignored by the Pentagon. Not because the Pentagon is uninterested in Congress' opinions or considers congressional legislation not to be binding, but because this kind of an issue is constitutionally ambiguous," Michael O'Hanlon, a senior fellow at the Brookings Institution, said Tuesday, referring to the president's constitutional authority as commander in chief. "And also, the decision from Congress came very, very late."
O'Hanlon said that a troop presence of 2,500 is "too small" for the current mission, calling Trump's decision "impulsive."
"[The drawdown] probably leaves us with very skeletal staff, maybe insufficient self-protection capability at some bases, or perhaps it's going to require us to close a base in a part of the country where we should still want to remain. So, I don't like it. I think it's a bad policy, and I hope Biden thinks about reversing at least part of the cuts," he said.
While O'Hanlon believes a larger U.S. presence is needed in the region, retired Army Lt. Col. Daniel L. Davis, a military expert at think tank Defense Priorities, who served two tours in Afghanistan, said, "The idea that any number of troops can prevent anything or that these troops right now are accomplishing some national security objective is just absolutely a myth."
Davis said he finds it troubling that Congress "won't do their constitutionally mandated job of being the only branch of government that will authorize military actions."
Instead, it has "objected every time" the Trump administration tried to reduce troops in Syria, Iraq, Yemen and Afghanistan, he said. "[This time], they went as far as to put it in the NDAA, which is the furthest they have gone."
He added that the decision for the latest reduction was "made well in advance of the NDAA passing, so I don't think it's retroactive. He said he believes "there certainly won't be any repercussions."
Lawmakers from both parties were displeased by the sudden announcement Nov. 17 of the troop reduction in Afghanistan, with Senate Majority Leader Mitch McConnell, R-Ky., comparing it to the "humiliation" of the U.S. withdrawal from Vietnam.
For some in favor of the drawdown, it is about keeping up the American end of the February 2019 U.S.-Taliban agreement, which states that all American forces will leave Afghanistan by May 2021, provided the Taliban upholds its end of the deal.
Miller said that although DoD continues preparation to meet the May deadline, it must remain conditions based.
"According to the deal the U.S. struck with the Taliban in February 2019, moving forward, while the Department continues with planning capable of further reducing U.S. troop levels to zero by May of 2021," he said in his statement, "any such future drawdowns remain conditions-based."
Zabiullah Mujahid, a Taliban spokesman, said in a Dec. 10, 2020, interview that it doesn't concern the group whether the troops in the region are reduced by Jan. 15, only that the U.S. makes good on the May deadline.
"It is not important what they do until January," Mujahid said. "No matter if they reduce or increase troops now, as long as they go according to the agreement they have with us."
RELATED ISSUES