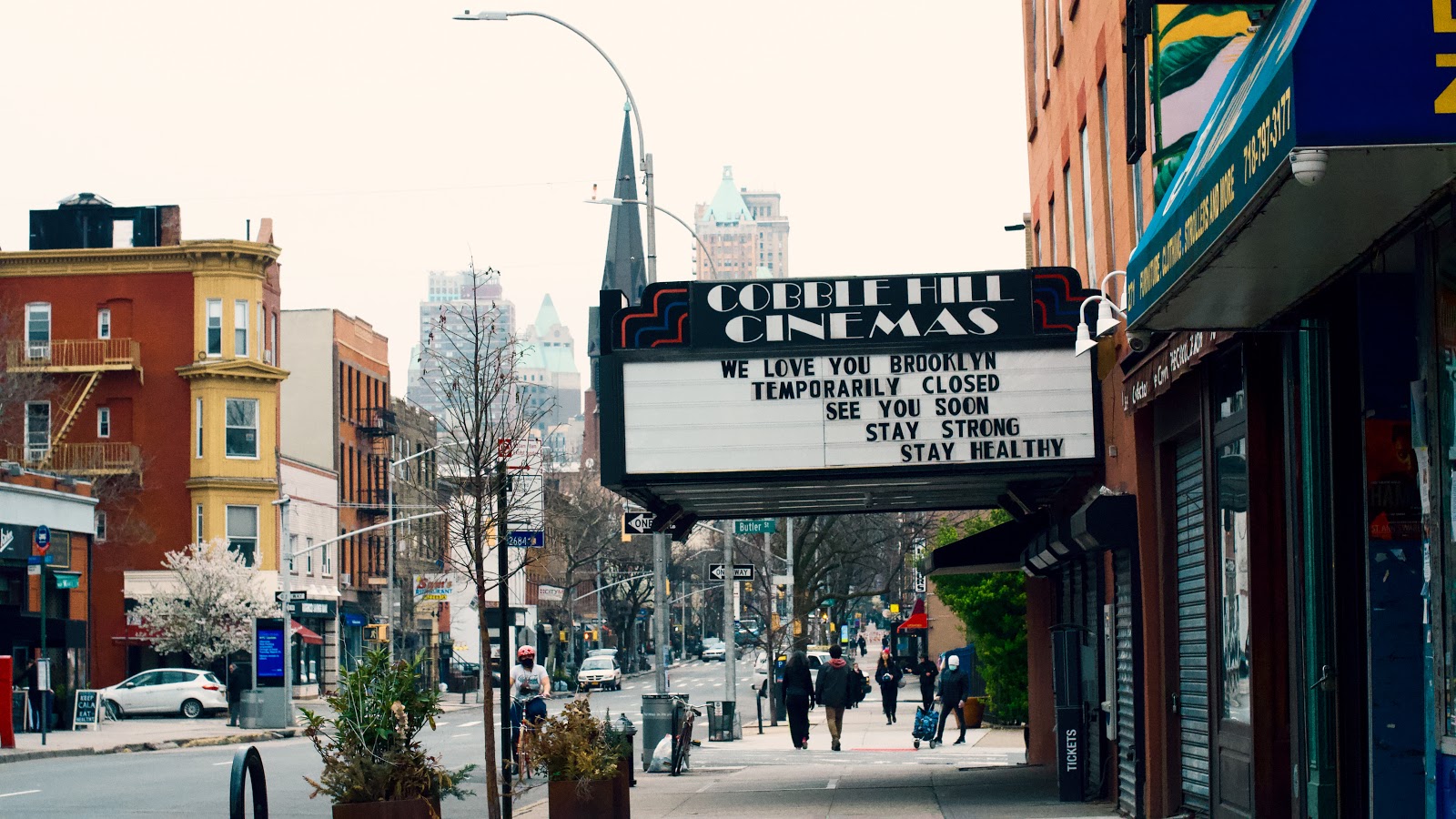 New York City's soul has been sucked out.
Everything that made New York New York is now illegal. Broadway is dark. Planes are grounded. No tourists crowding 30 Rockefeller Plaza. The Empire State building is vacant. The neon billboards that busy Times Square now scream COVID-19 alerts to empty streets. Lonely, empty taxis drift down 5th avenue. The Stock Exchange on Wall Street stands isolated and barricaded with an enormous American flag draped over it. Hotels, restaurants, bars—all shuttered. It's like we're living in the first five minutes of a suspenseful pandemic blockbuster, but it's all real.
Twenty-somethings gaze out the window of their studio apartments, wondering how they're going to pay their ridiculously expensive rent next month. Essential workers begrudgingly take the subway—keeping the entire city functioning, making ends meet, and risking their lives to do so. Busy people who fill up their busy lives with flights, meetings, dinners, etc. are finding it difficult to find alternative methods to distract themselves from reality. It's like the entire city is a 5-year-old put down for an afternoon nap—we really don't want to, but it's for the best.
Homebound children paint rainbows and put them in the window. It started as a game but has exploded into a city-wide sign of solidarity. At 7pm almost every night, New Yorkers emerge from their burrows and clap for the "healthcare heroes," an apt name that has been assigned to all those fighting on the front lines.
The flowers of early spring still bloom, functioning properly and on time without regard for the rest of the world, outside the entrance of Mount Sinai Hospital.
Although the streets, buildings, and restaurants stand deserted, step inside any New York City hospital and enter into an alternate universe. See the collected chaos of a system being pushed to its limits. Mothers giving birth alone, exhausted nurses, and doctors who are doing their best to save lives people have put in their hands.
"Last time New York felt like this was 9/11," said my neighbor, a generations-old New York native. Except for this time, the terrorist is invisible and lingering.
My fiancé and I recently moved to New York City, right before the holidays. We were looking forward to the springtime to see our neighborhood come alive. But instead of hanging out in the park, we spent our March Saturdays indoors, looking for things to organize and reorganize. We were debating whether or not to drive back to Maryland (where our parents are from) before things get really bad. I said, "what if there was a serial killer on the loose in New York and he was randomly killing 700 people a day, would we leave?" Of course, that serial killer isn't just in New York—he's making his way across the country. But responsibly minimizing the risk of him getting us (or us helping him get to someone else) was our number one priority.
We counted our blessings—the ability to work from home, safe transportation, a location of refuge—and packed up the car. I have asthma, and my parents have my supplies at the house; we could live in their RV to social distance—that was our plan. Before leaving, we bought gift cards from our favorite restaurants in the hopes they survive this disaster. We put a couple of suitcases and our dog in the car and left New York. All the way down a sparse I-95, highway signs displayed "stay home, stay safe, flatten the curve." If that doesn't feel apocalyptic, I don't know what does.
Now we're in week three. As a freelance documentary filmmaker, director, and editor, work is far and few between. Productions are halted, and coronavirus has infected every story in motion. Fortunately, I am primarily an editor, so I can continue to work. I also have some passive income and months worth of cushion saved up for events like this—so I'm not too stressed. But I feel for my freelance friends who solely work in production. There's no telling when we'll be allowed back out in the field, and what the field will even look like.
Our days now consist of cooking from home with whatever food we can find, FaceTiming friends and family, doing puzzles, watching movies, indulging with the online community, and feverishly following the news.
By talking to friends, it's easy to see the spectrum of emotions this pandemic is revealing. People have expressed their anxiety, depression, and disappointment. Weddings are postponed, funerals are live-streamed, and money is stretched thin.
However, I've also heard a little bit of the "snowstorm-effect" some are feeling—and I totally understand that. Crisis unites people, and even if this crisis isn't bringing people together physically, it certainly is emotionally. Business calls are a bit more compassionate. We're meeting each other's children and pets over Zoom and Skype. We're seeing their living rooms, dining rooms, and sometimes even bedrooms. We're all being vulnerable and humanized with each other, whether we choose to or not. People are being forced to somewhat embrace a work-life balance. We're checking in on each other. We're asking for help. We're embracing our emotions head-on. It's like the world is forced to sit still, a much-needed meditation.
Like everyone else, I hope this pandemic will leave us in a better place. I pray it is a wake-up call to world leaders. I am optimistic that our policies will shift in a way that does a better job of protecting vulnerable populations.
I started reading The Tipping Point by Malcolm Gladwell a few weeks before New York City shut down. It was eerily appropriate for the time, little did I know. In it, he writes, "Look at the world around you. It may seem like an immovable, implacable place. It is not. With the slightest push—in just the right place—it can be tipped."
One day, a few months ago in a town across the world, one person contracted the new coronavirus. Today, the entire world sits still in a global recession and over 1.5 million people are infected. We are vulnerable; nothing is secure. Coronavirus is an example of a detrimental tipping point, but I believe many positive tipping points will stem from this. Maybe this is the push our society needed to truly evaluate our healthcare system, our emergency preparedness, our national security, and our leadership.