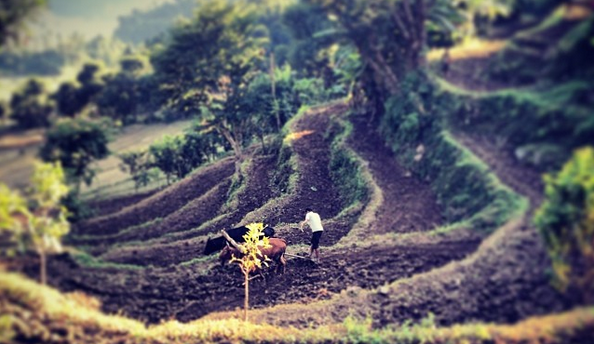 Finding Aambhanjyang [AAM-VUN-ZYAA-NG] is not easy. To get to the Nepali village, one has to first drive nearly 106 miles from the capital city of Kathmandu to Hetauda, a bustling city in the center of a major national highway, take the off-road, cross a rickety bridge, and walk across a river and then up a hill for about 15 minutes.
At a first glance, Aambhanjyang is like any other village in Nepal. Most houses were traditionally built from mud or cement, with roofs made of tin. Almost every house has a shed for a cow or a buffalo, or in some cases both. Amid the rugged terrains, it's hard to miss young men plowing their farms with a pair of ox, uttering "Hoi, Hoi" every few seconds and whipping the animal with a dry bamboo stick to make it move faster on the field.
But on the inside, this is a village that tells the story about what is happening across the country. Over the last decade, a growing number of Nepali young men and women are leaving their homes in hopes of finding better jobs and earning a better salary in countries across the Middle East. "Here in this village, almost every single house has sent a son or a daughter to work in the Gulf or Malaysia," said Shiva Chaulagain, a reporter who covers the region for a local radio station. "Many of the families here are farmers, and the next best option for their young sons is to go overseas for work."
There are a few factories in the area that manufacture cement on a commercial scale, but the pay is minimal. Doing the same kind of work in countries like Qatar, UAE and Bahrain would pay at least three times as much money. So, if you're young and you've worked on your parents' farm your entire teenage years, the next obvious thing to do is get out of the village.
Ratna Bahadur Lama has never left the village. He says his older brother has been working in Malaysia for a few years already. A shy 20-year old man who helps his parents on the farm, Lama now plans to go to a foreign country to work. "I don't know where I'd go, but I definitely want to work abroad," he says.
Ask any young Nepali who aspires to work in the Gulf and you'll hear a variation of responses, all of them pointing to the same problem—there are no jobs here. So, the best and fastest way to earn more money than they could imagine making at home is to become a migrant worker overseas.
To help such aspiring migrant workers, recruitment agencies, locally known as manpower companies, are setting up shops in record numbers throughout Kathmandu. The Department of Foreign Employment data says there are 761 registered recruitment agencies in the country. However, according to the International Organization for Migration, thousands of migrant workers are often deceived by rogue recruitment agencies, which demand excessive fees, confiscate passports and produce fake documentation—all increasing chances of abuse and exploitation by employers.
Ten years ago, a total of 106,660 Nepalis went overseas for employment opportunities. Last year, that number was 453,543, triggered by the exodus of sons and daughters of families living across the country, mostly in villages like Aambhanjhyang.
RELATED ISSUES