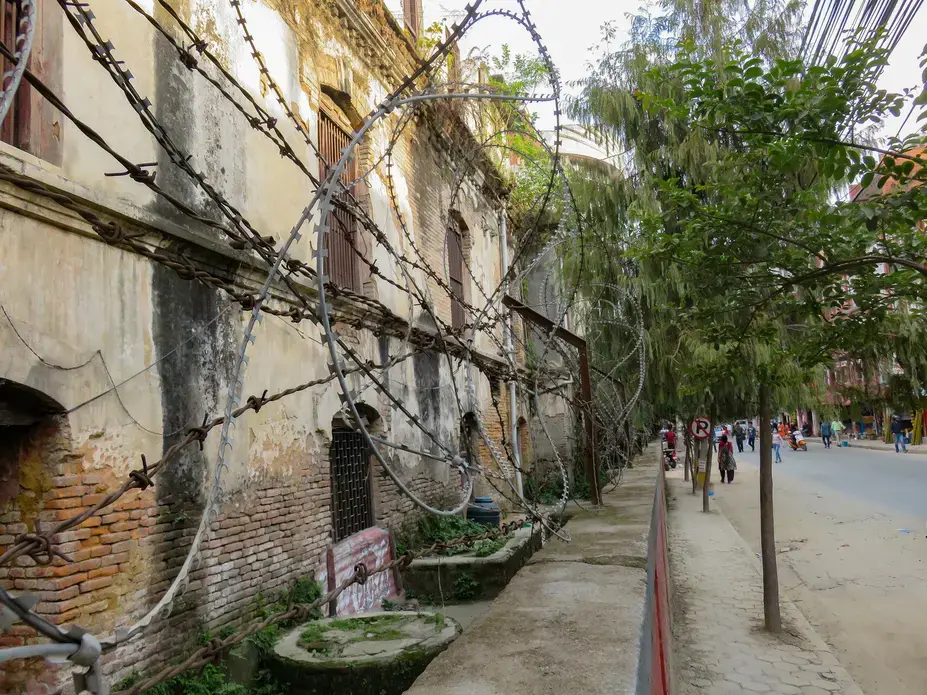 It was almost midnight when Arjun Dhakal picked up his phone to answer a call from an unknown number. He still remembers hearing the angry voice of a trafficker on the other line threaten him, "Do you want to live or die? If you want to live, just make a connection to release our colleague. Otherwise, you will not see tomorrow."
Arjun founded the NGO Gentle Heart Foundation (GHF) 11 years prior and had recently expanded its mission to protect trafficking survivors in Nepal.
Earlier that day, his border surveillance colleagues had found a man with two women traveling without documents by auto rickshaw from Nepal to India. Suspecting trafficking, the border patrollers sent the three to the capital, Kathmandu, where they were taken into police custody for investigation. The case was referred to the Central Investigation Bureau. That same day, the two women were released from police custody and brought to the GHF shelter.
Arjun says that while the trafficker remained in custody, "A key person from the Central Investigation Bureau got a call from a high-level politician saying 'Okay, release them.'"
The trafficker's criminal network was informed that he was captured by the police and decided to contact Arjun, whose NGO was now sheltering the trafficked women.
Arjun's wife began to cry. But when Arjun responded to the trafficker's threats on the phone, he spoke calmly and softly: "Okay, sir, if you want to kill me for the saving of many women from trafficking, I am willing to die. Please think before you act. The life-saving mission is not easy. I am ready, willing to die for the sake of saving other peoples."
Arjun recalls the aftermath of the phone call with a sense of relief: "And since then, he didn't call me. I am still alive. It's a risk. But, I'm happy to take a risk for the betterment of these kinds of people."
The trafficker was sentenced to four years in jail, and the two rescued survivors graduated from the GHF program and are now living independently.
Sex Trafficking Is on the Rise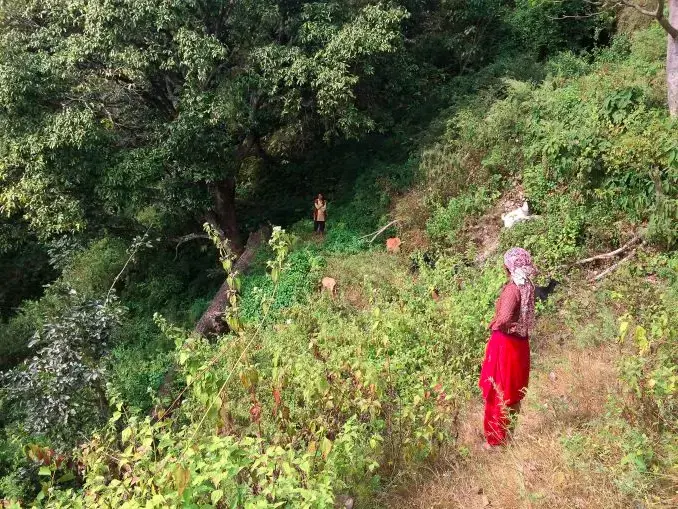 Women farmers in Harkapur village bring their goats to browse in nearby fields. Girls and women in rural Nepali villages are most vulnerable to trafficking due to their lack of education and economic opportunities. Image by Nicole Brigstock. Nepal, 2015.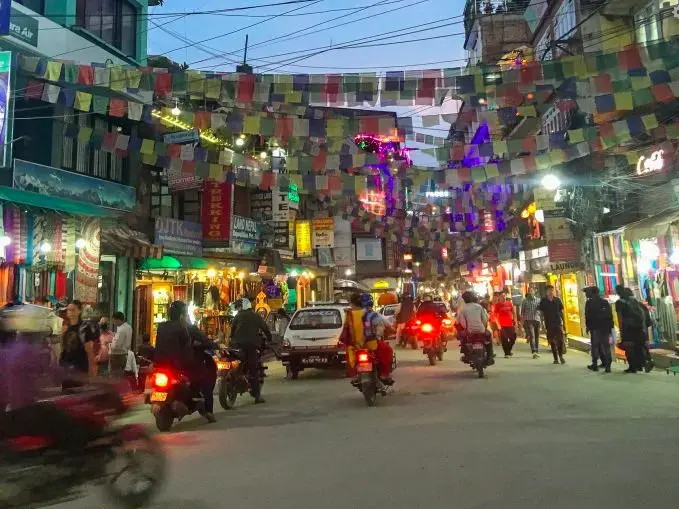 Thamel, the tourist hub of Kathmandu, overflows with gift shops, trekking agencies, and Western restaurants. When tourists and locals support Thamel's entertainment sector by frequenting dance bars, massage parlors, and cabin restaurants, they maintain the demand for the sexual exploitation of the girls and women working there. Image by Nicole Brigstock. Nepal, 2018.

Arjun is one of Nepal's many human rights activists who are working to combat the illegal sex trafficking of thousands of Nepalis each year.
Nepali girls and women are most prone to trafficking if they are uneducated, impoverished, and living in rural areas. Traffickers travel to remote villages to lure locals with promises—abroad or within Nepal—of jobs, education, love, or marriages.
The National Human Rights Commission 2013-2015 report finds that trafficking escalated after the April 25, 2015, earthquake. Many people lost their livelihoods, only to watch their economic situations further deteriorate in the following months, as India closed its border due to political controversies related to Nepal's new constitution.
Some turned to trafficking for profit. The 2014 Dhakal et al. study of convicted traffickers in Kathmandu found that 78.2 percent of traffickers described their economic condition as "poor," up from 63.0 percent in 2006. The many women and young girls who lost their families and homes in the earthquake have become their targets.
Traffickers' tales of better lives in faraway places have special appeal to those living in areas where issues of domestic violence, substance abuse, and child marriage are prevalent. According to Eloïse Jha of the International NGO Planète Enfants & Développement, "Their situation at home is so bad that they don't imagine that something can be worse, or as bad."
When they are trafficked domestically, girls and women experience commercial sexual exploitation in cabin restaurants, guesthouses, massage parlors, dance bars, and on the streets. Abroad, they are sent to work in Indian brothels or in the Gulf States.
They are forced to hand over their earnings, unable to leave or communicate with those back home.
Where Is the Justice?
Arjun's story is an anomaly. Of the thousands of Nepalis trafficked each year, only a fraction of their traffickers ever face prosecution.
Nepal's 2007 Human Trafficking and Transportation (Control) Act (HTTCA) delineates a jail sentence of up to 20 years and a fine of up to 200,000 Rupees ($1821 USD) for each trafficking case.
The Dhakal et al. study found that from 2006-2014, among convicted traffickers in Kathmandu, "the percentage of traffickers serving long sentences (of 15 years or more) nearly doubled from 21 percent to 37 percent, and the average fine also nearly doubled from Rs 77,790 to Rs 132,145" ($778 USD to $1,322 USD). Rup Narayan Shrestha, a lawyer who represents survivors, believes that these punishments are still not strict enough to deter traffickers: "The profit that the traffickers get is more than the consequences that they face."
Most traffickers are only caught if their victims file complaints against them. Survivors often avoid pursuing legal justice because they do not want to press charges against their traffickers, many of whom are acquaintances or relatives. Disaggregated trafficking data shows that in Nepali fiscal year 2074-75 (April 2016-April 2017), 268 trafficking cases were filed with the Nepal Police; 10 years prior, there were 123 registered cases.
During the Nepali fiscal year ending in April 2018, the government initiated only 303 prosecution cases for both sex and labor trafficking combined.
To increase reporting, NGO Samrakshak Samuha Nepal, founded in 2007 by trafficking survivors, has trained 270 survivors to work as certified paralegals in Nepal's police stations. These women share their legal knowledge within local communities and help others file complaints against their traffickers.
Survivors come into contact with police for the first time as a result of police raids, roadside checkpoints, reports of suspected trafficking, and referrals from NGOs.
Police officers who are uneducated about trafficking tend to treat survivors as willing sex workers. According to Senior Superintendent of Police Shailesh Thapa Khsetri, "we do receive some complaints that police are not doing very well" at treating survivors with respect. Survivors can experience re-traumatization as a result of insensitive and accusatory questioning during their interviews.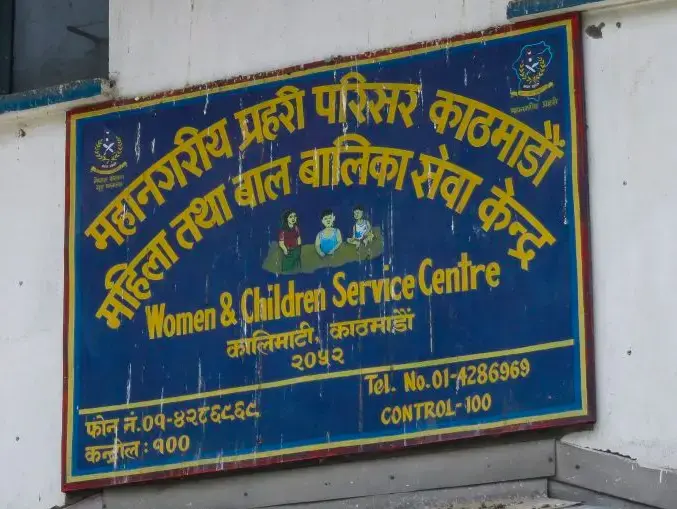 Trained women officers at Women and Children Service Centers help survivors file complaints against their traffickers. These centers also investigate crimes, analyze trafficking data, and raise awareness within local communities to prevent trafficking. Image by Nicole Brigstock. Nepal, 2018.


The establishment and expansion of Women and Children Service Centers at the country's police stations have helped alleviate these problems by providing support to survivors, who are now interviewed in separate cells by women officers. The case files are kept anonymous to protect their identities, and guardians or social workers can help survivors tell their stories to the police.
Police maltreatment is part of the larger societal conflation of sex work and sex trafficking. Survivors are also stigmatized by, and can even rejected by, their families and communities upon return.
Lawyer Rup Narayan Shrestha believes that justice begins with changing the mindset of the people, and he and his colleagues work to help police understand that these girls and women are the victims, rather than the culprits, of crime. Similarly, NGOs including Gentle Heart Foundation and ABC Nepal work with survivors to restore their relationships with their families. Eventually, some families accept them back into their homes.
When legal complaints are filed against traffickers, they often avoid punishments by using bribes and connections. The 2018 Trafficking in Persons report finds that both police and government officials are "complicit in domestic sex trafficking because of their financial involvement in the adult entertainment sector." Arjun Dhakal's story is one illustration of this corruption, as a high-ranking politician asked the Central Investigation Bureau to terminate their investigation and free the trafficker.    
Not only the traffickers, but also the buyers of sex, use their money and power to avoid prosecution. Although the HTTCA stipulates that buyers can be sentenced up to one month in jail, this provision is seldom implemented.
Human rights activists concur that Nepal's bureaucratic hurdles hinder the implementation of its trafficking legislation. And although free legal aid services are available across the country, the vast majority of the thousands of Nepalis trafficked for sex each year never receive legal justice.
As Legal Aid and Consultancy Center's lawyer Anita Neupane Thapalia explains, "If there is no corruption, then obviously law implementation will be best. We have very good laws in place, but people cannot get justice because of corruption."
For those survivors, the main hope lies in the possibility of social justice.
RELATED ISSUES