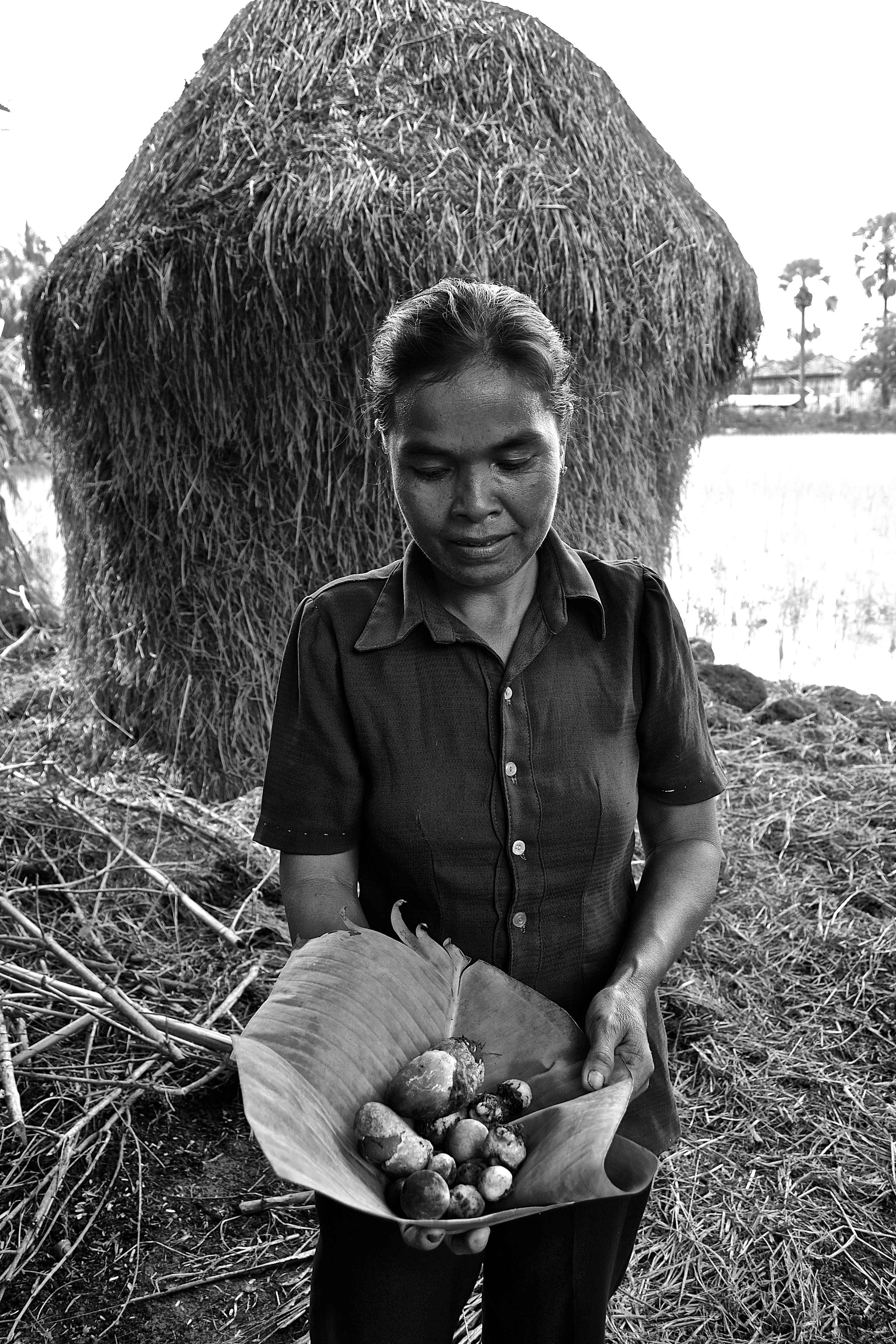 In the quiet farming village of Ampul Cham in rural Cambodia, most of its residents are fast asleep at 2 a.m. But Sreng Sokoon wipes the sleep from her eyes, washes her face, climbs down the rickety wooden staircase from her modest one-room home, and walks the seven and half miles down a dusty dirt road to reach the market: a road that several years ago did not even exist.

During the dry season in Cambodia, little vegetation grows, leading Sokoon, a rice farmer's wife, to search for alternative sources of income. At the market, she stocks up on vegetables, fish, meat and condiments, retuning around 5 a.m. to the village where she's lived since birth. There, in the early hours of the morning, Sreng will start selling the items door to door, saving the other villagers a trip, while procuring a bit of extra income for her and her family.

It is villagers like Sokoon, or particularly their children, who are at a high risk for human trafficking. Poverty and vulnerability often go hand in hand, creating a rich environment for traffickers. The UN Inter-Agency Project on Human Trafficking (UNIAP) mentions that human trafficking has increased in Cambodia because of a number of factors, including poverty, high demand, lack of employment, education and safe migration.

Due to situations such as extreme poverty, "many send their children abroad to work. Malaysia and Thailand are popular labor destinations," says Lohn Lang, a village leader in Ampul Cham. Traffickers use the promise of a high-paying job in a large city or bordering nation to lure their victims.

Lang tells of sending his children, ages 15 and 17 at the time, to work in Malaysia, all the while understanding the risks involved. He says he "feels pity for the children" and that most kids don't want to go. "People need to eat. To live. We know there is a risk. It's a fact. It's something that happens. But," he continues, "desperation is powerful."

Thankfully, Lang's children did not end up victims of trafficking. Their employers, however, did cheat them, paying them only $600 of the promised $1,000. They are now safely back in Cambodia, helping their father farm.

Many NGOs are taking preemptive action to prevent individuals from becoming victims in the first place. An economic approach to tackling human trafficking can eliminate the likelihood of a family sending their children off to work in precarious situations.

In Ampul Cham and three other nearby villages, World Hope International has introduced such approaches, most notably hay-mushroom cultivation and micro-lending.

Sareth Khim and her family are just one of 33 families that are partnering with World Hope's mushroom growing project. Behind her stilted house, next to a rice paddy filled with stagnant water, she removes several handfuls of mushrooms from a large haystack. The heat and humidity of Cambodia create the perfect environment for the fungi to grow naturally.

Since partnering with World Hope, Sareth Khim and her neighbors earn an extra $1,600 each per year. While nearly half of rural Cambodian families live on roughly $0.45 a day, that extra money goes a long way.

Other farmers nearby have created makeshift greenhouses to grow concentrated amounts of mushrooms. Between two dragon fruit trees, rods of bamboo hold up plastic tarp, the greenhouse walls. There is a small slit in the tarp where one can peer in and see the small mounds of hay suspended in the air. A damp musty smell emanates, causing the onlooker to close the flap quickly, which is just as well, as it is important not to let the heat and humidity escape.

The problem with this concentrated mushroom farming is that the farmer needs to purchase spores to get the growing underway. For a family trying to get by on next to nothing, these spores can be expensive. Fortunately, thanks to low-interest micro loans, obtaining the spores is not a problem.

Lang attributes one of the reasons for extreme poverty in his area to high interest rates on loans from Cambodian banks. Because those in the farming community can't afford the loans, the families remain in poverty.

World Hope disperses loans so that recipients can purchase rice seeds, grow cassava, buy fertilizer, grow mushrooms and procure chicken feed. In order to ensure the loans are properly maintained, small business loan training is a pre-requisite to obtaining the loan. Farmers can then turn these low-interest loans into profit, feeding their families and sending their children to school.

Education in itself is another combatant of human trafficking. With proper job training and education, a better job is available without putting oneself at risk.

With this additional income and the help of a cousin, Sreng is able to send her two children to study in Phnom Penh. "They will definitely learn more," she says. "The main thing is studying," Lang says of the benefits of World Hope in his community. "It was common to stop studying after third grade. Now students can go to eighth or ninth grade, even university."

Economic opportunity leads to education. Sokoon's sons are now receiving a better education in Phnom Penh than they would at the village school.

With better education comes better job possibilities. Better job possibilities decrease the desperation Lang says is so powerful and puts the power back where it belongs—in the hands of hardworking families.
RELATED ISSUES