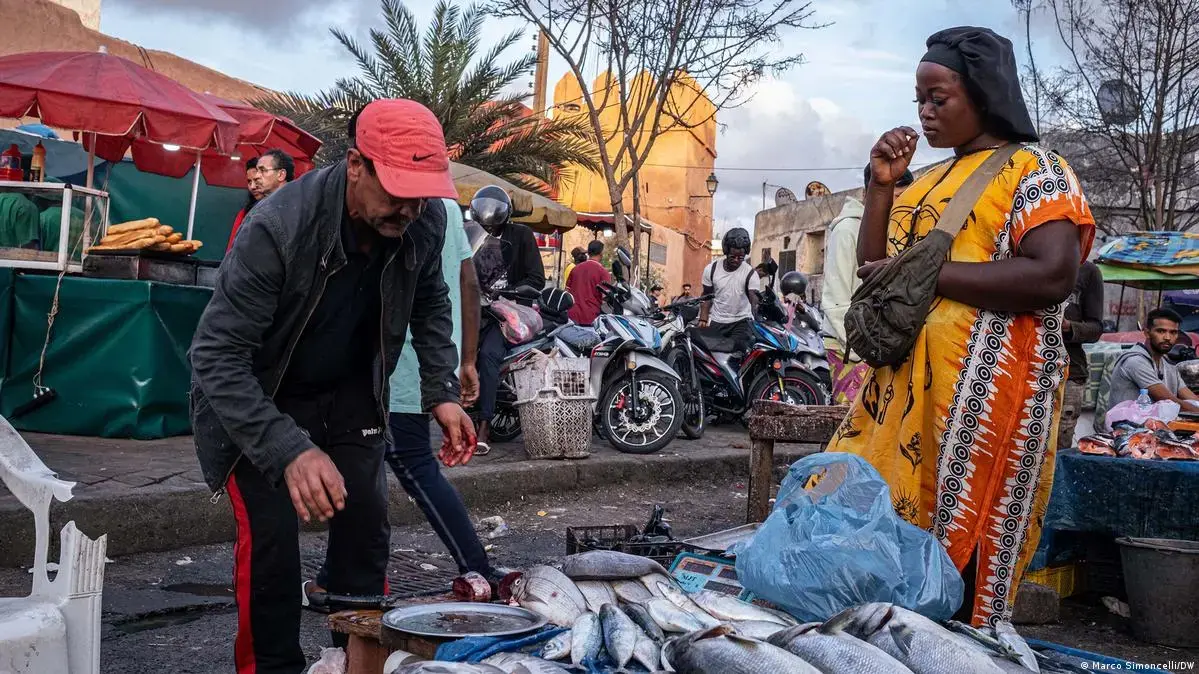 Morocco has slowly transformed from a transit country to a destination country for sub-Saharan African migrants—almost half of whom are women.
---
From her apartment in Hay Charaf, a residential neighborhood in the northern suburbs of Marrakech in Morocco, Oumou Sall cares for her newborn baby. The 27-year-old Senegalese woman moved to Morocco in 2017 to complete her master's degree in business management. She is now on maternity leave, but in a week's time she will return to work in a call center — one among many in the city.
Oumou's story is similar to many other women from sub-Saharan Africa who are migrating to the North African country in increasing numbers. According to the last official figures released by the United Nations in 2020, 48.5% of Morocco's regular migrant population are women.
Fitting in wasn't difficult, she told DW: "I quickly found other sub-Saharan [migrants] in the company and relations with the bosses were good."
Morocco's changing job landscape means it is no longer just a stopover on the long migration route to Europe, but a possible destination for many women seeking higher-paying jobs to support themselves and their families.
---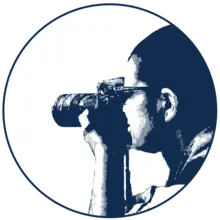 As a nonprofit journalism organization, we depend on your support to fund more than 170 reporting projects every year on critical global and local issues. Donate any amount today to become a Pulitzer Center Champion and receive exclusive benefits!
---
Call center boom offers employment
Morocco's call center industry has undergone a boom over the past 15 years, making it easier for many French-speaking migrants to find work. Oumou, who is originally from Dakar, said getting hired in call centers is simple enough even without a degree — a good knowledge of French is usually sufficient.
Her fixed pay is 2,500 dirhams (€322, $340) a month, alongside various performance-based bonuses — enough to send remittances back to her family in Senegal.
"We actually work for rewards," Oumou explains. "So if we get them and get good results, then we can send money back to our families and save money."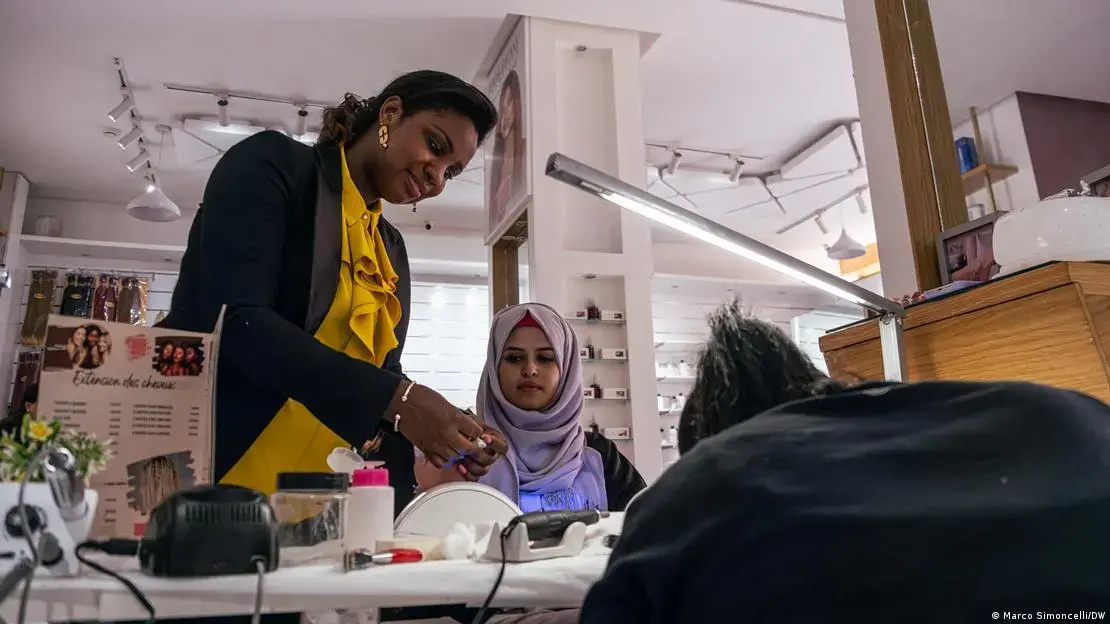 Switching up the migrant narrative
About 250 kilometers (155 miles) south of Marrakech, in the Cite Essalam area of Agadir, Senegalese entrepreneur Khady Wade Balde elegantly welcomes her clients — mostly Moroccan women — in one of her beauty salons, "Khady Hair".
While watching over her team of about a dozen employees, she recounts her solo journey to Morocco in 2008. The then-23-year-old came with a plan to improve her hairdressing skills. She secured an apprenticeship under the guidance of a Moroccan mentor and, after years of work and personal sacrifice, she eventually opened her first salon.
"At the time, sub-Saharan African women were just taking babysitting (jobs)," she told DW. "There were no hairdressers like today. At first they thought I was a maid, but I wanted to be a hairdresser."
Today, Khady is a sought-after hairdresser in her area. She said she's satisfied with what she's achieved here as a migrant, but is aware of the enormous difficulties faced by other sub-Saharan women in Morocoo.
"I don't know (what goes on) in other people's lives, but I know it is hard for some of them. It is not as easy for everyone as it was for me."
Sub-Saharan migrants forego Europe for Morocco
Rather than a point of departure for Europe, Morocco has become home to many sub-Saharan Africans. Though many migrants still dream of moving to Europe, many have decided to stay on.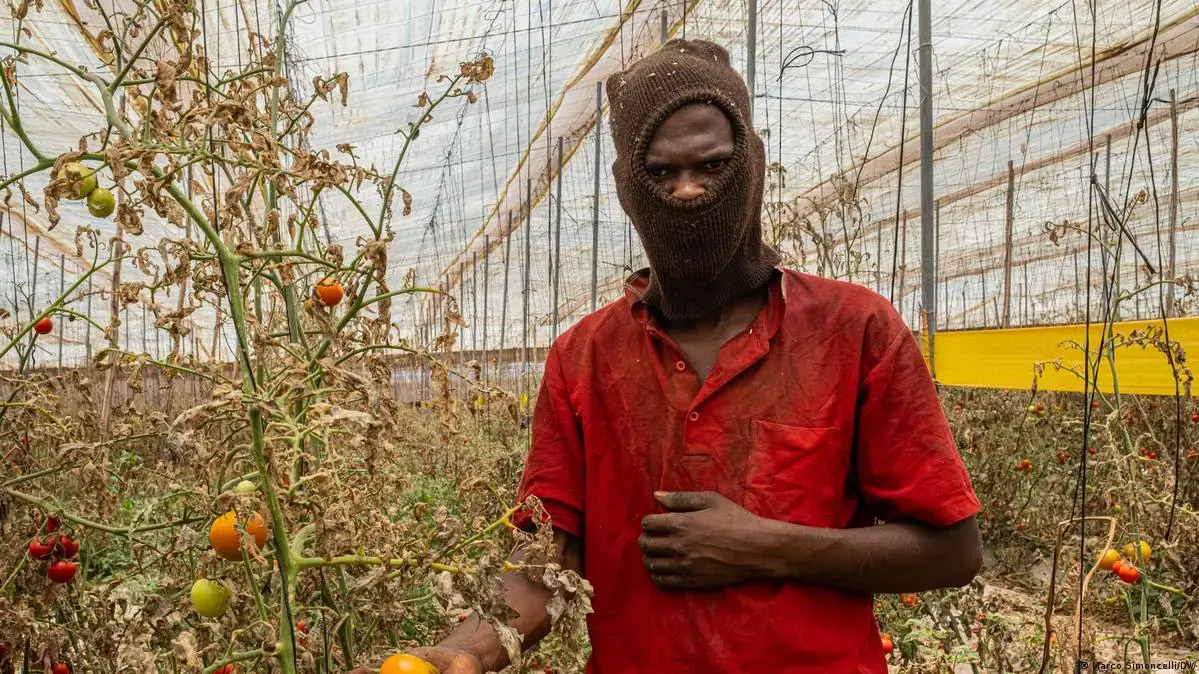 Making the best of a difficult situation
There are a reported 70,000 to 200,000 sub-Saharan migrants in Morocco, many of them undocumented. They arrived years ago planning to reach Europe. But the EU's policy of externalizing borders made it harder to travel on. Morocco seemed more welcoming, although its migration policy remains ambiguous. Some migrants suffer exploitation, and social and cultural integration are not a given.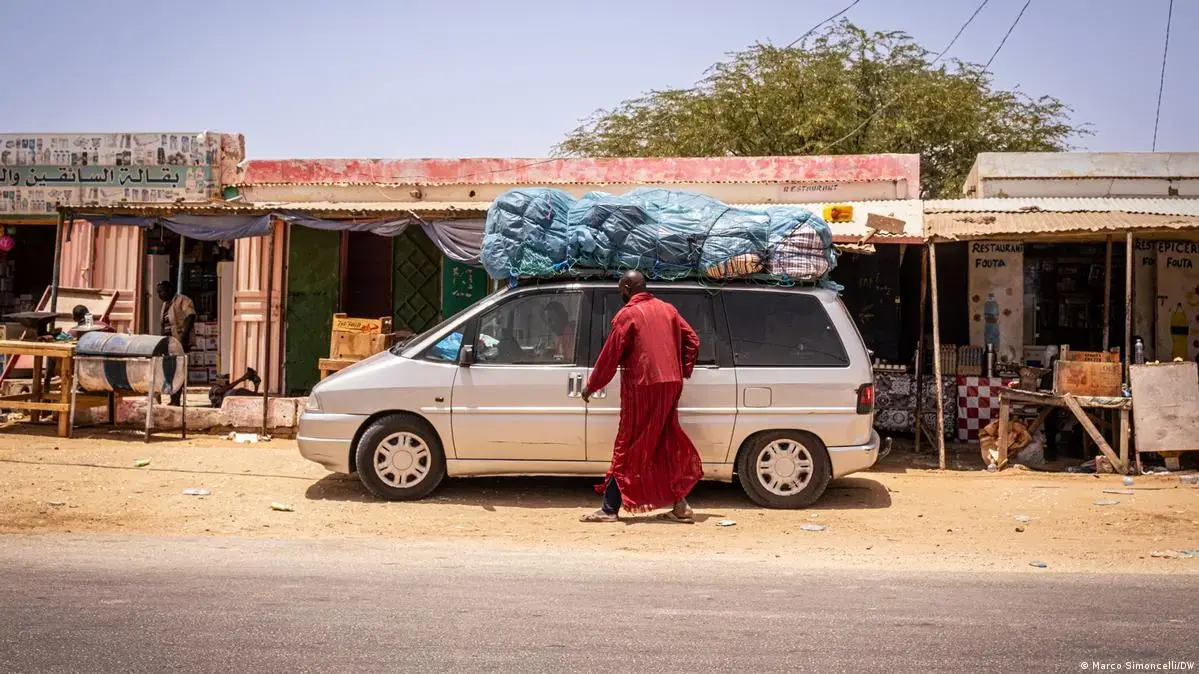 Along the road from Dakar to Casablanca
A minivan on its way to Morocco transporting goods and people along the road from Rosso (on the border between Senegal and Mauritania) to Nouakchott. Minivans leave Dakar several times a week for the 3000 km drive up the coast to Casablanca and back. Many migrants, including Senegalese, start their journey to the Mediterranean here or run import-export businesses along the route.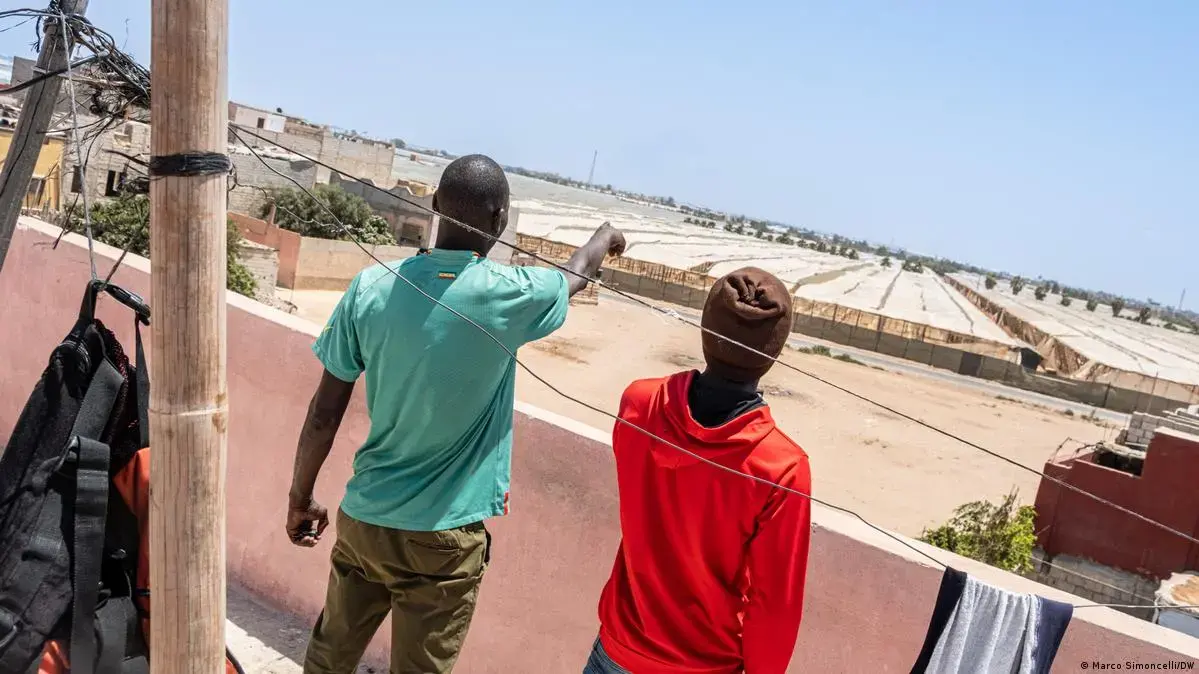 Tough working conditions
Ousmane Djom with a friend on the roof of a building in Ait Amira, a municipality in the south of Agadir. In the background, hundreds of greenhouses signal the success of Morocco's "Green Plan" that turned the region into a hub for agriculture. Many young sub-Saharan Africans work here for around €6 ($6.50) daily. Almost no one has a valid residency permit and working conditions are tough.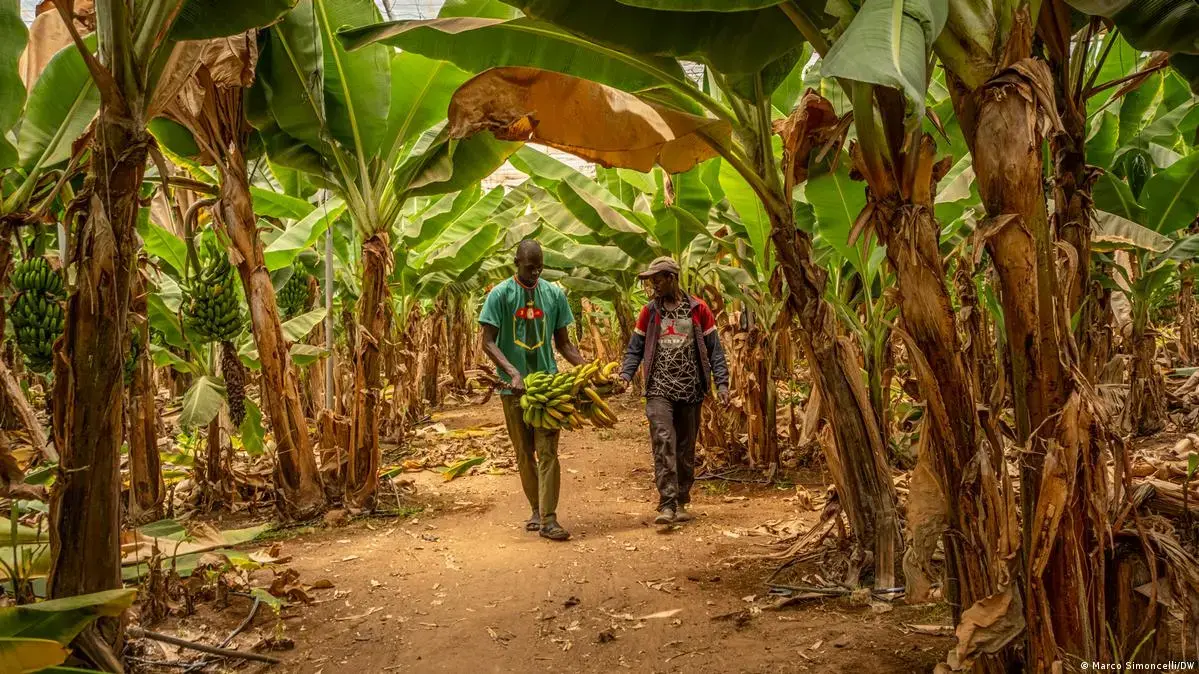 No papers, no protection
Djom and a colleague walk through banana plants in one of the giant greenhouses. Working without official papers and lacking legal protections is common in other sectors, such as construction and fishery. There's a certain tolerance for migrants who have overstayed their visas, benefiting industries that employ large numbers of low-cost, undocumented workers.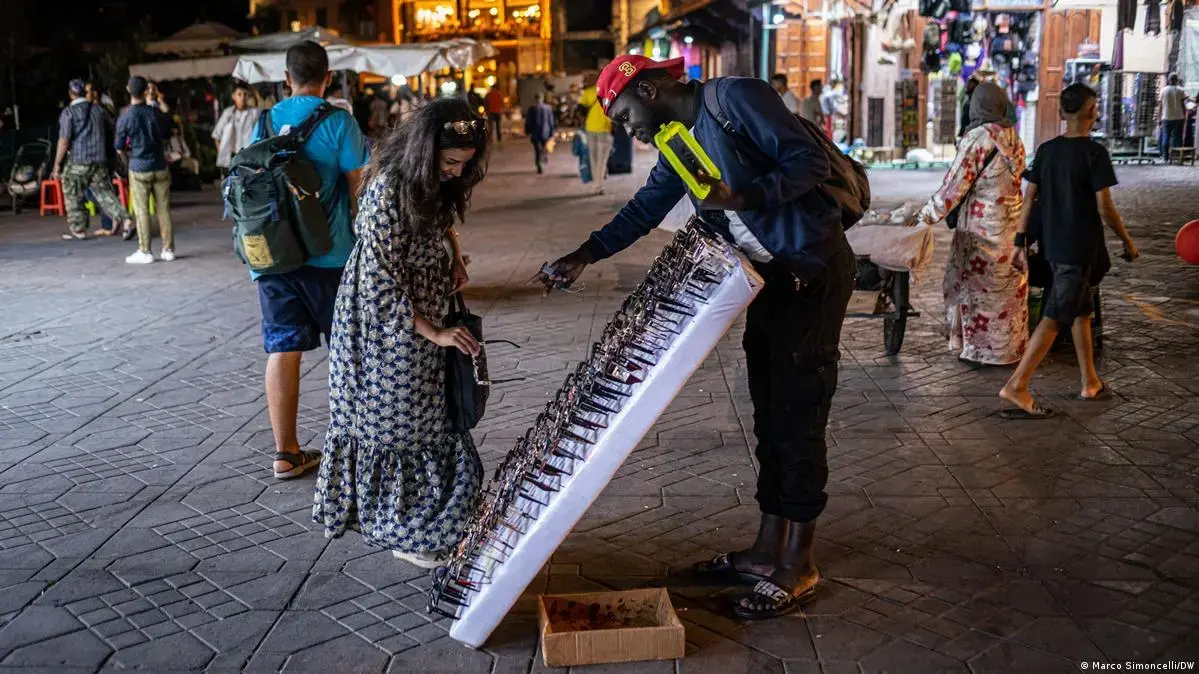 Making a living in Marrakech
The Senegalese community, which is the largest among sub-Saharan migrants and still growing, is well organized, especially in urban centers like touristy Marrakech. Here, it is easy to join the street trade as a first job — like this Senegalese salesman on the famous Jemaa el-Fnaa Square.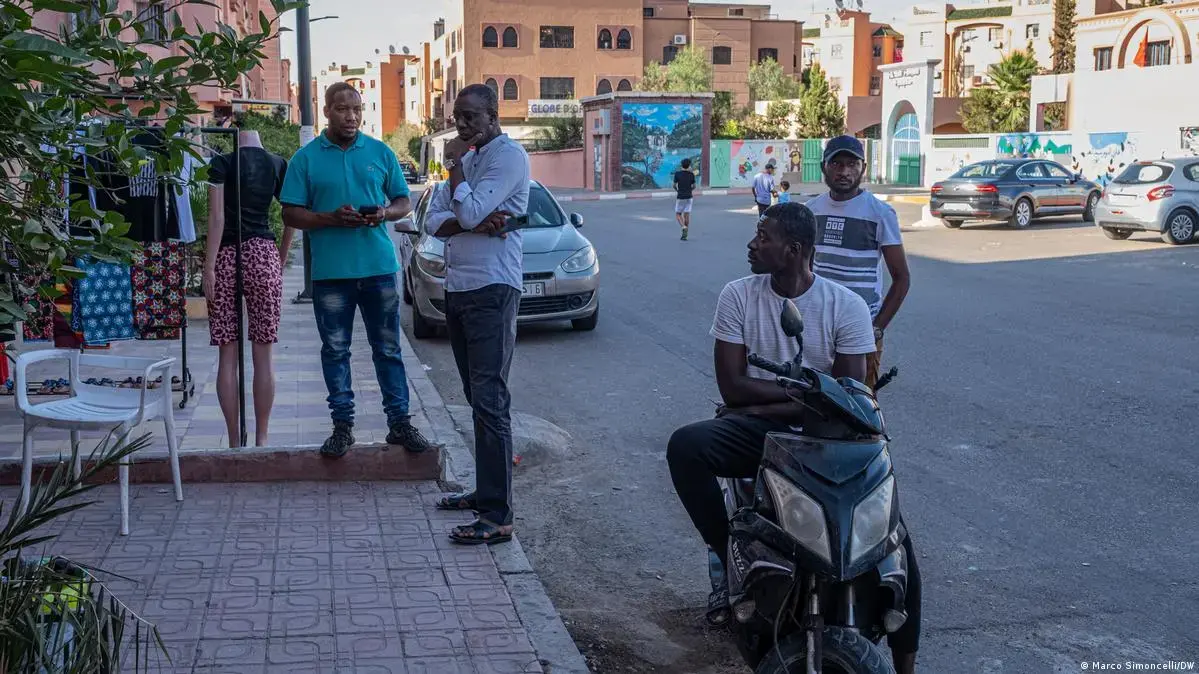 Solidarity among migrants
Babacar Dieye, President of the Association of Senegalese in Morocco (ARSEREM), talking to other members in the Dar Sahada district of Marrakech. The association and religious networks help members find housing, understand administrative procedures and access essential services. ARSEREM has 3,000 members. The Mouridiyya Islamic Sufi Brotherhood has 500 members in Marrakech alone.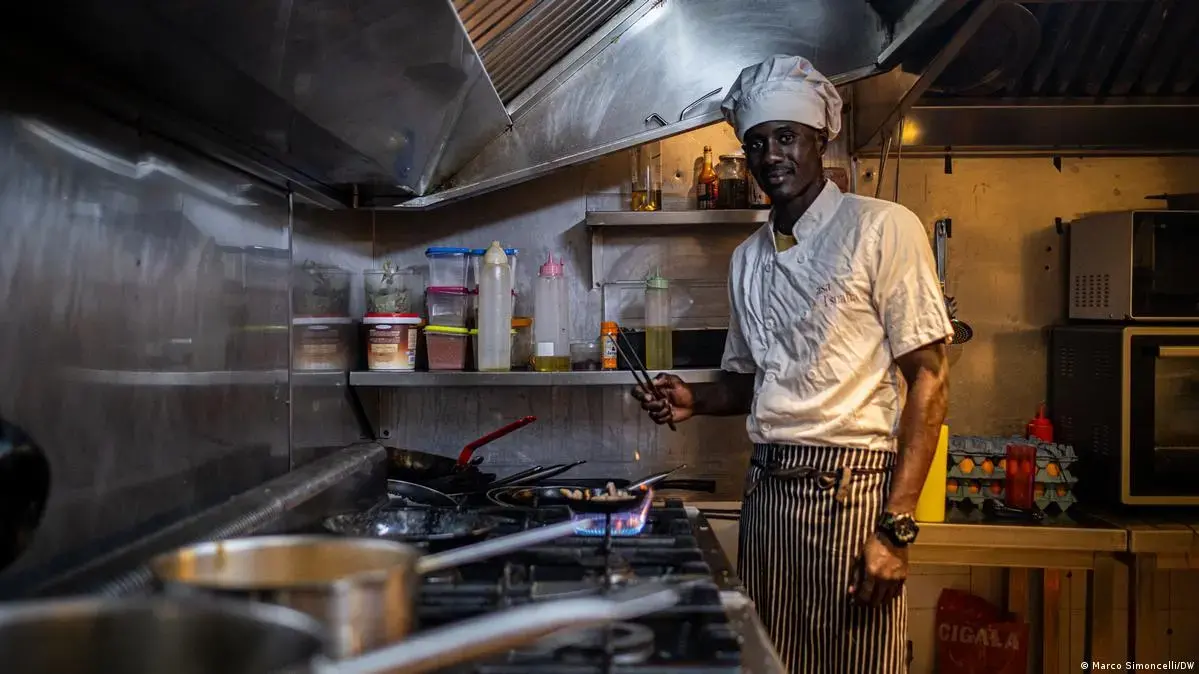 Still dreaming of Europe
After working hard in many underpaid jobs across Morocco, Omar Baye found employment as a chef in a restaurant in Agadir. "I didn't come to Morocco to stay. I tried in vain to reach Spain [irregularly by boat] for three years," he said. Although he is now a documented immigrant and has started a family, he has not given up on his dream of moving to Europe.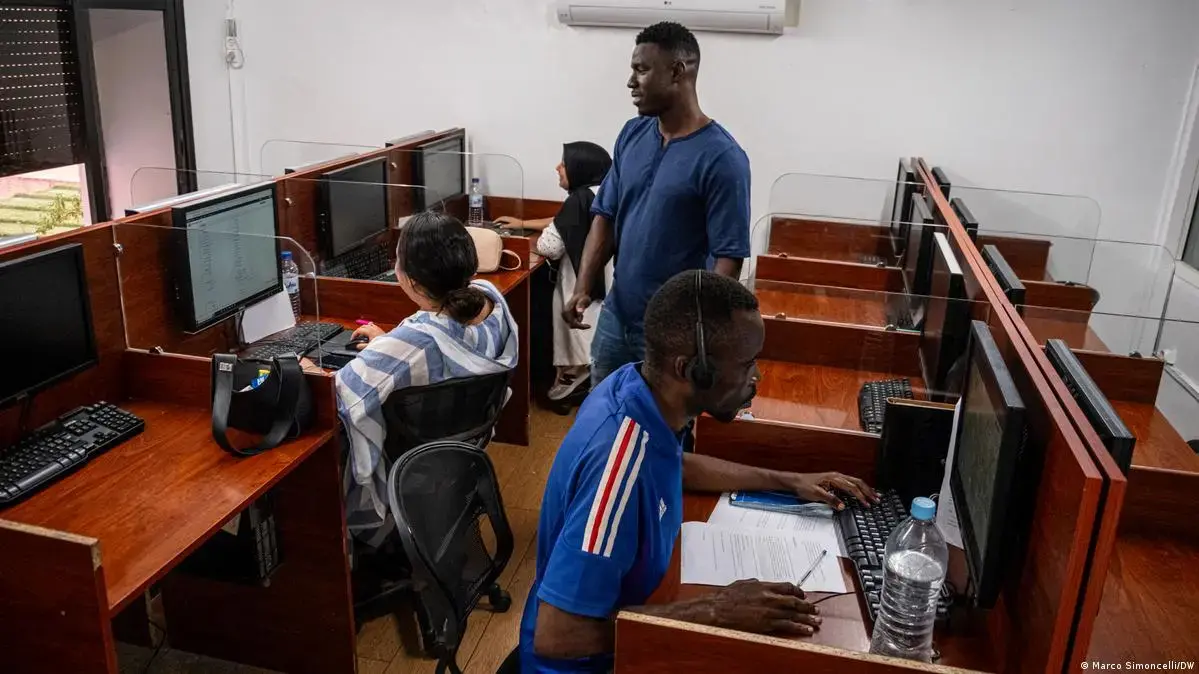 The perks of speaking French
For years, Babacar Diomandé (standing) has worked in a call center in Marrakech. Now, he leads a small team for a trading company. Thousands of migrants work in call centers for a monthly salary of up to €55. Companies mainly deal with the French market, making it increasingly difficult to hire Moroccans, who have turned away from the language introduced during the period of French colonial rule.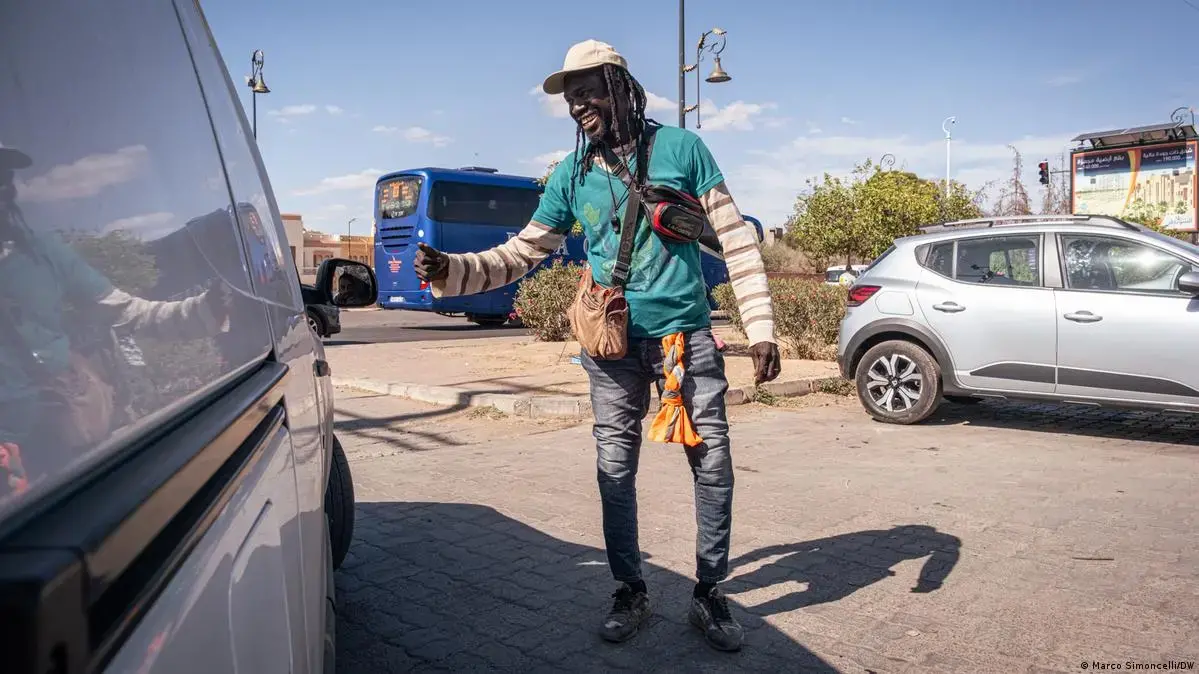 Routine racism
Mohamed Cheikh runs a parking lot on the outskirts of Marrakech. He obtained a residency permit early because he married a Moroccan woman. He says that the community still does not accept mixed marriages and such marriages must often remain secret. Cheikh has a good relationship with his customers but still experiences many forms of racism.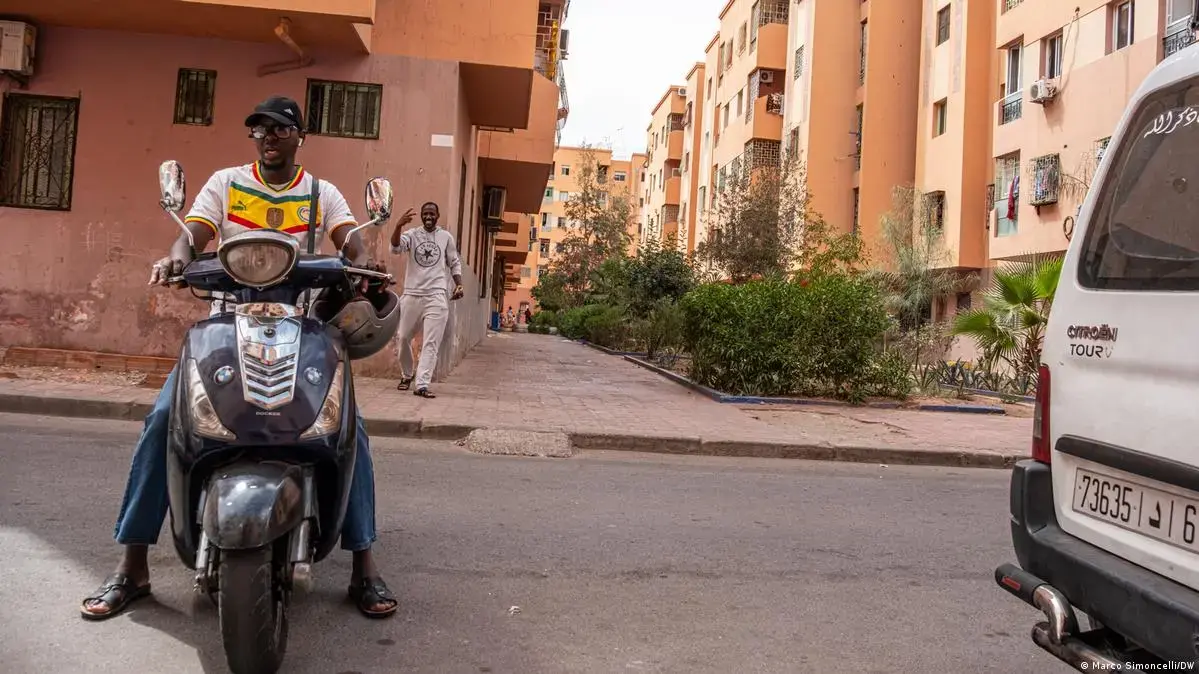 Social tensions and violence
Yahya Aidara opened a restaurant and a business in Marrakech importing products from Senegal. He has many Moroccan friends today, but he "had so many disputes with sellers in the past," he says. Morocco has a 13% unemployment rate. 30% of Moroccans aged under 24 have no work. Where competition is fierce, tensions between the local population and migrants sometimes lead to violence.
Encouraging integration
An area of Casablanca's Medina market is nicknamed "marché sénégalais" because of its many Senegalese traders. The increase of migrants settling in Morocco pushed Rabat to rethink its integration strategies. Since 2014, two regularization campaigns allowed more than 50,000 foreigners to obtain residency permits. In 2018, the African Union named Morocco the 'African champion of migration.'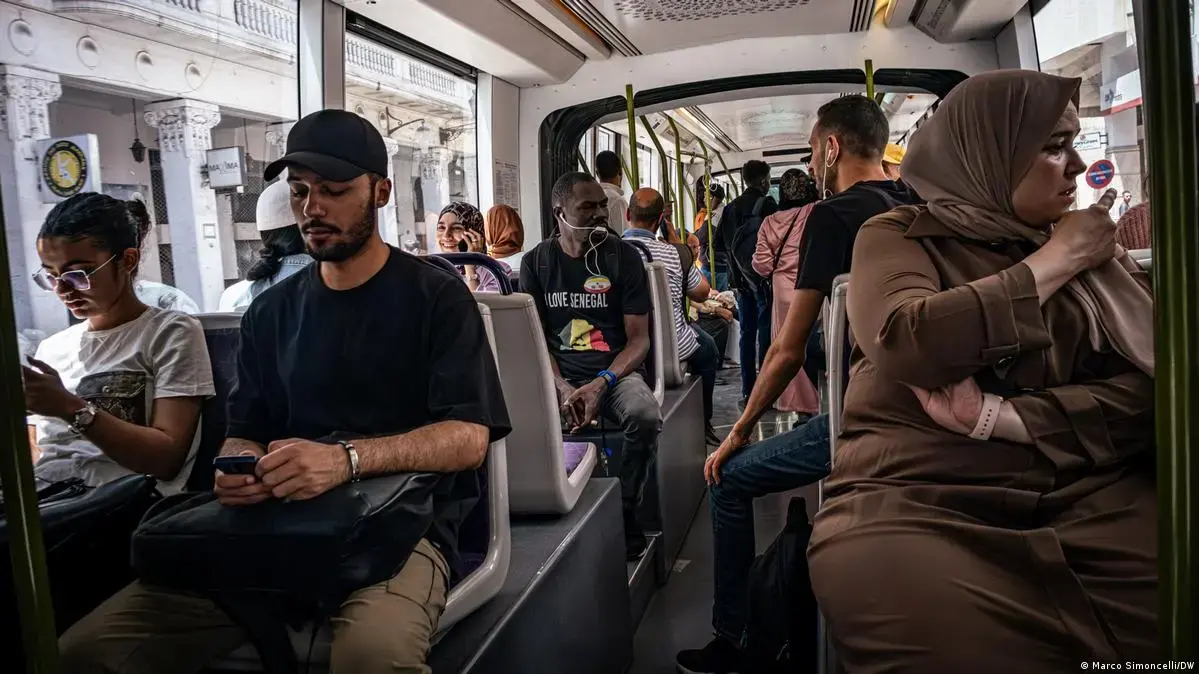 Migrants need more support
A young Senegalese (center) listening to music on the tramway in Casablanca. Between 2014 and 2022, the EU allocated €2.1 billion ($2.2 billion) in cooperation funds to Morocco to strengthen its border and manage migration. However, the country's legal framework for immigration is still based on a 2003 anti-terrorism law and lacks funds for integration policies.
Falling through the cracks
For every success story like Khady's, there are many more women who are stuck in limbo. There are a reported 70,000 to 200,000 sub-Saharan migrants in Morocco — many of them undocumented. Women without documentation are particularly vulnerable to various forms of exploitation and marginalization, especially in the agricultural and domestic service sectors.
Faced with growing numbers of migrants, Rabat has also been forced to review its integration policies. Two regularization campaigns in 2014 and 2017 enabled some 50,000 migrants — many from sub-Saharan Africa — to obtain residence permits.
According to Aida Kheireddine, a Moroccan researcher and expert in gender and migration, these campaigns were initially beneficial for the migrant community.
"We saw for the first time in Morocco's history a mass regularization operation of migrants and special attention was given to women," she told DW.
"There were criteria; you had to have been in Morocco for more than five years, etc.…and priority was given to women and children. From 2018, we have seen this policy regress."
Despite the regularization efforts, Morocco's legal framework is still governed by a law written back in 2003 which complicates the process of obtaining residence permits.
Researchers and NGOs also report a lack of gender sensitivity in migration regulations and legislation. According to Kheireddine, women with unstable jobs are especially at risk.
"(They are) at risk of different types of violence," she explains. "First and foremost, sexual violence. Violence experienced by undocumented migrants is a daily occurrence."
Domestic work still risky for women
In Casablanca, Adji (editor's note: name changed) works as a cleaner and a nanny for a Moroccan couple. She arrived in Morocco in 2019 and is originally from the Casamance region in Senegal.
Her first priority is funding her children's education back in Senegal. She found her first job in Morocco through an agency, but after four years it ended badly. She remains vague on the details.
"I never asked for a salary increase," she told DW. "All I wanted was for them to help me with the regularization paperwork."
Like many of her female colleagues, Adji has remained undocumented since her arrival. Working 10-12 hour shifts a day for 2,500 – 3,000 dirhams a month, she tries to put things into perspective.
"It's still the best you can get. If I were in Senegal, I could never get this salary."
After a decade of debate, a new domestic work law took effect in Morocco in 2018. At the time it was hailed as significant progress and included a requirement for a standard contract. But by 2021, only 5,000 female domestic workers have been registered under the new system out of an estimated workforce of over one million.
Adji said she occasionally faces discrimination on public transport or at work from other Moroccan colleagues. But she still hopes to one day take a pastry course here and eventually return to Senegal.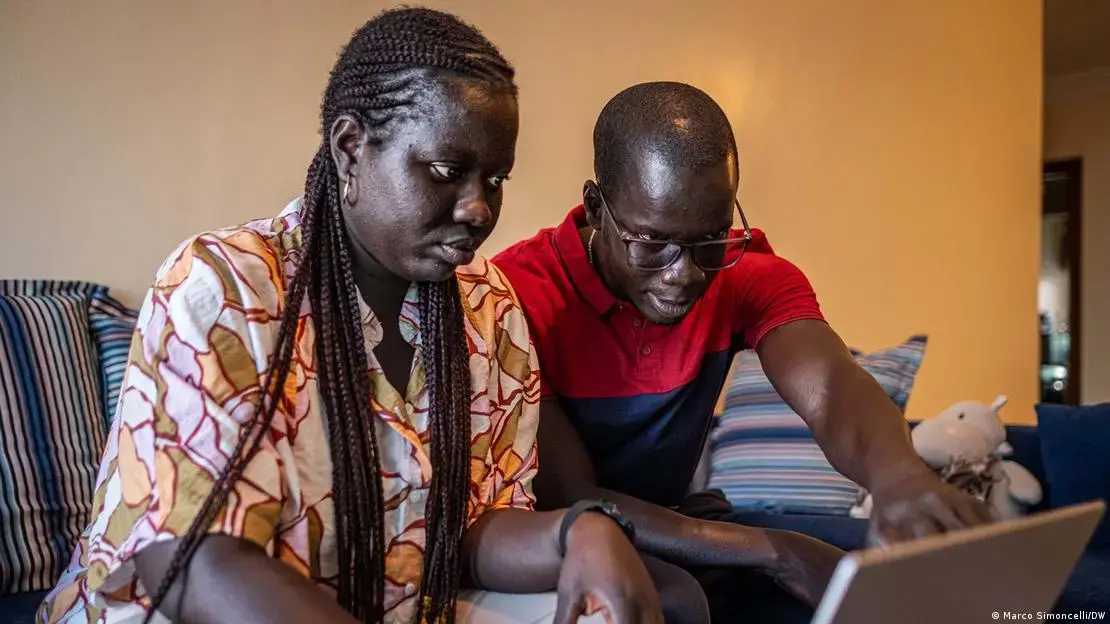 "I think the difficulties these women face are mainly related to the fact that they are not informed when they arrive, about where to stay, what the steps are and so on," said Ndeye Yacine Ndiaye, another Senegalese worker who has lived in the Bourgogne neighborhood of Casablanca for 15 years.
She arrived with a master's degree and today works as a communications manager in a bank. Together with her husband, she decided to get involved in the sub-Saharan migrant community and help others like her. She founded the online platform "Attaches Plurielles," which aims to show "the other side of the sub-Saharan diaspora in Morocco" by interviewing both migrants and migration experts about the issues affecting the community.
"We try to show the brave women who do excellent work, who don't just let themselves be, but try to unlock their situation. Those who have the will to succeed."
Edited by: Ineke Mules
RELATED ISSUES

Issue
Migration and Refugees
Migration and Refugees

Women