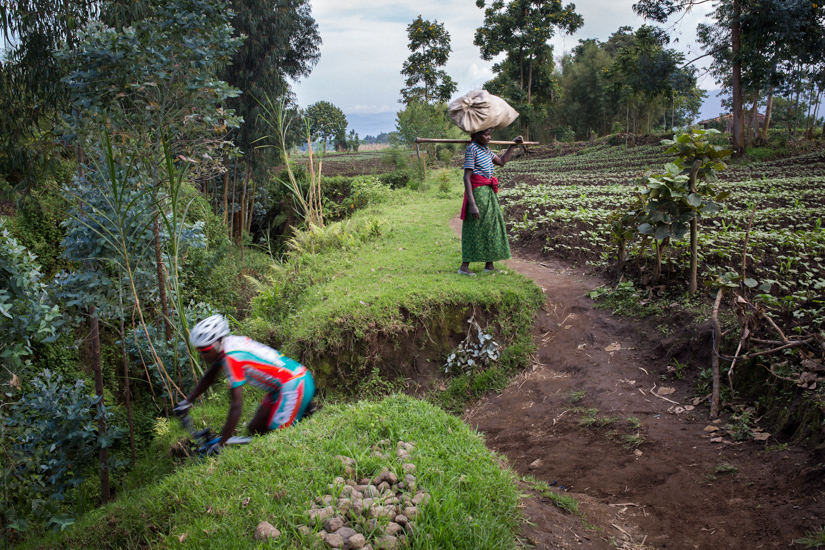 Dotted with farmers and goats, Rwanda's only mountain bike track winds through the foothills of volcanoes and the backyard of the country's famous gorillas. Just two-months old, the picturesque 6.5 kilometer loop was specially built for the African continental championships Olympic qualifier, which opened Friday.
"We need to make the world know about [our] cyclists," said Janvier Hadi, 24, one of Rwanda's promising young riders. Veteran Jean de Dieu Uwimana agrees. Nicknamed "Rafiki', or even 'Kiki' for short, the thirty-six year old, says, "This is our chance."
The elite men race Sunday and, at the end of six laps on the Swiss-designed track, only the top two nations earn a spot for Rio next summer. Expectations for Team Rwanda riders aren't particularly high. After years of road racing, this will be the first mountain bike race for most of them. Nonetheless, the event marks Rwanda's first major stab at the discipline and is yet another milestone in the cycling team's already storied past.
Over the last decade, Team Rwanda has slowly grown from a cohort of five to a squad of nearly two-dozen. Chronicled in the documentary Rising From Ashes, the unlikely group of former bicycle-taxi drivers and delivery men emerged against the backdrop of a genocide that left nearly a million here dead.
"After 1994 peace was being restored and everyone started doing what they loved to do," said Abraham Ruhumuriza, who, like Rafiki, was a founding member of the team. At first that meant riding decades old single speed bikes with more than a few broken parts and entering ragtag local races. This didn't begin to change until 2005, when pioneering American mountain bike designer Tom Ritchey took interest in Rwanda following a visit to the country. Soon after, he organized the 'Wooden Bike Classic' race in the western town of Kibuye.
On hand was Ritchey's longtime friend, Jonathan "Jock" Boyer, who was first American to ride the Tour de France in 1981. A skeptical Boyer figured his trip to Rwanda would be a one-off thing. The prospects of developing a cycling program seemed improbable, at best. But, struck by the talent, Boyer moved to Rwanda in early 2007 to evaluate riders and assemble a team.
"We weren't supposed to be here this long," he said, from the porch of the house where he now lives with his wife, two dogs and a cat. The three-month trip stretched into six, then a year, and now eight. With Boyer came an almost exclusive focus on road racing and astonishing growth. Team Rwanda is now an African stalwart with a roughly $400,000 per year budget and brand new headquarters.
Completed last year, the 'Africa Rising Cycling Center,' is a little oasis of bungalows, bikes, and yoga classes just outside the northern city of Musanze. Plastered on the side of one building is a giant Turkish Airlines sponsor logo. Above the bikeshop the 'Team is Team' motto. Rafiki's son six year old son Jonathan—named after 'Coach Jock'—races around the compound with a number 51 race bib hanging off the back seat of his forest green bike.
The move into mountain biking is an evolution aimed as much at the team's next generation as its last. Boyer jumped at the opportunity to host the African championships because he believes they can help jump-start a nascent tourism niche here. Gorilla viewing is currently the area's top draw, but at $750 an hour it often only keeps visitors in town for an afternoon. Mountain bike tours, Boyer says, last much longer and could provide jobs—such as guiding or hospitality services—for Rwanda's growing number of 'aging out' riders.
"We've already invested so much time, money and energy into [our riders]," he explained. "We want to keep them onboard."
Of Team Rwanda's original five, the two stars—Adrien Niyonshuti (now racing for a top-South Africa team) and Ruhumuriza—are still quite competitive. Others are winding down. Nathan Byukusenge, wants to become a cook and spends much of his free time in the kitchen or the team's lush organic garden. Obed Ruvogera is training to become a soigneur, and recently spent five months in America learning about massage and yoga. Rafiki, who started cycling on a single speed bike back in 1998, retired two years ago and is now the team mechanic.
"Seventeen years is a long time, you know?" he said, standing on the porch of the compound's bike shop methodically lubricating chains, adjusting brakes and checking cables on the team's stable of Scott mountain bikes. His son Jonathan looks on. "I'm happy to see these younger guys, and give them my experience."
Even for the young Rwandan riders though, the chances earning an Olympic berth this weekend are extremely slim. Not impossible—Niyonshuti did it four years ago—but, citing the strict qualification requirements, Boyer says, "It's going to be hard." Regardless, he seems to put more of an emphasis on whether the championships further the off-track transformation he's already seen in his riders.
"[My first days on the team] were so crazy. I was very, very happy," said Janvier Hadi, the up and coming twenty four year old. The opportunity to ride alongside his childhood heroes also came with a base salary of $100 a month and race earnings that can boost his income up toward $6,000 per year. In a country where per capita GDP is around one tenth that, the money has enabled him to move out of his mother's house and, at least from his perspective, "buy anything, anytime."
It's clear that Hadi is eager to pass on the good fortune. He has already recruited a talented 15-year old to the team, and, deep in the woods of the mountain bike track, he playfully banters with the throngs of children who come out to watch practice. He asks: "Do you want us to come back?" They all shout, "Yes!"
Every Friday, the team pedals back to their respective homes. Some to the Rwandan capital, Kigali, more than 100 kilometers to the south. Others to even more distant corners of what is knows as "the land of a thousand hills." On Mondays, they make the reverse trip and continue their collective push to bring Team Rwanda full circle.
"It's pretty cool," said Boyer, before heading to dinner at the mess hall. "A lot of our riders won't go to Europe or make it on the big scene. [But] if they're on Team Rwanda, their life is changed forever."
RELATED ISSUES