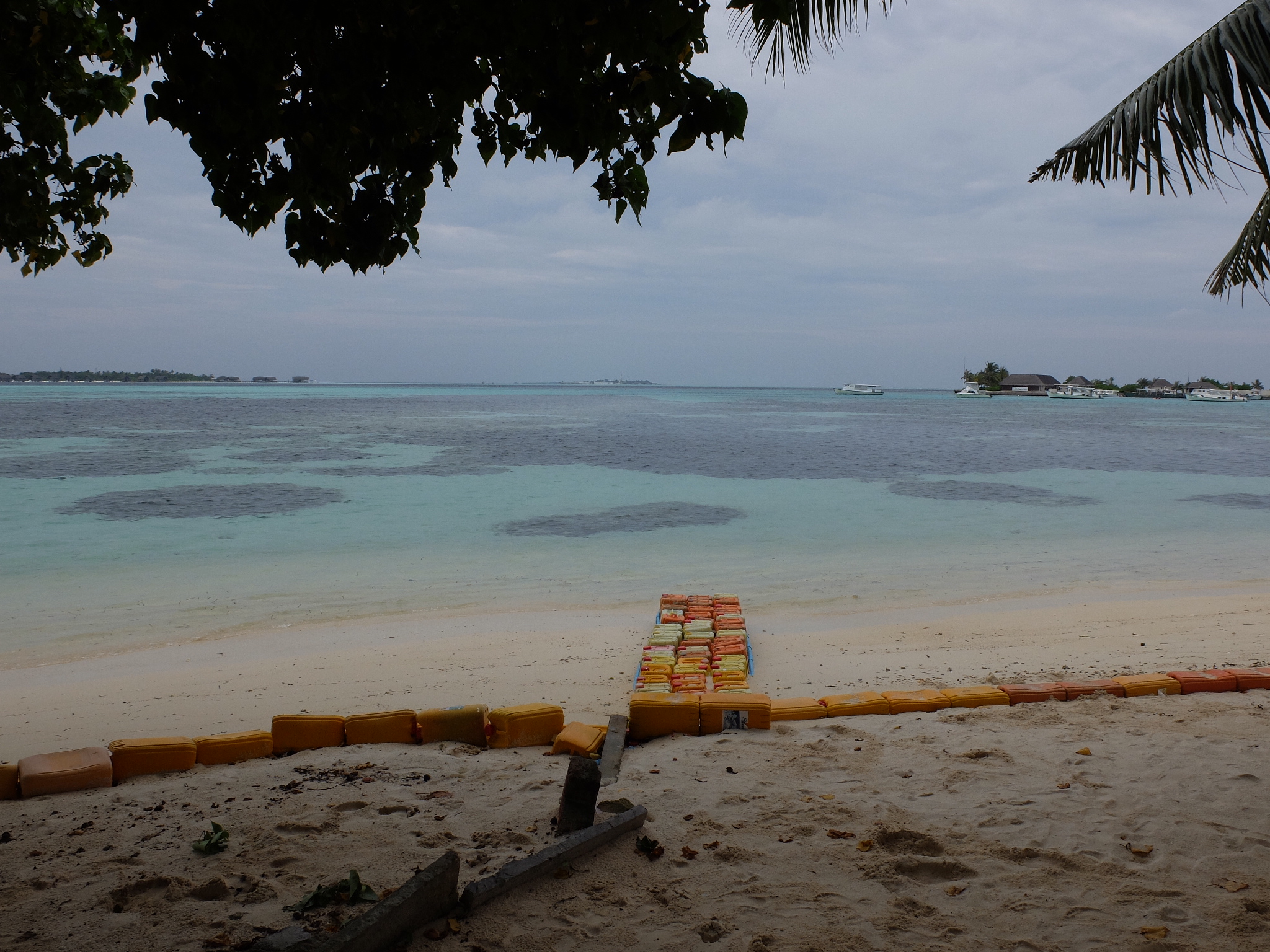 From the foyer of his small guesthouse some 100 feet from the shoreline, Mohamed Nizar, 52, was wondering how long his business could remain viable.
Last year, during an unusually nasty storm, water snaked through the narrow streets of Guraidhoo, a small island in the Maldives, pooling around the floor of the three-room house and chasing away guests.
Down along the beach, the picture was even worse. Erosion of the shore has become so severe, he said, that the owner of a neighboring guesthouse stakes plastic jerrycans in the sand to curb flooding during sea swells.
"What is the lagoon now used to be the football field on this island," Mr. Nizar said on a recent afternoon. "I have to leave this guesthouse if it keeps eroding. I am sure of it."
Guesthouses have proliferated across this archipelago in the Indian Ocean, as the Maldives shifts away from catering to the über-rich and welcomes budget-conscious travelers.
But unlike resort islands, which spend millions of dollars on constructing sea walls, dredging sand and hiring marine biologists, islands with small-scale guesthouses are mostly reliant on the government for protection from shore erosion and rising seas, which many on Guraidhoo attribute to climate change.
Residents say the funds for conservation projects are available in the form of tourist taxes, paid through business owners to the government. The problem, they say, is that it is unclear where the money is going — or whether it ultimately can save the world's lowest-lying country.
"If the Maldives don't exist, we're not losing just 400,000 people," said Maeed Mohamed Zahir, the director for advocacy at Ecocare, an environmental organization based in Malé, the capital.
"We're losing a nationality, an identity, a cultural history, a language, a script," he added. "We're losing the beaches. We're losing the coconut palms. We're losing everything."
For most of the Maldives's history as a tourist destination, its government prohibited visitors from staying on the 200 islands inhabited by locals. Instead, foreigners were ferried to privately owned resort islands where villas jutting out into the ocean are the norm.
But after the 2008 election of Mohamed Nasheed as president — the first democratically elected leader after 30 years under autocracy — a law was passed that allowed residents to open guesthouses.
Although the tourism industry is still dominated by villas rented for thousands of dollars a night, foreigners can now book more modest accommodations for as little as $30. Around 400 guesthouses are registered in the Maldives.
As this backpacker brand of tourism expanded, questions have arisen about whether allowing visitors to stay alongside Maldivians would chip away at religious tradition on the islands. The Maldives is officially 100 percent Sunni Muslim.
On a recent day, clusters of women wearing hijabs wove around Guraidhoo's candy-colored shops, which sell knickknacks imported from Thailand.
Unlike resorts, guesthouses are prohibited from stocking alcohol, and island councils have designated certain stretches of the shoreline as "bikini beaches" where tourists are able to wear more revealing swim suits.
The beach is its own separate island, heavily wooded and connected to the rest of Guraidhoo by a plank bridge. Occasionally, residents say, complaints are heard about the guests' attire. But for now, the question of modesty has mostly been addressed by moving the sunbathers to another island.
Now, with guesthouses injecting cash into local economies and providing greater employment opportunities outside the resort industry, many hope this new revenue generator is here to stay. That is, of course, if the islands remain above water.
In 2015, to help fund conservation and waste management projects in the Maldives, the government passed a bill levying a "green tax" on tourists visiting resorts. For every night booked, tourists pay $6. Last year, guesthouses, which were initially exempt from the policy, were added to the list of green taxpaying businesses at a discounted rate of $3 a night.
Guraidhoo has a permanent population of around 1,900 people, but hosts 12 guesthouses and another 1,000 day visitors. But residents say the government has yet to start work on their island.
"It is very simple," said Mohamed Solih, 50, the owner of Ithaa Beach Inn. "The cow that gives more milk has to be fed more. So islands that pay tourism taxes should be a priority in shore protection initiatives by the government."
Asked how green taxes are spent, the Ministry of Environment directed questions to the country's Environmental Protection Agency, which directed questions to the Ministry of Finance. The Ministry of Finance declined to comment despite repeated questions. A review of the country's 2017 budget proposal did not yield information about where green tax revenue is allocated.
Among concerns voiced by residents of Guraidhoo are a monsoon season that has become more erratic and intense, and degradation of the reef system, which acts as a natural buffer against rising seas. There are also problems with erosion — which residents attribute to storm surges — harbor modifications and even shore protection practices on other islands.
Gazing out toward the island of Kandooma, which is separated from Guraidhoo by a thin channel of water, Mr. Solih said he believed part of the erosion problem could be attributed to sand dredging at the nearby Holiday Inn Resort.
"Erosion on this island is very much connected to the development work done on the resort," he said. "Kandooma is a coral rock island, not a sand island like you see now. They dredged sand and pumped sand and reclaimed the beaches. After that, erosion became a big problem here."
At the resort, Mohamed Shahid, a marine biologist who oversees shore protection projects, said sand dredging was not eroding Guraidhoo's shore, but he acknowledged that the relationship between the islands had occasionally been frosty.
"We have had a lot of discussions with the local authorities on that side," he said, adding that Guraidhoo improperly disposes of garbage, which affects the resort. "We try to be diplomatic. We help them and they help us kind of a thing."
On a recent tour of the Holiday Inn, Mr. Shahid was enthusiastic about technology used to protect Kandooma. Apart from using a dredging machine, which he estimated cost several hundred thousand dollars, concrete sea walls have been erected at certain points near the beach.
In total, Mr. Shahid said the operating budget for putting shore protection in place at the resort most likely surpassed $1 million.
On a recent afternoon, a group of men with weather-beaten skin from the Guraidhoo council lounged on the beachfront, chewing areca nuts and discussing the next week's agenda.
Hussain Yameen, 26, the council's wiry president, said it had been difficult to compromise with the resort, because, in part, he believes its work has approval from the Environmental Protection Agency. But his face brightened when asked about future projects on the island, saying he hoped Guraidhoo would have shore protection by the end of this year.
"Right now, we are trying to get some approval from the government," he said. "We have a plan on developing this island. The whole island will be protected."
Near the water, Mohamed Shareef, 37, who lives in a beachfront house with six members of his family and 18 renters, was less optimistic about his chances of staying put.
As water has crept closer to his home, occasionally lapping at steps leading up to the porch, islanders have begun stacking chunks of concrete from demolished buildings and pieces of broken tile along the shore to create a makeshift sea wall.
Mr. Shareef said discussions of conservation on Guraidhoo should not be limited to guesthouses, which are typically built closer to the shoreline.
"If another five or so feet of beach erodes, the waves will be inside my house," he said, pointing out toward the spot, over a plain of turquoise water, where a helipad used to be. "If the government wants to do something, it should not be because tourists are now coming to this island."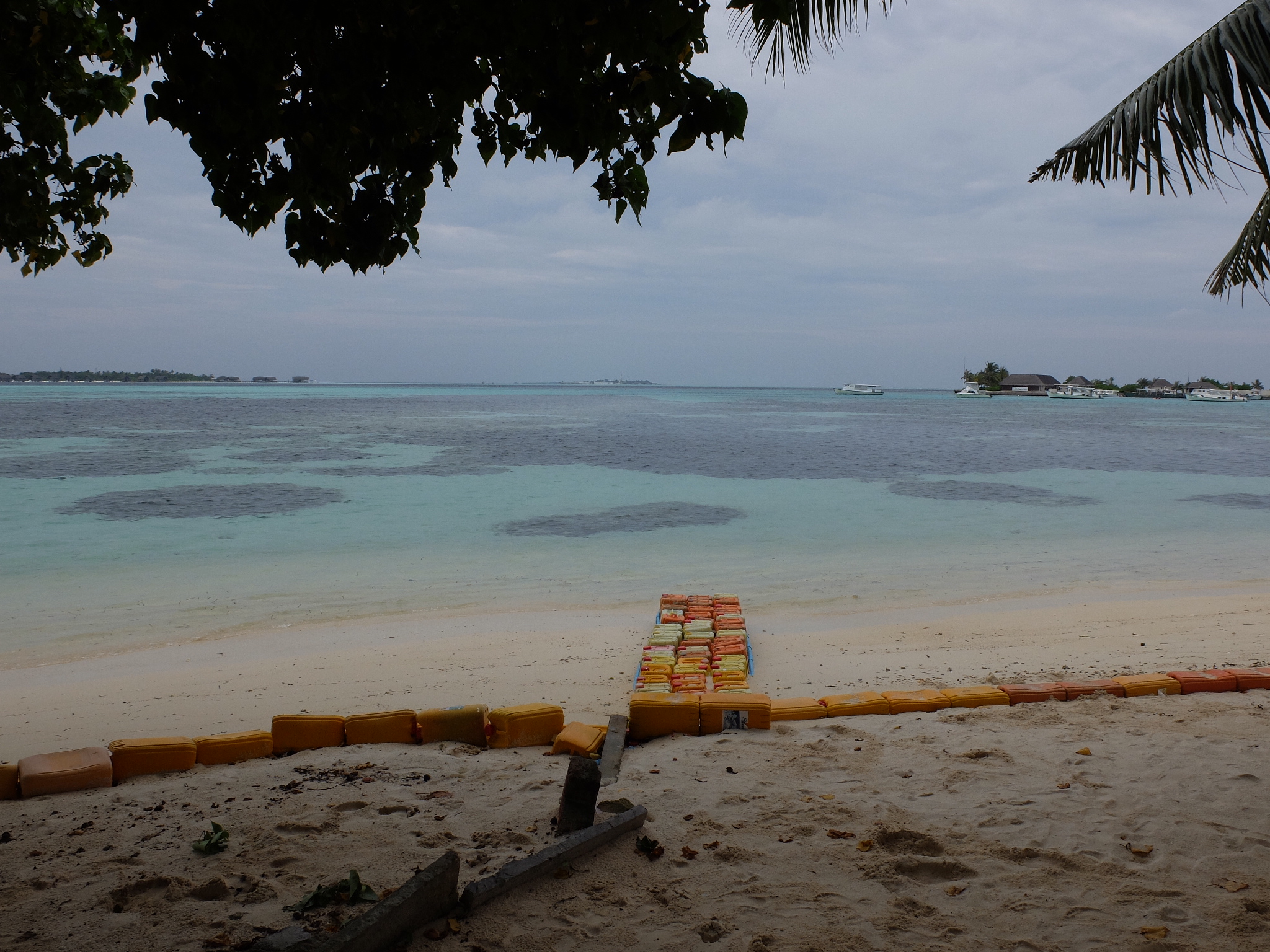 Kai Schultz reports that far-reaching corruption is threatening to topple the Maldives's fragile...
RELATED ISSUES