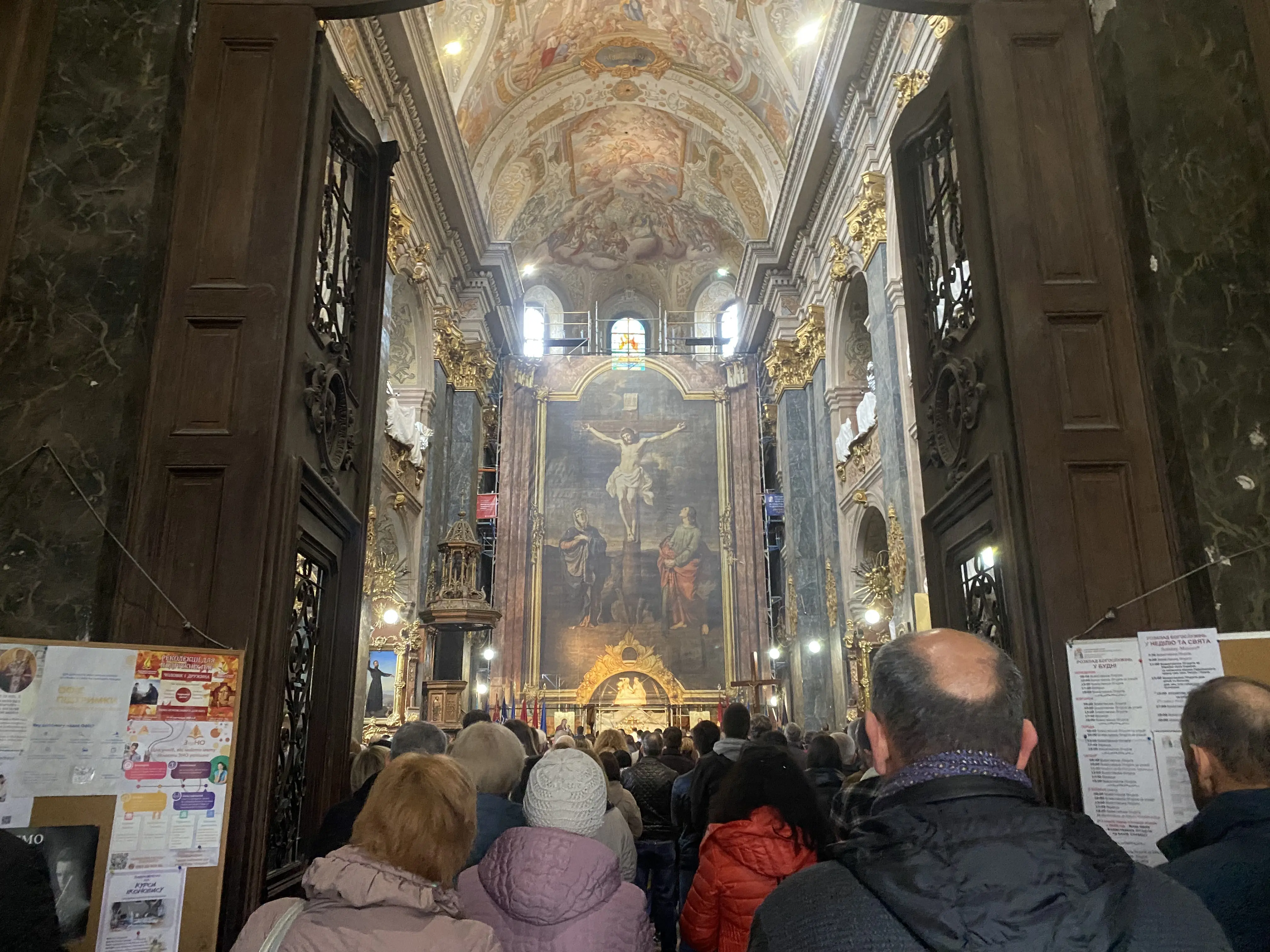 On Saturday and Sunday mornings, I found two starkly different scenes as I walked through the streets of Lviv, a Ukrainian city approximately 70 kilometers from the Polish border. 
Bustling, noisy crowds filled the streets on Saturday. Whether it was an old couple sipping their coffees on benches in Rynok Square, a young husband and wife watching their children play in front of the National Opera, or Ukrainian soldiers monitoring conditions around the city, everyone was out and about. 
On Sunday morning, however, I felt as though I was in a completely different city. The streets were empty, and aside from the ringing of church bells, silence flooded Freedom Avenue as I walked towards Saints Peter and Paul Garrison Church.
I had conducted interviews with Fr. Taras Mykhalchuk, the chaplain of Saints Peter and Paul, on Saturday, but I returned on Sunday to attend a Ukrainian Greek-Catholic mass before I embarked on the lengthy bus ride back to the Czech Republic. I arrived 15 minutes early, naively thinking that I could find a seat to take notes. But, to my surprise, people had already packed into the church like sardines. 
Despite being raised in a Catholic family, what I saw and felt in this church was unlike anything I had ever experienced. On this regular Sunday morning, before mass had even begun, Saints Peter and Paul had more people in it than most American churches would have on the Christmas and Easter holidays.
As a constant influx of people continued to pour into the church for the entirety of the liturgy, people who could not find seats stood in the aisles. When a young mother tried to quiet her crying baby, a young Ukrainian soldier in uniform, who looked younger than I am, offered his seat to an older woman who had just arrived. Underneath their winter coats, the parishioners were dressed in their finest clothes. 
When there was no more room to stand inside, people braved the cold outside Saints Peter and Paul, where they could hear Fr. Mykhalchuk over a speaker. They actively followed the liturgy—praying, making the sign of the cross, and kneeling at specific points throughout the mass.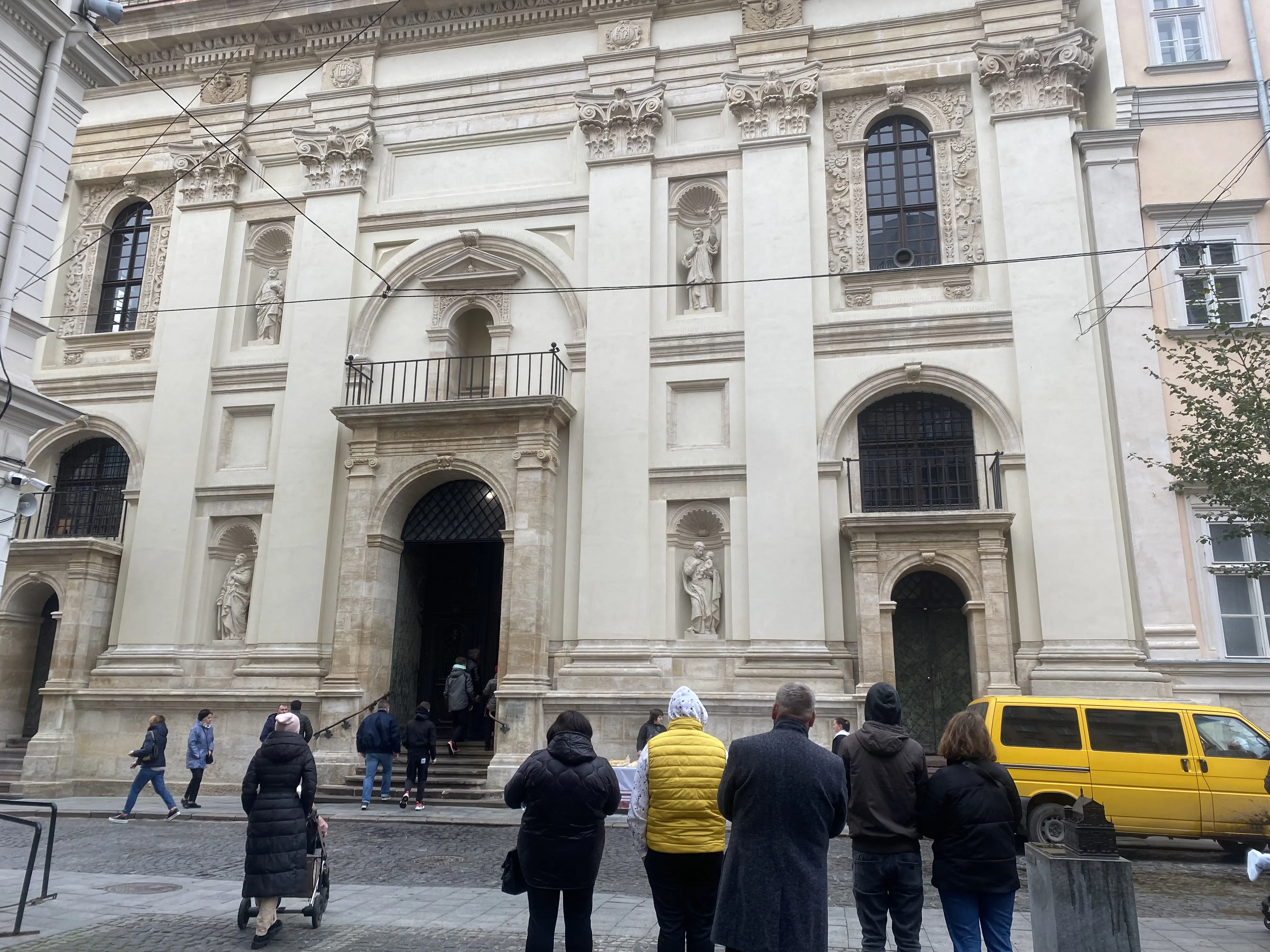 Not only was there a staunch difference in the number of attendees, but the atmosphere in this church differed from those with which I am familiar. As I listened to the mass, I was reminded of my conversation with Dr. Volodymyr Turchynovsky, Dean of the Faculty of Social Sciences at the Ukrainian Catholic University in Lviv.
He told me about the celebration of mass that the university held at the beginning of the 2022 academic year. This is an annual tradition at which faculty, students, and their families gather before classes begin. Turchynovsky explained that the university administration did not make any additional efforts in their invitations this year in response to the war, yet people from all generations filled the university's church to the brim.
"Sometimes you have the impression that people are there because they are supposed to, and you see that in their faces and postures—that they are there but not quite present in what is going on," he said. "But this time, I felt physically a kind of solemnity among people who were praying in that church."
I felt this same solemnity on that Sunday. As air sirens screeched throughout the mass, I was amazed by the peace that I found in Saints Peter and Paul. With every air alarm, there came a pervasive reminder of death. And yet these Ukrainian Greek-Catholics remained utterly steadfast in their devotion. 
RELATED ISSUES

Issue
Conflict and Peace Building
Conflict and Peace Building

Religion