We are just weeks past Easter, the holiest day of the Christian calendar. For the 70 percent of Ukrainians who are orthodox, the day was freighted with extra meaning this year. The Ukrainian Orthodox Church split from its Russian parent when Vladimir Putin first invaded Ukraine eight years ago, and now religion's role in the conflict is front and center. Nick Schifrin reports.
---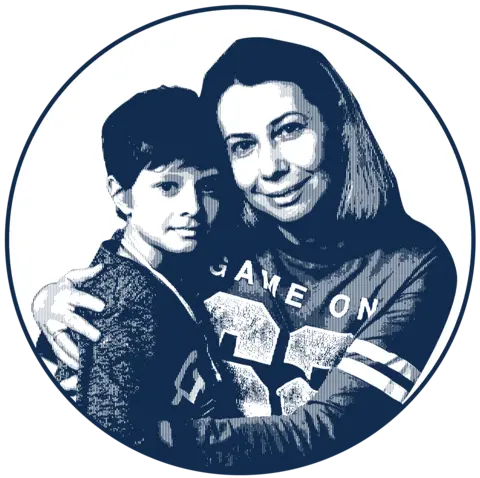 As a nonprofit journalism organization, we depend on your support to fund coverage of global conflicts. Help us continue funding the hard costs of in-depth coverage of the Ukraine invasion—including travel, hostile environment safety training, and the increased security expenses that arise from reporting in war zones.
---
Read the Full Transcript
Amna Nawaz: For the 70 percent of Ukrainians who are Orthodox Christian, the celebration of Easter this year was fraught with extra meaning. Ukraine's Orthodox Church split from its Russian parent when Vladimir Putin first invaded Ukraine eight years ago. And now religion's role in the conflict is front and center. Here is Nick Schifrin.
Nick Schifrin: In the center of Ukraine's capital, where even the divine needs defense, a priest leads soldiers seeking blessings. On Orthodox Easter last month, those who needed the most protection found a quiet moment to request it. Ukrainians are fighting a war that threatens their very existence. And in the presence of God, they pray not only for restoration, but also judgment, which is what Father Feodosii provides. He blesses Ukrainians and scorns Russian soldiers accused of war crimes.
Father Feodosii, Ukrainian Orthodox Priest (through translator): It is tragic that people who call themselves Christian allow themselves to do such things.
Nick Schifrin: Metropolitan Epiphanius, the head of the Ukrainian Orthodox Church, goes further. He condones killing Russian soldiers in the name of saving the country, and has likened Russian President Vladimir Putin to the Antichrist. Putin replies with his own judgment via his own ally. On Orthodox Easter in Moscow, the service is led by Patriarch Kirill, a longtime Kremlin partner. He portrays the war as part of Moscow's defense of Eastern Ukraine from what he disparages as Western ideals.
Patriarch Kirill, Russian Orthodox Church (through translator): The Donbass is a rejection of the so-called values offered by those who lay claim to global domination. Today, there is a certain test for loyalty to that power. Do you know what that test is? It's a gay parade.
Archimandrite Cyril Hovorun, Stockholm School of Theology: Putin and his Confederates, including those in the church, present the war as almost like a sacred crusade against the presumably godless West.
Nick Schifrin: Cyril Hovorun is a Ukrainian Orthodox priest and professor of theology at University College Stockholm. I spoke to him from Ukraine via Skype.
Archimandrite Cyril Hovorun: They believe Ukraine is the cradle of what they call the Russian civilization, and it has a kind of mystical, I would say, mythical connectedness with modern Russia. I personally would call this ideology make Russia great again. I think that is a kind of the essence of what Putin tries to achieve with the support of the church.
Nick Schifrin: Patriarch Kirill gives religious cover to Putin's political ambitions, as he did on Sunday.
Patriarch Kirill (through translator): I wanted to say my heartfelt gratitude to those who are here today, but even more so wanted to say thanks again to the government and the army of ours, that today, in practically war conditions, defend our country.
Nick Schifrin: He also repeats Putin's rhetoric of self-defense.
Patriarch Kirill (through translator): We are a very peace-loving country and a peace-loving and long-suffering people.
Nick Schifrin: The reality? Kirill uttered those words the very day Ukrainian authorities in Bucha exposed mass graves full of executed civilians bound and shot. Hovorun used to work for Kirill, and quit in 2012.
Archimandrite Cyril Hovorun: I tried to convince him that this ideology is going to be extremely dangerous, destructive for the church, for himself, for Russia, and for Ukraine. We see this outcome, this result of this ideology moving masses of people, masses of Russian soldiers to fight in Ukraine and securing a very wide support for Putin in his war.
Nick Schifrin: For more than 1,000 years, Ukrainian Orthodox churches sat inside a larger Russian Orthodox Church. But then Russia annexed Crimea from Ukraine. By 2019, Ukraine's president and the overall head of the Orthodox Church in Constantinople declared the Ukrainian Orthodox Church independent. That means at this Ukrainian Orthodox service in Lviv, Father Viktor Kayda can feature the Ukrainian language and speak freely about Russia. As seen on a local TV report, he used to lead a Ukrainian Orthodox church in the southern city of Kherson, parts of which are occupied today by Russia. He says religious divides became political.
Father Viktor Kayda, Ukrainian Orthodox Church (through translator): Belonging to either the Russian or Ukrainian Orthodox churches makes a big difference. Russia knows that. And that's why it is so important for them to maintain its influence. When the priest says, this is good and this is evil, people listen and believe. It's an element of control over a large number of people. Let's be frank. It's brainwashing.
Nick Schifrin: Pope Francis has also criticized the Russian Orthodox Church and recently warned Patriarch Kirill against becoming Putin's — quote — "altar boy." In 2016, the two broke a thousand years of schism between the Vatican and the Orthodox Church, but recent attempts to meet have failed. And Pope Francis, the leader of a billion Catholics, repeatedly condemns an unnamed aggressor.
Pope Francis, Leader of Catholic Church (through translator): Peace upon tormented Ukraine sorely tried by the violence and destruction of the cruel and senseless war into which it was dragged.
Nick Schifrin: Dragged, but not defeated. And on this recent Orthodox Easter, the flock was reminded of Ukrainian tradition.
Father Viktor Kayda (through translator): Even before this war, for generations, we've had this saying: Christ has risen. Ukraine will rise too. We have hope that, maybe, after having celebrated the resurrection of Christ, we will have our own resurrection.
Nick Schifrin: For the "PBS NewsHour," I'm Nick Schifrin in Lviv.
RELATED ISSUES

Issue
Conflict and Peace Building
Conflict and Peace Building

Religion
RELATED INITIATIVES