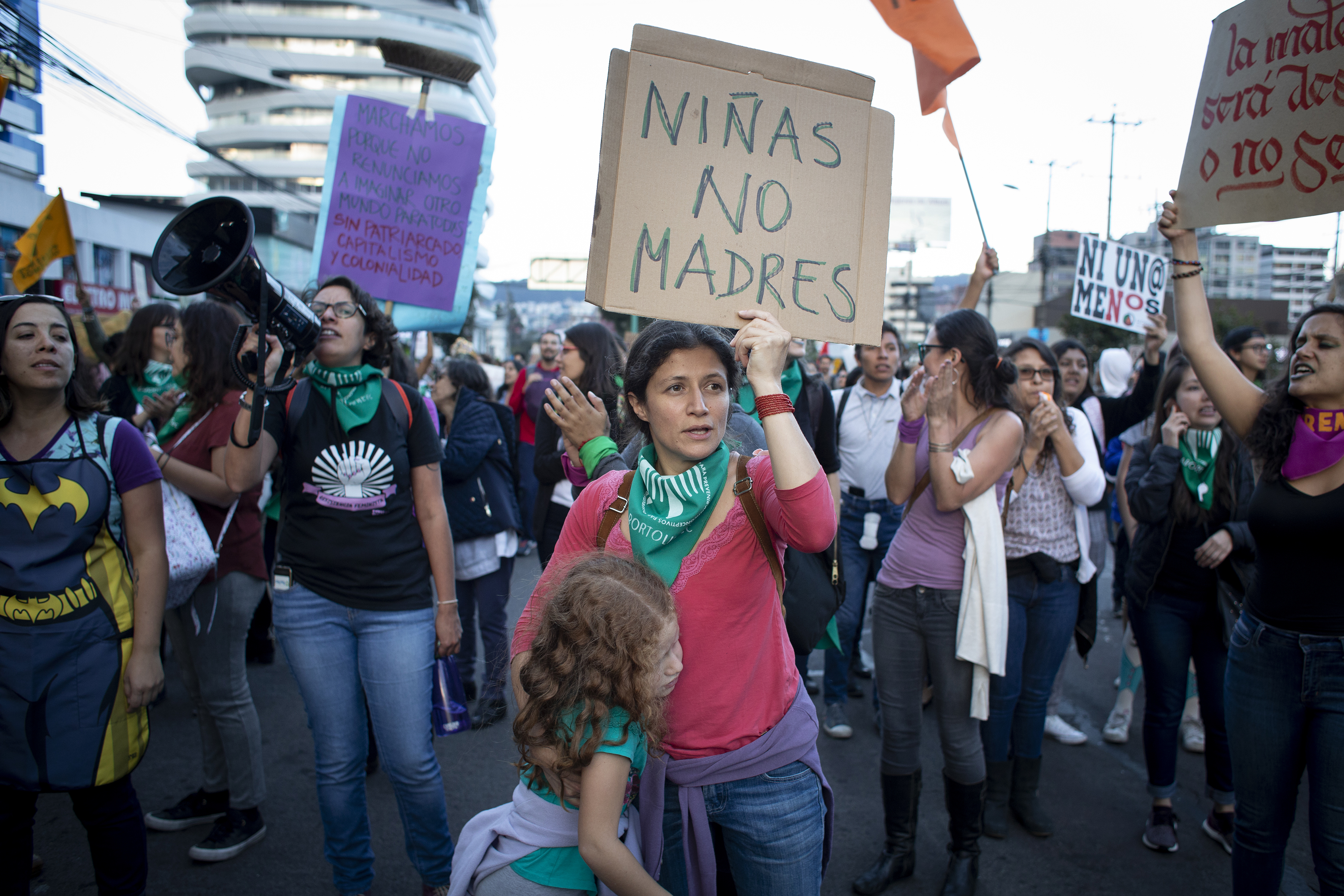 QUITO, Ecuador—The first time Tamia Maldonado accompanied a woman through an abortion, she was just 18. They met at a lush, quiet park near the center of the city. There, Maldonado explained how to order the pills online, through a Dutch NGO that provides them cheaply and safely. Maldonado told the woman how to take them, what to expect afterwards, and what symptoms might indicate that something had gone awry. She gave her a pamphlet with instructions and the number for a lawyer, just in case.
The pregnant woman was young, too, and poor. She took the pills one evening and texted with Maldonado throughout the night. At one point she wrote that she felt nauseous and weak. Later, the texts stopped coming, and Maldonado felt a surge of panic. It turned out that the woman had fallen asleep; everything was fine. "I was more nervous than she was," Maldonado recalled recently. "I had to learn how to control my own anxiety."
Maldonado, who has big brown eyes and a face like a valentine, is the youngest member of Las Comadres—which translates roughly to the Godmothers—a network that helps women self-induce abortions in Ecuador, where the procedure is illegal under most circumstances and punishable by six months to two years in prison. Enforcement of the abortion ban has escalated sharply in the last decade, with prosecutors initiating criminal proceedings against hundreds of women. The Comadres are part of a counter-current of feminist activism, working in the short term to make abortion accessible despite its legal status, and in the long term to decriminalize the procedure. They represent a relatively new tactic in abortion rights activism, which focuses on helping women safely self-induce abortion with medication, skirting both legal restrictions and the expensive, often risky surgical procedures that defined clandestine abortions in the past. Established in several countries in Latin America, these kinds of networks are nascent in the United States, too, in response to growing uncertainty about the future of abortion rights.
Officially launched in 2015, Las Comadres is made up of dozens of women in several cities; there are branches in Quito, Cuenca, and Esmereldas, and one is forming in Guayaquil. The group provides information about obtaining and using mifepristone and misoprostol—medications that are commonly taken together in clinical settings in countries where abortion is legal—from a reputable source to safely end first-trimester pregnancies. They operate in a narrow legal space; in Ecuador, while the act of abortion itself is illegal, offering information about it is not. "We facilitate the contact but don't sell them the pills," Maldonado explained. The service is free, except for a small fee charged by the organization that delivers the pills, though Las Comadres does accept donations to pay for things like ultrasounds for women who aren't sure how advanced their pregnancies are.
About 32 women contact Las Comadres each week through a telephone hotline, and the number is rising. Then, a comadre meets with a small group in a public place, often a park. They view operating in public as a kind of protection: It is a reassertion that what they're doing is legal. It's also a political statement. "Being open is important, to destigmatize abortion socially," Maldonado told me. "Meeting face-to-face is a way to bring abortion out of the shadows."
Maldonado, now 20, became interested in reproductive rights after a girl at her high school died trying to self-induce an abortion with an overdose of emergency contraception. (Unsafe abortion is one of the leading causes of injury for women in Ecuador.) Maldonado learned about Las Comadres from her aunt, who is a member, and trained by shadowing another comadre. The women she's accompanied include a desperately poor 38-year-old Venezuelan immigrant; one of her own friends, who showed up unexpectedly at one of the public group meetings; and a police officer.
Las Comadres presents a challenge to the legal status of abortion—and also to the public silence that veils the issue in Ecuador, where the procedure is both deeply stigmatized and quite common. When Maldonado's family found out about what she was doing, they were shocked. But the news unlocked a door to her family history. Last year her grandmother, Guadalupe Tobar, revealed for the first time that she'd had two abortions, one at 25 and another at 42. (She is now 65.) Tobar, a sociologist, told me that although she is an atheist and a leftist, the surgical procedures were emotionally difficult and left her with feelings of shame that she carried silently for years. Her admission to her family "was terribly dramatic," she said. When I asked her if it was also a relief, Tobar closed her eyes. Her face crumpled, and a few tears ran down her face. Unable to speak, she just nodded.
The way that Las Comadres operates stands in stark contrast to the lonely, often dangerous procedures that, along with herbal remedies and other folk methods, defined clandestine abortion in Ecuador for much of recent history. Zoe Vargas, a young woman who lives in Quito, had one such procedure when she was fifteen. Her mother helped her find the provider, who worked out of a dark room in an office building. The room was clean, Vargas remembers, but it seemed like someone's house, not a medical facility. The procedure itself was terrifying and painful, and felt like it took hours. After, she sank into a deep depression, which lasted about a year. The pain, the darkness, the fear—all of it reinforced the fact that she'd done something illegal. "You feel like what you've done is really bad," Vargas said. Years later, when she experienced another unintentional pregnancy, a friend told her about Las Comadres. After the face to face meeting, she ordered the pills online. They arrived three days later, and she took them at home on a Saturday night, with her mother keeping her company. She described the experience as "beautiful and empowering." It almost felt like it wasn't illegal.
Another woman, who spoke with me on the condition that I identify her by a pseudonym, found Las Comadres after a desperate search that led her first to a clinic in Quito's old city, in a dirty old house where the practitioner turned out not to have had formal medical training. "My heart was in my mouth," recalled Jenny. "I felt frustrated and ignorant." She'd had an abortion once before, in her early twenties, after she'd been gang-raped at the university where she studied math and dance. Back then, two family friends—a psychologist and a gynecologist—helped her obtain a safe abortion from a medical professional. But they were less sympathetic about a pregnancy that came from a consensual relationship, and so Jenny found herself scouring the internet, terrified that she'd end up with a botched procedure or in jail. After hearing about Las Comadres from the friend of a friend, she went to one of the park meetings, where she met Maldonado. On edge, Jenny scanned the park for video cameras. But as Maldonado explained the procedure, and as the women talked about their circumstances, Jenny relaxed. "It was the first time someone asked me how I felt," she said.
The experience changed the way Jenny thought about abortion, and who deserves to have one. "I used to think that it was more justified in cases of rape, but not anymore," she said. "You don't know the motivations that women have."
The question of whether abortion is acceptable for certain types of pregnancies and not others is currently a matter of fierce debate in Ecuador. Legislators are weighing changes to the criminal code to allow abortion in all cases of rape and incest, with a final vote expected by June. Current law permits abortion in cases of rape of a mentally disabled woman, and when a woman's health is endangered. These exceptions mean that on paper, Ecuador's abortion laws are more permissive than several others in Latin America. This perception may help explain why the aggressive escalation of abortion-related prosecutions in the last decade has gone mostly unnoticed outside of the country.
Historically, abortion was considered a private matter, largely absent from public politics and feminist campaigns in Ecuador. But today many activists working on issues like femicide and sexual violence see these issues intersecting with abortion. "The Ecuadorian state has not resolved the issue of protecting victims of abuse, even less if they are underage. But nonetheless what they have resolved is that they all have to become mothers," said Geraldina Guerra, who directs a network of women's shelters. "Not recognizing a women's right to abortion is not recognizing women's right to live without violence."
Heightened awareness of violence against women—raised in part by high-profile incidents, including a brutal gang rape of a 35-year-old woman in Quito in January—helped propel the decriminalization campaign, which coalesced around the slogan "Girls not mothers." The campaign also gathered momentum from a regional "green wave" of abortion rights activism, which swept through in Argentina in 2018 in an effort to legalize all abortions there up to the 14th week of pregnancy. (The measure failed in Argentina's Senate.) Abortion is "the radical thing to discuss right now in Latin America," said Cristina Burneo Salazar, a feminist writer and professor at the Universidad Andina Simón Bolívar in Quito. "It's becoming intergenerational—it's very moving to see." In Quito, green bandanas with the logo of Ecuador's Free Abortion movement have become a marker for a certain kind of hip, socially-conscious woman; at one café I visited, all of the servers were wearing them.
Many feminist activists I spoke with said they viewed decriminalization in cases of rape as a good "first start" in a long-term campaign for full legalization. For one thing, it will have a real practical impact: nearly 14,000 women reported rapes in the last three years, a figure likely far lower than the actual number of incidents. Legally, sex with anyone younger than 14 is considered rape; if the National Assembly approves the decriminalization measure, abortion will effectively become legal for anyone under 14, said Dr. Jose Masache, who is involved with a program for pregnant teens at Quito's largest public maternity hospital. Currently, the hospital is able to provide legal abortions in cases when a woman's health is endangered, a standard that Masache suggested could be interpreted more broadly than it usually is—for instance, to encompass psychological harm, or the elevated health risks inherent to pregnancies in young teens. A committee at the hospital decides which cases meet the criteria for posing a health threat. Masache said they almost always deny cases where "the harm is not concrete."
The ecosystem of abortion rights groups in Ecuador spans organizations working primarily on political advocacy to those providing legal representation to women prosecuted for abortion (and in some cases, miscarriages). While supporting the decriminalization campaign, Las Comadres works most immediately to subvert the legal restrictions. (Another group, Salud Mujeres, operates a telephone line that provides information on using medication to self-induce an abortion.) Misoprostol and mifepristone have made this project possible, as the medications are safer and more difficult to police than other types of clandestine procedures. (Maldonado declined to say on the record what the group's protocol is when they're contacted by women whose pregnancies are too advanced to safely terminate with medication.)  The network takes pains to protect the women it helps from medical and legal trouble, working with allied doctors and lawyers to make sure their processes are as secure as possible. According to Maldonado, none of the women Las Comadres has assisted has been prosecuted for abortion. "There are people paying attention and there is a strong tension with what we're doing, but at the same time it's overlooked," she said. Once, a Christian radio program threatened to denounce the group to legal authorities, but nothing came of it.
Members of Las Comadres are well aware that their efforts, while helping thousands of women, are a kind of band aid. "They make a good compromise," Geraldina Guerra said of the group. Although Las Comadres has accompanied women from a wide range of class backgrounds and geographic areas, occasionally connecting only by phone with women who live in remote parts of the country, it's the poorest, most marginalized women who are least likely to hear about them. "It's hard to know we can't reach all of the women," Maldonado said. It's also hard to know that she can't solve everything for many of the women who seek out her help, particularly those living in situations of violence. "We want to help them fix their lives," she said. "But abortion is just a tiny part of what they need."
RELATED ISSUES

Women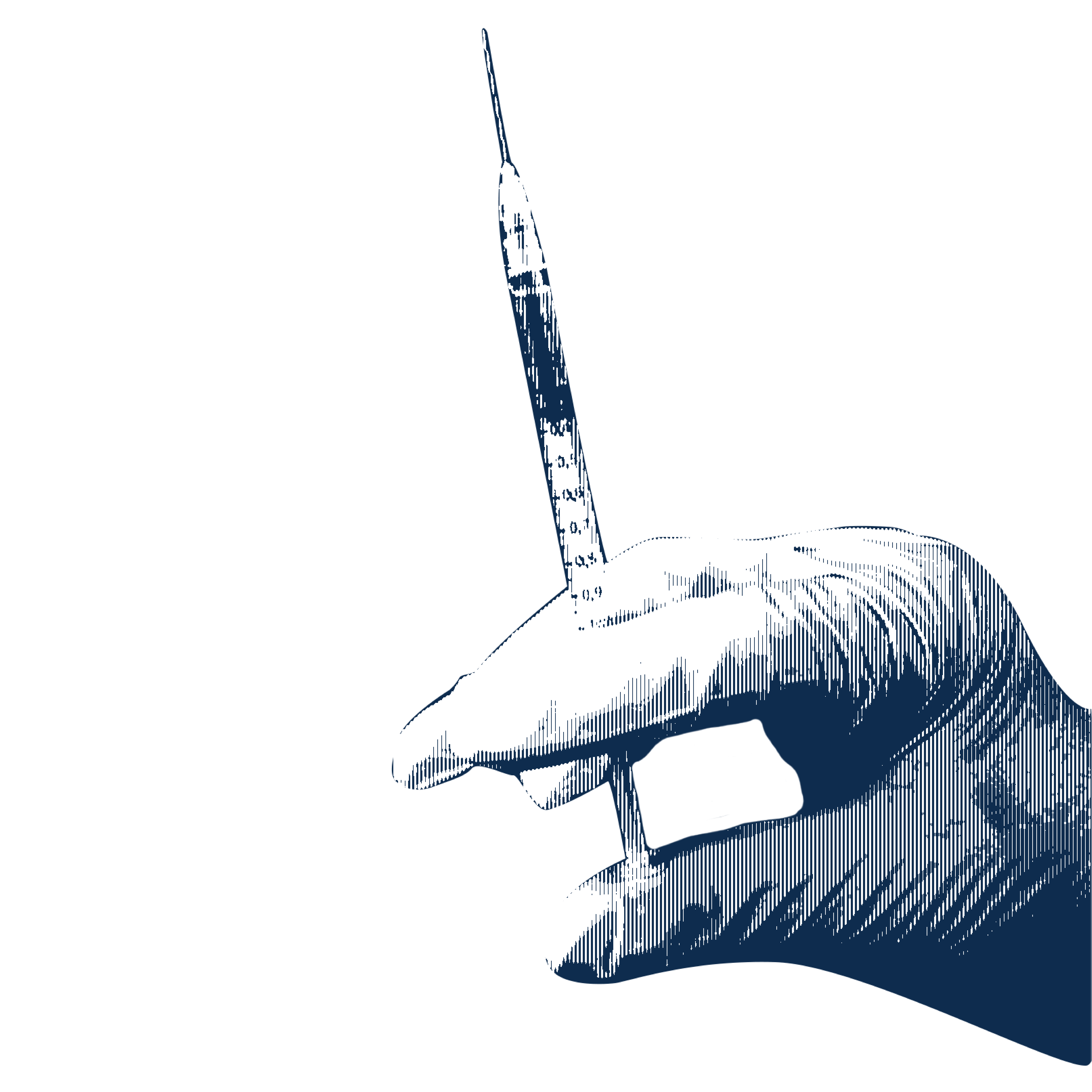 Health

Criminal Justice