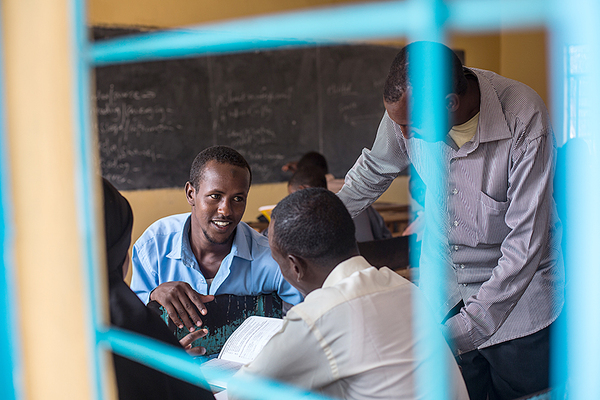 MANDERA and GARISSA, Kenya — When the Somali militant group Al Shabab attacked a bus in Kenya's remote northeast on Monday morning, they appeared to have a clear plan: Stop the bus. Separate the Christians on board. Kill them. Scare other Christians in the region enough to flee. Leave the local Muslims feeling abandoned by their countrymen.
That's how it went a year ago, when the Islamist militants attacked another bus in Mandera County, killing 28 Christians on board. The incident sparked a mass exodus by thousands of non-local teachers and health workers who left behind a social service catastrophe – shuttered clinics, stalled development projects, and empty classrooms.
The predominantly Somali Muslim northeast has long depended on Kenyans from the rest of the country to fill jobs in education and healthcare. Their hasty retreat last year exposed how fickle that support can be amid mounting insecurity – and how vulnerable that leaves the region.
To cope, locals are owning their welfare and county governments are taking on responsibilities normally reserved for the national government, like the recruitment and paying of teachers.
The change is a step-up for the region. But it also plays into the hands of Al Shabab, which seeks to drive a wedge between Kenya's Christians and Muslims, and between the Somali northeast and the rest of the country.
But during Monday's bus attack the Muslims passengers flipped the script, telling the militants "to kill them together or leave them alone." Several people died in the attack before the gunmen withdrew.
That brave act of unity has been cheered across the country and the world. But in the region it is recognized that building long-term security, not acts of defiance, is most needed to bring back the civil servants, including teachers. Monday's bus attack – the fifth reported this month – counters any easy assumption that things are getting better. The northeast, its citizens say, will have to rescue itself.
900 teachers flee Mandera
Al Shabab's bus attack last year left six teachers dead; all were working in Mandera. Virtually overnight most of the non-local teachers fled – some 900 out of 1,500.
Education officials in the town of Mandera, which lies just minutes from the porous border with war-torn Somalia, felt paralyzed.
"We were desperate. Our students were traumatized," says Abdi Mohd Ali, Mandera county's permanent secretary for education. "We had no options."
County leaders knew the teachers weren't coming back anytime soon. The teachers union had already petitioned for members in the northeast to be allowed to transfer elsewhere.
So they took took a different approach: Offering salaries to local high school graduates to take over classrooms. Money earmarked for road construction and a school feeding program went to pay their salaries, and parents also pitched in. During school holidays, the newly enlisted employees received a crash course in teaching.
Today the Mandera system has 871 new primary and secondary school teachers and a teacher's college is expected to open in a year. Officials boast that soon they won't need to recruit teachers from afar, and many say good riddance, because non-local teachers often showed up late for the term and left early.
No help, no apologies
"The national government didn't come to our rescue," Mr. Abdi says. "Up to now, they didn't even tell us pole, sorry. We were left the way we were 50 years back."
The effort at self-sufficiency also has benefits. Residents point out that a nationwide teacher's strike over salaries shut down all of Kenya's public schools this September, except in Mandera, where the county now pays salaries.
But the new trainee teachers are far from qualified. Many are young enough to blend in with the secondary school students. They are often quiet and unsure of themselves, and speak about how hard it is to command a room of peers.
They are also running months behind, says Mohammed Abdirahman, one of the few new teachers who meets the standard. He was getting an education degree in western Kenya when he decided to come back and help. He now teaches science at a boys' school a few miles outside the town.
"Our children are being isolated. What's the option?" he says.
"We don't have any other option," another budding teacher, Abdullahi Mohammed, says. "We'll just pull up our socks."
Local parents step in
Further south, in Garissa, where last April Al Shabab killed 148 people at a university, it is local parents who have filled a void created by tragedy and flight.
Each school's parent association collected 100 shillings, or roughly $1, per student. That helped supplement salaries and training, and attracted high school graduates and local retired teachers. About 70 were sent to the local teacher's college as well.
Some parents are embittered by the situation. Musa Mahamud Hussein, the county secretary for Garissa's parents' association, watched as scores of educators left after the Mandera attack and many others following the deadly university attack.
He wants to make Garissa as independent as possible, having decided that his children's education matters little to outsiders. Construction workers, traders, and even private school teachers have come back to much of the northeast. But teachers continue to stay away in large numbers.
(Many locals say they feel used and wonder if the teacher's unions are making a political play at their children's expense.)
"Every other civil servant is there. They haven't run away, they are working," says Mohamed Shaban, the head of the teacher's commission in Garissa County. "We are talking a whole generation going without education. The anger will be there so much next year when the exam results are out."
In Mr. Hussein's view, the general position is that, "We can't risk our lives for your own sake," he says. "We want to give a chance to our people so this region can be self-sufficient."
Outside the towns, which have police on every corner, the insecurity is even more pronounced: Schools are often surrounded by a cluster of homes and a few police reservists. In the quiet night many locals are fearful of Al Shabab attacks.
Ethnic Somalis not fully accepted
Behind the tensions here is the feeling that ethnic Somalis here have never been accepted as fully Kenyan, partly due to a failed secessionist war launched from here in the 1960s to join Somalia.
That means the drive for self-sufficiency after the exodus of non-locals brings risks, namely the widening of an already sizeable gulf with the rest of Kenya. The loss of teachers from other parts of the country, it is feared, will help sever one of the strongest ties binding them together.
"It negates the nature of the state. It is isolating them from the [country] center," says Mukhtar Ogle, a Kenyan Somali from the northeast who works in the president's office on issues facing the region, including violent extremism.
The result could also leave the rest of Kenya looking at this community with suspicion, warns local activist Ali AwDoll.
"You'll be seen as a region that is detaching itself from the rest of Kenya [when] you're just doing this to cope with a tragedy."
RELATED ISSUES