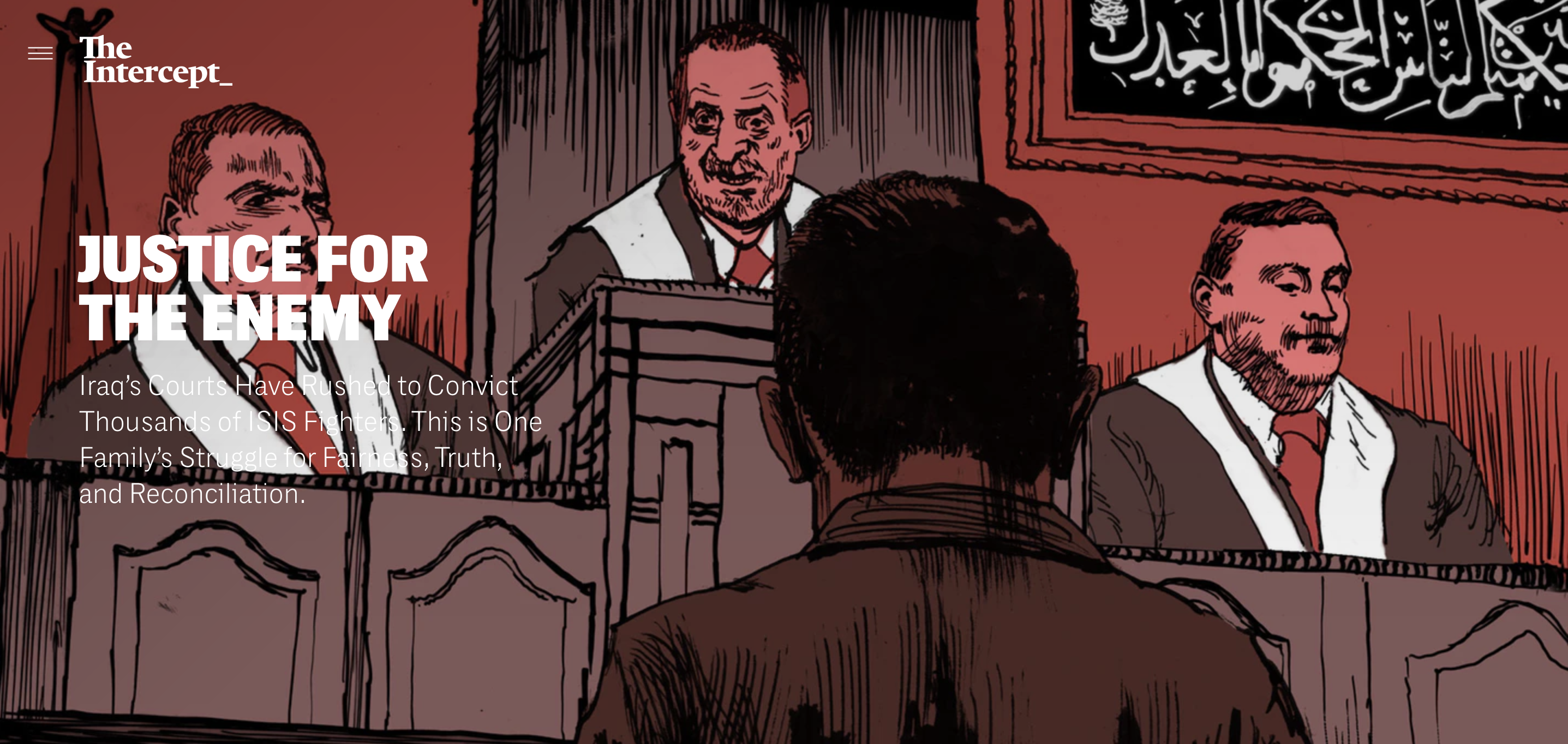 One Car Bomb, Two Stories
One evening in the spring of 2015, Ahmed left his family home in a residential neighborhood of Baghdad and got into his red Toyota Corolla. Ever since his family had fled their hometown of Ramadi as the Islamic State advanced in 2014, the 20-something had been working as a taxi driver, ferrying passengers and their possessions between the capital and Anbar, a Sunni-majority province where Ramadi is located. But that evening, he planned to make a special delivery. An emir – a senior ISIS leader – had instructed him to collect a car rigged with explosives destined to detonate in the capital.
It wasn't the first time Ahmed had participated in operations aimed at spreading terror in Shia-majority areas and retaliating against government forces fighting to uproot ISIS from its self-declared caliphate further north, according to Iraqi prosecutors. Since Ahmed had pledged bay'a, or allegiance, to the terrorist group, the prosecutors contended, ISIS had tasked him with transporting two other car bombs from Anbar. As before, this latest bomb would probably target Iraqi security forces in the capital. But it also might explode in front of one of Baghdad's popular bakeries or ice cream shops, where Iraqi families sought to unwind in the cool evening air, or near a crowded Shia shrine, targeting thousands of pilgrims who had recently flocked to the capital to attend a religious festival.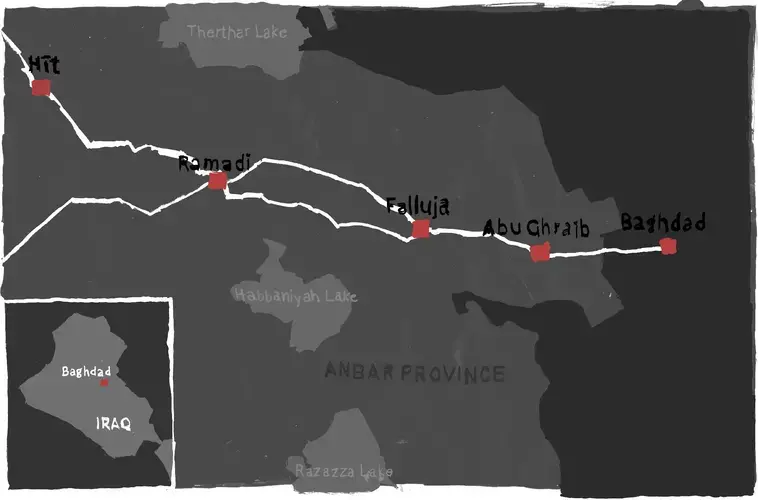 Ahmed didn't know the precise location of the car; this was a precaution to avoid alerting the security forces to the operation. He called another contact, who connected him with a third person to fetch the car. This third man drove the car bomb, a Kia Sorento, while Ahmed accompanied him in his red Toyota Corolla. As they made their way through Baghdad's crowded streets, Ahmed called a fourth person, an ISIS operative who had gained a reputation for orchestrating attacks in the capital. The operative guided them to the drop-off location.
But as they arranged to meet in western Baghdad, intelligence officers were monitoring their phone calls and tracking their movements. Unbeknownst to Ahmed and the others, the ISIS operative they were talking to had been detained and forced to cooperate. He led the men and the car bomb straight into the hands of the security forces. An Iraqi government forensic team later confirmed that the Kia Sorento was indeed rigged with a bomb that could be detonated using a mobile phone.
In what the government considered a highly successful operation, Iraq's intelligence services managed to foil a terrorist attack and penetrate an ISIS cell they say was responsible for masterminding many suicide blasts in Baghdad. Ahmed and two of the other operatives confessed to belonging to ISIS.
A few months later, the driver of the car bomb was acquitted after claiming that he did not know the car was rigged with explosives, but Ahmed and the other two detainees were sentenced to death by hanging. "The details of the crime clearly show they are a danger to society," the verdict read. "Applying a harsh punishment is more suitable than being merciful."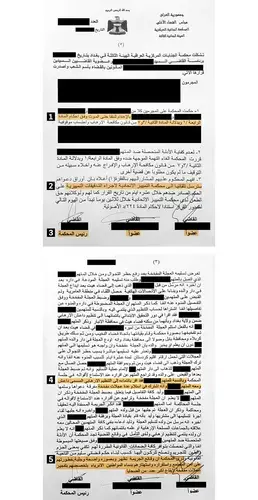 1 Ahmed and two others were found guilty under article 4/1 of Iraq's counterterrorism laws, which mandates the death sentence for anyone who engages in acts of terrorism, whether as the main perpetrator or a minor participant. They were sentenced to death by hanging.
2 Cases that involve a death penalty are automatically passed on to the appeals court.
3 The verdict is signed by a panel of three judges.
4 The verdict states that Ahmed "confessed to joining ISIS and that he took part in delivering a number of car bombs."
5 The court concludes that "the details of the crime clearly show their danger to society and its stability. By specializing in car bombs that cause the highest causalities possible, they showed their disrespect for the lives of innocent citizens."
Justice had been served, at least according to the state. But this account represents just one version of events, laid out by institutions that many Iraqis, especially Sunnis, view with suspicion and fear.
None of it was true, said Ahmed's family, who have been fighting to overturn the conviction in a federal appeals court. They feared that speaking publicly about the case could endanger Ahmed and his family, so The Intercept agreed not to identify them, instead using pseudonyms. Ahmed had never sworn allegiance to ISIS, the family claimed. To the contrary, he helped families victimized by its brutal rule. As a driver, he often snuck cars into Baghdad on behalf of displaced people who had been forced to leave them behind when they fled ISIS. Ahmed had been framed, his father said, a victim of security forces who harbor deep hatred against Sunnis, the sect ISIS purports to champion. Ahmed hadn't known the car he had accompanied was carrying a bomb, his father said. He was to give the driver of the other car a ride once the man dropped off the vehicle. Ahmed had been targeted because he was from Anbar, a predominantly Sunni province known as a hotbed of extremism and a fertile recruitment ground for groups like ISIS.
Ahmed's 18-page handwritten confession detailing the incident was a falsehood, the family said, extracted under severe torture. They viewed the judges as complicit: The court had turned down multiple requests for a medical examination to determine whether Ahmed had been tortured, which, if true, could have nullified his confession. Because Ahmed wasn't the one driving the car bomb, there would have been little other evidence against him. If the Iraqi judiciary were fair, they said, Ahmed would have walked free.
Instead, his family had come to perceive the judicial process as deeply unjust, fraught with sectarian bias and corruption.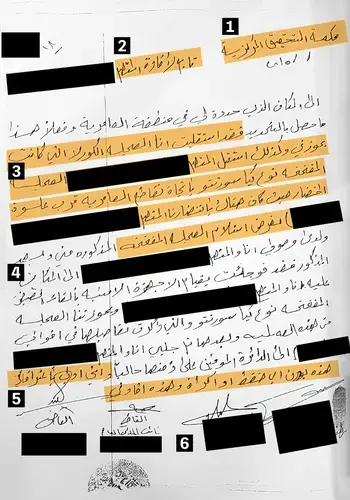 1 "Central Investigative Court"
2 "Statement of the accused"
3 In this handwritten statement, Ahmed allegedly admitted to accompanying the car bomb: "I drove my Toyota Corolla, while the accused [name redacted] drove the KIA car bomb towards Amiriya intersection near the grocery market, where the accused [name redacted] was waiting for us to receive the car bomb from me."
4 The confession mentions the full names of the other alleged participants, which have been redacted. Suspects often accuse security forces of using force to obtain incriminating statements against others.
5 The last sentence of the statement reads: "I give this confession without any pressure or force, and that's my statement."
6 The confession is signed and fingerprinted by the accused, and signed by the appointed lawyer, the investigative judge, and a prosecutor. The names of the judge and prosecutor are not mentioned.
For over three years, the Iraqi government and its Western allies battled ISIS, engaging in some of the fiercest urban combat since World War II. The grueling, nine-month operation to retake Mosul claimed tens of thousands of lives and left Iraq's second-largest city in ruins. In December, Prime Minister Haider al-Abadi announced that the war was finally over. The terror group that had once held a third of Iraq's territory had officially been defeated.
ISIS may be vanquished, but it has left behind a deeply divided Iraq. The group's victims yearn for justice and, in many cases, revenge, a practice that is legitimized by tribal laws and often directed at families of ISIS fighters. Sunnis feel unfairly branded as extremists by other ethno-religious groups, who blame them for allowing ISIS to take root in their areas. Even though many Sunnis express gratitude for having been freed from ISIS, they remain deeply suspicious of the Iraqi state and its security forces that once again govern their territories, and whom they accuse of arbitrary arrests, looting, and forced evictions.
The Iraqi government must now separate good from evil, bring perpetrators to account, and deliver justice for victims of ISIS, while avoiding the corruption and unequal treatment that fueled the group's rise in the first place. The scale of the undertaking is formidable, especially for the overburdened judicial system. Baghdad's central criminal court delivered verdicts for around 2,800 ISIS suspects in 2017 alone, a judge there told The Intercept; hundreds of others were tried in other cities across Iraq. Thousands linger in crowded prisons, waiting months and sometimes years for a trial that only lasts a few minutes.
Views on the process differ starkly. Judges and prosecutors say that ISIS has trained its members to sabotage the judicial process by exploiting their rights as defendants and alleging procedural violations that sometimes result in dismissal. Private lawyers stay away from complicated and controversial cases, fearing retribution, arrest, and social stigma. Suspects' relatives see the process as yet another tool to oppress the Sunni minority, while some accuse lawyers and investigators of financially exploiting desperate families.
Rather than mending intercommunal rifts to pave the way for reconciliation, the ISIS trials risk further polarizing Iraq's fractured society. Unlike the justice and reconciliation process in post-genocide Rwanda, for example, Iraq's state has offered little space for truth-telling and victim participation. The country's harsh counterterrorism laws don't differentiate between leaders and lowly aides, providing few opportunities for minor perpetrators to repent in return for lower sentences. Far from setting the stage for reconciliation, the rapid-fire trials of ISIS suspects appear aimed at a single goal: to purge ISIS from Iraq's society as quickly as possible, with little regard for victims or concern that innocent people could be caught up in the system. Instead of mending old wounds, the process risks tearing open new ones; the ripple effects of decisions made in Iraq's courts today could be felt for years, perhaps decades, to come.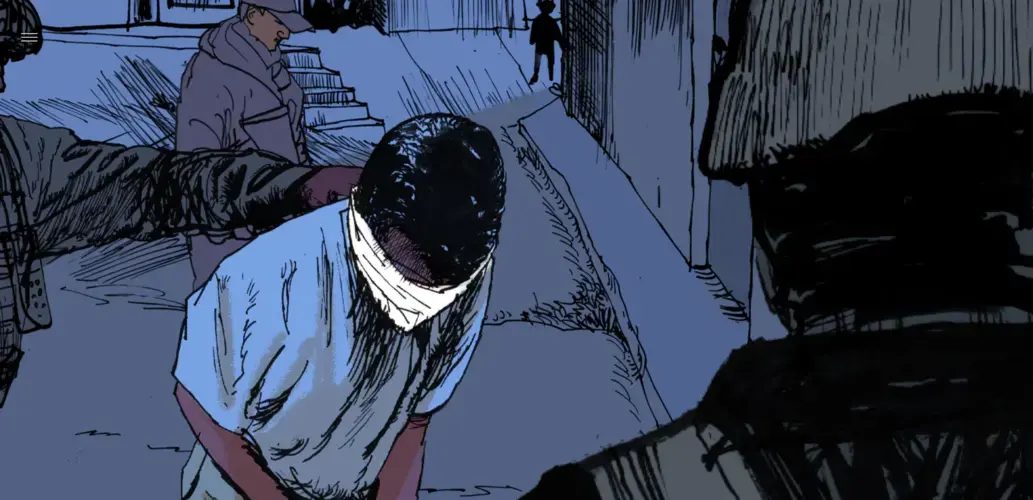 "We All Confessed Under Beatings"
Nabil fiddled nervously with the plastic cup on the table in front of him. His dark eyes scanned the cafe, scrutinizing new arrivals as they ordered sweet tea and settled into stiff wooden chairs. This was Nabil's first time in Baghdad since his arrest in 2015. "I go from my house to work and straight back. I don't go anywhere to avoid trouble," he mumbled, his voice nearly inaudible in the crowded cafe. Like Ahmed, Nabil comes from Ramadi, where the two grew up together. When Ahmed vanished that fateful spring evening, Nabil tried to help his friend's family look for him. "We had no idea where he was. We didn't know if he was arrested or kidnapped," he said.
Nabil didn't have to search for long. A few days later, in the middle of the night, security forces knocked on the door of his temporary home in Baghdad, where Nabil's family had relocated, like Ahmed's, when ISIS took control of Ramadi. The soldiers, who wore black uniforms with insignia that read "Special Operations," didn't explain why they had come. Nor did they present an arrest warrant when they handcuffed and blindfolded Nabil, his cousin, and another friend. "For an hour or an hour and a half, they kept us in the apartment, asking questions and beating us," Nabil recalled.
The men were ushered into Humvees and driven to an interrogation facility at Baghdad International Airport, run by the Interior Ministry's Directorate of Intelligence and Counterterrorism. The days that followed were the worst in Nabil's life. The torture began around midnight and lasted until dawn. First came the beatings. Then they would hang him from the top edge of a door with his hands bound behind his back in a position known as "Palestinian hanging" because it is said to be used in Israeli prisons. Once suspended, he said, they would whip him with cables. On one occasion, Nabil told me, he was electrocuted, with wires attached to his ear and genitals. Although no witnesses could corroborate Nabil's account, a Human Rights Watch researcher told The Intercept that "there are multiple prisons at the Baghdad airport, and Human Rights Watch has heard accounts of incidents of torture there. … I have heard accounts and seen photos depicting the types of torture you are describing in Iraq."
After it was over, they would drag Nabil back to his tiny cell, where he would fade in and out of consciousness until the ordeal resumed a few hours later. After three days, he was ready to do anything to make it stop. "I told them, 'Bring me any paper you want me to sign. You can write whatever you want on it,'" Nabil said.
On the fourth day, Nabil finally saw Ahmed. He had heard his voice earlier, but thought that perhaps his mind, muddled by the beatings, was playing tricks on him. When the prisoners were brought into a courtyard to get some sunlight, the two friends exchanged brief accounts of their arrests, and quickly realized they were linked. Nabil's cousin had been taken because the Toyota Corolla that Ahmed had driven at the time of his arrest was registered in the cousin's name. Nabil, they figured, had been arrested because he was young, male, and living in the same house as his cousin.
Like Nabil, Ahmed had endured several days of torture and appeared broken.
"I confessed," Nabil recalled Ahmed telling him.
"To what? You haven't done anything."
"I confessed under the beatings."
"We all confessed under beatings," Nabil tried to console him. But Ahmed was certain that he'd soon swap his yellow jumpsuit for a red one, the color reserved for convicts. Before the men parted, Ahmed asked Nabil to promise that if he got out, he would pass a message to Ahmed's parents. He wanted them to know that he'd been detained and to ask their forgiveness for what they were about to go through.
Terrorism trials in Iraq unfold in three phases: the investigation, the trial, and the appeal. While the entire process is fraught with challenges, defense lawyers and judges say that the most serious violations occur during the initial investigative phase, when defendants are in the hands of often vindictive security forces. On paper, suspects can only be detained with an arrest warrant. Within 24 hours of their arrest, they must see an investigative judge, who determines whether there's sufficient evidence to keep them for further investigation. The judge can extend the period of detention up to a maximum of six months, at which point the suspect must be released if the case against him isn't strong enough to trigger an indictment. If there's sufficient incriminating evidence, the investigative judge, who in the Iraqi system leads the investigation in collaboration with the prosecution, refers the case to the criminal court for trial.
But the process is rife with abuses, according to interviews with human rights experts, as well as more than a dozen lawyers, judges, and prosecutors. As in the case of Nabil, security forces frequently detain individuals without arrest warrants. Arrests are often driven by tribal disputes or sectarianism, and investigators routinely extort payments from relatives in return for dubious promises of better conditions or a quick release. Suspects often don't see a judge within 24 hours, and torture is endemic, with investigators regularly resorting to beatings, electrocution, solitary confinement, and other harsh treatment. Until the investigation is complete and confessions have been written, suspects are rarely granted access to family or lawyers.
It took Nabil, his cousin, and the friend arrested with them two months to see an investigative judge, much longer than the 24 hours required by law. The investigative judge ordered their immediate release due to insufficient evidence, but it took a few more weeks, and, according to the family, about $100,000 in bribes to members of the security forces before the three men walked free. In all, they had spent three months in jail.
As soon as Nabil was released, he traveled north to the Kurdish capital Erbil, where he remained until the end of the war against ISIS. He considered it a small price to pay to avoid getting arrested again.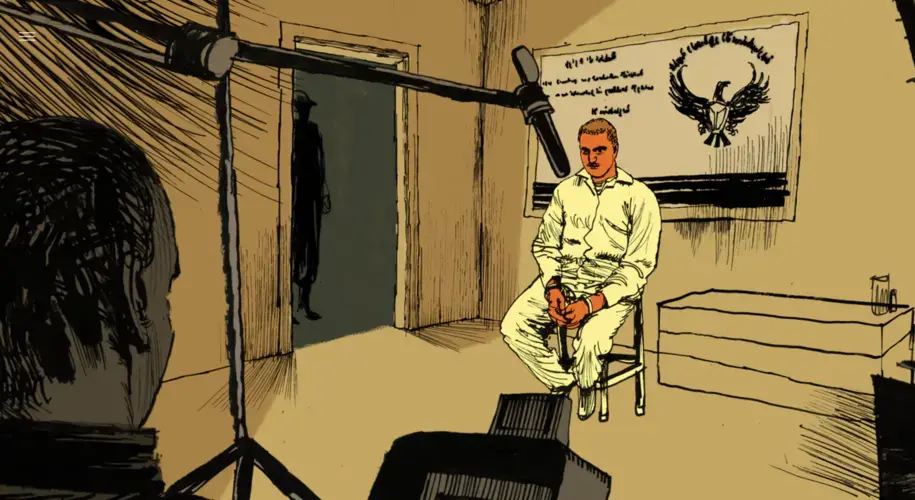 A Desperate Search
With Nabil's release, word of Ahmed's arrest finally reached his family. The news ended three months of uncertainty over his whereabouts, but it would also turn out to be the heaviest in a series of blows this Sunni family had suffered since the 2003 U.S. invasion that toppled Saddam Hussein's Sunni-dominated government.
In May 2003, in a quest to eliminate all remnants of the former regime, the U.S.-led transitional government dissolved the Iraqi army. Ahmed's father, Omar, an army officer, was dismissed. With that, the family lost its main source of income. Omar was utterly humiliated. "What greater disgrace can you feel?" he asked. The disastrous policy left over 300,000 Iraqi soldiers unemployed and disgruntled. Many joined the various armed insurgencies that mushroomed across Iraq in the aftermath of the U.S. invasion to fight what they perceived as an unjust occupation.
Al Qaeda's branch in Iraq, a precursor of ISIS, thrived in the chaos, drawing recruits from among marginalized Sunnis who had been disproportionally affected by attempts to purge the country of Saddam loyalists. But Sunnis, like all Iraqis, were often victims of the insurgency against American and Iraqi security forces. Omar's youngest son was seriously injured in a suicide attack in 2005 that left him permanently disabled.
Over the next decade, the family endured as one battle after another engulfed Ramadi, a famous site of rebellion against the Americans and, after their withdrawal in 2011, against the Iraqi government. When ISIS launched a major assault on the city in early 2014, the family sought refuge in nearby Hit, which was still under government control. But as the terror group gained ground, capturing Hit in October of that year, the family was uprooted again, this time joining tens of thousands of people who fled Anbar province for Baghdad.
In the capital, the family was relatively safe, but growing sectarian mistrust fueled by the war soon began to trouble them. Sunnis who had fled former ISIS strongholds lived under a cloud of suspicion that they were ISIS sympathizers. Omar constantly feared for his three sons, especially Ahmed, whose work as a taxi driver making frequent trips to Anbar brought him into contact with vengeful Shia militias and security forces who manned checkpoints along the route and stood accused of arbitrarily arresting young Sunni men.
When Ahmed didn't return home that spring evening, Omar feared that he might have fallen into the hands of the security forces. Looking for a detainee meant approaching dozens of different armed actors, many of whom ran their own secret prisons.
Working his old army contacts, Omar spent countless hours and much of the family's fortune trying to find his son. "People started extorting us," Omar told me at the family's home in a middle-class neighborhood of Baghdad. "They would say, 'Your son is being detained in this place. Pay us $20,000 so he gets released.'" Three men who purported to hold powerful positions in the security forces promised to help in return for money. Desperate, Omar doled out one daftar — a $10,000 stack of bills — after another, driving his family to the brink of financial ruin. A total of $55,000 in bribes reportedly changed hands to find Ahmed and later, to grease the wheels of the justice system. Omar sold the family's land and his wife's and daughters' dowry gold. "I would sell anything I own as long as my son walks," Omar said.
But soon after the men received the money, all three disappeared. Their mobile numbers were disconnected, and Omar never heard from them again. He wasn't entirely surprised. He had filmed himself giving money to one of them in a futile attempt to hold him accountable.
The psychological burden and social stigma of Ahmed's arrest were far greater than the financial toll. One evening in late 2015, Omar received a distressed phone call from his brother, urging him to tune into state-run Al Iraqiya television, where an episode of a reality show called "In the Grip of the Law" was underway.
"In the Grip of the Law" started filming in 2013 to garner public support for the security forces in the wake of humiliating battlefield setbacks in the early days of the war against ISIS. The concept was controversial: Prisoners suspected of belonging to ISIS recount or re-enact crimes to which they have confessed. Relatives of victims sometimes appear at the crime scene, taking turns scolding the men they hold responsible for the deaths of their loved ones. The show has proven very popular, especially in Shia areas that are often targeted by jihadi groups. Sunnis like Omar, on the other hand, see it as an embodiment of Shia dominance, a tool for oppressing Sunnis who are forced to confess under torture to crimes they didn't commit.
There, in the glare of the cameras and for everyone to see, was Ahmed. He was led into the studio by a man wearing black fatigues and a black balaclava over his face. Ahmed wore a yellow jumpsuit, plastic handcuffs and a blindfold. It was the first time Omar had seen him since his arrest six months earlier. Dramatic music played as Ahmed was made to sit on a chair in front of a large, white poster that read "Ministry of Interior, Falcon Intelligence Cell." The man in black, presumably an intelligence officer, removed Ahmed's blindfold. Then the interrogation began.
"Tell me about your joining process. Where did you join? What year?" an investigator asked from behind the camera.
"In 2015," Ahmed answered with a shaky voice.
"And who recruited you?"
"Through Abu Jaafar, the man in charge of Baghdad, and Abu Islam. And they handed me over to Al-Mufti Abu Mohammed. I pledged allegiance with him."
"Where?"
"In Hit, the district of Hit."
"Why did you join the death gangs? Why did you join the Daesh gangs?" the investigator insisted, using the Arabic acronym for ISIS.
"The idea was to just be a driver, for material purposes," Ahmed replied.
Omar was shocked to see his son paraded on TV like a convict even though, at that time, his guilt had yet to be proven in court. He was introduced as a "terrorist" and granted no opportunity to protect his identity, a right that courts were quick to invoke when The Intercept requested permissions to film trials of suspected ISIS members during a trip to Baghdad in January. As the interrogation progressed, the conversation became increasingly one-sided, with Ahmed uttering mostly monosyllabic responses as the investigator hurled accusations.
"So you joined to do anything in the organization," the interrogator said.
"Just as a driver," Ahmed answered.
"One day a driver, another day a transporter, another day as a passenger, another day as the perpetrator of operations!"
"I was notified that I was just to transport cars."
"Whatever the case, if you're transporting a car, what is this car, booby-trapped or not?"
"Booby-trapped, yes."
"You knew it was booby-trapped."
"Yes."
"You knew it was going to explode on people."
"Yes."
"You knew, or you didn't?"
"Yes, yes."
"So in the end, you're complicit in this operation to kill people. A part of this organization that participates in murder, yes or no?"
"Yes."
"So, your principle is to kill!"
"Yes."
"What do you say to Daesh now?"
"I mean … it's injustice … harming people because … if you're still young, it's better to leave such things behind because your fate is with the police forces," Ahmed stammered.
"How did you come to realize this?"
"Because, I mean, the police forces are in control," Ahmed replied obsequiously. Satisfied with the response, the interrogator backed down, and the show cut to another scene.
Omar was convinced that just like his confession on paper, his son's televised testimony had been brought about by force. The family decided to hire a lawyer, but finding a trustworthy advocate was difficult in a country where defending people caught up in sweeping antiterrorism laws has grown into a profitable business.
Ahmed's uncle, himself a lawyer who helped behind the scenes, was unwilling to represent his nephew in court. "As soon as you go there, and the case is linked to terrorism, you will also be arrested. Even if you are a lawyer!" he told me.
Last year, at least 15 lawyers were arrested for defending ISIS suspects in the northern, Sunni-majority province of Nineveh. Two lawyers were sentenced to death in December for joining ISIS and obstructing justice, according to court records. What was needed, the family concluded, was someone with good government connections — someone who, by virtue of his background, wouldn't be suspected of belonging to ISIS.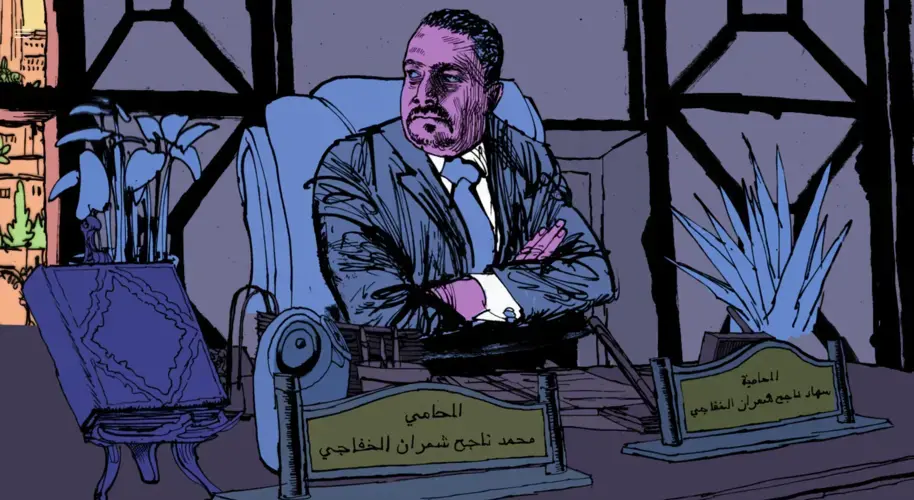 "It's a Matter of Blood"
Mohammad Al-Khafaji, a short, round man with a meticulously shaved, angular buzz cut and goatee, comes from a family of lawyers. His office, monitored by four security cameras, is located on the first floor of an inconspicuous building just off a busy commercial street in the affluent Harthiya neighborhood of Baghdad. All four attorneys in his office specialize in terrorism cases, and the waiting room always seems to be filled with anxious families in search of help for relatives charged under Iraq's draconian laws.
Over the years, 38-year-old Al-Khafaji has acquired a reputation for taking his work seriously. He talks about his cases with such avidity and detail that there's little doubt about his intelligence or his fascination with his work. Unlike many other lawyers who are seen as merely pocketing the money of desperate families, he is known for rolling up his sleeves. That doesn't mean he isn't making a fortune. On average, he charges at least $10,000 to take on a counterterrorism defense, more than 20 times the average monthly salary of a government employee.
At first, Al-Khafaji hesitated to work on Ahmed's behalf. Even though Ahmed wasn't driving the car bomb, the investigators had built a compelling case against him. "I told the family, 'This case is lost, 100 percent,'" he told me in his office one cold day this past winter.
Al-Khafaji is Shia and well-connected in Baghdad, but even he approaches defending ISIS suspects cautiously. He has secured his career in part by avoiding cases involving men captured in Mosul, the city where ISIS leader Abu Bakr al-Baghdadi declared the so-called caliphate and where the group made its final stand.
But an even more important factor guides Al-Khafaji in choosing his clients. He paused, then pointed at the two golden nameplates on the desk in front of him. "Do you know who this is?" he asked. One of the plates bore his own name, the other that of his sister, Suhad Al-Khafaji, a well-known lawyer who was killed in 2011 in a high-profile case that led to a death sentence for former vice president Tariq al-Hashemi and his son-in-law. Hashemi, a Sunni, was accused of running a hit squad aimed at eliminating his Shia opponents. He, in turn, claimed the case against him was politically motivated.
"It's a matter of blood," Al-Khafaji said. "If Iraqi blood was shed, I won't accept the case. We as Muslims, we support the oppressed against the oppressors. It's not acceptable to represent the perpetrators."
In Ahmed's case, there was no blood. Omar kept insisting, and after mutual acquaintances swore by Ahmed's innocence, Al-Khafaji relented and took the case. In an effort to cast doubt on Ahmed's confession, he approached the prosecutor's office, which penned a letter to the central investigative court demanding a medical report. When the first letter went unanswered, he submitted a second request just days before Ahmed's court date. He didn't get a response to that one, either.
Although Iraq's constitution and criminal law prohibit the use of force to extract confessions, they don't explicitly mention the right to medical exams. But a spokesperson for the Higher Judicial Council, which oversees Iraqi courts in an effort to ensure the judiciary's independence, told The Intercept that such exams constitute an inalienable right for defendants. "We aren't denying that there is torture by members of the security forces. But any evidence that is brought through torture isn't recognized," said senior judge Abdulsattar Bayraqdar, the spokesperson. If a defendant claims he has been tortured, the council immediately sends him to a "medical committee" charged with examining prisoners and verifying their claims, Bayraqdar said. In reality, though, judges have broad discretion over whether or not a prisoner receives a medical exam.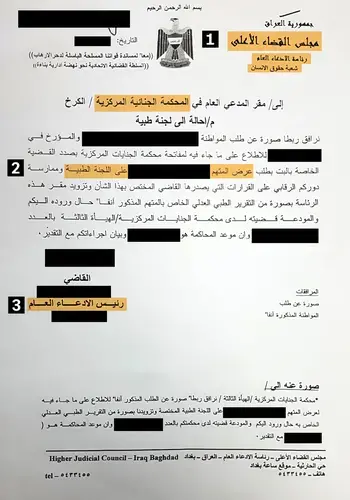 1 The letter was written by "Supreme Judicial Council, General Prosecutor Presidency, Human Rights Department," and addressed to "The Central Criminal Court."
2 Reminding the court of a previous request that went unanswered, the letter requests once again that Ahmed be sent to the medical committee to examine allegations of torture.
3 The letter is signed by the chief prosecutor.
Ahmed never got one. Even if he had, Al-Khafaji says, it would have made no difference in light of the evidence intelligence officers had gathered against his client. The lawyer approached a couple of defense witnesses to vouch for Ahmed, but he said they were too frightened to speak out in favor of an ISIS suspect in a public court. Ahmed's conviction seemed inevitable.
Tears streamed down Omar's face as he recalled seeing his son on the day of the trial. Families weren't allowed inside the courtroom, but the two exchanged fleeting hugs and a few words in a room next door. Then Omar was asked to leave, handing his son's fate to a justice system he had little reason to trust.
A few hours later, Al-Khafaji called Omar to his office, where he broke the news: Ahmed had been found guilty. His trial at Baghdad's Central Criminal Court lasted only a few minutes. As usual in these cases, the panel of three judges, seated on a high bench in front of the accused, hastily read out the findings of the investigation. Ahmed pleaded not guilty. No witnesses were present to testify for or against him. The verdict made no mention of allegations of torture, nor did it mention the two requests for medical exams. In line with Article 4 of Iraq's counterterrorism laws and no matter how minor his role may have been, Ahmed received the same sentence as the mastermind of the planned suicide attack: death by hanging.
The Road to Reconciliation
Since Ahmed was sentenced, the relationship between his family and Mohammed Al-Khafaji has soured. Ahmed's father, Omar, accused Al-Khafaji of sectarianism and of colluding with the investigators to exploit the family. In Omar's eyes, Al-Khafaji had failed miserably in building what should have been a straightforward defense for his son.
Ahmed's only remaining hope to escape execution was the appeals court, and, in a peculiar twist, the man who had sentenced Saddam Hussein to death. Munir Haddad, now in his 50s, rose to fame while presiding over Saddam's 2006 court case, described by some as a show trial. He personally oversaw the former dictator's hanging "because all the other judges refused to do it," he said. After he was forced out of his post in 2008 on what he says were political grounds, he opened a private law practice in Baghdad. He has made a reputation – and a fortune – defending people charged with terrorism, rebranding himself as an advocate for marginalized Sunnis and as a champion of reconciliation.
Omar found Haddad on a friend's recommendation. When I visited Haddad, who has more than 900 clients, he asked his assistant to bring Ahmed's legal file. "Maybe he is telling the truth, maybe he is lying. But he didn't kill anyone," he said as he scanned the documents. While Haddad also won't take any case that involves Iraqi bloodshed, he is ready to defend the guilty from punishment he views as overly harsh. "I may be convinced that he did it, but I may not be convinced that he should be executed," he said. "When there's no blood, it's possible to give the young man a chance." He had promised Omar that he could reduce Ahmed's sentence to life in prison.
Haddad wasn't against the death sentence per se. "If someone killed hundreds, of course he should be executed." But harsh punishments weren't conducive to reconciliation, and reconciliation was what Iraq now needed most. "Saddam is gone, the Baath era has finished, so we have to start from the beginning," he said.
Haddad knew this from personal experience. Dozens of his own relatives, including two brothers, had been killed and many more imprisoned under Saddam. Haddad himself had served almost six years in prison. "When you are released, you can have two personalities. Either you seek revenge or reconciliation."
Haddad chose the latter. He went to law school and recently ran for a seat in parliament on a platform of judicial reform. (Because of widespread allegations of fraud in the June election, votes are being manually recounted and it's still unclear whether Haddad has earned a seat in parliament.) He wants investigations to be carried out by the judiciary, instead of by security forces, so as to reduce the incidence of torture, and he has pledged to get rid of some of Iraq's harshest laws. "We are building a state, and a state cannot be built on vengeance," he said. "It must be built on forgiveness."
But few politicians in Iraq seemed to think a reconciliatory approach toward low-level ISIS members was politically feasible, especially during an election year. "It's very difficult for anyone to talk about [forgiveness] at the moment. Anyone who does will lose all credibility with the public," said Hisham al-Suhail, who heads the Justice, Accountability and Reconciliation committee in Iraq's parliament. A 2017 amnesty law could pardon ISIS members who didn't commit serious crimes, but judges have been reluctant to apply the law to terrorism cases. "Most prisoners who are released with a pardon, frankly, return to terrorist activities," Suhail said, though he did not offer evidence to support that claim.
Given the political climate, the quest to reduce Ahmed's death sentence at the appeals court seemed quixotic, the idea that he could one day be pardoned almost foolish. Yet Omar's faith in his son's innocence was unshakable, underpinned by a feeling of marginalization that had taken root in the family over the past 15 years. Omar broke down in tears several times during the hours we spent talking about his son. In the first instance, his tears were those of a heartbroken father who felt powerless to end his son's suffering. But at times, I wondered if they could also be the tears of a father who feared that his son had strayed, and who blamed himself for having failed to prevent it.
Whether Ahmed was guilty or not, the utter rejection of the judicial process by one segment of society was a sign of the justice system's inability to mend the fissures in post-ISIS Iraq, which seemed to deepen with each passing day. If Ahmed had committed a crime, the courts hadn't offered his victims an opportunity to participate, or a chance to repent in return for a lenient sentence that might allow him to eventually return to his community. If he was innocent, the state had denied him a reasonable chance to prove it.
Absent the truth, the long road to reconciliation had not even begun.
RELATED ISSUES

Issue
Conflict and Peace Building
Conflict and Peace Building

Governance

Criminal Justice