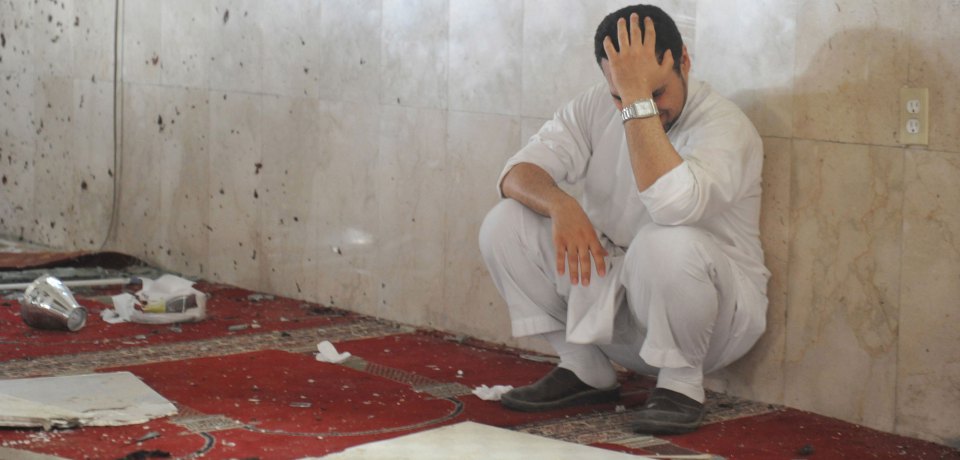 Riyadh—Not long ago, a young Saudi named Yazeed Mohammed Abdulrahman Abu Nayyan decided he wanted to fight in Syria. The 23-year-old had been deported from studying in the United States in 2012 after being arrested for refusing to stop smoking an e-cigarette on an airplane. When he returned home, he felt desperate and lost. He contacted jihadis online who he hoped could help him join the Islamic State.

Given his U.S criminal record, Abu Nayyan was under a travel ban in Saudi Arabia; it would have required a complex operation to smuggle him to Syria. But his Islamic State contacts had something else in mind. "He was told to stay home, and carry out something inside the kingdom," said Interior Ministry spokesman Maj. Gen. Mansour Sultan Al Turki in an interview just days after Abu Nayyan was arrested on April 24 for shooting dead two police officers in Riyadh. According to the police, he had carried out the attack on the orders of Islamic State elements.

Abu Nayyan's case may be indicative of a growing trend. Some 2,500 Saudi citizens have traveled to fight in Syria or Iraq in recent years — but late last year, the country's Interior Ministry started noticing a new trend. The Islamic State was growing more aggressive in its online recruiting — but the converts were staying put. "ISIS is now conveying a message saying, 'We don't need you to come [to Iraq or Syria]. Stay where you are and carry out jihad in your own country,'" said Al Turki.

The May 22 suicide attack in Qatif, in eastern Saudi Arabia, may indicate the impact of that shift. Late Friday morning, a suicide bomber walked into a Shiite mosque in Qatif, an oil-rich province in the country's East, as worshippers gathered for prayer. The blast ripped through the Imam Ali mosque, killing at least 19 people and wounding dozens. Photos on social media showed casualties streaming frantically from the wreckage. According to the BBC, citing an Islamic State-linked Twitter account, the Islamic State claimed responsibility for the assault.

Like al Qaeda before it, the Islamic State has long had Saudi Arabia in its cross-hairs, accusing the kingdom's leaders of collaborating with the West and failing to stand up to repressive Shiite regimes in Damascus and Baghdad. Stirring sectarian tensions in the kingdom, which has a minority Shiite population concentrated in its eastern region, may be seen by extremists as a way to destabilize the country. The attack in Qatif is just the latest indication that, even as it fights the Islamic State in Iraq and Syria as part of a U.S.-led coalition, Saudi Arabia is also increasingly a target back home. In recent months, the kingdom has arrested nearly 100 people in connection to the Islamic State.

The threat is difficult to predict and nearly impossible to stop, often emerging from lone-wolf attacks coordinated online by young Saudis who have never seen or experienced war.

Abu Nayyan's story illustrates how the Islamic State is operating in Saudi Arabia, according to the Interior Ministry. The young man was radicalized, the ministry believes, after his own failure in the United States and lack of purpose after being deported. The Islamic State promised a future for him, while his prospects as a high-school graduate at home were limited. That's a common theme among home-grown radicals, says Khalid Ghannami, a former Saudi extremist who reformed a decade ago. "Some of them are people who want to prove themselves," he said. "They have something to prove inside, to gain respect."

Social problems are another commonality, Saudi officials say. "We find that some of them, they are running away from broken homes, family problems, some with criminal histories, or drug addiction," says Hameed Al Shaygi, a professor at King Saud University and social counselor at Saudi Arabia's rehabilitation program for radicals, the Mohammed bin Nayef Counseling and Care Center. "They want to run away from the social problems and the best way to do so is to go to die as a martyr. … This is how al Qaeda and other groups appeal to them."

Abu Nayyan's accomplice, a young Saudi named Nawaf bin Sarif Samir al-Enezi, fits this latter trend. "His father rejected [his kids] a lot, they grew up on their own," a 27-year-old relative of Enezi told me. For much of his adolescence, Enezi had been content with the usual pastimes of young men here: video games, shisha, perhaps the occasional drink of smuggled alcohol, the relative said.

Something changed after 2011, when the Middle East exploded with anti-government uprisings. The Enezi tribe spans much of the region, and Nawaf had often visited relatives in Syria as a child. He started following the revolution online, increasingly transfixed as media painted the conflict in sectarian and religious terms. In 2014, he picked up and went to Syria to join the rebels, according to the family member.

"After he came back, he was very against the royal family. Because, he said, 'They are leaving our people in Syria [to suffer]; they don't help them,'" the family member told me. "He was never like this before."

In both Enezi's and Abu Nayyan's cases, much of the Islamic State's ideological work was done online. During an earlier wave of attacks by al Qaeda against Saudi Arabia in the mid-2000s, local cells contacted new recruits personally, which made their networks easier for Saudi authorities to track. Cell members recruited in specific mosques, often from within their own families. Today, many Islamic State recruits find their way to the group in web forums and on Twitter, where they can easily connect to fighters and networks in Iraq and Syria.

Those same networks abroad are helping coordinate attacks inside the kingdom, the Interior Ministry believes. Enezi and Abu Nayyan didn't know one another when the time came for the Riyadh police attack. Instead, according to the Interior Ministry, both had their own contacts in Iraq and Syria who liaised between them without ever introducing the men. Enezi would be the driver, Abu Nayyan would shoot.

"All [Abu Nayyan] knew [about Al Enezi] was his nickname — he didn't even know if he is a Saudi or non-Saudi," said Al Turki. When Abu Nayyan decided he wanted a better gun and more ammunition, Islamic State contacts in Syria made the arrangements. "Somebody managed to give them the gun, ammunition, and money, without having to meet him or to know him. He was directed to put the weapon in a specific place" for Abu Nayyan to pick up, Al Turki said.

The pair had apparently tried several attacks before they finally killed the Saudi policemen in East Riyadh while they were on patrol on the morning of April 8. It followed a string of previous small-scale assaults. In the largest in November, gunmen killed eight citizens in the eastern city of Al-Ahsa; a Danish expat was also shot dead that month in Riyadh.

Despite the growing spate of such attacks, Saudi authorities say they are encouraged by what happens to many of the perpetrators: The Islamic State abandons its lone-wolf recruits. After the shooting, Abu Nayyan was found hiding on a farm some 80 miles from Riyadh — alone. Once arrested, he confessed to the crime and gave the Interior Ministry a description of Enezi; police announced a 1 million Saudi riyal ($267,000) bounty.

Social pressure has been key to finding such wanted men. After Enezi's name was revealed, leaders of his tribe placed an ad in a local newspaper denouncing him, saying that the killing was a "shameful and cowardly" act and promising to cooperate with police to locate him. The family member said he suspected it was a tip from another relative who finally revealed where Enezi was hiding — among the sheep at a family farm.

"If we rely on the police effort, there isn't much we can do [to catch radicals], because these people are very careful … they are very careful and try to look normal," said Al Turki, who credits success instead to "public support and involvement." A national tip line, for example, offers families and friends a 24-hour mechanism to report suspicious behavior or other concerns.

Within just minutes of the suicide attack on Friday, Saudi authorities began chasing information and public tips again, launching an investigation into who was behind the bombing of the Imam Ali mosque. Dozens of Saudi officials condemned the incident as a "heinous [act] aiming to plant sectarian strife among the people of the kingdom," as the Muslim World League secretary general in Mecca put it. Yet many in Saudi Arabia may be bracing for more provocations going forward.