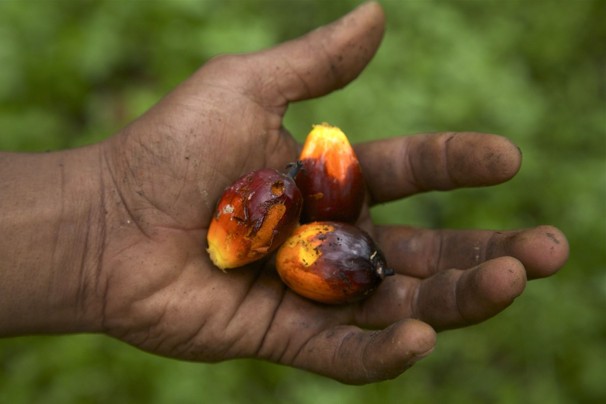 Twenty-five years ago, Lahad Datu was just another sleepy port town on the fringe of Malaysian Borneo, frequented by traders, sea gypsies and the occasional pirate gang.

These days, big money is flowing into banks and construction projects that have multiplied in the city center, where a gaudy silver statue honors the cash crop that put the former backwater on the map: palm oil.

Long a preferred cooking ingredient in developing countries, palm oil is now in greater demand in Western markets because of its low price and long shelf life. Derived from the fruit of oil palm trees, it can now be found in more than half of all the products sold in U.S. supermarkets, from cookies to cosmetics. And its use is increasing as the commercial food industry phases out the use of trans fats to meet government-mandated labeling requirements.

The huge global appetite is yielding billions in revenue for Indonesia and Malaysia, the world's first- and second-largest producers of palm oil. But environmental and human rights activists warn that the boom is doing irreparable damage to rare biodiversity and accelerating the effects of global warming, with no concern for long-term social costs.

They add that indigenous people are being pushed off their ancestral land to make way for plantations staffed by tens of thousands of migrant workers, who are often denied health care and education services. Many families that have labored for decades still do not have the legal documents that would grant them and their children basic rights.

The laborers and their children "are invisible; they have no future. They just work and work and work," said Alison Neri, the director of a social welfare organization that assists Indonesian migrants in eastern Malaysia.

The toll is most acutely felt in Borneo, the Southeast Asian island shared by the two countries that's home to one of the oldest rain forests on Earth and humankind's closest relative, the orangutan.

According to a new study, oil palm plantations over the past two decades have cleared about 6,200 square miles of primary and logged forested lands. Palm oil deforestation and hunting have combined to cut Bornean orangutan populations down to 54,000, half the total of the 1980s, according to environmental groups. At this rate, some predict the iconic animal could be extinct within a matter of years.

Borneo started losing its rain forest cover in the 1960s when the Malaysian government pushed the expansion of oil palms to complement rubber tree growth. Migrant workers traveled in droves from Indonesia and the Philippines to work on the plantations being carved out of the backcountry.

Palm oil has since evolved into Malaysia's most lucrative crop. In 2011, the export of palm oil and palm-based products netted $27 billion — a five-fold increase over the past decade — thanks to brisk trade with China, Pakistan, the European Union, India and the United States, which imported record levels for the year.

A changing landscape

The transformation of Lahad Datu is emblematic of the boom going on in Malaysia's Sabah province, which accounts for about a quarter of Borneo's land area. The local population has doubled over the past 15 years. American fast food chains and other new businesses have arrived. And real estate prices are soaring in what has been dubbed "Palm City."

On the southern edge of town, lines of tanker trucks deliver crude palm oil to a sprawling, state-owned refinery complex where smokestacks belch into the night. Fresh lots have been set aside for prospective investors, and officials hope a deep-water port under construction nearby will position the region to be a top exporter of biodiesel fuel.

Longtime residents who recall a time when street crime and power failures were a fact of life boast their children are coming back to the city to start businesses and profit from the boom. "The quality of life here has improved tremendously," Tammay Bin Inton, 58, a community leader, said as he joked with friends at a popular coffee shop.

Nasrun Datuk Mansur, a state assemblyman and assistant to the Sabah chief minister, said the industry is "the catalyst for all types of business activities that are helping Lahad Datu develop very fast, and I believe it's true for the whole country."

But critics of the palm oil industry counter that the breakneck expansion of plantations into virgin tracts of Borneo's countryside is benefiting little more than a handful of major companies, which gain extra income from timber, at the expense of one of the world's most bio-diverse areas and the farmworkers who do the heavy lifting.

A joint study published last month by Stanford and Yale universities found that land-clearing operations for plantations in Borneo emitted more than 140 million metric tons of carbon dioxide emissions in 2010 alone, equal to annual emissions from about 28 million vehicles.

"We may see tipping points in forest conversion where critical biophysical functions are disrupted, leaving the region increasingly vulnerable to droughts, fires and floods," project leader Lisa M. Curran, a professor of ecological anthropology at Stanford University, said in a statement.

Slash-and-burn agriculture accounts for 80 percent of Indonesia's carbon dioxide emissions, making it the world's third-largest emitter of greenhouse gases, behind the United States and China.

"It's a perfect storm of human rights abuses and social conflict on the one hand and the destruction of some of the most biologically diverse forests in the world on the other," said Laurel Sutherlin, communications director of the Rainforests Action Network, a San Francisco-based environmental organization. "Extraordinary ecosystems are becoming dead tree farms."

Indonesian officials have announced plans to convert about 18 million more hectares — an area the size of Missouri — into palm oil plantations by 2020. Malaysia wants to double the area under cultivation over the same period to drive development in its rural eastern provinces, where infrastructure and living standards lag far behind its wealthier, more industrialized western peninsula.

'It's a hard life'

Lost in the environmental debate is the plight of thousands of migrant workers — mostly from Indonesia — who remain the life's blood of Malaysian palm oil plantations. Some have labored in the country for more than 30 years. Yet the government does not provide education or health-care services to them and the estimated 36,000 children living on backcountry farms.

Leonary Marcus, 17, came with his parents from Indonesia as a young boy. He attended a learning center run by a local nonprofit organization, but without legal documents, he was ineligible for secondary school. For the past five years he has toiled on the plantations, earning about $7.50 a day.

"It's a hard life, but what choice do I have?" he said.

Without access to state schools, workers' children are destined to hard labor in the shadows, said Aegile Fernandez, director of Tenaganita, an organization that assists undocumented migrants in the country. She said it was the "duty of every government to look after every child on its soil — no questions asked."

The Malaysian government declined to comment on the issue.

In response to mounting pressure, leading palm oil producers have partnered with advocacy groups to form the Roundtable on Sustainable Palm Oil, an association based in Zurich that aims to establish clear social and environmental safeguards for the industry.

Top consumer goods companies, such as Unilever and Nestle, are members, as well as agribusiness giant Cargill, the largest importer of palm oil to the United States.

But activists say there has been more talk than serious reform, pointing out the difficulty of tracing the origin of palm oil down murky supply chains. Smaller, remote plantations are especially prone to abuses, they note.

On a recent afternoon, Mappi Tabbo and his family, including his five children, ages 5 to 19, loaded a pickup truck with their day's haul of palm nuts.

Ten years after leaving Indonesia for a better-paying job, the 41-year-old still risks arrest, a penalty that exceeds a year's wages and possible deportation if caught by police known to demand hefty bribes.He avoids town altogether.
RELATED ISSUES