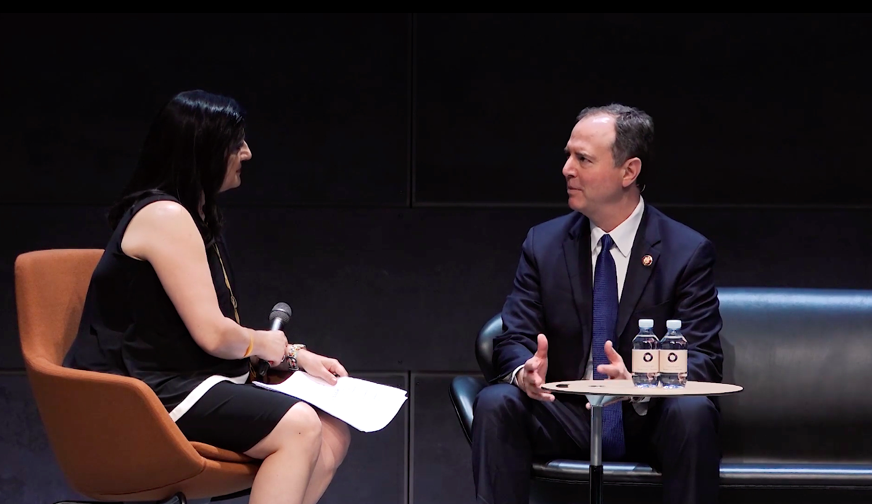 Pulitzer Center Executive Editor Indira Lakshmanan spoke to Congressman Adam Schiff about his concern that autocracy is creeping into westernized democracies at the 2019 Copenhagen Democracy Summit, which took place June 27-28 at the Royal Danish Playhouse in Denmark. 
"Autocracy is really on the rise," he said. "For those of us who grew up in a post-World War Two generation, we believed that the trend was towards further democratization, that people would say what they will, love who they would...that it was somehow inexorable," he continued. Now, he said, the world is "at an inflection point," and the preservation of democracy "requires all of us to be champions of human rights."
Congress, he said, remains committed to democracy and to human rights, even though these sentiments aren't always reflected in statements from the White House. "[Democracy is still] the conviction of the representatives of the people," he said.
Referring to the U.S.'s now precarious ties with some of its formerly strongest allies, Schiff remarked that some countries may be questioning whether the U.S. is a force for good in democracy or part of the problem. "But we do continue to play an indispensable role," he emphasized. "Journalists watching from prison cells in Turkey, families who are victims of mass extrajudicial killings in the Philippines...they continue to look to America," he said. 
The problems the U.S. is now facing, Schiff says, are the product of a revolution in the global economy, where people are losing their jobs, and a revolution in communication, where, with the advent of social media, "lies can travel faster than truths, and fear and anger go viral."
The U.S. is seeing "enormous turmoil," he said, manifested in a "xenophobic populism" reflected in the president's rhetoric. But, he noted, "We still have an indispensable part to play, and we will play it again."
For a full overview of all the panels Lakshmanan moderated at the 2019 Copenhagen Democracy Summit, please visit here.
RELATED ISSUES