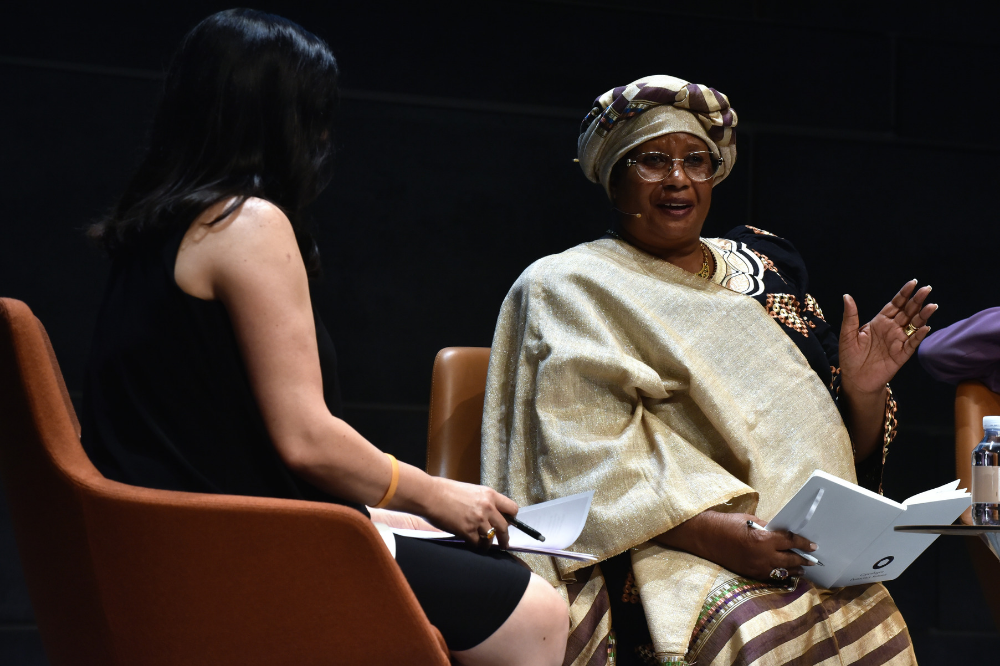 Pulitzer Center Executive Editor Indira Lakshmanan moderated a discussion on the state of global democracy with former President of Malawi Joyce Banda, CEO of The Rappler in the Philippines Maria Ressa, and former Indonesian Deputy Foreign Minister Dino Patti Djalal at the 2019 Copenhagen Democracy Summit, which took place June 27-28 at the Royal Danish Playhouse in Denmark. 
Lakshmanan highlighted a recent survey from Dalia Research on the global state of democracy. 41 percent of the global population thinks there is not enough democracy in their country. In the Philippines, however, only 21 percent thought so.
Patti Djalal noted that voter turnout in the Indonesian elections has been high, signaling people's continuing optimism about democracy. However, he said that levels of corruption in the last class of political leadership were extremely high, with around 220 parliamentarians at the national and local level involved in some form of corruption. "There is a crisis of confidence in institutions of parliament," he said.
Ressa, who has published many stories about corruption in Duterte's government and extrajudicial killings in The Rappler, hypothesized that the statistically high satisfaction with democracy in the Philippines according to the survey represents the obscuring of facts in the government. Filipinos spend a large amount of time online, Ressa pointed out. "Part of the problem [that results from social media] is we don't know what the facts are," she said. "If you have no facts, you cannot have trust, and if you don't have truth or trust, you won't have democracy." 
Banda said she sees the flourishing and the deteriorating of democracy in Africa at the same time. Democracy thrives when women and young people stand up and demand more from authority, she said, but leaders aren't paying attention to what they're saying. "[Women and young people] aren't asking for too much; they're just asking for us to be straightforward, to stop corruption."
For a full overview of panels Lakshmanan moderated at the 2019 Copenhagen Democracy Summit, please visit here.