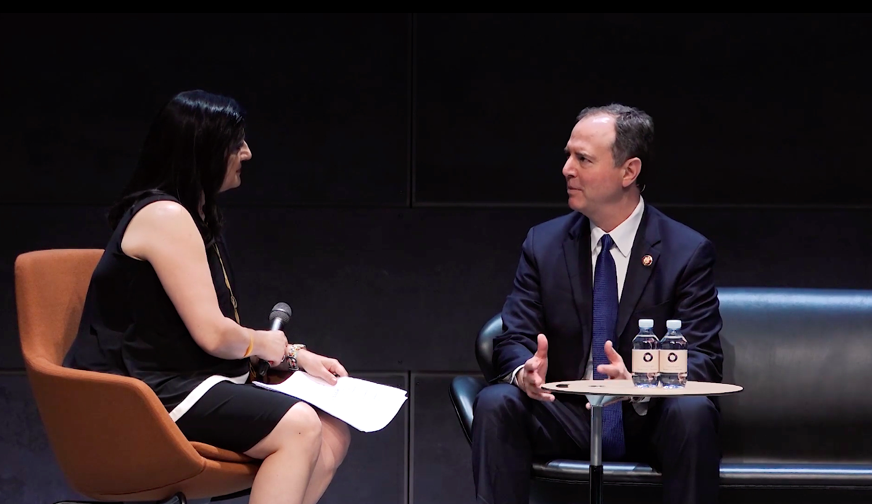 Congressman Schiff on U.S. Leadership
Pulitzer Center Executive Editor Indira Lakshmanan spoke to Congressman Adam Schiff about his concern that autocracy is creeping into westernized democracies at the 2019 Copenhagen Democracy Summit, which took place June 27-28 at The Royal Danish Playhouse in Denmark. 
"Autocracy is really on the rise," he said. "For those of us who grew up in a post-World War Two generation, we believed that the trend was towards further democratization, that people would say what they will, love who they would...that it was somehow inexorable," he continued. Now, he said, the world is "at an inflection point," and the preservation of democracy "requires all of us to be champions of human rights."
Discussion on Global Democracy
Former President of Malawi Joyce Banda, CEO of The Rappler in the Philippines Maria Ressa, and former Indonesian Deputy Foreign Minister Dino Patti Djalal expanded on the state of global democracy. 
Lakshmanan highlighted a recent survey from Dalia Research on the global state of democracy. Forty-one percent of the global population thinks there is not enough democracy in their country. In the Philippines, however, only 21 percent thought so.
Bi-Partisan Congressional Discussion
Congressmen Steny Hoyer (D) and Tom Cole (R) discussed the U.S. role in promoting democracy and freedom with moderator Indira Lakshmanan.
Lakshmanan asked Hoyer and Cole about the influence of global tech platforms, identity politics, xenophobia, and other factors on democracy today.
"Democracy is resilient, but if ignored, it will be under assault and may well lose," Hoyer said. 
RELATED ISSUES