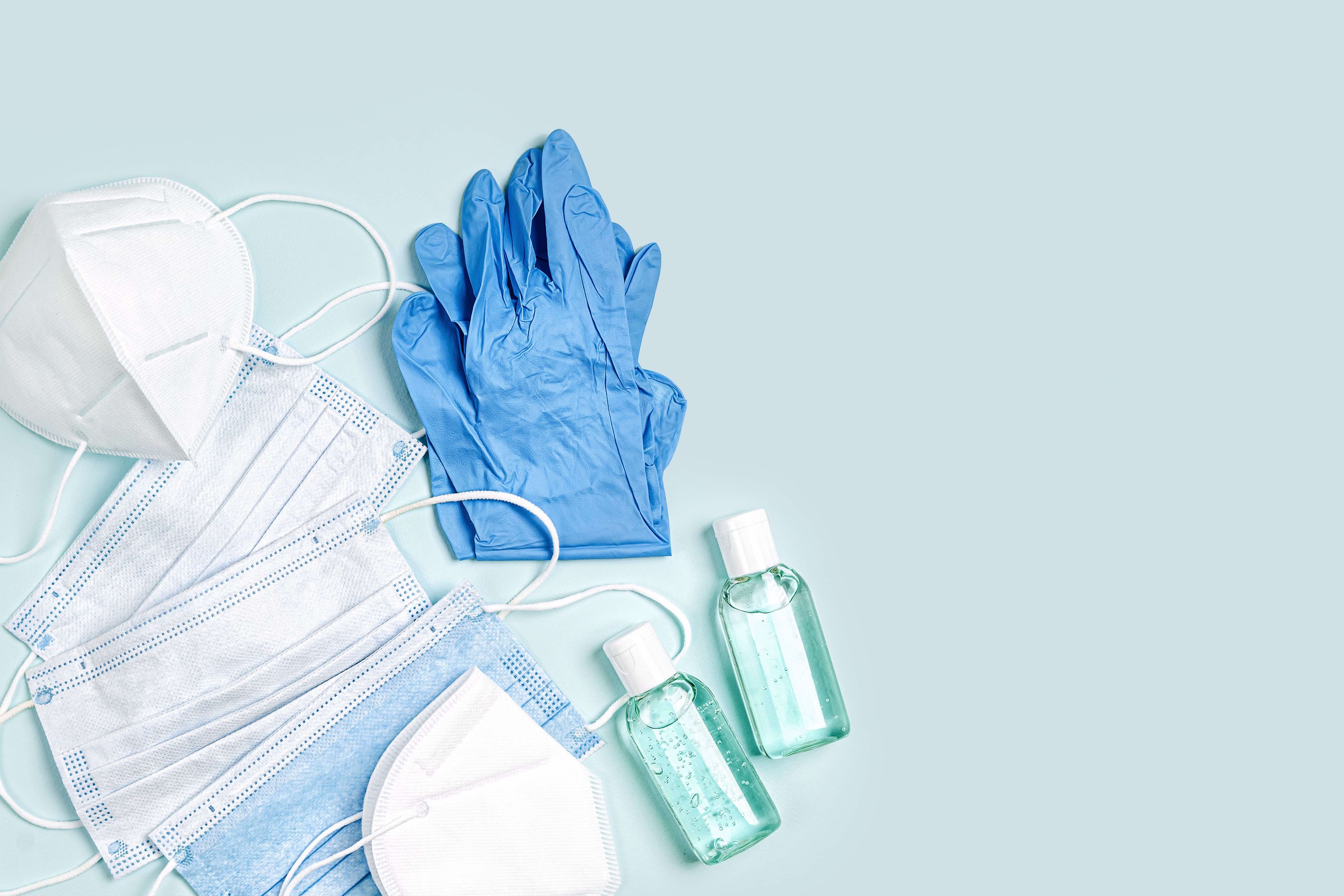 It was Monday, March 23, 2020, and Joelyn Alfred was about to submit her request for personal protective equipment (PPE) to the Georgia's Division of Public Health. As director of a small methadone clinic, she had been bracing for the coronavirus pandemic to hit her facility north of Atlanta for weeks. She knew Lakeland Centres, which has served its community for more than 30 years, couldn't take that risk. It needed to remain safe, but present.
Her usual provider of medical supplies, Georgia-based MedStat, had itself not been able to get face masks for weeks. One of Alfred's seven employees had been able to procure six surgical masks for her team, and they got another eight hand-sewn masks from a local group. But they had to be handwashed regularly and wouldn't suffice for long. At the time, the state had about 800 confirmed Covid-19 cases and 26 reported deaths. Gwinnett County, where Lakeland Centres was based, had 35 cases. Alfred had to tell her staff that if they didn't feel comfortable working, they could stay home, though no one did. Now, there was an opportunity.
"We're a health care facility. We're important," Alfred thought. "We should be able to get these supplies."
She filled out the online questionnaire where licensed providers could make official requests, and included a justification letter, which was required. The letter explained that as a medication-assisted treatment provider, Lakeland Centres had to serve patients with substance use disorder daily "despite the conditions that they may present with on-site," and it wanted to do so while keeping staff and patients safe. "We would greatly appreciate any help in this matter," the letter concluded.
After four days without a response, Alfred resubmitted her request on March 27. She didn't hear back until April 10. "The allocation team reviewed your request and is unable to allocate PPE to your organization at this time," was the brief response. "Please continue to work with your vendors, your local public health district and your healthcare coalition partners."
"In order to care for our patients, we also need to be cared for," Alfred said in a phone interview.
Lakeland Centres was not the only opioid treatment program in the state, or the country, denied. Amid what experts call a pandemic within a pandemic, access to treatment for substance use disorder has been strained by the coronavirus as providers struggle to stay open without putting themselves and their patients at risk. Since mid-March, advocates had to plead with two federal agencies to get two letters that recognized opioid treatment programs as essential—something that already seemed obvious. Only after the second letter, which came from President Trump's Office of National Drug Control Policy, did treatment clinics begin to gain access to previously unattainable equipment. Weeks of back and forth proved to be a detrimental delay that left scores of staff ill and clinics shuttered.
Preliminary data points to a worsening opioid crisis, driven by isolation due to mandated quarantine and shrinking access to treatment. Alcohol sales reportedly rose more than 25 percent in the span of two months from March to May compared to the same time last year. The University of Baltimore's Center for Drug Policy and Enforcement, which analyzes overdose data, noted in a June report that spikes were occurring nationally. Rehab.com, a referral service for addiction treatment that attracts thousands of users, said in an emailed statement in May that in the span of six weeks, its site traffic in users seeking treatment increased by nearly 400 percent. Mayors of cities like Dayton, Ohio, have publicly reported spikes in overdoses. John Shinholser, president and co-founder of a recovery nonprofit in Virginia, said in an interview in May he knew nearly a dozen program alumni, family friends, or newcomers at surrounding organizations who died in the span of a few weeks, some in detox, some from suicide.
Mary-Ellen Viglis lost her 19-year-old son to suicide in early April, just as the pandemic was starting to hit full-swing in the U.S. He had been in a recovery program for substance use disorder and being able to engage in-person with his community was critical to his well-being, his mother said in a phone interview.
When their area of Richmond, Virginia, received a stay-at-home order at the end of March, all program meetings and community engagements ground to a halt.
"Isolation is really bad for addiction because it feeds the disease," she said. "He hated the isolation."
People in recovery or getting treatment aren't the only ones in danger. Haymarket Center, a substance abuse treatment center in Chicago, was hit with at least 45 cases by mid-April, a third of which were infected staff, the Chicago Sun-Times reported. Two employees died. Lutheran Social Services of Illinois had to shutter most of its in-person behavioral health programs, including medical detox and rehab, due to the coronavirus. Local recovery advocate Tim Ryan said in an interview that Lutheran's closure was due to ill staff, though Lutheran Social Services could not be reached to confirm cases. Seven employees at another rehab center in Ohio tested positive, according to local news reports. The list goes on.
The National Alliance for Medication Assisted (NAMA) Recovery, an international patient advocacy group and the nation's largest, had been following these complaints for weeks. The group's president, Zac Talbott, said in a phone interview that the number of clinicians and staff NAMA Recovery heard from as the pandemic swung full-force was "unprecedented." Nurses called in threatening to resign over a lack of protective equipment at their facilities; others reported centers struggling to comply with social distancing rules. Talbott also received reports of Covid-19 patients who still had to come to facilities in order to receive treatment.
As the volume of complaints grew, Talbott worried that if treatment programs became a coronavirus hotspot, it would further the stigma around them.
"Our fear was that this could really do damage to the industry. A black eye, if you will," Talbott said.
Organizations have had to turn to fundraising on platforms like GoFundMe in order to buy face masks for employees. Behavioral Health Group (BHG), a network of opioid treatment and recovery centers that serves approximately 20,000 people across 13 states and D.C., had to get creative early on to get gear. It scoured Walmart, Amazon, and Etsy to stock up on masks for employees and patients, according to Marlin Martin, BHG's senior vice president of regulatory and clinical affairs. Meanwhile, two groups in Georgia sewed hundreds of masks that were sent to more than two dozen clinics in need.
Even the country's largest distributor of medical supplies to opioid treatment programs lacked access. MedStat serves approximately 800 treatment clinics around the country, including Lakeland Centres. After the pandemic hit, the distributor worked to also supply first responders and other medical facilities in the region. But from mid-February through May, MedStat had been unable to get masks, said MedStat President Jonathan Connell, leaving clinics to figure out alternative resources. In theory, licensed medical facilities like Lakeland Centres can buy directly from a wholesaler like McKesson instead of through a distributor like MedStat, but that requires bigger margins, Connell explained. MedStat's prices are wholesale; few treatment clinics can afford buying supplies directly.
MedStat had gone through rounds of unsuccessful attempts at ordering masks and other protective gear. His primary wholesalers like McKesson and Henry Schein were not shipping masks to him. Hopeful when the opportunity to get infrared thermometers arose, Connell put his faith in a Florida-based organization that had found a seller, but it turned out to be a scam.
After about a month with no face masks in sight, Connell turned to the American Association for the Treatment of Opioid Dependence (AATOD) for help, an organization that represents more than 1,000 treatment programs in the U.S. For weeks, AATOD had growing concerns about the safety of clinicians around the country, AATOD President Mark Parrino said in an interview.
In an effort to bring attention and urgency to the programs' protective equipment needs, Parrino asked the Substance Abuse and Mental Health Services Administration (SAMHSA) to formally recognize opioid treatment programs as essential. SAMHSA obliged, drafting a letter that was promptly delivered on March 25 to Parrino. The letter affirmed that the programs are "essential medical services" and their equipment need "is for a legitimate need and purpose."
Parrino forwarded that letter on to Connell, who was hopeful it would begin to spur shipments from his go-to wholesalers.
But no shipments of masks came in. "We were dead in the water at that point," Connell said.
While disappointing, the lack of response wasn't surprising, according to experts. In Talbott's view, SAMHSA just doesn't carry enough weight in the field. For instance, despite the agency issuing emergency exemptions meant to increase access to medication assisted treatment and the use of telemedicine for patients with substance use disorder, some states refused to comply with the new guidance. Manufacturers may not even realize what SAMHSA is, or its authority, according to Talbott. Short of the White House declaring opioid treatment programs to be essential services, "my concern was that it would be of little effect," Talbott said of the SAMHSA letter.
Parrino agreed, calling the problem a "perception of hierarchy" in the industry. Some state authorities attest to the dynamic. John McIlveen, who serves as Oregon's State Opioid Treatment Authority and works regularly with state and federal authorities like SAMHSA, knows first-hand how misunderstood treatment programs are. Though they are essential, they have often "not been adopted universally by folks throughout the medical system," he said. Even despite their efficacy, "they've always been seen as a separate entity."
Following the SAMHSA letter, NAMA Recovery and AATOD tried to get the White House's attention as treatment programs continued to flounder without adequate protective equipment.
"It's sort of like they've been doing a trapeze act without the net," Parrino said.
While Parrino sent a personal letter, Talbott did a callout via email to NAMA Recovery's 14,000 members, encouraging them to write letters to the White House, he said.
Because of the higher level of clearance required of any official White House communications, their letter took three weeks. On April 23, the Office of National Drug Control Policy (ONDCP) sent Parrino a letter that, nearly verbatim to SAMHSA, declared opioid treatment programs essential medical services and stated their equipment needs are legitimate.
"I trust that this letter serves as my endorsement that they too need to be protected during these trying times," the letter said. It was signed by ONDCP Director James Carroll.
The week after Parrino received the White House letter, MedStat received a shipment of 150,000 face masks and a pallet of Clorox disinfectant wipes. Connell doesn't know for certain whether any of his wholesalers saw the ONDCP letter. A spokesperson for Clorox denied knowing of its existence via email. The company cited "unprecedented" demand for its products, saying that it nevertheless has "made it a priority to get our disinfectant products to healthcare facilities in this time of need."
In an emailed statement in May, McKesson, one of MedStat's wholesalers that had not resumed shipping face masks at the time, said its "highest priority is providing supplies to frontline healthcare workers" and that its supply chain had been affected by production in China. McKesson said it stopped selling PPE that was in high demand to resellers like MedStat, and had stopped taking orders altogether from new customers.
The ONDCP letter got around. AATOD board member Stacey Pearce sent it to all the member clinics of the Opioid Treatment Providers of Georgia, she said by email, "in hopes that it would help clinics obtain PPE from the Department of Public Health." On April 27, four days after the letter had been written and more than one month after her initial request, Alfred decided to resubmit her request again for protective equipment to Georgia State, this time including the letter as an attachment.
"Please advise me on how we can obtain the items that I had previously submitted," she wrote. "I have attached a letter that confirms our needs from the Executive Office of President Trump."
Exactly one week later, Alfred received a voice message stating her equipment was ready for pickup from the county's health department. She received more than 100 masks of different kinds, multiple boxes of gloves, face shields, and coveralls.
On the one hand, Alfred was ecstatic to finally have sufficient protective equipment. On the other, she was "disheartened" because of the delay.
"We are an essential medical service and for way over 40 years we have been in the trenches and we've been put aside," she said. "We were recognized, but not recognized as essential and important for now."