Starting with a Bay Area project, the controversial crime-tracking app wants to see if it can serve vulnerable communities that don't trust police.
---
When it's dark outside and Josephine Zhao has to walk even a few blocks home in San Francisco, she will sometimes call in an extra set of eyes—literally. 
After opening the Citizen app on her phone, Zhao connects with one of the platform's agents through a feature called "Live Monitoring." This allows a human on the other end to track Zhao's GPS location and, with the tap of another button, access her phone's camera so they "can see what I see," Zhao says. Often she won't even speak to the agent, but knowing that "someone will walk with me" offers a little peace of mind. 
It's one of the latest security measures Zhao has embraced: She also avoids public transportation and walks around the city with a long pointed device attached to her keychain, a baby-pink piece of plastic that can be turned into a weapon in her fist. 
---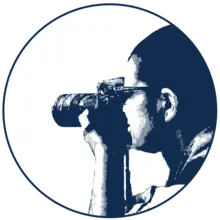 As a nonprofit journalism organization, we depend on your support to fund more than 170 reporting projects every year on critical global and local issues. Donate any amount today to become a Pulitzer Center Champion and receive exclusive benefits!
---
But she feels Citizen, a hyperlocal app that allows users to report and follow notifications of nearby crimes, is one of her best means of protection—the kind of data-powered DIY security measure that can help a community she says has been rendered invisible for so long. 
"Our needs are not being met in education, in public safety, in housing, in transportation—nothing, really. Like we don't matter," says Zhao, a substitute teacher and community liaison for various educational NGOs. "Our needs are not respected. Our needs are not being met. And people discount us left and right." 
"I genuinely believe Citizen is a social justice and racial justice tool."

Trevor Chandler, Citizen's former director of government affairs and public policy 
"We have to do things for ourselves to protect our community," she adds. "Citizen is the perfect tool." 
Many members of the Bay Area's Asian-American and Pacific Islander (AAPI) community who spoke with MIT Technology Review have similarly welcomed the app as a means to address anti-Asian hate and mitigate their anxieties during a period of ongoing race-based attacks in the region and across the US—and following a string of mass shootings affecting Asians, most recently in nearby Half Moon Bay. 
Citizen has become a way for people in one of the most traumatized populations to find information that puts them at ease. 
Citizen's reinvention
This positive reception may seem odd for an app that has long been criticized for amplifying paranoia around crime and helping white residents to practice racial gatekeeping. Citizen, originally called Vigilante, has indeed had a checkered history: The Apple App Store banned it within a week of its launch in 2016 for violating the Developer Review Guidelines that keep apps from encouraging physical harm. The company made headlines in 2021 when its CEO asked his staff to put out a $30,000 reward for a man whom he incorrectly identified as the person who started a brushfire in Los Angeles. And its users have frequently been criticized for racist comments.
It's in this context that the app is now actively trying to win users like Zhao. Starting in September of last year, Citizen has been recruiting people of Chinese and other Asian descent in the Bay Area, many of them elderly, at events organized with area institutions like the Oakland Chamber of Commerce and the Chinese American Association of Commerce in San Francisco, asking them to join the service and receive a free one-year premium subscription worth $240. (While the free version of the app sends users alerts of noteworthy incidents, the premium version is needed to connect with Citizen agents for live monitoring.) Zhao, in fact, worked directly with Citizen to help translate onboarding materials into Chinese and spread them among her network. 
The end goal is to recruit 20,000 new users from the region's AAPI community, which translates to roughly $5 million worth of paid-for, year-long premium subscriptions. Darrell Stone, Citizen's head of product, says 700 people have already signed up.
The Bay Area project is also something of a test for an even broader revamping of the app—an appeal to a number of vulnerable groups that may often avoid the police, from the Black trans community in Atlanta to gang violence interrupters in the Chicago area. "I genuinely believe Citizen is a social justice and racial justice tool," says Trevor Chandler, who led the Bay Area pilot program last year when he was Citizen's director of government affairs and public policy. 
But some advocates who work with Asian communities in the Bay Area, as well as experts focused on misinformation in vulnerable populations, wonder whether embracing this technology and the hyperspeed with which it can deliver information really solves the problem at heart—whether it can actually make people safer rather than just make them feel a little safer. And beyond that, they are asking whether Citizen may actually make things worse—amplifying paranoia among a group that, particularly since the start of the pandemic, has experienced unrelenting trauma on a local and a national level. 
"Almost on a daily basis, you can go on any social media and the way that crowdsourced information kind of spreads and moves throughout the technological ecosphere is totally unhinged, in my opinion," says Kendall Kosai, vice president of public affairs at OCA, a nonprofit with 40 chapters across the country that advocates for the social, political, and economic well-being of Asian communities. 
He says he has Citizen on his own phone and has been taken aback by how biased some user-generated comments submitted around certain incidents were. "What kind of impact does that really have on the psyche of our community?" he asks. "And it's clear that this can get out of hand really quickly." 
Getting "the right information"
"I'm so excited to use it," says Alice Kim, 49, who runs Joe's Ice Cream with her husband in the Richmond District, a neighborhood in northern San Francisco where roughly a third of the population is Asian and where the Kims say they have seen an increase in vandalism and car break-ins. 
Like many other Asian-Americans, the Kims feel that concerns for their safety have fallen on deaf ears for a long time, largely ignored by local politicians. It "feels like they're living in some other world," says Sean Kim, Alice's husband. 
There were three attempted break-ins at their shop in the span of a couple of months in 2021, and people even threw trash at Alice a few times or started altercations when she says she asked people not to use its bathroom.
"I started having kind of anxiety whenever I come to work in the morning—if my store [was] gonna be okay, if I'm gonna see another broken window," Alice tells me. "During the pandemic, I felt very nervous and unsafe."
Alice had Sean install Citizen on her phone last fall, though he had been telling her about what he saw as the benefits for a while. He'd been using Citizen before the company started to court the AAPI community, but he upgraded when Zhao, a friend, told him about the promotion code to receive a free premium account. 
He finds Citizen more reliable than other apps following local goings-on, like Nextdoor, because he says that it seems to have verified information. (Besides relying on information about emergencies reported to authorities from a variety of public data sources, Citizen employees say they review user-reported crimes before posting them.)
"I feel like it is an efficient tool. I know the right information; that feels safe."

Citizen user Sean Kim
"I think more people are using [Citizen] because a lot of people verify [the information]," he explains. "So at least I know, Oh, that's not a gunshot. But otherwise … I hear the 'gunshot,' I don't know what's going on. I feel like it is an efficient tool. I know the right information; that feels safe." 
For Alice, being able to connect to an agent through Citizen's premium function seems like one way of addressing issues that may not meet the threshold of a real crime, but nonetheless make her feel unsafe. On the app's map, red dots show reports of serious incidents, like a person being struck by a car or physically assaulted with a weapon; yellow dots show milder concerns, like a report of an armed person or the detection of gas odor; and gray dots represent issues that are noteworthy but not threatening, like a lost pet. 
Like the Kims, many Asian people in the Bay Area have actively embraced surveillance because they feel invisible. Members of the AAPI community have organized patrols through Chinatowns in San Francisco and Oakland (though the Kims haven't participated in them). The couple supported a controversial bill that allows police to access private security-camera footage for up to 24 hours if the owner allows it. Sean and Alice also talked to other small-business owners about installing private cameras, a measure that Chinatown business owners in nearby Oakland did too. To them, Citizen is just another tool to keep tabs on what's happening around them. 
Chandler thinks that much of the negative discourse around Citizen misses this perspective—and that some of the app's core users, like the Kims, rely on the tool because they are living with crime on their doorsteps. 
"Citizen, and the premium version, is not the panacea. It will not fix the world's problems. It will not stop crime from happening all over the world. It's not that," Chandler says. "But it is a very powerful way for marginalized communities to make their voices heard." 
"Unfortunately, they don't have a Chinese helper" 
"While the idea of Citizen is brilliant … I do come to this with a healthy dose of skepticism because of the uniqueness of our community," says OCA's Kosai. "One of the things that I'm always thinking about is, how accessible is it to members who are most vulnerable?" 
He notes that the Asian community in the US encompasses "50 different ethnicities and 100 different languages spoken" and that "different communities interact differently with local law enforcement around these kinds of public safety issues." 
Currently, Citizen is only available in English. To be truly effective, it must offer its services in Chinese or other Asian languages, says Jessica Chen, executive director of the Oakland Chinatown Chamber of Commerce. (In an email, Citizen's Stone said it is "actively investing" in natural-language processing that "will enable us to translate the app into different languages in real time," but did not offer specifics or a timeline on those efforts.) 
And on a purely logistical level, it can be difficult to help a group adopt a technology when its members have varying levels of technical and news literacy—even more so when English is not their first language. Senior citizens in particular are also likely to need help navigating anything from signing up for the platform to interpreting the information it brings to their attention. 
"Do I have time to teach them? Am I the right person teaching them?" asks Chen. 
Josephine Hui, a 75-year-old who has lived in Oakland for four decades and regularly commutes to Chinatown to work as a financial educator, was among several elderly people who recently learned about the app at a Citizen-sponsored event cohosted by the Asian Committee on Crime, a nonprofit concerned with safety issues in Oakland,  and the Oakland Chinatown Chamber of Commerce. She was there to see public safety presentations by the Oakland Police Department.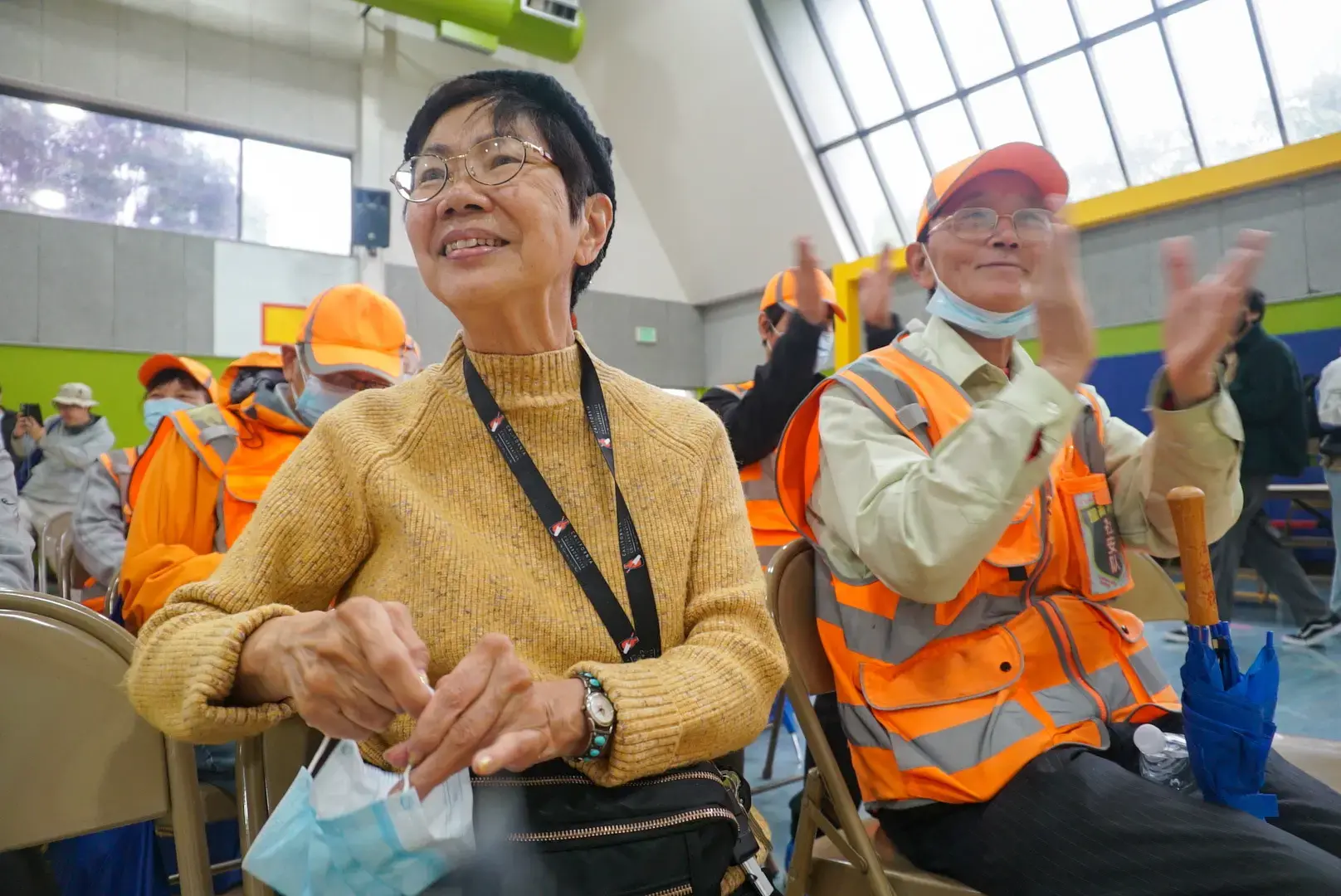 "I think [Citizen] is a wonderful app for any people walking on the streets," she told me there. "Unfortunately, they don't have a Chinese helper yet."
Still, she said she was eager to learn how to use the app. She says she felt isolated during the pandemic, stuck at home and worried about her safety as attacks on Asians increased.
But before she could use the app, she hit a snag: When she tried to install it, she couldn't remember the password for her Apple account. 
Mixed signals
As president of the Oakland Chinatown Chamber of Commerce, Carl Chan has been pushing for more security measures to protect Chinatown residents and was grateful for the outreach from Citizen.
Nevertheless, he often finds himself helping elder community members navigate systems that aren't in their native language, and he worries that without translation into languages like Chinese or Vietnamese, some people may misunderstand Citizen's alerts. He also worries that without proper training on how to use the app, community members may mistakenly pass alerts from one location to other platforms, falsely claiming that incidents are happening in other areas—in turn spreading both misinformation and unnecessary fear.
"We're trying to ask people [to] be careful how you're sending out [information from the app] to the WeChat group," says Chan, because "you're scaring off people."
Diani Citra, who works for PEN America on issues surrounding misinformation in Asian communities, also worries about whether this kind of barrage of information about crime may have the opposite of its stated effect, boosting paranoia among an already traumatized population.
Citra says that apps like Citizen can help fill an information gap or "data void" that is created when a group of people is in a news desert, maybe because they are not addressed by mainstream media or because they do not receive information in the right language for them. 
"For a lot of marginalized communities, knowing about crime is a necessity. We don't get information about our community that relates to our safety. We can't tell them not to get their information needs met there, because there's none offered," she says. But using the app could still create an "amplified sense of danger."
While Chandler says that Citizen is continuously verifying its content, the information Asian populations receive through the app is coming into a media ecosystem that is fractured across many news sites and social platforms, like WhatsApp, WeChat, and Viber, some of which may already be polluted with divisive information and false or misleading narratives around anti-Asian attacks. 
"Things that are supposed to be anecdotal may be seen as trends."

Diani Citra, of PEN America
For instance, according to an August 2022 report about disinformation from the National Council of Asian Pacific Americans and the Disinfo Defense League, a growing number of news aggregators gather information about crime incidents in which the perpetrators were Black and the victims were Asian. These outlets would sometimes rewrite news articles with more provocative headlines or present old incidents as evidence that mainstream media had underreported anti-Asian crimes perpetrated by Black people, often with the goal of promoting anti-Black narratives and weaponizing the victimhood of Asians, the report states. 
"The documented lack of coverage about Asians and Asian Americans in mainstream media and news have left voids filled by sources and online hubs … with a singular emphasis on 'pro-Asian' identity," the report reads. "These spaces foster problematic narratives that pivot on existing structures of misogyny, anti-Black racism, and xenophobia." 
While there's no evidence yet that a storyline like this has taken hold on Citizen or as a result of its use, Citra says it's quite possible such a thing could happen when elderly Asian individuals, who are already more vulnerable to misinformation and divisive narratives, see crime information without context. (Citizen did not respond to a list of follow-up questions, including about the potential for misinformation on the app.)
"Things that are supposed to be anecdotal may be seen as trends," Citra warns. 
Can Citizen change?  
Citizen is courting the AAPI community at a time when tensions about the role of policing in the United States are already running high. Many of the marginalized communities that Citizen is trying to work with distrust police departments or are otherwise unwilling to work with them. (Indeed, several organizers told me that many Asian community members would avoid calling the police to report incidents.) 
"We're sometimes so excited about creating an immediate solution that makes things a tiny bit better, but we don't think enough about structural long-term solutions."

Kenji Jones, president of Soar Over Hate
Theoretically, technologies like Citizen can represent a helpful stepping stone for people who typically feel let down by official government institutions but nevertheless face a lot of safety issues. 
Still, it wasn't long ago that Citizen was criticized as creating a "culture of fear," encouraging vigilantism, and having what a former employee once described as a user base that would leave "insanely racist" comments on the app. 
Chandler argues that these portrayals overlook what is a significant user base of apps like Citizen: People who may need the service to keep tabs on crime in their neighborhood because they simply face a lot of it. In his mind, the app could be a powerful distributor of information for users who do not have the "privilege," he says, of living without crime. 
By way of example, Chandler cites his work in Chicago. He says some people on the South Side, an area that is statistically less safe than the North, have to live with the reality of crime every day. Citizen users there have told him they rely on the app to make sure their families stay safe—for example, to find out whether there's been a shooting or a car accident, which could escalate into larger conflicts. 
These users in Chicago "don't need to be told to be scared [by Citizen]," Chandler says. "They are scared."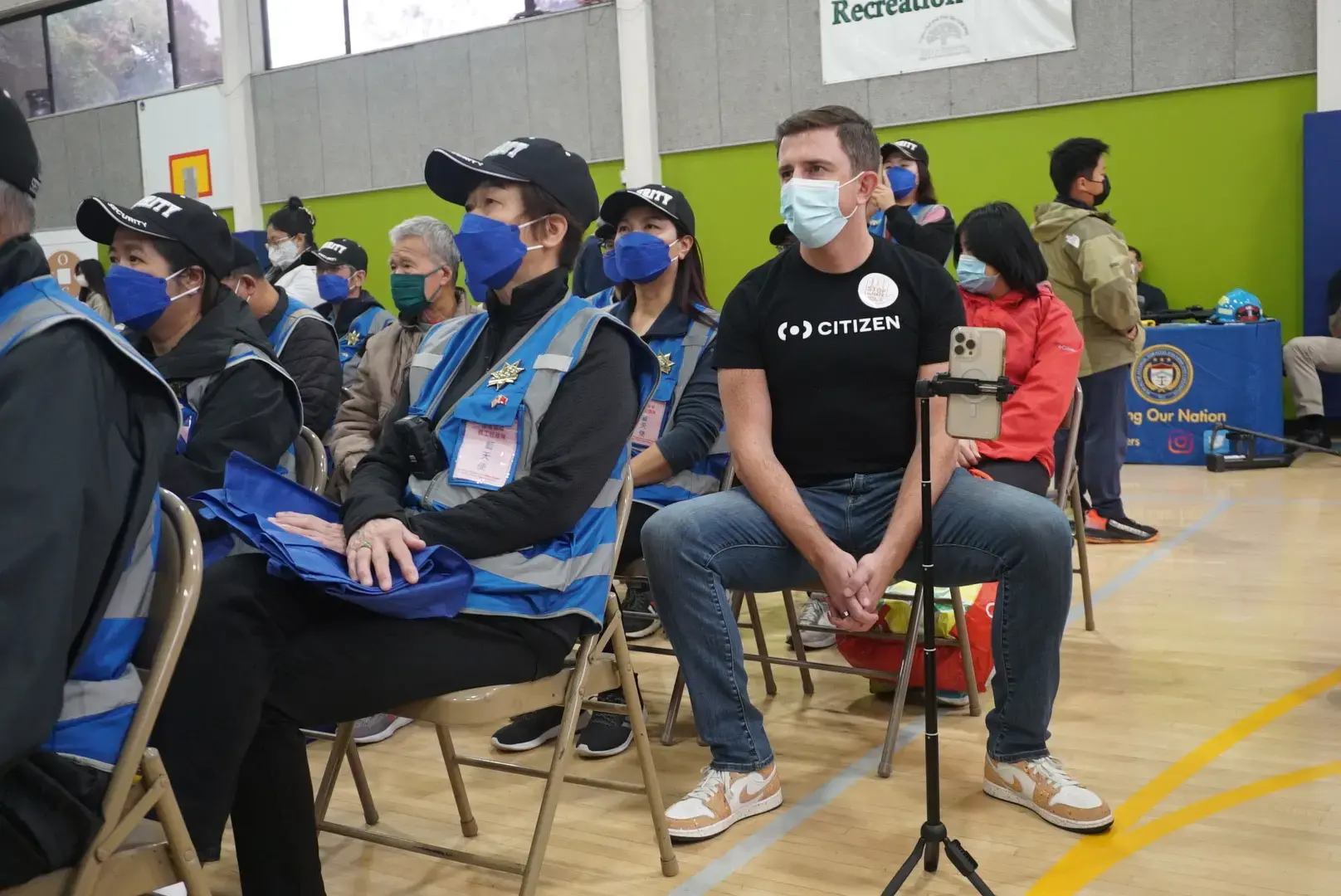 Chandler spent the fall and winter of last year working with Bay Area politicians and community organizers, and he was talking to another local mayor and nearby organizations to bring free accounts to the Hmong and Vietnamese communities in their areas. Before the end of the year, he pushed for Citizen to expand to Sacramento County, an area that the app previously did not service and that has a high Asian population. 
But looking ahead, it is unclear how much the company will continue to put into the program. In early January, Chandler was laid off, along with 33 other employees. 
"​​I'm incredibly proud of how we were able to work with community partners to not only raise awareness of the increase in hate crimes against the AAPI community but also provide a tangible solution to push back," Chandler recently texted me. "I'm sad I won't be able to be a part of it moving forward as a Citizen employee." 
Chandler says the company will stand by its promise to provide Asians in the Bay Area with 20,000 free premium subscriptions, and Stone confirms that it "will continue to market and support the program." But Chandler also says he was also told they would not be replacing him, and he is unsure whether anyone else will continue to work on the program. 
To Kenji Jones, president of Soar Over Hate, an organization that regularly provides self-defense classes to New York City's Asian population, the continued commitment to the community is important. He is encouraged by Citizen's outreach in the Bay Area; in particular, he says the idea of having an agent on standby with the app's users is "pretty good." But he also worries that the subscription will last only for one year and that many low-income Asians may not be able to renew. 
"What comes after that year? This is a for-profit company. So this is to make more money. And they're profiting off of a community that, particularly right now, feels really in danger. And so I think that to me, the fact that it's only a one year subscription is pretty unethical," says Jones. 
"We're sometimes so excited about creating an immediate solution that makes things a tiny bit better, but we don't think enough about structural long-term solutions," he adds. 
Jones also points out that some of the most important lessons his organization offers are focused on confidence and empowerment. These are feelings that he worries could be undermined by using the app, which may make people "more on edge and anxious and fearful for their safety." 
As Asians, "I think so many of us have been conditioned to feel small," he says. "I think that confidence is really what so many people need, and that's not what an app can bring to you." 
RELATED ISSUES

Criminal Justice

Racial Justice
RELATED INITIATIVES